About our project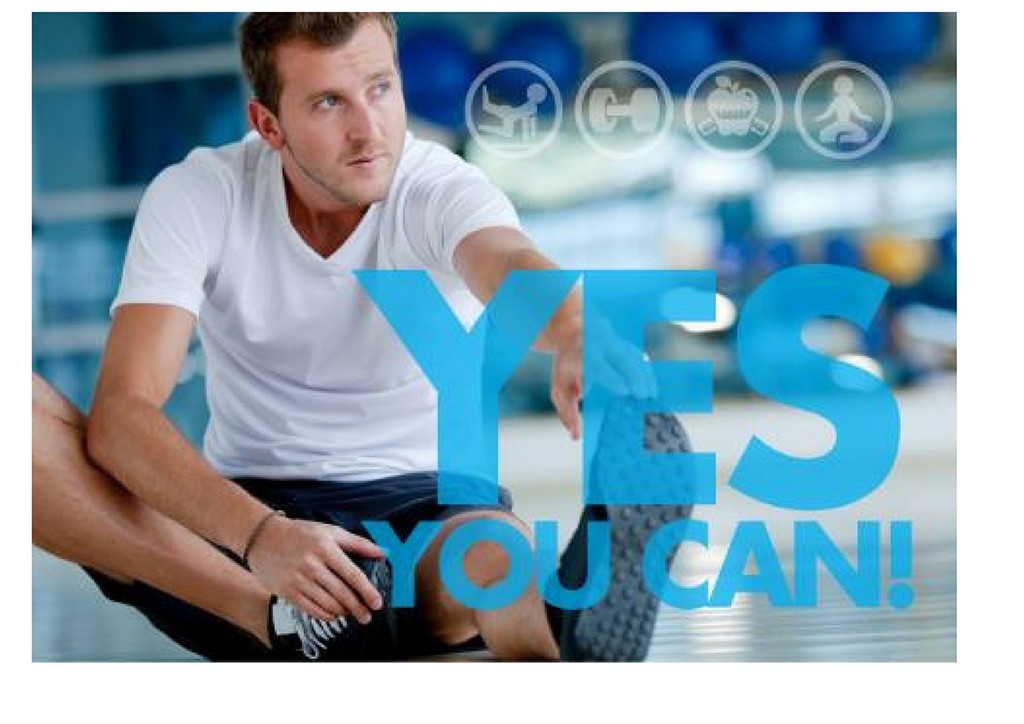 The problem we solve:
Netflix has increased its viewership by more than 50% for each of the last two years, while the New York Times has lost subscribers by more than 10% each of the last three years. Consumers prefer video, and that is as true in healthcare as it is in any other consumer facing industry. Legacy providers provide information that is text-based, not mobile, and not personal. This leads to poor engagement, retention, and compliance.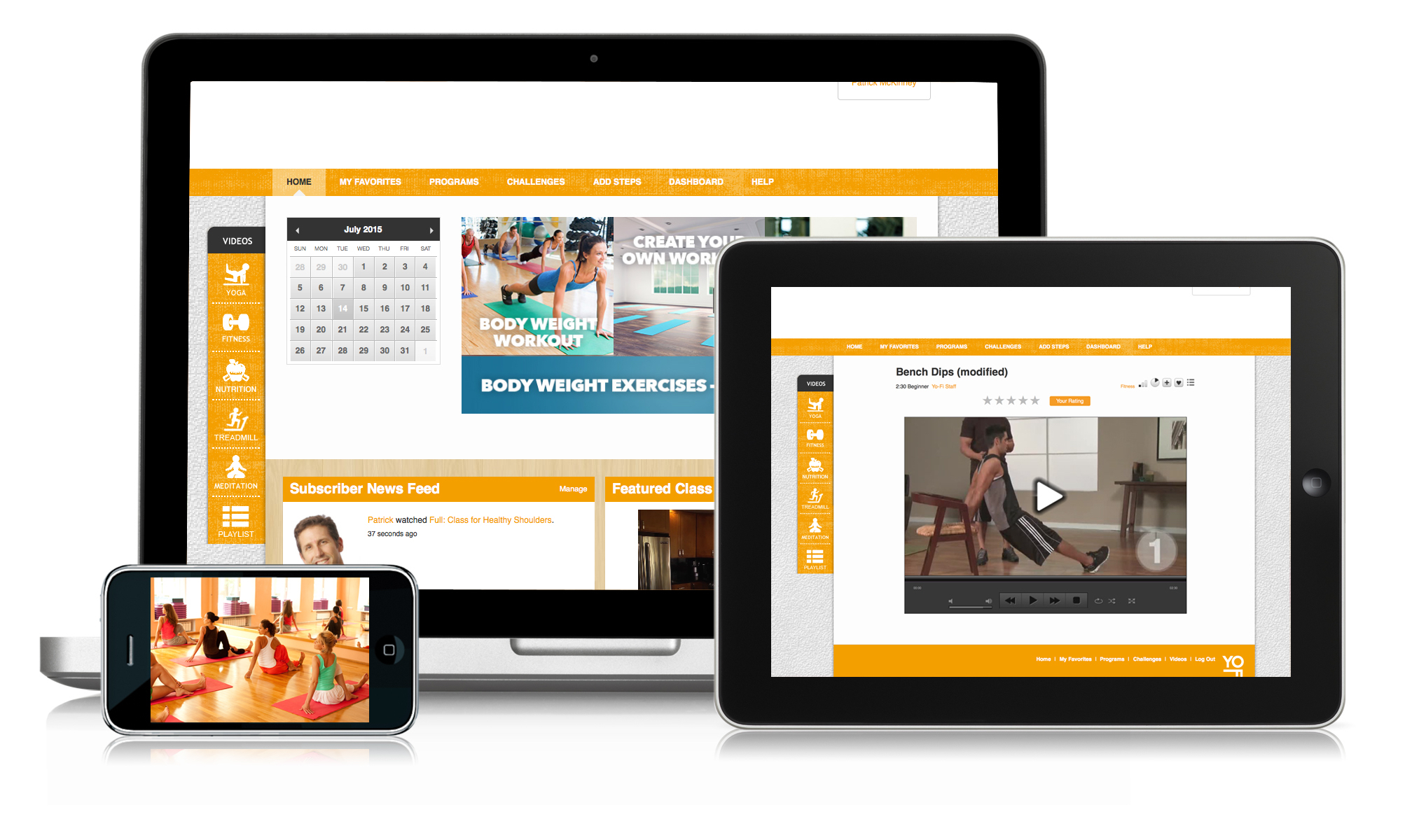 About our solution:
Yo-Fi provides hundreds of on-demand health and wellness video classes in a convenient responsive web application that can be used by anyone, any time, and anywhere. Yo-Fi uses video in every aspect of program delivery, thus improving financial and behavioral performance for population sponsors. Yo-Fi is the go-to solution for enterprise wellness, health plan member engagement, health coaching engagement, prescription and compliance, and soon, patient care and recovery. Yo-Fi is a modern consumer solution for healthcare.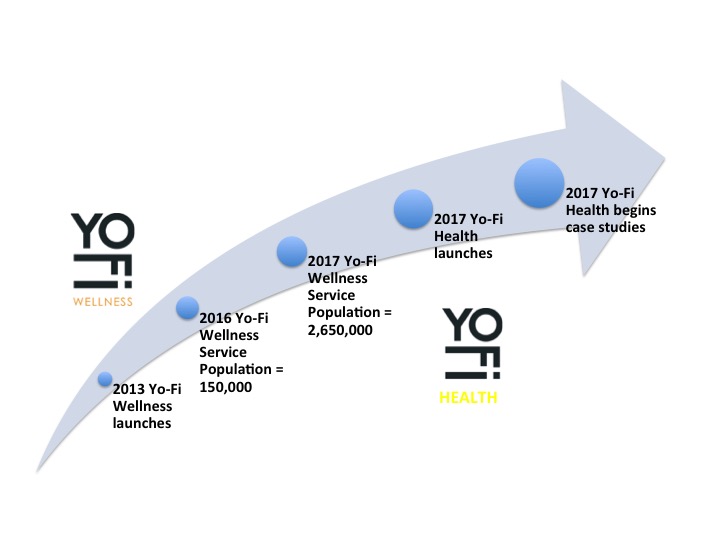 Progress to date:
Yo-Fi is a growing company with customers and established distribution. Our largest direct client is ComcastNBCUniversal, and we work with other prominent population healthcare companies such as Workplace Options and Beacon Health Options. Yo-Fi has distribution to all of the Blue Cross Blue Shield plans via an exclusive distribution agreement with GuideWell Connect, Florida Blue's health plan sales affiliate. Yo-Fi's current scope is around 2.5 million lives, and we expect that to grow to around 3 million in 2017.
About Our Team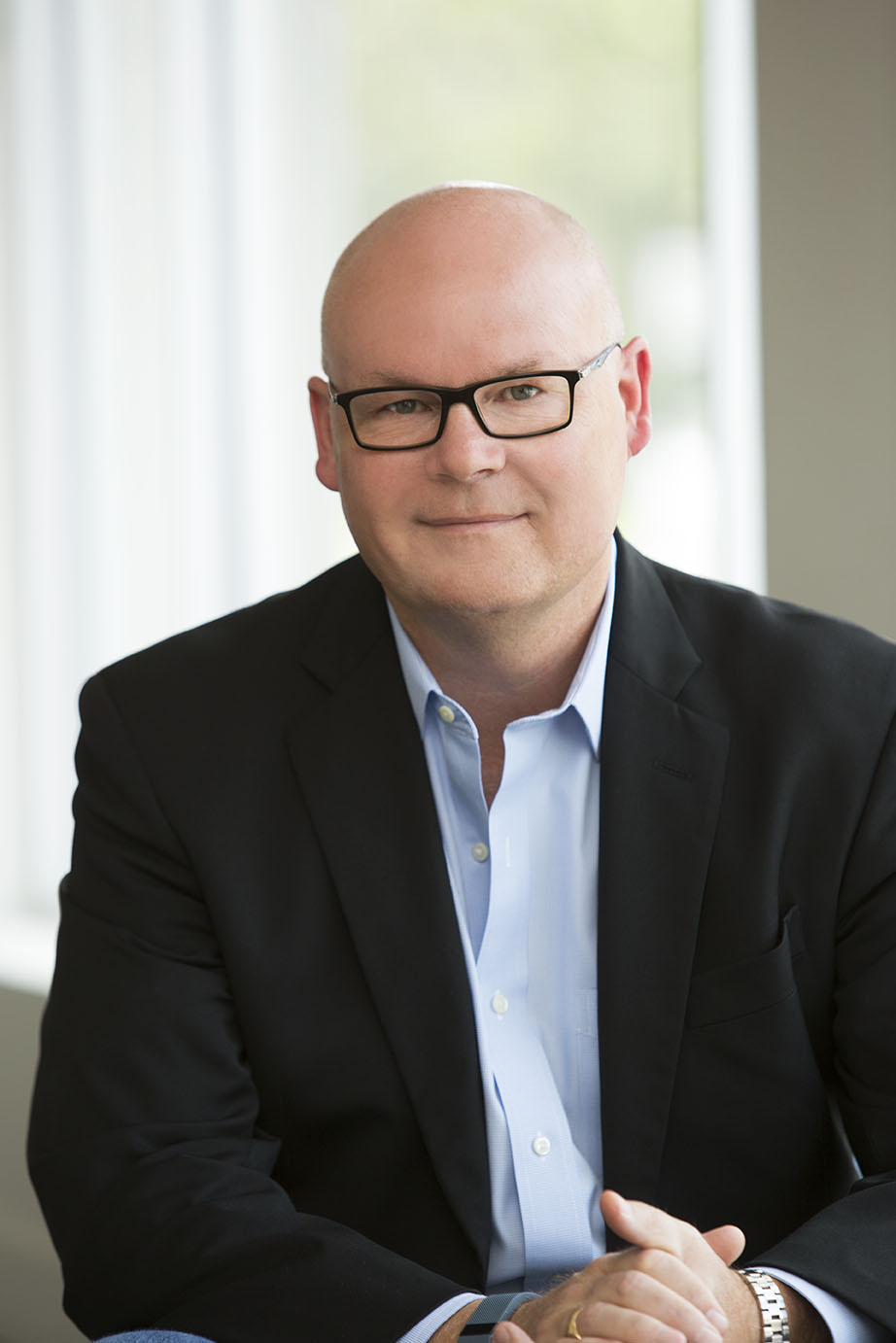 Creator:
Jeff Croy
Location:
Florida
Education:
Washington University
Bio:
Jeff Croy is President & CEO of Yo-Fi Wellness, Inc. Jeff's experience balancing life and career demands while engaging in rigorous travel for work ignited his interest in population healthcare. In 2013 Jeff was recruited to lead the development of Yo-Fi Wellness, a video-centric wellness solution. Jeff leads Yo-Fi's product development, corporate strategy and distribution.
Title:
President
LinkedIn:
https://www.linkedin.com/in/jeff-croy-90ab0829
How We Help Patients
You are on a new journey ... the journey to recovery! Recovery is not always easy, we know, we have been there too! We know from experience, not just from the studies, that changing a lifestyle a little bit can help healing in a big way. We live the lives our users live. Our fitness professionals and nutritional consultants have worked extensively with people just like you. Our classes and programs are based on science. We know what works, and we encourage you to become their best version of yourself every day.
Yo-Fi Wellness and Yo-Fi Care & Recovery give even the busiest people the support and tools they need to take care of themselves and make lasting changes. Yo-Fi provides a unique combination of video classes, personalized communications, activity trackers, and motivational wellness challenges which leads to healthy long-term behavior that becomes a natural part of your life in recovery, at work and at home. Yo-Fi helps you take those simple steps that build big results over time.
How We Help Physicians
On July 7, 2013 CMS announced the results of the Pioneer ACO demonstration. According to CMS, costs for more than 669,000 beneficiaries served by Pioneer ACOs grew by 0.3 percent in 2012. Costs for others grew by 0.8 percent in the same period. CMS stated that 19 out of 32 pioneer ACOs shared savings with CMS. The Pioneer ACOs earned an estimated $76 million. 2 Pioneer ACOs generated losses totaling an estimated $4 million. According to CMS the savings were due, in part, to reduction in hospital admissions and readmissions.*
Hospital readmission is a major ($50 billion annual, est.) cost factor in healthcare. CMS has instituted the Hospital Readmission Reduction Program (HRRP) which reduces payments for readmissions. Medicare/Medicaid providers have a major incentive to reduce readmissions. ACOs have a major financial incentive to reduce readmissions. Insurance providers have a major financial incentive to reduce readmissions. Self-insured employers have a major financial incentive to reduce readmissions.
Yo-Fi Health will play an important role in the spectrum of patient care and recovery. Yo-Fi Health will provide shortened recovery time, reduce readmissions, reduce work loss, and provide cost savings and better outcomes.
Yo-Fi will provide what the patient needs, when they need it. Yo-Fi will evaluate the most appropriate lifestyle and wellness attributes for a post-treatment protocol and delivers that to the patient. Yo-Fi will provide data to sponsors for compliance and treatment continuity.
Recovery consists of key, and necessary physiological and psychological processes. Yo-Fi will provide physiological and psychological process acceleration and process improvement.
Yo-Fi will reduce hospital readmissions for conditions such as COPD, mood disorders, substance disorders (addiction), diabetes, cardiac and co-morbidity conditions.
*Centers for Medicare and Medicaid Services
How We Help Hospitals
An estimated 20% of American hospitals belong to an ACO, and more than half of ACOs include a hospital. Hospitals that are part of the overall ACO framework have the same incentives as providers, and patients - better, cheaper and faster recovery. Yo-Fi Health will become a central feature for hospitals as they seek to reduce readmittances. As part of the discharge protocol, it is envisioned that hospitals will be provisioned with Yo-Fi's content and technology to provide appropriate access to lifestyle improvement content for patients for their early recoveries and behavior cange for the long-term.
How We Help Partners
Yo-Fi is a company built for partnerships. We have engaged in pilots, integrations, and product development relationships with many partners since our inception. Yo-Fi health welcomes the opportunity to collaborate with companies with similar missions of improoving post-treatment care for recovering patients to reduce hospital readmissions. Specific examples include; device companies (Yo-Fi integrates certain devices currently), pharmaceutical companies seeking to add value, payors, and ACO hospitals.
For device companies, Yo-Fi can integrate data into the Yo-Fi platform to provide patients information on progress in real time. Along those same lines, Yo-Fi can provide data back to the provider as well as the partner.
For pharmaceutical companies, Yo-Fi can provide actionable engagement content, which is clinically vetted, as a value addition for an already vital product. This is specifically important in competitive scenarios where brand awareness is critical.
For ACO hospitals, Yo-Fi can become a part of the post-treatment protocol for discharged patients; placing a course of recommended activities and lifestyle changes in the hands of patients when they need it most. Data can be provided back to the sponsoring hospital to gauge compliance and progress.
Investor Info
Market Size
The Total Market Opportunity consists of direct sales and sale to other healthcare companies (OEM Sales) = 62,000,000 lives, sales to BlueCross BlueShield plans = 110,000,000 lives, sales to other health plans = 100,000,000 lives, for a total of 272,000,000 potential lives. Applying our current pricing, this equates to $1.3 billion. We believe we can achieve 1% market share conservatively over the next several years.
Yo-Fi works closely with channel partners to gain scale quickly. Our largest channel partner is GuideWell Connect for access to the BlueCross BlueShield marketplace. Yo-Fi is creating a new subsidiary called Yo-Fi Health, which will address the $50 billion annual problem of hospital readmission. Buyers include ACOs, payers and providers.
Projected 3 Year Growth
Our probability-weighted projections show approximately $10 million in revenue by 2020 with a 65% gross margin. This represents less than 1% TSM penetration, which we believe is very achievable and realistic.
Revenue Model
Yo-Fi's business model is straight-forward. We have 3 - 5 year contracts, which provide predictable cash flow. Contract terms generally consist of:
Set-up Fee
Subscriotion Fee (per member per month)
Yo-Fi's customers are:
employers
health plans
healthcare companies
providers
We anticipate our revenues to break down by channel accordingly over five years:
Health plans = 40%
Healthcare companies = 25%
Recognition & Incentives Companies = 25%
Direct sales = 10%
Competitors
Population healthcare is a competitive and fragmented market with no clear leadership. Yo-Fi competes in the high-tech/population sector of this industry. While competition is everywhere, each competitor is unique and vying for the attention and budget of the buyers.
Specifically, Yo-Fi is a video-centric healthcare technology company. In our specific space there are few competitors, but some notables include Grokker, Emmi Solutions, and Healthday.
Yo-Fi works with a number of our competitors who use Yo-Fi's content and curated platform to add value to their own program deliverables. In addition to form factor, Yo-Fi has a number of competitive advantages including:
Prorietary content
Proprietary technology
Proprietary curation
Established channel distribution
Price point
Traction
Yo-Fi has achieved impressive early traction both in terms of customers and distribution. Much of our distribution was established in 2016, and is beginning to yield sales in 2017. We expect revenue growth of over 6X over the next 12 months as a result of building our channel partnerships. Below is a snapshot of customers and distribution.
Notable customers include:
Largest media company in US
50 million member healthcare services company
Notable distribution includes:
Sales team of major BlueCross Clue Shield plan
2 Major US employee recognition companies
65 million member healthcare services company
Total covered lives is currently in excess of 2.5 million.
Due Diligence Docs
Please note that access to the company's confidential materials is limited. Click this button to request access from the Company and its representatives.
---