About our project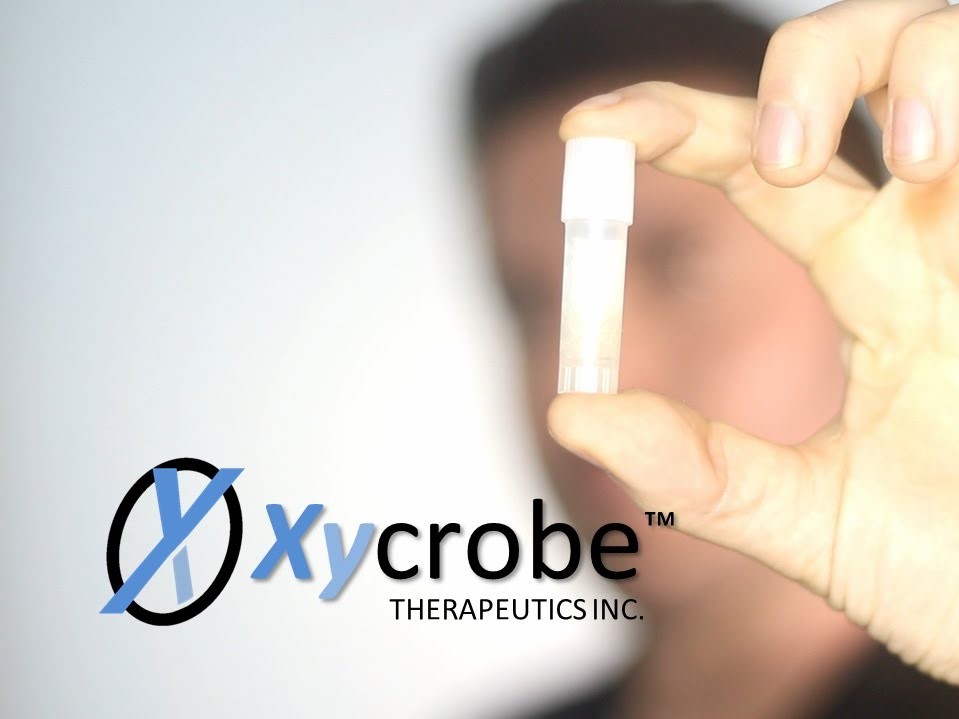 The problem we solve:
Over 60 Million adults in the US have active acne. Current acne treatments can be divided into 4 basic strategies that seek to break the acne cycle by limiting one of a number of factors. Anti-inflammatories seek to curb inflammation after it has begun and are not really clinically effective alone. Vitamin A derivatives (retinoids), can be effective but have extremely harsh side effects to where upwards of 40% of patients choose not to continue therapy and so there are compliance issues and over 30% have recurrence of their acne after treatment if they are able to finish. Birth control has its own safety issues, and of course can only be used by women. And antibiotics are only effective for a while, until you've killed off all the good bacteria and create further dysbiosis. This strategy is a major reason why there is currently a worldwide epidemic of antibiotic resistant bacteria. It is the year 2017, we can do better.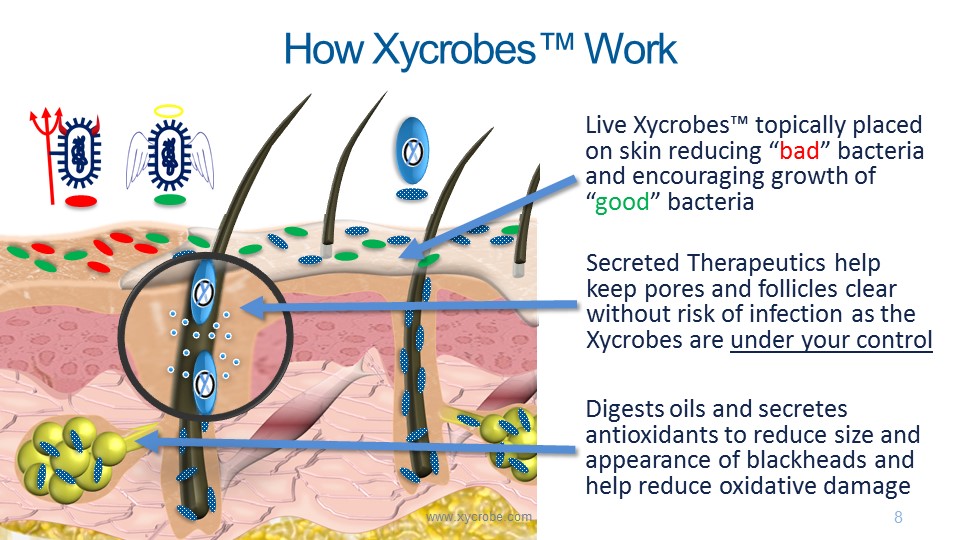 About our solution:
Our Xycrobe technology platform addresses inflammatory skin disease through the development of a library of "good", recombinant bacteria strains designed to take up residence on the skin and reduce/eliminate the number of pathogenic microbes on the skin while secreting skin-healthy, therapeutic molecules to solve skin issues like acne, psoriasis and dermatitis. Our customer value proposition is that by using Xycrobes the customer will be able to adopt a skincare regimen that 1) addresses bacterial dysbiosis of the skin, 2) addresses immunological or genetic deficiencies found in many patients prone to skin issues and 3) reducing the incidence of antibiotic-resistant bacterial infections that occur due to overuse of antibiotics and other antimicrobial products found in many skin medications and cosmetics.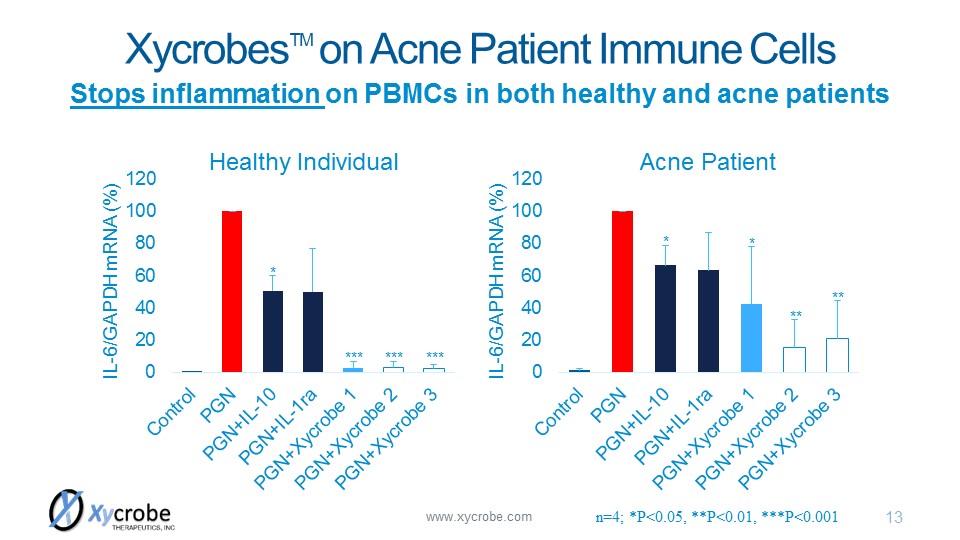 Progress to date:
To date, we have constructed a library of 6 Xycrobes that we are currently testing in several human skin models with our partner company Johnson & Johnson. We have an agreement with J&J signed in October of 2016 where they are evaluating our technology for possible licensing at the end of 2017.
About Our Team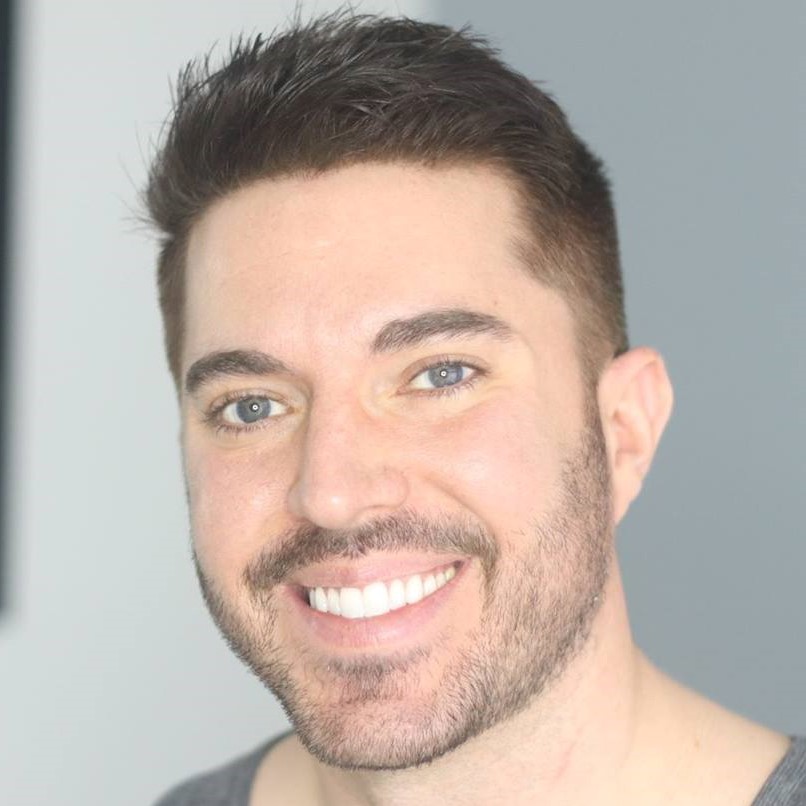 Creator:
Thomas M. Hitchcock
Location:
California
Education:
Clemson, Duke, Yale
Bio:
Thomas is the founder and CEO of Xycrobe and has been involved in both helping to create and run several biotech startups and has worked closely with the medical and marketing teams for industry leaders such as Boehringer Ingelheim and Bayer. Prior to Xycrobe, he was the Director of Medical Affairs for Ulthera, Inc., and part of the team that brought their platform technology to acquisition in July 2014 by Merz pharmaceuticals. He also currently is the acting VP of Clinical and Medical Affairs for Bellus Medical and travels the country lecturing to medical professionals about skincare and aesthetics in dermatology. Thomas holds a doctorate in molecular genetics from Clemson University where he did his research on DNA damage and repair. He has completed postdoctoral training at both Duke University in the Biomedical Engineering Department and Yale University in the Program in Vascular Biology and Therapeutics where he was involved in ground-breaking research and development of in vitro engineered human cardiovascular and pulmonary tissues. He has also performed research at Weill Cornell Medical College in the Department of Oncology and Hematology where he studied multiple myeloma genetics. His findings have been both presented to the scientific community and published in noteworthy scientific journals, such as the Journal of Cosmectic Dermatology, Cell Transplantation, the Journal of Biological Chemistry and the Annals of the New York Academy of Sciences.
Title:
CEO
Advanced Degree(s):
Ph.D.
How We Help Patients
Microbes are everywhere. They live around us, on us and even in us. Xycrobe Therapeutics is developing innovations that take advantage of the ubiquitous nature of these microbes by turning them into SUPERHERO bacteria that fight off skin conditions like acne, psoriasis and dermatitis. While we won't have our therapeutic Xycrobes available for a few years (FDA), we hope to offer Cosmetic Xycrobes in the near future. These are like the sidekick version of the Superhero bacteria, and they can really help to improve the appearance of skin, even in those without skin conditions. Some of the things we have seen in pilot study are:
•Significantly reduced Staph (e.g., MRSA)
–Targeted anti-microbial peptides kill only the "bad" bacteria and keep the "good" bacteria going strong
•Near elimination of blackheads
–Natural Production of antioxidants, as strong as Vit C or Vit E are released throughout the day!
•Reduced pore size and appearance
–Xycrobes eat the sebaceous and oil secretions of your pores, reducing the contents and helping to shrink the pore
•Smoothing of skin texture
–Xycrobes are anti-inflammatory
•No adverse reactions!
–Xycrobes' don't grow unless you want them to (by adding more Xycrobe serum) so you don't have to worry about overgrowth, infection, transfering to another person (which would be fine), etc!
So, are you ready to Join the Xycrobe Revolution in skincare?!
Investor Info
Market Size
The Market opportunity represented in the inflammatory skin space (acne, psoriasis, dermatities) can be defined by the total affected demographic for each disease and the corresponding dollar amount spent yearly in pursuit of treatment. According to JAAD (January 2008 Volume 58, Issue 1, Pages 56–59), acne affects upwards of 79+ Million people in the United States alone (104 Million globally), with over 40 million of those between the ages of 20 and 40 years old. According the The British Journal of Dermatology, the costs associated with the treatment of acne exceed $3 billion in the US alone (2013;168:474-85). Psoriasis affects 8 million Americans (125 Million globally) and costs it's sufferers around $5 Billion in the US alone. Dermatitis also affects about 8 Million Americans (133 Million globally) and costs its sufferers around $1.5 Billion in the US alone.
Projected 3 Year Growth
As we are still in pre-clinical development, our revenue from our therapeutic technologies will likely be more than 3 years out due to the timeline required for clinical testing and FDA approval. However, we are also developing a "Xycrobe Lite" technology that we are aiming to register as a cosmetic, and this could potentially be a viable product within a year depending on when we recieve funding and if we end up partnering with J&J for codevelopment. If Xycrobe was to not take on a commercial partner, we calculate that we could generate roughly $5 Million for every 10,000 consumers that adopt the Xycrobe cosmetic product(s).
Revenue Model
Along with our development of therapeutic Xycrobes for Skin Disease, we plan to roll out a "cosmetic" Xycrobe product (30 individually packaged doses of live xycrobes per box) along with "Microbe friendly" adjunct products like moisturizer and sunscreen to be used with Xycrobes. The initial Live Xycrobe product will cost pennies per dose to produce and package, making production costs (not including capital equipment needed initially) less than $2 per box. As these technologies sell for any where from $20 to $300 per month suply (depending on distribution route), we are confident that we can achieve high margins regardless of which method of sales and pricepoint we adopt (i.e. brick and morter vs. ecommerce).
Competitors
There are several small companies that are in development of microbe-utilizing technologies for the dermatology space. The only of these companies that is currently on the market with a true "probiotic" type solution is Aobiome. While they are paving the way for other microbiome skin solutions, Xycrobe is the only of these companies that 1) Addresses both the bacteria and genetic issues that affect acne patients and 2) has biocontainment built into the technology so that we can control dosing and prevent any potential infection from occuring (even good bacteria can cause infections at times).
Traction
We are currently starting a small pilot study of our cosmetic product (live Xycrobes, non-therapeutic strains). We antiicipate to have data on this sometimes in July.
Due Diligence Docs
Please note that access to the company's confidential materials is limited. Click this button to request access from the Company and its representatives.
---