---
---
About our project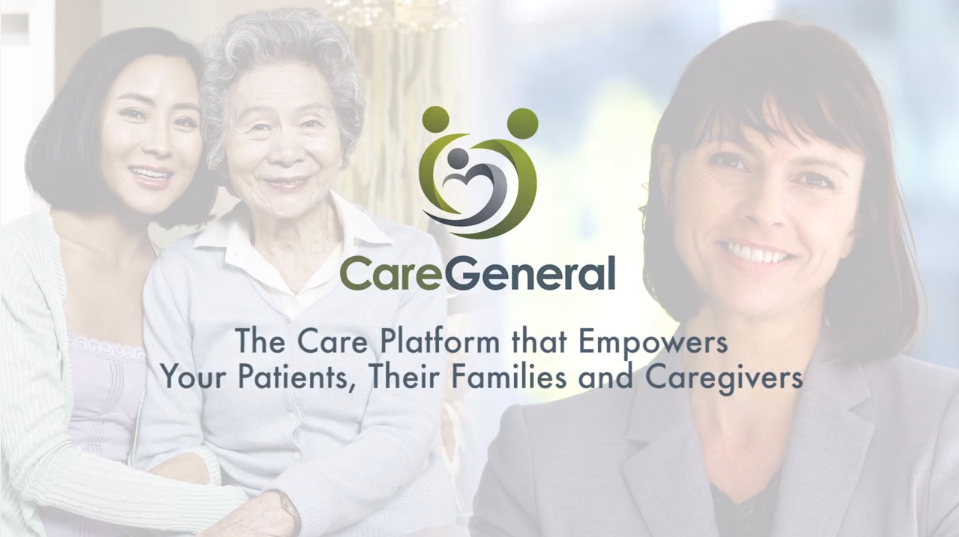 The problem we solve:
With shorter-hospital stays, increasing life-spans, and high prevalence of chronic disease, the length and complexity of home delivered care continues to expand. Due to limited Medicare coverage of home health, two-thirds of seniors living in the community and in need of care depend exclusively on family members for their care with another 25% relying on a combination of paid and family care. Today, more than 44 million people in the U.S. provide unpaid care for a chronically-ill, disabled or aged family member or friend. Contributing over 37 billion hours per year at an economic value exceeding $470 billion annually (three times greater than Medicaid's annual expenditure on long-term care), this invaluable resource cannot be replaced – but it can and must be supported and improved to help reduce system costs and improve outcomes.
About our solution:
CareGeneral is a consumer-facing care collaboration platform that provides stakeholders a low-cost means to engage, track and support patients and family members. It facilitates front-line reporting of medication and care plan adherence, status changes (i.e., in functional limitations, health, social and behavioral) and biometrics readings, providing the ability to gain actionable insights. Stakeholders can share personalized action plans and educational content from an integrated library that includes patient-friendly videos and articles. Secure messaging functionality supports ongoing interaction between patients, family, clinical staff and non-clinical care team members. Each users experience can be personalized based on language preferences (currently available in 5 languages), technology abilities (e.g. text, smart phone/tablet, browser, email, or voice assistants Alexa/Google Home) and support needs. Link to our Alexa skill: https://caregeneral.wistia.com/medias/j4dzh83pl0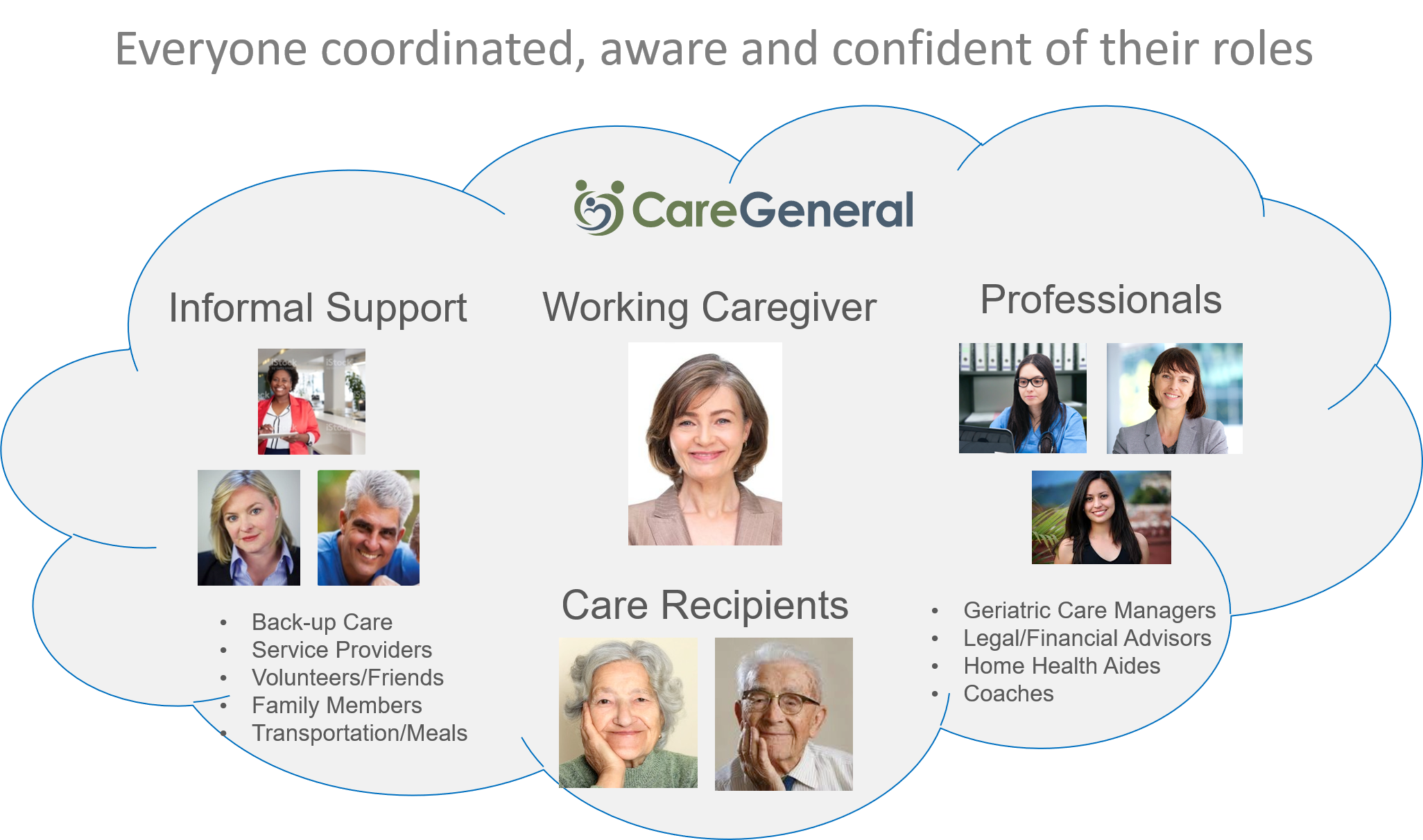 Progress to date:
CareGeneral has several engagements in both revenue contract and pilot categories. Revenue contracts include implementation as a globally deployed employer sponsored benefit for working caregivers at IBM, and deployment as the system of record for patient coordination and engagement for Innovista Health Solutions, in their chronic care management program.
Our pilot projects include diabetes disease management programs with a University of Texas/PwC/Walmart initiative in Brownsville, Texas, and a Northwell/Lennox Hill Hospital program targeting the Hispanic population in New York City called "Vida SÍ, Diabetes NO", a coalition focused on reducing the trajectory of diabetes in the NYC Hispanic community. In another pilot, CareGeneral has supported a Medicare Advantage gap management program with Graham Healthcare Group for STAR rating improvement.
About Our Team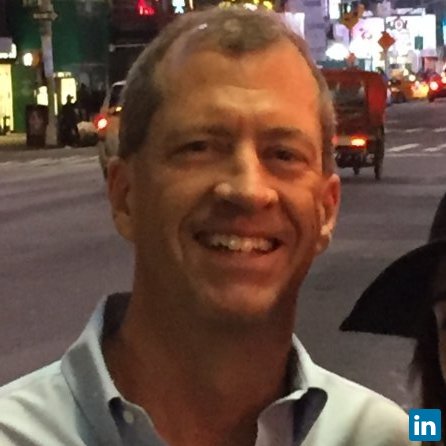 Creator:
Dirk Peters
Location:
New York
Education:
Columbia Business School
Bio:
• 6+ years personal experience as working caregiver • 20+ years investment banking • OwlRock Capital, LLC: Miami, Founder/Managing Partner, M&A/Restructuring • Stephens, Inc: NYC/Miami, Managing Director/Miami Office Manager, M&A/Private Equity • Citigroup, Inc: NYC, Vice President, Leveraged Capital/Capital Markets
Title:
Founder and Chief Executive Officer
Advanced Degree(s):
MBA
About Team Members
Neeraj Singh
Chief Technology Officer, MS, Computer Science
Biography: - 18+ years in software development - Onyx Government Services, Fairfax, Va, Senior Software Engineer - Tata Motor, Mumbai, India, Software Engineer - Infosys, Freemont, CA, Systems Analyst - 30th leading contributor to Ruby on Rails
Title: Chief Technology Officer
Advanced Degree(s): MS, Computer Science
LinkedIn: https://www.linkedin.com/in/neerajdotname/

Thor Nickell
Dir., Product Delivery and Client Engagement, MBA
Biography: - 6+ years personal experience as working caregiver - 20+ years customer acquisition/channel building for software applications - Nortel Networks: Dallas, Senior Business Development Manager - CSS Corp: Dallas, Senior Product Deployment Leader - Intelliun, Dallas, Business Development Director - Content Pilot, Dallas, Senior Client Engagement Manager
Title: Dir., Product Delivery and Client Engagement
Advanced Degree(s): MBA
LinkedIn: https://www.linkedin.com/in/thornickell/

Ron Zighelboim
Dir., Business Development, BS - Communications, Marketing, Advertising
Biography: - 2+ years personal experience as working caregiver - 25+ years sales and marketing - Career-long entrepreneur
Title: Dir., Business Development
Advanced Degree(s): BS - Communications, Marketing, Advertising
LinkedIn: https://www.linkedin.com/in/ronzig/

How We Help Patients
Our mission is to help patients and families feel more confident about caregiving responsibilities, thus simplifying life, reducing stress, and saving time. CareGeneral can help all members of the care team better understand, coordinate and manage the care process. Our mobile and web-based application centralizes and organizes health information, care directives, files, discussions and more to ensure everyone remains properly informed.
We've made interacting simple and flexible for everyone. The system can be accessed on any type of device – PC, tablet, phone through a browser or mobile app and recently via voice assistance devices (Google Home and Alexa) – and in any language (currently 5 languages are supported).
We are happy to have you try our service to handle any care situation you are facing.
How We Help Physicians
Research has demonstrated, care models with a team approach that include home interventions produce better outcomes. Forward thinking healthcare stakeholders (payors, providers, employers) have been challenged to find simple, engaging, patient-facing solutions that improve outcomes and reduce costs.
CareGeneral offers a comprehensive solution that includes all the collaboration features needed to manage an out of clinic care situation, e.g., permission based sharing of all features, team communication, file sharing, task definition and assignment, ease to digest care plan, notification and alerts in multiple modes, efficiency tools like bulk messaging, educational content provided a leader in health information, and health data collection and reporting.
Most at-risk patients have multiple diseases, dynamic care requirements, heterogeneous support circles, and behavioral health challenges (depression, stress, isolationism). However, consumers will not download or consistently use a different app for every condition. CareGeneral offers education for all chronic conditions, procedures, and behavioral health issues. It is built to address many different populations – as segmented clinically or by ethnicity - and specific use cases.We believe CareGeneral's solution is unique as it first focuses on being usable and supportive of the end-user.
How We Help Hospitals
With encouragement from programs such as Medicare's Hospital Readmission Reduction Program and legislation like the Caregiver Advise, Record, Enable (CARE) Act, now adopted in 40 states, which requires providers to identify and train family caregivers during the hospital discharge planning process, hospitals are now being asked to stay engaged with their patients over longer periods of time.
Whether a situation is transitional or a protracted disease management episode, CareGeneral can fit a need through seamless delivery of personalized care plans, education, motivation and support so caregivers always know what needs to be done, when and how. CareGeneral can also connect patients and caregivers with professional care team members, so virtual support is always available and caregivers feel confident they are doing the right thing.
Furthermore, as multidisciplinary care team coverage is built into a post-acute care model, CareGeneral can be the connective "tissue" that keeps everyone in synch and on track.
How We Help Partners
How successfully are you engaging your client's patients and family at home through your product or service?
Recently the opportunity was captured in this way: "Common sense and an emerging body of evidence tell us that the integration of informal caregivers into the U.S. health system holds tremendous promise for improving the well-being of patients while having the potential to reduce costs associated with hospital readmissions and nursing home care." ("Embracing The Role of Family Caregivers in the U.S. Health System," Health Affairs Blog, September 8, 2016.)
CareGeneral seeks to partner with population health service and platform providers, care management solutions, and employer wellness benefit ecosystems to have our solution reach the customers, patients, working caregivers and consumers who need it most. With support for single-sign-on and a fully developed API, we can flexibly integrate with many other systems.
Challenge Mission
Collaborative Strategy
Through our business development activity, we are having discussions with stakeholders of all types to get their viewpoint and assess their interest in taking a step toward improved support of care delivery outside of the provider office. We find that many organizations have this on their strategic roadmap and looking for solutions. Evidence can be found in moves some big players have made such as – Humana's purchase of Kindered Healthcare's Home Health and Hospice business, CVS merger with Aetna and Intermountain Healthcare's restructure into community care and specialty care divisions.
We are now exploring partners who have a need for a fully-developed consumer solution for their own soltions. These include population health product or service companies, case management software, and certain EHRs, as well as fully curated employee benefit platforms.
Projected 3 Year Growth
Our target market consists of employers, at-risk providers and payers focused on reducing costs and improving efficiencies (i.e. worker productivity, unnecessary utilization and re-admits) and also companies targeting specific reimbursement opportunities that involve remotely connecting with and supporting home-based care (i.e. Medicare's CPT 99490 for chronic care management and CPT 99091 for remote patient monitoring.). A Goldman Sachs research report ("The Digital Revolution Comes to U.S. Healthcare" Goldman Sachs Global Investment Research, 6/29/15)* placed the total savings opportunity at $200 Bil for all efforts related to improving care at home and through remote patient monitoring. Revenue opportunities in Medicare billings (ie., chronic care management and remote patient monitoring) and employee benefit programs amount to $.5B, and $.4B, respectively.
Thus, market conditions exist for significant growth. Currently, we feel it is prudent to withhold specific forecasts of our market penetration until we achieve more clarity.
*- https://www.wur.nl/upload_mm/0/f/3/8fe8684c-2a84-4965-9dce-550584aae48c_Internet%20of%20Things%205%20-%20Digital%20Revolution%20Comes%20to%20US%20Healtcare.pdf
How We Will Make Money
As with most cloud based SaaS solutions, CareGeneral is priced on an annual subscription structure based on a per member to healthcare stakeholder entities. For employers, we offer a flat fee structure. Note: Members of health plans, employees, families and other stakeholders in each care chain would have free access to the application.
About our Competition
CareGeneral is a disease-agnostic solution, thus we do not consider point solutions (for chronic diseases (diabetes, CHF, etc.), behavioral health, or medication management etc), which represent the vast majority of current digital health apps, to be direct competitors.
To date, the leading competitors that specifically offer informal caregiver solutions are, with the exception of CareZone, not-for-profits. These include: Lottsa Helping Hands, FCA CareJourney, AARP Caregiving, CaringBridge, and Alzheimer's Association Caregiving Buddy. All the not-for-profit products are direct to consumer.
For-profit competitors that offer the ability to include family caregivers in the care team include CareNavigator, CareSync, Fitango Health and eCaring. Each of these solutions offer one of more of our core features such as care coordination, communication, tracking of care plan adherence, chronic disease management under CPT 99490, remote support and patient education.
Progress with Customers to date
Please see the "Progress to Date" section in the post.
New Orleans and Our Company
Like with our recent efforts in New York City and Brownsville, Texas, our goal is to have a lasting impact on the quality and quantity of life experienced by those we are able to touch in New Orleans. We very much hope to partner closely with the highly respected provider organizations there to make a big difference in peoples lives.
Supporters
02/07/2018

-

Liked the project.

, MS

01/30/2018

-

Liked the project.

Comments

Login to post your comment!

Click here to Login
$ 0
pledged of $ 10,000 goal
65
Interest
Score
0
Adoption
Score
Instant Feedback
Help us find best new ideas to fund by telling us what you think. Your feedback goes straight to the team behind this project in private, so tell them what you really think.