About our project
The problem we solve:
Depression affects 1 in 12 Americans each year. Cognitive Behavioral Therapy (CBT) is the most proven form of treatment, with over 100 randomized control trials showing its effectiveness. However, there are significant barriers to face-to-face therapy: 1. It requires effort – to find a therapist, make an appointment, and figure out coverage; 2. It is inconvenient – since it must be done at a specific time at a specific place (involving travel); 3. It is expensive – a complete course of therapy costs over $2,000 on average. Unfortunately, for these and other reasons, 50% of Americans with depression don't use any form of treatment.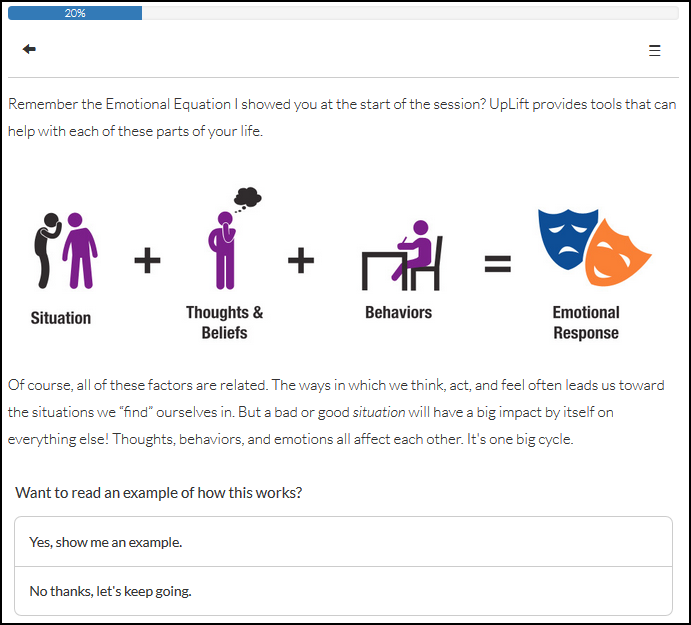 About our solution:
UpLift will be the first comprehensive Cognitive Behavioral Therapy program available on smartphones in the US. We created a fully automated CBT app. It is an interactive program, in which the user reads (and sees pictures), asks questions, and answers questions. UpLift has 11 "Sessions", with in-app homework "Challenges" and other CBT-based tools. The app works on computers and smartphones interchangeably, and thus solves the problems of: 1. Effort – just create an account and you're ready to go; 2. Convenience – can be done at any time, from anywhere; 3. Cost – it will cost a fraction of the price of face-to-face therapy.
Progress to date:
After almost 4 years of development, the UpLift app is finished! We have had many experts and clinicians consult on the improvement of each Session multiple times. The program is currently being further piloted by users, and we are planning to launch a scientific study of its effectiveness soon.
About Our Team
Creator:
Raffi Grinberg
Bio:
Raffi Grinberg has experience in computer science, product management (at The Vanguard Group), and education (he is the author of the math textbook "The Real Analysis Lifesaver)—this has enabled him to manage UpLift's product team and refine its development. On the business side, Raffi spent 3 years as a management consultant at Bain & Company, and has advised multiple startups on growth and business development.
Title:
CEO
About Team Members
Spencer Greenberg
CTO, PhD
Biography: Spencer Greenberg has a wide range of experience designing new technologies in many domains. In 2005 at the age of 23, he co-founded the quantitative hedge fund Rebellion Research, which continues to operate nine years later with a track record of outperforming the market. He is also the founder of ClearerThinking.org, which creates online training programs to teach decision making skills, and he is the founder of Gimbel Technologies, a software firm that develops new technologies.
Title: CTO
Advanced Degree(s): PhD
LinkedIn: https://www.linkedin.com/in/spencergreenberg

Drew Mallory
Chief Scientist, PhD (currently pursuing)
Biography: Drew Mallory is completing a PhD in humanitarian work psychology at Purdue University, where he focuses on the intersection of diversity, ethics, and wellbeing. He completed a masters at Oxford while conducting a meta-analysis on "what works" in computer-delivered cognitive behavioral interventions for depression, and a second at Purdue on the effects of corporate social responsibility on employees' experiences. He is the Vice Chair of the Global Organisation for Humanitarian Work Psychology.
Title: Chief Scientist
Advanced Degree(s): PhD (currently pursuing)
LinkedIn: https://www.linkedin.com/in/drewbmallory

Aislinn Pluta
Senior Product Manager, MAPP
Biography: Aislinn Pluta coordinates the technical and research-related aspects of UpLift. She has written much of the code that underpins UpLift's content and interactivity. She continues to write and edit, utilizing her background in positive psychology: the evidence-based factors that lead to individual and community thriving, founded by renowned psychologist Dr. Martin Seligman.
Title: Senior Product Manager
Advanced Degree(s): MAPP
LinkedIn: https://www.linkedin.com/in/aislinn-pluta-5a053426

How We Help Patients
Trying to beat depression can feel overwhelming. Luckily, UpLift can be with you every step of the way. It will check in with you. It will get to know you, and adapt to your personality. Most importantly, it will teach you the skills that have helped millions of other people lift their moods and overcome depression. Unlike face-to-face therapy, you can access UpLift whenever you'd like, from wherever you want. It can work by itself or as a complement to medication, and the effects of Cognitive Behavioral Therapy have been shown to often last a long time. When it's available, you'll be able to log in to UpLift to get started, with full access to all of the Sessions, Challenges, and problem-solving tools.
How We Help Physicians
Care providers who diagnose a patient with depression often prescribe anti-depressants and/or refer to a therapist or psychiatrist. Unfortunately, many patients don't follow up on these recommendations. Wouldn't be nice if you could send your patient home with an app that they can use to help themselves immediately, to complement any prescriptions for medication? UpLift will be the first comprehensive Cognitive Behavioral Therapy program available on smartphones in the US. UpLift can serve as an excellent supplement to various forms of treatment, and multiple meta-analyses support the effectiveness of similar computerized CBT interventions.
How We Help Hospitals
Research shows that patients with depression cost over $400 more per month in healthcare expenses than the average chronic patient: http://us.milliman.com/insight/research/health/pdfs/chronic-conditions-and-comorbid-psychological-disorders/ UpLift will be the first comprehensive Cognitive Behavioral Therapy-based program available on smartphones in the US. It is an inexpensive, easily-adopted self-help program for patients with depression, that is likely to save costs: in patients' mental health care, as well as their physical health care.
How We Help Partners
Imagine if every prescription of your medication, device, or service included access for the patient to use UpLift for free. That's what we can offer! Computerized CBT can be effective alongside various forms of treatment, including medication and face-to-face therapy. UpLift will be the first comprehensive Cognitive Behavioral Therapy-based program available on smartphones in the US.