About our project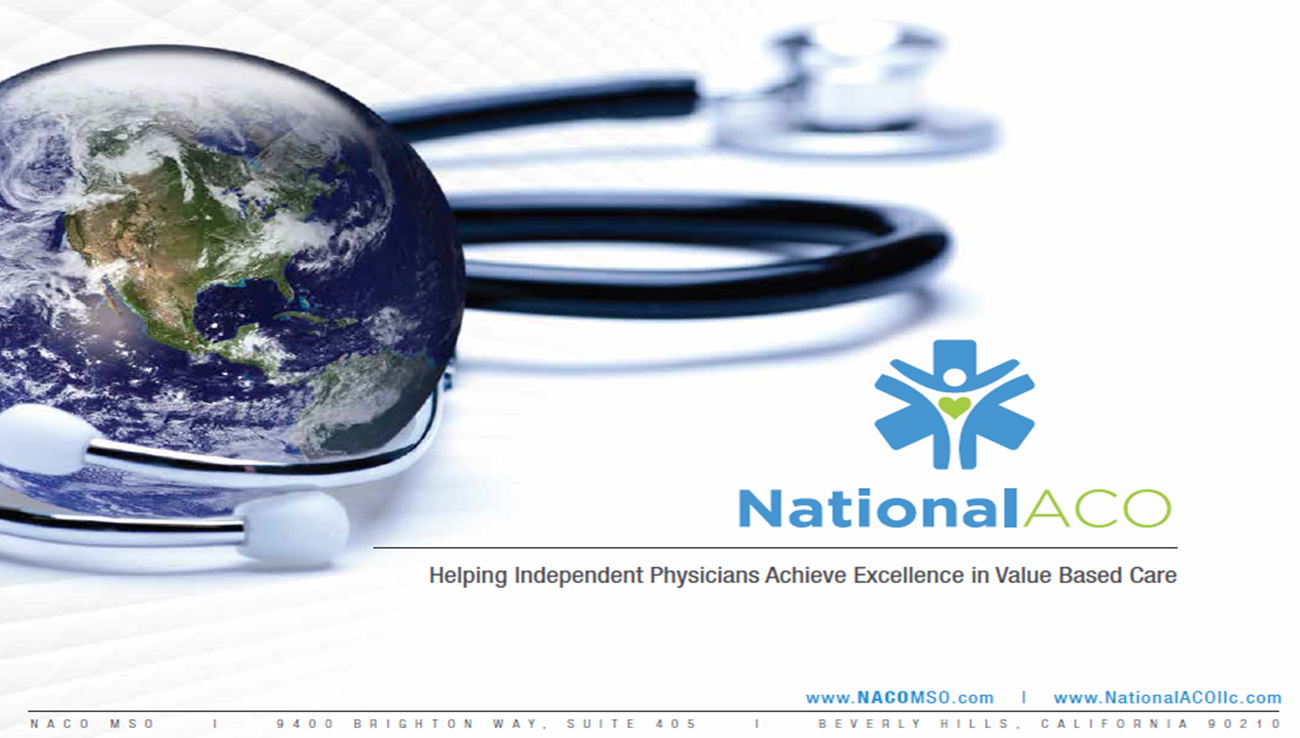 The problem we solve: NACO is providing a way for independent physicians to practice medicine in the current regulatory environment in a way that generates savings for the system, higher revenues for the physicians and better outcomes for the patient. The much coveted triple-aim of healthcare. As healthcare shifts to value based care we help the individual and small group practitioners stay compliant and generate additional savings - without the need to lose the freedom to operate in their own independent ways.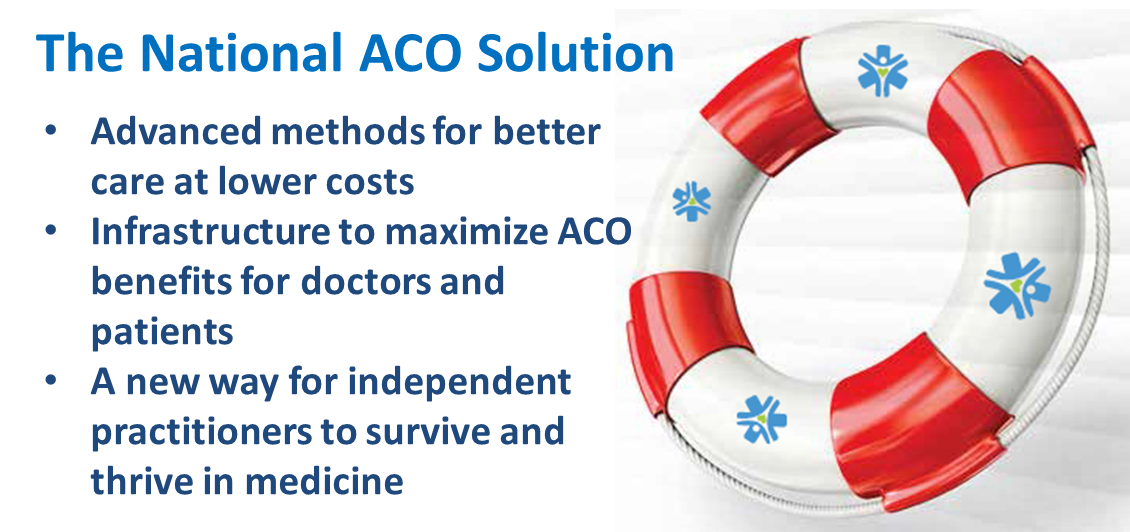 About our solution: NACO is a Next Generation Accountable Care Organization designed by independent physicians for independent physicians. We share up to 80% of the cost savings we generate with our participating Physicians. Once a provider is enrolled, the NACO Provider Engagement Team begins a process of training, systems integration, and alignment that drives down the cost of care while improving access and quality, satisfying the goals of the triple aim of medicine and adding accountability for care while helping independent practices survive and thrive again.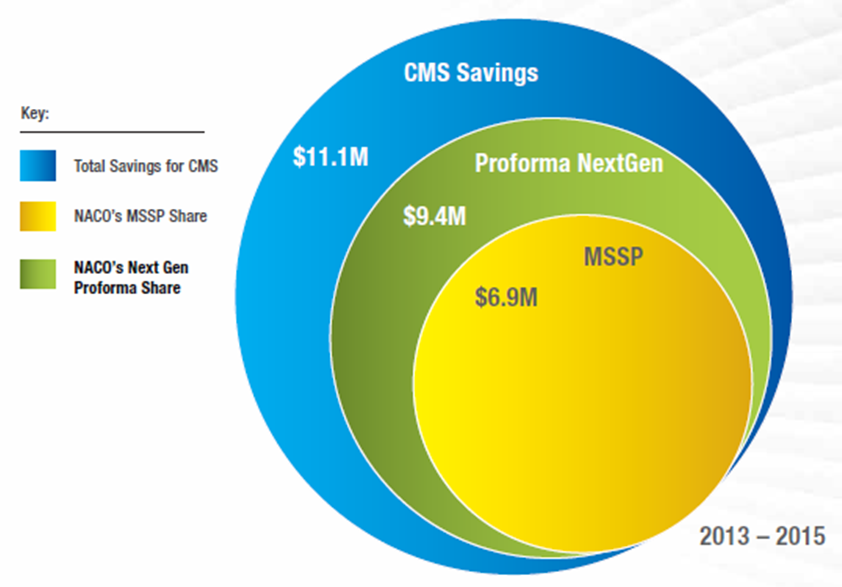 Progress to date:
NACO was founded in 2012 and has been provding great returns the last 5 years to our members, as well as saving CMS over 14 million dollars in costs. NACO and our providers have also increased their revenue while improving the quality of care for our patients.
As Dr. Foxman discusses in the video, our approach is to focus on the patient, especially those who need the most care. With an approach focused on treating the whole patient and keeping the patient engaged, NACO has exceeded the ACO goals in three out of four full years in operation and is on track for exponential growth for our member physicians and our company as a whole.
About Our Team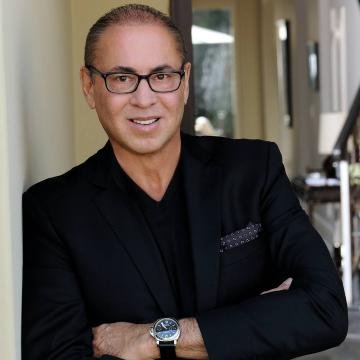 Creator: Andre Berger
Location: Beverly Hills, California
Education: McGill University
Bio: Andre Berger, MD, is a renowned physician who has been practicing in Beverly Hills and Los Angeles California since 1978. He has strong professional experience with both operations, medical management, and consulting for Managed Care for the last 36 years. He brings a comprehensive knowledge of managed care plans and an inherent desire to change patient care. Dr. Berger received his Medical Degree from University of Ottawa and completed his residency training at McGill University.
Hospital Affiliation: Canon Surgery Center
Title: Chief Executive Officer
Advanced Degree(s): MD
Twitter: @NACOMSO
About Team Members
Alex Foxman
President, Medical Director, and Co-Founder, MD
Biography: Alex Foxman, MD, has been practicing Internal Medicine and Preventive Care since 2003. Dr. Foxman has started several successful and innovative medical practice models including Mobile Physician Associates, a completely mobile group medical practice serving the needs of the home bound, frail elderly and disabled populations of Southern California. This practice model has shown a significant improvement in patient quality of care with double-digit reductions in overall medical costs.
Title: President, Medical Director, and Co-Founder
Advanced Degree(s): MD
LinkedIn: https://www.linkedin.com/in/alex-foxman-m-d-1821321/

Volker Winkler
Vice President, Provider ENgagement, MD
Biography: Dr Winkler has been practicing general medicine since 1978. and is one of the managing partners of McKenzie Medical Center in McKenzie which operates clinics in McKenzie, Dresden, Gleason, and Bruceton, Tennessee. McKenzie Medical Center currently employs a staff of 11 physicians and 28 additional health care professionals. See more at http://mckenziemedicalcenter.com/
Title: Vice President, Provider ENgagement
Advanced Degree(s): MD

Joe Bucher
Chief Financial Officer, CPA
Biography: Mr. Joseph Bucher has been a practicing CPA since 1982 and received his accounting degree from California State University at Northridge (CSUN). He is a partner in the accounting firm of Lasker Kim & Co LLP, located in Culver City Hills, California. Over the span of 33years, Mr. Bucher's experience has included performing audits and providing accounting and tax planning strategies for medical enterprises. He has been with NACO since inception and manages accounting and serves on our Board.
Title: Chief Financial Officer
Advanced Degree(s): CPA
LinkedIn: https://www.linkedin.com/in/joe-bucher-cpa-62b26213/

Edwin Everett
Vice President of Provider Engagement, MBA, PhD
Biography: Dr. Everett is an experienced healthcare and compliance leader with over a decade of experience in managed-care, public health, and research. Edwin has in-depth work knowledge with various Medicare, Medicaid, and dual enrollment programs as well as developing and implementing large-scale emergent diversion, palliative care, and outreach programs. His work at NACO and research focus on ACO organizational design, transformative/compassionate care leadership, emergent care and quality metrics.
Title: Vice President of Provider Engagement
Advanced Degree(s): MBA, PhD

Russell Frandsen
Corporate Counsel, Esq.
Biography: Mr. Russell M. Frandsen has practiced corporate, securities, and business law since 1976. He earned his law degree from Duke. He is rated "AV" by Martindale Hubbell, the highest rating for competence and integrity awarded by Martindale Hubbell. Mr. Frandsen practiced as a partner with several national and international law firms, including Reed Smith LLP and Squire Sanders & Dempsey LLP. In 2007, Mr. Frandsen established his own private practice as The Business Legal Group.
Title: Corporate Counsel
Advanced Degree(s): Esq.
LinkedIn: https://www.linkedin.com/in/russell-frandsen-2bb85412/

Richard Stephenson
Chief Technology Officer,
Biography: Richard Stephenson, a CPA by trade, founded RISARC in 1990 and is is an authority on government and private insurance payor programs respected for his knowledge of new policies and regulations regarding the healthcare industry. Richard is a pioneer in the HIT industry and manages all systems and development for NACO.
Title: Chief Technology Officer

How We Help Patients
Healthcare has long been too inefficient, and directly or indirectly, it is the patients that bear the brunt of this inefficiency. Higher deductibles and premiums, inconvenient care, and an overall lack in the quality of care are the result of Volume-based payment programs where the goal is to see as many patients as possible.
This is why the new Value-based payment model that NACO uses is a vast improvement over Volume-based payments. For the first time in 30 years physicians and our care teams can focus on the patient and be rewarded for keeping them as healthy as possible as opposed to seeing as many as possible. Aligning incentives for quality of care over quantity of care is what Value-Based Payments are all about and this simple change is driving the transformation of healthcare such that care is patient-centered, as it should always be.
Accountable Care Organizations (ACOs) such as NACO focus on quality of patient care. We use Value-Based Payments and are rewarded for keeping patients as healthy as possible.
We are happy to report that by focusing on care quality, access to the best physicians, and making care convenient for patients, we have been able to reduce the cost of care and are among the most successful ACOs in the country.
As our patient you will experience healthcare how it should be – with you at the center. Would you like your doctor to practice Value Based Care? Then take our Patient Rewards and wear your NACO Tee to your next appointment and ask your doctor if she would like to be considered for the program!
How We Help Physicians
We help Physicians do what they do best
In our experience, we have seen that a physician who can focus on helping and treating his or her patients is a happy physician. And that is the way we approach everything at NACO. Before anything else, we are dedicated to making the life of our members easier, while generating additional revenues from care they are already providing.
By joining us primary care physicians receive the MACRA 5% bonus and avoid the up to 9% MIPS penalty.
National ACO provides the opportunity for primary care physicians to receive value-based payments at no-risk. A Physician's success is often dependent upon the retention of their patients, which relies on the quality of care, and high-quality care lends itself to better outcomes. It's simple: improved outcomes aide in patient retention. Multiple Shared Savings Program (MSSP) ACOs, such as National ACO, continue to be compensated on a fee-for-service basis; and based on the ACO's performance in any given calendar performance year, are eligible for substantial shared savings over and above the fee-for-service revenue generated by their providers.
Proven Performance
Between 2013 – 2015, NACO has saved CMS a total of $14.7M in the MSSP.
For 2013 NACO was in the top 10 performing MSSP ACOs in the United States and #1 in California with a $551 per beneficiary per year savings.
NACO also generated significant savings in PY 2014, and in PY 2015 saved $6.9 Million an received a shared savings distribution of $3.1 Million. For 2015 NACO was in the top 20% of all ACOs generating savings, and was a top performer in California.
NACO has demonstrated the ability to manage risk and will receive an expected 80% of the savings achieved from dollar one. CMS average spend for NACO's beneficiaries is about $13,390 for 2017. NACO has historically achieved savings between 4% and 6%. If NACO achieves 6% savings, NACO will achieve $643 savings per CMS beneficiary, which is NACO's 80% share. In 2017, NACO will have about 21,200 CMS beneficiaries, resulting in accrued savings of $13.6 Million as NACO's 80% share. In 2021, NACO anticipates growing to 135,000 CMS beneficiaries, and projects NACO's accrued share of savings to be $87 Million.
NACO will continue to prove that it can successfully and responsibly manage risk. Under the MSSP program, NACO has already demonstrated that it can manage healthcare costs and avoid losses by sustaining three consecutive years of savings. Therefore, NACO should continue to attain the same profit level by incentivizing physicians to manage care effectively. Effective and efficient, Next Generation ACOs will be able to achieve significant financial success, and NACO has already established its ability to thrive.
Our Value
Proven Increase in Practice Revenue
MACRA Bonus Eligibility
Avoid MIPS Penalties
Financially Risk Free
Increased Patient Satisfaction
Optimal Population Health
Grow your practice by participating in one of the only Next Generation ACOs designed for independent physicians
CMS estimates that Medicare Enrollment is expected to increase from 55.8 million in 2016 to 71.6 million by 2025. Of these enrollees, 38.3 million are fee-for-services beneficiaries. CMS has stated its intention to transfer half of Medicare spending to value-based contracts by 2018. With tremendous bipartisan support, the Medicare Access and CHIP Reauthorization Act of 2015 ("MACRA") introduced significant changes in the Medicare program. This legislation empowered CMS to create Alternative Payment Models ("APM's") in order to move fee-for-services Medicare Beneficiaries into value based risk bearing delivery models such as the Next Generation ACO Model going forward.
Since most ACOs are hospital system or insurance company based, National ACO is one of the few that any physician can join, and it is designed to help smaller practices thrive. Join us in this revolutionary way to grow your practice, treat patients better, and get paid for keeping them as healthy as possible.
Grow your revenue by giving more comprehensive care
Under MACRA, physicians participating in a qualified Alternative Payment Model (APM) will automatically receive a 5% increase in the fee-for-service reimbursement for all their Medicare beneficiaries (both attributed and non-attributed). Physicians not participating with a qualified APM are subject to a potential 9% reduction in Medicare reimbursement if they do not meet certain stringent qualified reporting requirements. These requirements are expected to be difficult and expensive for Independent Physician Practices to meet without participating in a group like NACO.
What is the future of the ACO model?
While no one can know specifically what will happen, getting rid of a plan that saves the government Billions while delivering better care will be neither prudent nor popular. Congress authorized the creation of Accountable Care Organizations (ACO's) as part of the Affordable Care Act (ACA) in order to facilitate the adoption of Alternative Payment Models mandated by MACRA. ACO's saved Medicare $466 Million in 2015 and nearly $1.29 billion in the first four years. While there can be no guarantees, Management believes it is likely that programs necessary for the movement towards Merit-based Incentive Payment Systems and APMs like ACO's will be continued or reauthorized under any replacement supported by the current administration.
Strength in Numbers, Poised for Growth
CMS has announced that Year 2017 will be the last year of new Next Generation ACO program Participants until 2020 and has approved only 45 Next Generation ACOs to date including NACO. Many of the existing organizations are directly linked to specific provider systems and, as such, are unlikely to expand beyond their existing networks. NACO was specifically designed to accommodate independent physician practices which represent nearly 52% of the physicians nationwide. Thus, NACO is uniquely positioned to take advantage of massive changes the delivery of care for the rapidly growing Medicare system.
We look forward to discussing how we can help your practice grow and improve in a variety of ways. We designed NACO not just to improve medicine, but to improve the practice of medicine for Physicians who are overwhelmed on all sides by reduced reimbursements, increasing regulation, and rising costs. NACO is the life ring for the medical practice.
How We Help Hospitals
NACO reduces the cost of providing care while also adding to the quality of care provided by its network of physicians. By adding your hospital or medical facility to our growing list of participating providers and institutions you will
Increase referrals as part of our Preferred Provider Network
Get aligned with CMS Alternative Payment Models
Automate quality methods and metrics
Inprove revenue
Get Aligned
NACO aligns Primary Provider incentives to create a powerful professional and financial motivation to "Quarterback" care for their CMS Accredited Beneficiaries.
Proactive Information Systems to Identify High Risk Patients
Patient's most at risk are identified by the NACO/RISARC Health Information System for greater monitoring. NACO then makes this monitoring easier by providing access to a suite of telemedicine and home monitoring solutions. These solutions enhance the level of ongoing patient engagement and provide notifications to care givers when key patient monitoring measurements exceed predefined parameters.
Reduction in High Cost Expenditures
The Primary Care Physician is notified when a patient presents themselves for services at hospitals, skilled nursing facilities, urgent care centers or other emergency care providers. This allows participating physicians to coordinate and collaborate patient care regardless of where the patient is seen. This not only helps improve care quality but also reduces potential medical errors and duplicate diagnostics.
The Preferred Provider network
In each market served Preferred Providers are selected based on the historic quality and cost of patient care for their services. Additionally, many of these preferred providers have agreed to participate in NACO's population payment programs to grant extra discounts to NACO's Attributed Beneficiaries.
Participating Physicians are encouraged to refer patients to NACO's Preferred Provider Network (PPN) to provide needed specialists, diagnostic, and other ancillary services. Keeping patients within the NACO PPN is one of our most effective methods for maintaining coordination, continuity, and quality of care while keeping costs in control.
How We Help Partners
NACO partners with like-minded organizations throughout the healthcare delivery system. Depicted below are a few of our existing partners. Click the partner button on this campaign page to start a conversation about how we can work together for the benefit of patients, providers, and our partners everywhere.
We Seek Value-Based Care Partners
NACO was designed to help independent physicians achieve excellence in Value Based Care, so if you have solutions that do that, we are interested. Only by providing our participating physicians with the best in training, information systems and care management solutions can we bend the cost curve while improving quality and access. We are always evaluating, piloting, and implementing new methods. Please do not hesitate to reach out to us using the partner link above and tell us more about what you do and how it could help.
Labs, Diagnostics, and Ancillary Services
If you would like to work with our practices and help us deliver even better care at reduced costs, please click the partner link above. Thank you!
Investor Info
Market Size
Our revenue potential is defined by the market forces and population demographics that are driving massive growth in Medicare and shift to value based care.
Medicare expenditures totaled $646.2 billion in 2015 and are expected to continue to grow at a rate in excess of 7.5% per year through 2020 due to increasing mandates, shifting demographics and the increasing cost of care.
The Center from Medicaid and Medicare Services ("CMS") has stated the intention of shifting at least half of its spending from fee for services to value based contracts by 2018. With 68.6% of its current enrollees participating in fee for service programs this implies $120 billion opportunity for value based care providers with substantial room for long term growth.
Projected 3 Year Growth
NACO expects to grow to 100k+ CMS beneficiaries by 2020, and have $120 M in overall revenues, including $42 M in Shared savings and $75 M in Population Based Payments.
CMS Attributed Beneficiaries: NACO began 2017 with 21,334 CMS attributed beneficiaries from approximately 75 group and individual medical practices. Going forward, NACO is focused on adding primarily large group practices with between 1,500 to 3,000 beneficiaries each. Accordingly, NACO will grow by adding 10-15 larger practices per year.
Shared Savings are also projected to grow significantly on an aggregate and a "same store" or provider basis based on the addition and growth of the Population-Based Payments program (green bars above.) On an individual physician basis this will take average Physician incentives from an average just inder $30,000 per doctor per yer to over $185,000 per doctor per year in 2020.
Notes:
1. Provider Distributions of population based payments based on the assumption of 30% to 70% pass through to participating physicians.
2. All data represent is based upon projections. 2016 revenue is projected conservatively based upon previous year data.
Revenue Model
NACO has two primary revenue streams, the MSSP and Population-based payments programs. Both are anticipated to continue to improve as indicated in the above figure. NACO has generated $11.1 M in savings for CMS, from 2013-2015 and has generated $6.9 M in MSSP share for its providers. This number would be ~ $ 9.4 M under the new Next-gen ACO model. For greater detail please contact our investment banking team at Young America Capital by clicking the "Invest" button above.
Competitors
CMS has announced that Year 2017 will be the last year to add new Next Generation (NextGen) Participants until 2020 and has approved only 45 NextGen ACOs to date including NACO. Many of the existing organizations are directly linked to a specific provider systems and as such are unlikely to expand beyond their existing networks. NACO was specifically designed to accommodate independent physician practices which represent nearly 52% of the physicians nationwide and is uniquely position to take advantage of massive changes the delivery of care for the rapidly growing Medicare system. Please see our Competition summary slide from our investor deck. For full access and information, please click the invest button above and our Investor Relations team will get back to you quickly.
Traction
For 2013 NACO was in the top 10 performing Medicare Shared Savings Programs ("MSSP") ACO's in the United States and #1 in California with a $551 per beneficiary per year savings
For 2015 NACO was in the top 20% of all ACOs and a top performer in California. NACO has Achieved savings for CMS in every year of its existence.
Due Diligence Docs
Please note that access to the company's confidential materials is limited. Click this button to request access from the Company and its representatives.
---