About our project
The problem we solve: Other than infection, tissue differentiation is the biggest surgical challenge – where, what and how much to cut. Verbal and visual distractions from 2D monitors lengthen procedures and negatively impact patient outcomes. Current fluorescent guided surgery (FGS) approaches have several major shortcomings: 1) cost; 2) usability; 3) complexity; and 4) low adoption rates. Current FGS solutions are expensive ($1.3M to $2.3M more expensive over 3 years based on 20 surgeries per week and 40 surgical weeks). Current FGS solutions have several usability concerns: black and white, 2D images outside of the surgical field, single focal point, requirement to turn off lights in order to obtain fluorescence, bulky hardy requires extra time (15-30 minutes per procedure) to set up and mechanical arm for camera and light sources are hard to maneuver. The use of external monitors.

About our solution: With AR Imaging, a surgeon puts on AR-enabled glasses (digital loupes) with variable magnification (2x-8x), adjustable color contrasts and voice navigation. Vivid 3D color images of the surgical field and fluorescent imaging significantly improve tissue differentiation and depth perception. Preoperative diagnostic images (e.g. CT, MRI) superimposed on the patient improve situational awareness of the surrounding structures and organs. By revolutionizing clinician visualizations and situational awareness, AR Imaging is focused on eliminating verbal and visual distractions and improving decision making to reduces the time and cost while improving patient outcomes from medical and surgical procedures.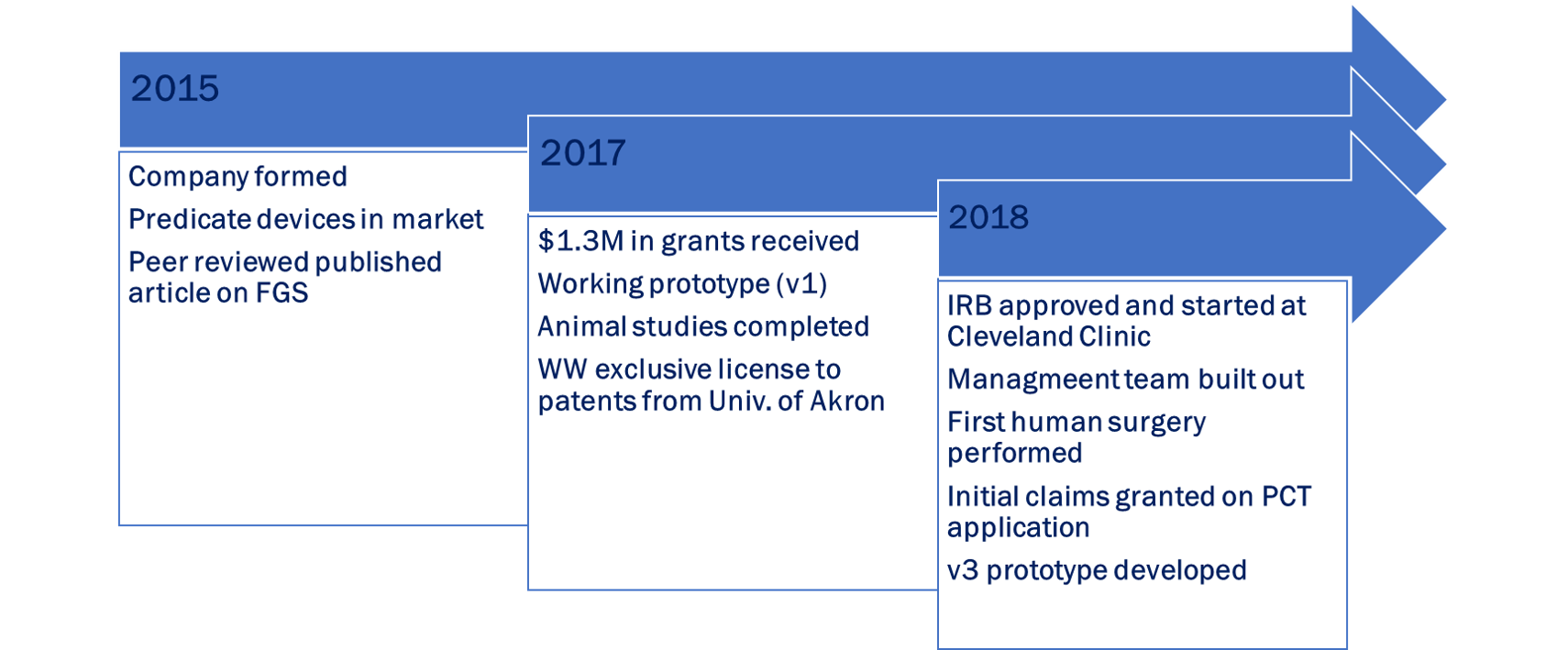 Progress to date:
~$1.3M in grants (non-dilutive capital) has been received over the last three years
Working prototype
Completed animal studies (where key algorithms were tested and verified)
1 IRB protocol approved (sentinel lymph node mapping) and surgeries being performed at the Cleveland Clinic (CCF)

Approved IRBs at CCF go through a lengthy process that also includes Case Western Reserve Medical School, University Hospitals and Metro General
Initial surgery performed by Dr. Stephen R. Grobmyer, Director, Surgical Oncology at the Cleveland Clinic.

1 IRB protocol approved for clinical trial (Flap perfusion viability in plastic surgery) but not yet started at CCF
1 IRB protocol in final phase of approval (Basal Cell Carcinoma) process at CCF.
3 PCT patent applications, the first of which has had office action and several key claims already approved (AR Imaging has the exclusive WW license from Univ. of Akron)
"Low" risk FDA approval path (class II device) based on strong existing predicates
Experienced management team including business executives with many successful exits, AR/VR manufacturing expertise as well as leading medical and scientific expertise
Low" risk market entry due to payment and reimbursement (DRG and ICD) codes already in place from prior predicate devices as well as validate peer reviewed papers on value of fluorescent guided surgery
About Our Team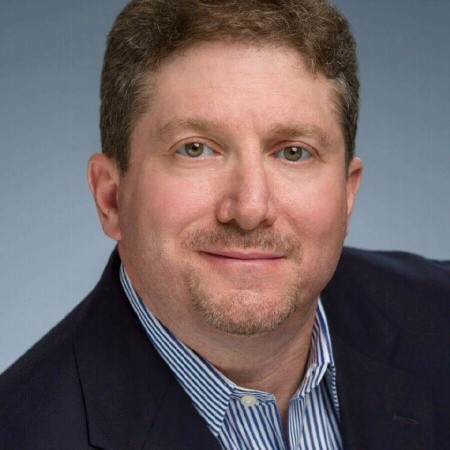 Creator: Michael Riemer
Location: Virginia
Bio: I am a technology business executive and "accidental" serial entrepreneur who left medical school to start (and exit) my first company. 32 years of B2B enterprise software leadership experience in product management, marketing and business development including 3 exits. Last 10 years leading Industrial IoT and field service applications, platforms and digital ecosystems for connected vehicles and heavy equipment Early executive at Nextel (1993). 7+ years running products (handset, services, data, applications) including creating/launching GTM segment strategy (7 segments, 25M Pops) that delivered $70 ARPU (industry highest), 2.5% churn (industry lowest), 4.5M subscribers (record growth) and 3500% increase in market cap. Unique combination of software, hardware and telecom product management with more than 20 product launches and 5 granted patents Broad industry experience (financial services, heavy equipment, transportation, cybersecurity, telecom, field service). Extensive technology background (IoT, hardware, software, cloud, mobile, voice recognition, AI/ML, Predictive & Prescriptive Analytics) generating >$200M in software contract value.
Title: Chief Executive Officer
About Team Members
Frank Papay
Chief Medical Officer, MD, MS BME, FACS, FAAP
Biography: Chairman, Dermatology and Plastic Surgery Institute at the Cleveland Clinic. Performed first near-total face transplant in US and commercialized first neuromodulation implant device.
Title: Chief Medical Officer
Advanced Degree(s): MD, MS BME, FACS, FAAP
Twitter: @4arimaging
LinkedIn: https://www.linkedin.com/in/frank-a-papay-md-3193187/

Yang Liu
CTO, PhD Biomedical Engineering
Biography: Assistant Professor, Biomedical Engineering, University of Akron Expert in medical virtual reality and intraoperative imaging; Principal investigator of multiple research grants from US Air Force, Army, NASA, ODOD, etc; Young Investigator award recipient from International Society of Computer Aided Surgery.
Title: CTO
Advanced Degree(s): PhD Biomedical Engineering
Twitter: @4arimaging
LinkedIn: https://www.linkedin.com/in/-yangliu/

Andrew Moan
CPO, MBA, Finance
Biography: General Manager, Cleveland Clinic – Digital Innovations (AR / VR / AI) Expert in product development for AR / VR / AI. 15+ years in hi-tech focusing on simulation, computer hardware development, software design and business evaluation. Previous employment at Microsoft, Apple, and McKinsey & Co.
Title: CPO
Advanced Degree(s): MBA, Finance
Twitter: @4arimaging
LinkedIn: https://www.linkedin.com/in/andrewmoan/