About our project
The problem we solve: Each year over $20Bn is spent on healthcare in Nigeria alone (Africa's most populated nation) yet with abysmal outcomes. Medical diagnostic industry in Nigeria is valued at over $1.6Bn (PwC), yet less that 2% of industry is formalized. Over 30% of Nigerians (Africans) over 25 are clinically hypertensive and over 25% of Nigerians over 40 may be at risk of cancer Breast, cervical, colon and prostate). Medical diagnostics are too expensive so mortality rates for both diseases are high, since patients often present too late. Non-Communicable diseases are a fast growing epidemic across Africa.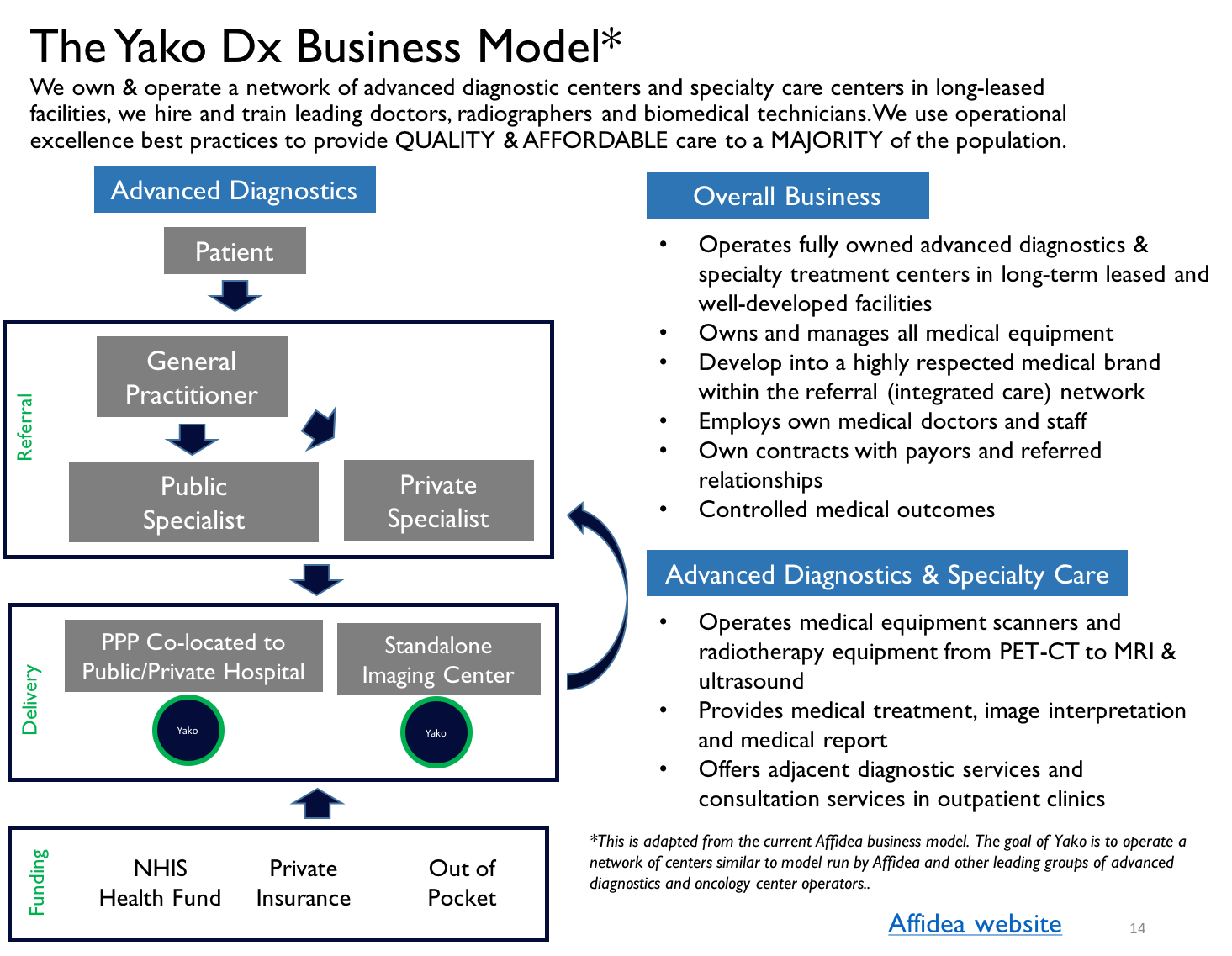 About our solution: Our differentiator is BUSINESS MODEL INNOVATION. We COPY, PASTE and REPLICATE successful models in Europe and India that deploy digital and healthcare IT solutions and operational excellence (lean six sigma) best practices to manage a network of advanced diagnostic centers under a single company. This reduces operating costs and provides quality medical diagnostic care at an affordable price to a greater percentage of the population.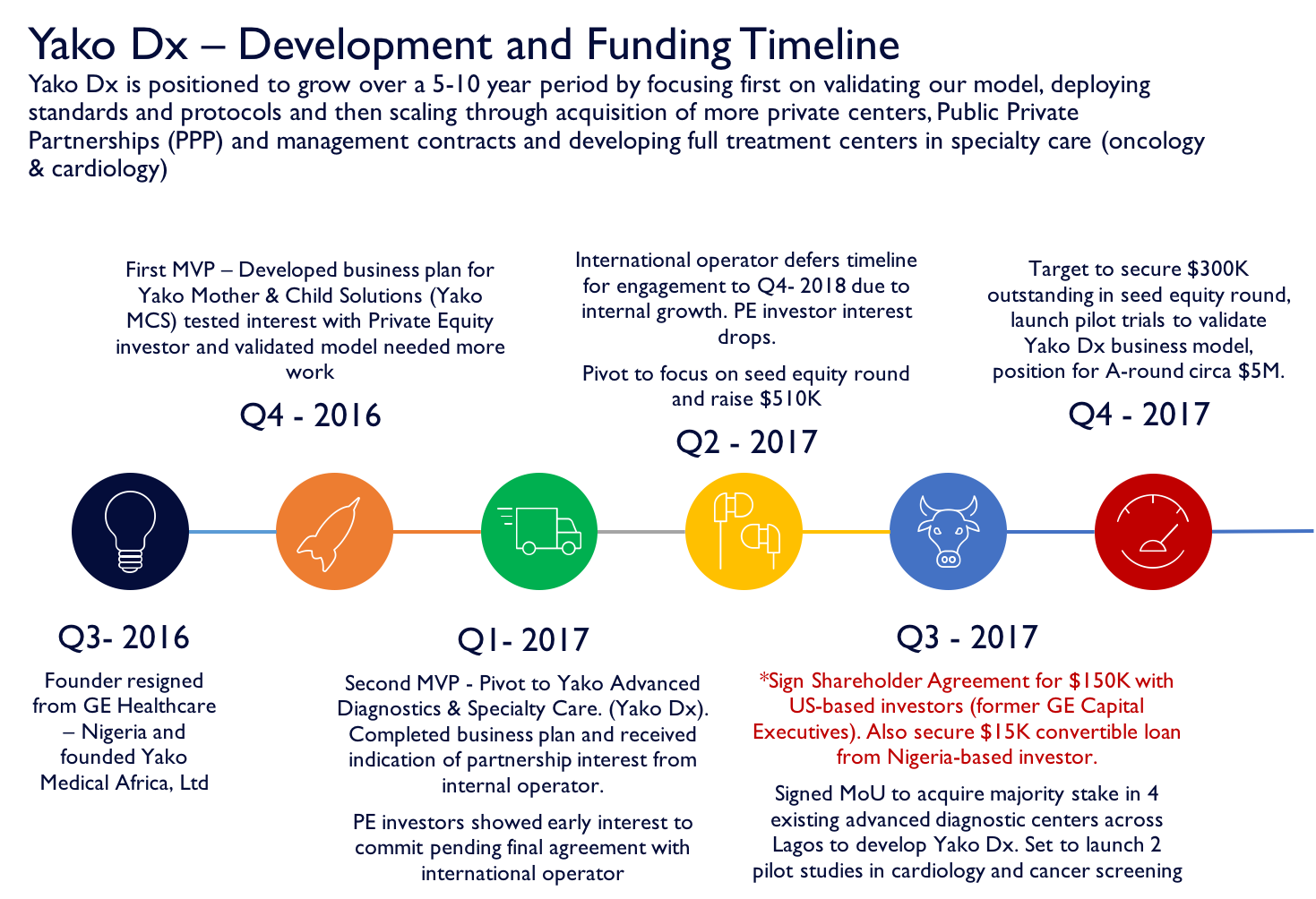 Progress to date:
Entrepreneur (a US military veteran and citizen) over 18 yrs healthcare experience, resigned as GM of GE Healthcare Nigeria/West Africa in Sept 2016 to launch Yako
Raising $510K seed equity round
Secured $210K from US-based (Former GE Capital execs) and Nigeria (former PE execs) investors
Signed MOU to acquire 4 diagnostic centers
Secured agreements with leading US healthcare IT companies, Indian remote CVD monitoring company
Senior leadership ready to join
Need seed funds to launch 2 pilots - cancer and cardiology diease early screening and detection across Lagos.
About Our Team
Creator: Ngu H Morcho
Location: Louisiana
Education: Rice University
Bio: Entrepreneur and eternal optimist. GLOBAL mindset with LOCAL experience. Africa is my passion and healthcare is my purpose. 20+ years of international professional experience, military, pharma, venture capital, project development, medical device sales, general management. I prefer to focus on the best in people.
Title: Founder & Managing Director
Advanced Degree(s): MBA
How We Help Patients
Patients are our PRIMARY focus and as such, our goal is to make sure they get the absolute best patient experience for the most affordable price possible. Our diagnostic centers will be upgraded to be easthetically pleasing and welcoming, we will work with the medical equipment suppliers to be make sure we can acquire best in class technology for an attractive rate and thus pass on the savings to our patients.
We will institute a customer service program similar to the programs run by the best hospitality companies so the entire patient experience will be seamless and comforting.
Getting medical diagnostic care can be daunting because of the fear of potentially bad news, so our focus is to provide QUALITY CARE at an AFFORDABLE price delivered in the most patient-friendly environment possible.
How We Help Physicians
Curretnly physicians across Nigeria and Africa suffer from 3 major problems:
Lack of world-class clinical care and protocols
Lack of a dedicated patient-referral base
Poor business infrastructure, so inability to develop a career that can help them take care of their families.
Our Yako model addresses all 3 challenges.
Medical Excellence: We emphasize a world-class medical excellence program and insist all our centers get accredited within a 12-18 month period. This will invariably have a direct imapct on all the referring and participating physicians in our network
Patient Referral: Given the organizational structure of our company, there will be a far greater pool of patients to serve compared to the current "mom & pop" structure local primary care physicians and diagnostic operators/radiologists are operating.
Business Infrastructure: This will be one of the first times radiologists and participating physicians will work for a company with a world-class governance structure, senior management, transparence in financial, operational and other key performance metrics. They will also get far better rewarded for improvements in performance (patient throughput and improved medical outcomes at a reduced cost.)
How We Help Hospitals
Aross Europe and India, the business models we seek to compare and introduce to Africa, have had a significant reduction in the total overall cost of care, but more important have helped hospitals operate at a far greater efficiency and as a resutl, greater profitbability.
We are positioned to serve as an outsourced advanced diagnostic partner for most of the major hospitals currently operating across Nigeria and West & Central Africa, as well as many others currently approved for financing by investors and under development.
How We Help Partners
Most of our partners are technology and operations companies that currently do not have a presence in Africa, particularly in Nigeria, Africa's largest market.
We offer an opportunity for those healthcare companies that have an innovative and entrepreneurial solution to partner with us and develop a market-leading solution to serve the over 1Bn population across Africa.
We offer one of the world's last and most profitable growth opportunities for those companies that have a genuine desire to transform the world and are not discouraged by the noise about Africa, yet have a global appreciation for the role the African consumer will play in the world economy within the next 10 - 20 years.
Investor Info
Market Size
Total Healthcare Expenditure in Nigeria was $18.3Bn in 2014.https://www.rvo.nl/sites/default/files/Market_Study_Health_Nigeria.pdf.
In addition, the PwC Healthcare office in Nigeria assessed the market size of the medical diagnostic sector to be $1.64Bn following a market survey study in 2016. There are said to be 10,000 registered providers of medical diagnostic service across Nigeria yet the top 4 providers together account for no more than 2% of the market offering.
Projected 3 Year Growth
Proejctions: Please note that the current top 4 providers of medical diagnostic services across Nigeria collectively account for no more than 2% of the market share currently.
2018
Revenues: N1.1Bn ($2.75M)
EBITDA: -6.3%
Market Share: 0.17%
Number of Diagnostic Centers: 8
2019
Revenues: N5.16Bn ($12.9M)
EBITDA: 16.83%
Market Share: 0.75%
Number of Diagnostic Centers: 15
2020
Revenues: 13Bn ($32.5M)
EBITDA: 25.8%
Market Share: 2%
Number of Diagnostic Centers: 18
Revenue Model
Ou revenue model is fee for service. Our centers provide specialty diagnostic services (imaging and pathology) to patients for a fee. This is the same revenue model currently being deployed by the providers of medical diagnostic care across Nigeria and Africa. The challenge historically has been as follows:
Over 90% of healthcare is still out of pocket or cash based
HMO and health insurance coverage is less than 5% across Nigeria and most other countries across West & Central Africa
Opportunity for revenue leakages exist of there are not enough controls in place and if we do not use IT to track patient flow
In addition, a system that focuses on pearly screening and identification (like we intend to deploy) should drive greater patient traffic to our centers thereby increasing revenue
Finally, our affiliations with specialty centers for patient referral such as cancer and cardiology clinics gives us greater ability for patient/customer loyalty since the probability of better medical outcome would appear greater with our Integrated Care Ecosystem (ICE).
Competitors
Yako is a platform to create medical-leading clinical services and technology solutions companies. Our goal is to enable access to quality and affordable healthcare to all Nigerians and Africans through an Integrated Care Ecosystem (ICE).
Our diagnostic and specialty care business is the first model we are aware of that seeks to aggregate diagnostic and specialty care and delivered though a network approach by acquiring other existing centers and applying operational efficiencies.
Some of our potential competitors in the Nigeria marekt include: Mecure Diagnostics, Union Diagnostics, Clinix, Pathcare and ClinaLancet.
Traction
We have signed agreements to acquire 4 advanced diagnostic centers and plan to launch 2 pilot trials by end of September or early October 2017. Our target partners are currently serving patients and geberating revenues so all 4 businesses are generating income. The growth opportunity is for our ssytem to be applied and then enhance the operations for greater revenues and reduced cost.
Due Diligence Docs
Please note that access to the company's confidential materials is limited. Click this button to request access from the Company and its representatives.
---