About our project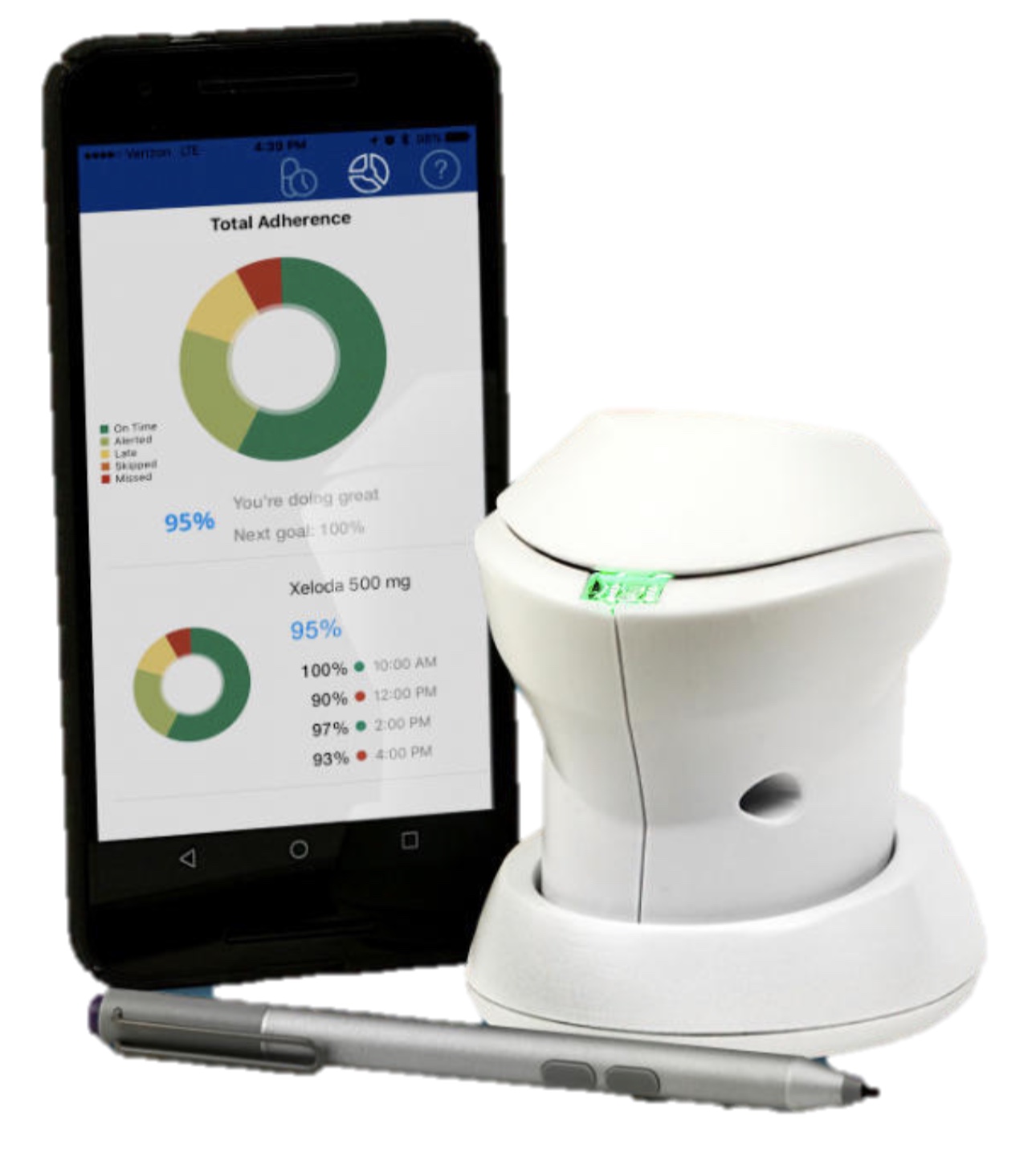 The problem we solve: We have great medicines but they don't work if people do not take them. Research shows people are not good at taking medications correctly, particularly medications people have to take for a long time. Medication taking is also not followed or tracked well. Getting medication from the pharmacy to the patient has improved, but supporting medication taking is still a problem today. The CDC reports not taking medications correctly results in over 700,000 ER visits, 341,000 hospitalizations, and over 125,000 deaths every year.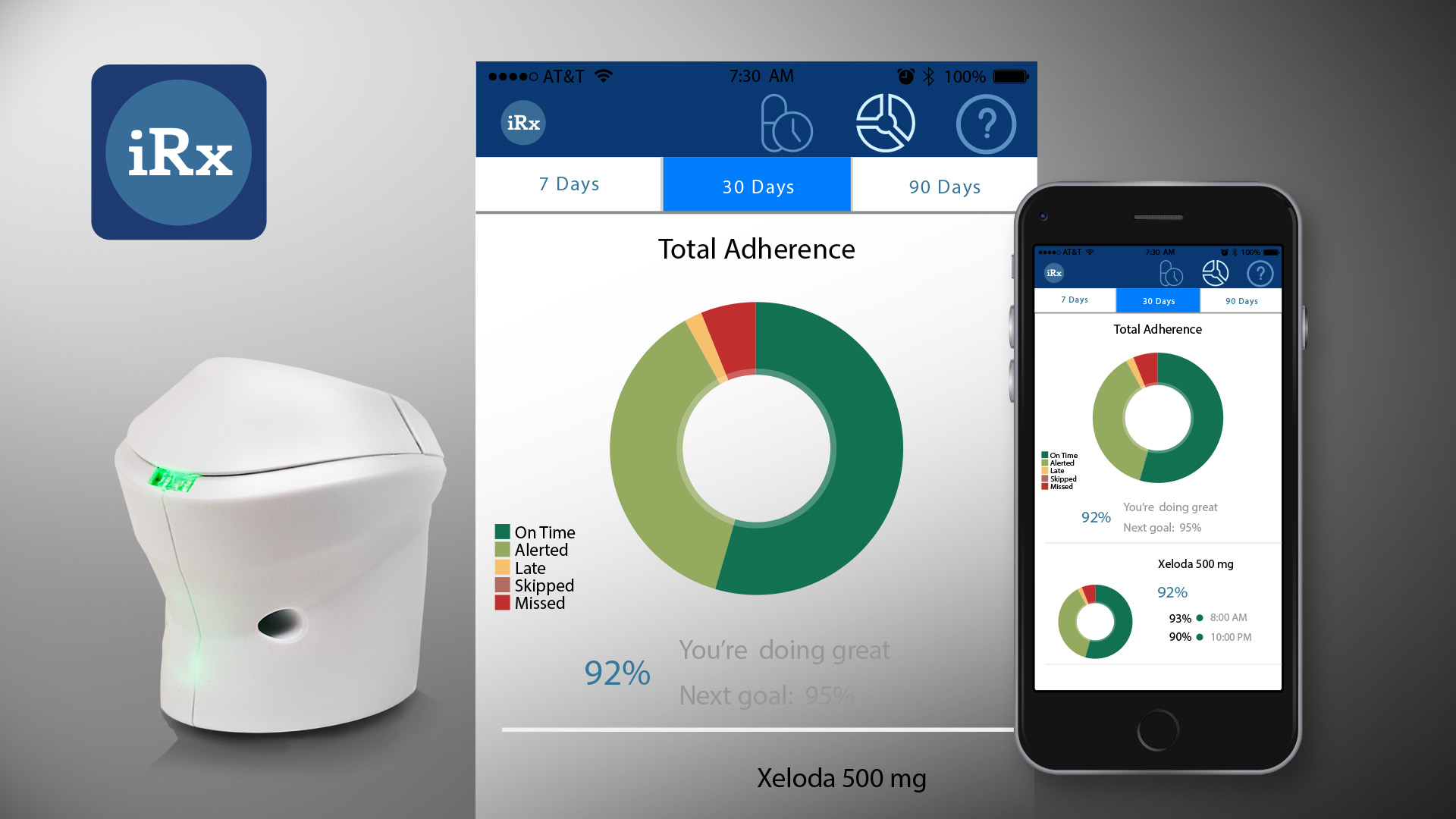 About our solution: We are proposing the field testing of a medication management platform that consists of an Internet-of-things pill dispenser and an app used by the patient and managed by healthcare professionals through a cloud-based interface connected to the patients EMR. iRxReminder's IoT pill dispensing device or "pod" uses our patent-pending smart alerting and effortless data recording when the medication is dispensed. We use a dosing window so that if you take the medication on-time no alert is generated. But if you haven't taken your medication, then an alert is sent to your smart environment (watch, phone, tv, speaker, caregiver, etc.). The platform is the basis for following chronic conditions and would become a very useful diagnostic and monitoring tool where medication therapy is critical including mental health, heart health, and recovery following surgeries.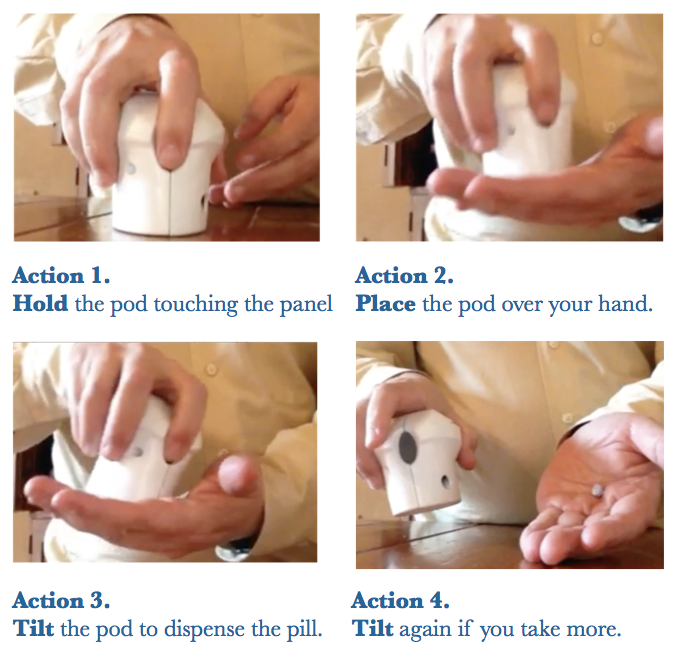 Progress to date:
Technology is complete The iRxReminder platform technology development is now complete. We are currently testing the complete platform at the University of Michigan Cancer Center under a project funded by the Hemotology Oncology Pharmacy Association (HOPA).
The app has been developed, validated, and tested with the iOS and Android OS. The apps are available in the Apple App Store and Google Play Store. The pod is ready for manufacture at scale. We have molds ready and manufacturing can be ramped up within 6-weeks with our partner Parallel Design Inc. located in Wooster, OH. Electronics design is optimized and ready for manufacture through our partner LogiSync in Avon Lake, OH.
We are in the final efforts to complete FDA Class II clearance submission which is anticipated to be complete and in the review process by the end of Q1 2019. Our FDA clearance effort is led by Dr. Fred Ma, an experienced FDA consultant with experience in bringing over 200 products through FDA clearance.
App improves adherence Sterns et al. (Sterns, 2017; NIH Grant No. 1R43AG033500) conducted a pilot to improve medication compliance using smartphones for older adults (Mean Age = 65) recovering from a stroke. Participants used the iRxReminder system or kept paper diaries for 2 months. Overall, participants using iRxReminder complied with 83% of medication events. No additional interventions, such as calls from the research team, or behavioral reinforcements, such as display of counts of successful events, were provided. Patient recall of medication adherence was poor: the smartphone group underestimated their adherence and the dairy group overestimated their adherence, showing the value of providing accurate data to the healthcare team. No one misplaced a smartphone, and half of the participants asked to keep the smartphone, demonstrating that even older adults will accept this technology.
mHealth meets telepsychiatry. The iRxReminder platform can be conceptualized as an advance in telepsychiatry that uses mHealth. As such, all of the advantages of telepsychiatry apply, such as cost effectiveness (e.g., reduced travel for follow-up meetings), increased access for patients in rural or hard-to-reach areas (e.g., prison, detox units), improved coverage of underserved groups (e.g., minorities), and improved efficiency. With respect to efficiency, iRxReminder can be used to manage large numbers of people quickly, and direct limited resources for interventions to re-stablize patients at the beginning of non-adherence. iRxReminder will also provide a quantitative assessment that may improve sensitivity and thus early detection of side effects that lead to non-adherence. Currently, there is no leading technological solution for assessing, monitoring and intervening with patients taking medications.
Cognitive prosthetic. The platform when deployed will act as a cognitive prosthetic to support successful self-management of patients living with chronic health and mental health issues. The system provides an effective monitoring system that can trigger early interventions, alerting and bringing to bear available resources just when needed. The platform can be right-sized so that those who use the system successfully are matched to the available healthcare professional team. The system will provide the quantitative information required to improve the quality of care and ensure that best practices are being added to the system as developed. The envisioned platform provides exactly the patient-centered care one imagines is possible with technology supported care coordination but has yet to be realized.
About Our Team
Creator: Anthony Sterns
Location: Ohio
Education: CUNY SPS, UMUC, University of Akron
Bio: Anthony Sterns founded iRxReminder after 10-years of research on caring for people living with dementia. The key lesson gained from this work is that people lose their independence due to failing to take their medications correctly. In addition, healthcare professionals are disconnected from what their patients are experiencing and cannot share their expertise and help. iRxReminder's core purpose is to empower patients and healthcare professionals to manage medications together, to achieve high adherence, lower ER visits, and improve health outcomes. Dr. Sterns is a recognized national expert in the area of gerontechnology and a pioneer in the application of mobile computers and smartphones for improving the quality of life for individuals living with chronic illness. Dr. Sterns has over 20 years experience in designing and bringing to market products and services for the silver industries marketplace. He is a member of the APA Division 20 board and a Fellow of the Gerontological Society of America. Dr. Sterns is a board member of the International Society of Gerontechnology where he also serves as the Deputy Secretary General and as an Associate Editor for the Society's journal, Gerontechnology. Dr. Sterns has led National Institutes of Health grants and contracts in the development of software for medication adherence on mobile devices since 2001. His direct project experience includes serving as the principal investigator developing a post-transient ischemic attack (mini-stroke) intervention (NIH 1R43AG033500) and working on two projects with co-investigator Dr. Hughes on a management of congenital heart failure intervention (NIH 1R43AG042230) and a medication adherence system that uses artificial intelligence to monitor Tardive Dyskinesia delivered using smartphones (NIH 1R43MH114763).
Hospital Affiliation: Kent State University College of Nursing
Title: Chief Executive Officer
Advanced Degree(s): Ph.D.
About Team Members
Josh Smith
Chief Technology Officer, MBA
Biography: Josh Smith serves as the Chief Technology Officer for Creative Action LLC and for iRxReminder LLC. Josh's prior experience includes senior programming positions at IBM and IBM Watson. Josh has worked with Drs. Anthony Sterns on previous grant-funded projects related to developing mobile applications to provide cognitive intervention therapies with older adults living with heart failure (NIH 1R43AG042230), living with dementia, and recovering from transient ischemic attack (NIH 1R43AG033500). Josh has spent his career helping users identify their goals and achieve the IT results they want. He is an Agile practitioner (software always internally tested and in a running state), and is comfortable working with both technical and non-technical people in an iterative design process that helps involve and engage project stakeholders. Josh has extensive full software lifecycle experience in online media and mobile products (including 3 games specifically for Apple's iPad and development of the iRxReminder, iRxCapture, and ESmCapture smartphone applications). In addition, his diverse academic background has provided a toolbox that is well stocked to handle a full range of software systems development projects. Lastly, he brings the proven leadership of successful cross-functional software and product development teams.
Title: Chief Technology Officer
Advanced Degree(s): MBA
LinkedIn: https://www.linkedin.com/in/joshuabsmith/

Fred Pollock
Chief Business Officer, BS
Biography: Fred Pollock, has worked in the biotechnology space for 20-years with direct healthcare experience with patient stratification of genetic testing. With all technology components in place, Fred Pollock, in the position of Chief Business Officer, just joined the team to provide leadership in revenue generation and creation of our sales organization. Fred was connected by a mutual friend after a recent exit.
Title: Chief Business Officer
Advanced Degree(s): BS
LinkedIn: https://www.linkedin.com/in/fredrick-pollock-736a45/

Challenge Mission
How We Address the Mission of The Challenge(s)
More and more, healthcare providers are recognizing the role of communication between patient and healthcare professionals for stabilizing and maintaining ongoing health. Adherence to medication is a key indicator for patients who have long-term health conditions like mental health conditions, high blood pressure or heart disease to manage their conditions effectively. These are factors that are in the patient's control but not directly under supervision, particularly on a daily basis. Today, there are technological supports for getting medications into patients possession, but no technology has been ubiquitous in both supporting self-management and effortless data collection that will identify specific people at risk whose health could be affected through timely interventions. iRxReminder's individual-level support and use of smart alerting provides proven adherence support, and a trigger for healthcare professional intervention when required.
New Orleans and Our Company
By winning the NOLAHI 2019 Social Determinants data challenge we will have the necessary momentum to launch services in the parishes around NO. We have worked successfully with the Department of Corrections and other State agencies in the past and this provides the foundation for working with City, Parish, and State agencies to ensure success in addressing Healthcare, Pharmacy, and Reimbursement regulations to test our information exchange and reimbursement revenue for services models. A win and financial support will enable our team to locate to NO and execute the tasks for the proposed project.