About our project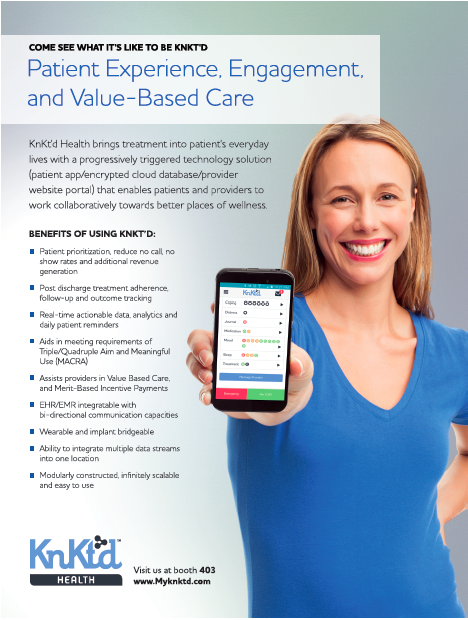 The problem we solve: The scope of U.S. health problems is jaw-dropping, Chronic illness, mental health & addiction; nearly 70% of the U.S. population struggles daily with 1 or more of these issues and it accounts for 75% of healthcare spending The number of people suffering from these health issues continues to rise, but the number of providers is slowly declining. Add in the current Opioid Crisis & the result is an overworked & understaffed national health system.
About our solution: KnKt'd Health brings treatment into patient's everyday lives, using a progressively triggered technology solution (patient app/encrypted cloud database/provider website portal) that enables patients and providers to work collaboratively towards better places of wellness. HIPAA complaint, encrypted and based from current evidenced based practices. With our lego block platform design we are continually able to show that KnKt'd is infinitely scalable and easy to use.
Progress to date:
Q4 2017: 2 Enterprise Contracts Closed, 1 Enterprise Pilot
Q2 ~ Q3 2017: Enterprise Contract Cultivation and Sales Department Scaling
Q1 2017: Market exploration and re-branding
Q4 2016: 7 pilot accounts
Q3 2016: Accepted into Health Wildcatters Q2 2016: 10 demos' in system, 2 pilots
Q1 2016: Hard launch of KnKt'd Behavioral Health
Q1 ~ 4 2015: Development, Beta Testing, Soft Launch
There are hundreds of millions of individuals struggling daily with health issues in the U.S.
We target their providers and Insurers:
Inpatient Providers, Hospitals, Universities, Outpatient providers, Private providers, States and Counties, ACO and CCO and Peer Support Programs.
Q4 2017 and beyond was focused on aiding providers tackling the opioid crisis problem in the U.S.
In late 2018 KnKt'd will be expanding into international markets by invitation from dozens of providers.
About Our Team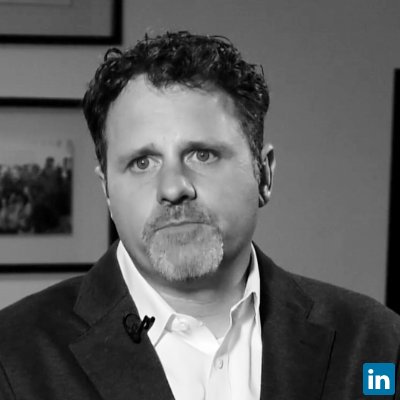 Creator: Matt Holland
Location: Oregon
Bio: Matt Holland has been working in the behavioral health field collectively for over 18 plus years in 3 different States in the western United States. After many years working on the ground level, supervising and administrating programs across many health systems, he saw too many huge disparities in the systems he worked in and for. After a time, the dream of KnKt'd was born. Matt continues to advocate for change in the collective health system on various councils and committees. He wrote on the Pulse and continues to write on Huffington Post. Talks frequently on panels and during speaking engagements about the changing landscape of behavioral health and the new era of technology. In his free time, he enjoys reading, hiking, spending time with his family and enjoying the world around him. Best place to find out where Matt is and what he's been up to is on Instagram, https://www.instagram.com/matthewholland86/ .
Title: CEO and Co-founder Synergistic Creations, Inc.
Challenge Mission
Collaborative Strategy
KnKt'd adheres to a sustainable, continual geometric growth model (lean and mean). Keeping an ear to the local, state and federal communities to know where and when to move next.
We continually reach out to our customers for feedback and direction for what they need, dislike and would find beneficial in the future versions.
KnKt'd continues to deliver a superior product, at a lower price point to the national system.
Projected 3 Year Growth
We believe in case base selling and the provider advocate model. Using successes of prior clients and their voice to help continue to bring in new customers.
We target key enterprise clients in each of our specific market areas while also attending conferences, speaking engagements and using digital and print advertising.
We have come to a place were our organic inbound is beginning to grow at a rate of 1 new lead every 2 weeks, and closing 1 enterprise contract every 6 to 8 weeks.
This year we are projecting between $500,000 and $750,000 ARR, doubling each year if not more.
How We Will Make Money
Primary target market:
Mental Health, Addiction and Chronic Illness providers with clients ages 13+
Current key markets:
Hospitals, Universities, Insurers, States, Counties, ACO's/CCO's, Recovery Homes, Peer Support, Outpatient, Inpatient and Private Providers
Market Size:
200+ million known patients in the U.S.
Annual cost to treat $1.5+ Trillion annually
Enterprise Level Contracts:
Currently KnKt'd Health is working 24 contracts towards closing in 6 targeted key markets. All expecting to potentially close prior to the end of the 2nd quarter of 2018.
About our Competition
Worldwide about 2 dozen companies trying to solve the major issues we are facing with a growing and suffering population and shrinking provider base. Unfortunately, these companies cannot deliver the solution the system needs. We continue to keep a close eye on their progression and traction.
Progress with Customers to date
We have multiple Enterprise contracts closed, 3 startegic partners and continually push further and forward into a strong foothold in the market.
New Orleans and Our Company
All communities struggle and need solutions, we at KnKt'd Health believe in helping and taking care of our customers. Without them we wouldn't be where we are or able to reach where we are going.