About our project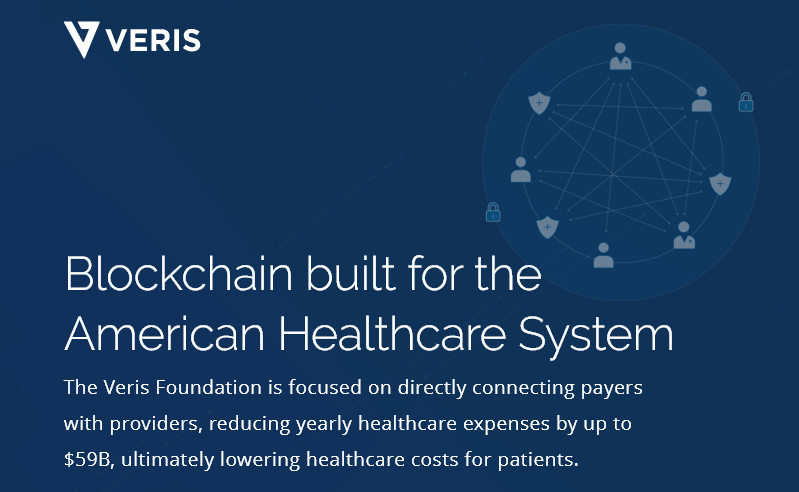 The problem we solve: The healthcare claims process in the United States costs over $60 Billion a year. This administrative overhead is due to lack of trust between payers and providers, and until now, no technology that could overcome the trust barrier.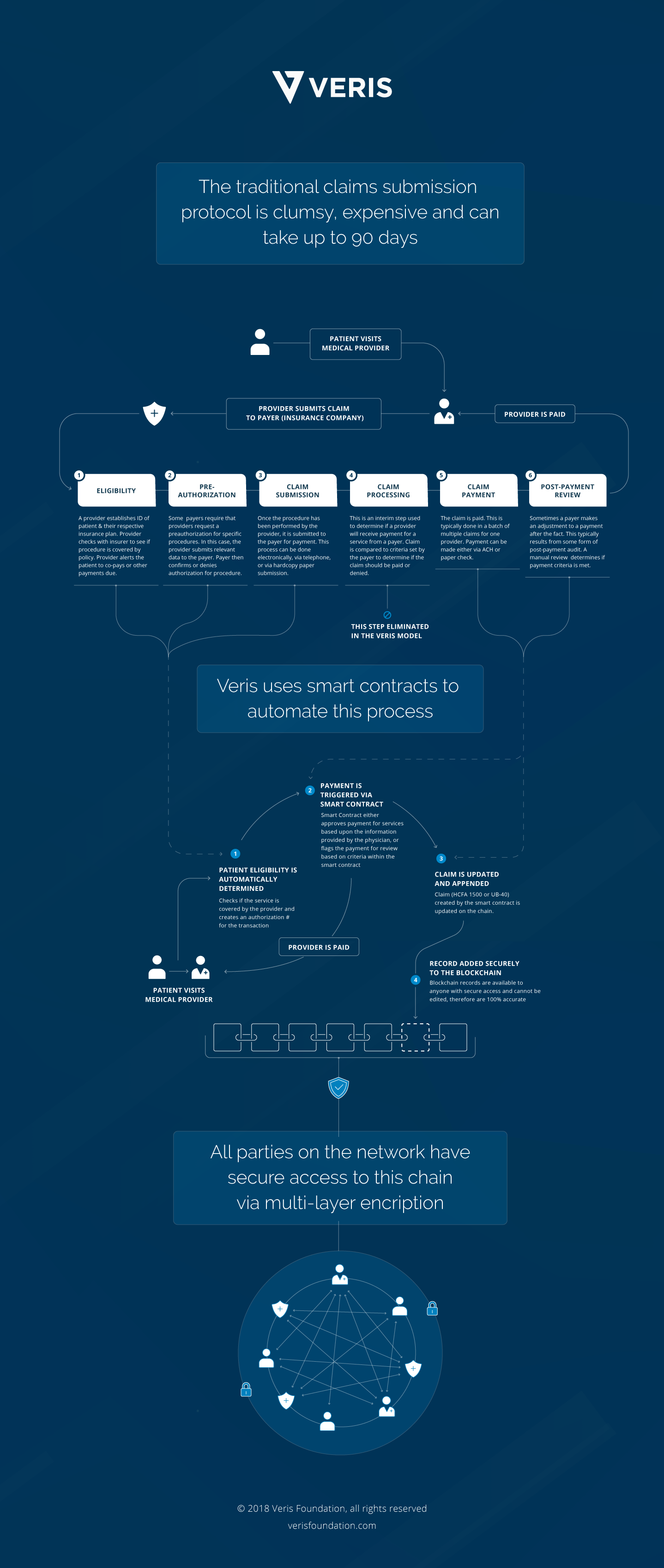 About our solution: Veris uses a blockchain to automate portions of the claims process via smart contracts. The blockchain also allows for one immutable record and thus the claims themselves become a single point of authority via the distributed ledger technology and consensus mechanism provided by the blockchain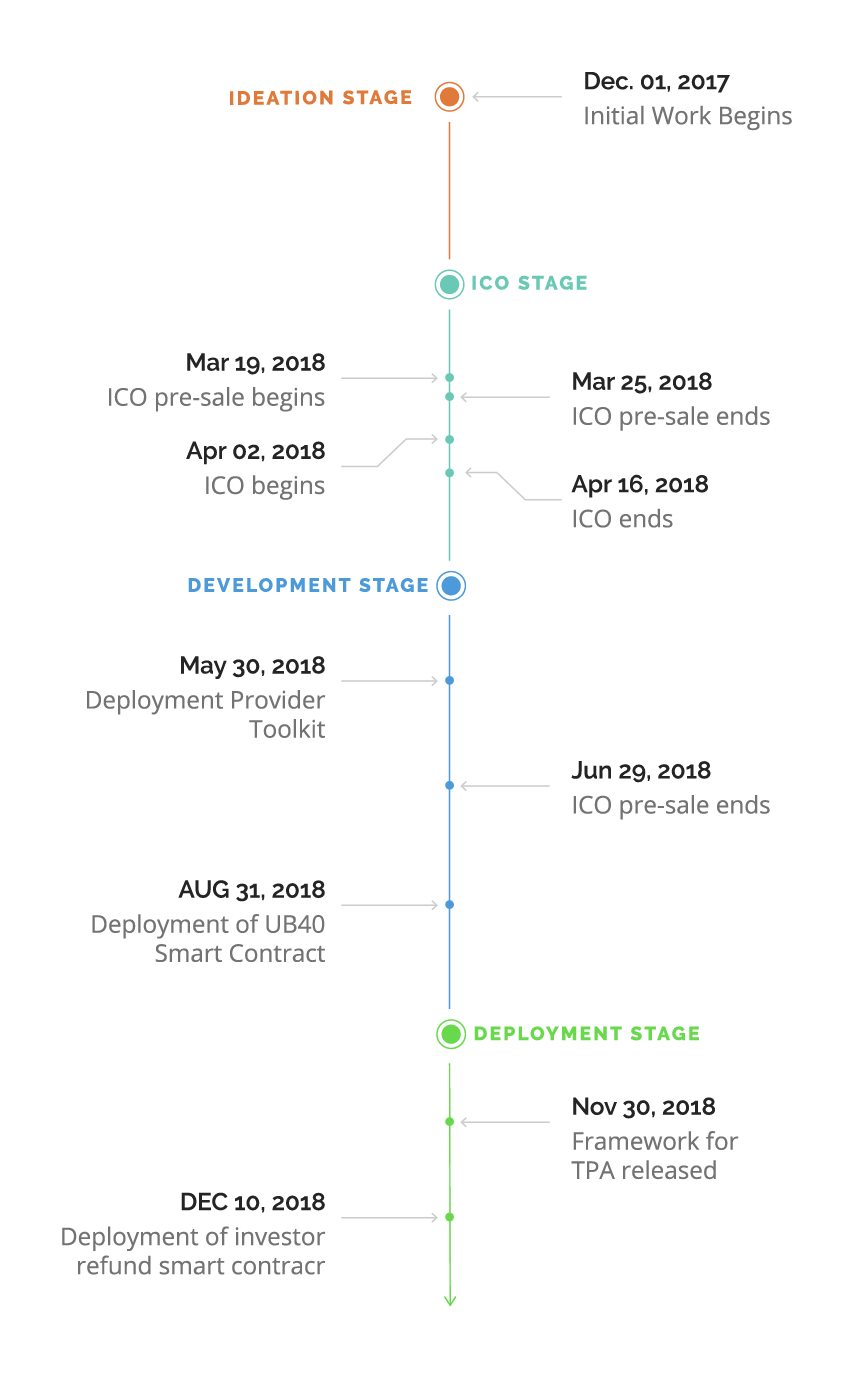 Progress to date:
Work began in February 2017. The blockchain was completed and brought online in December 2017. The chain itself is fully functional. We are currently working on the smart contract design that facilitates the claim process. We expect to have a provider toolkit available in June 2018. Response has been strong and we are in discussion with manged care providers on how to deploy the solution
About Our Team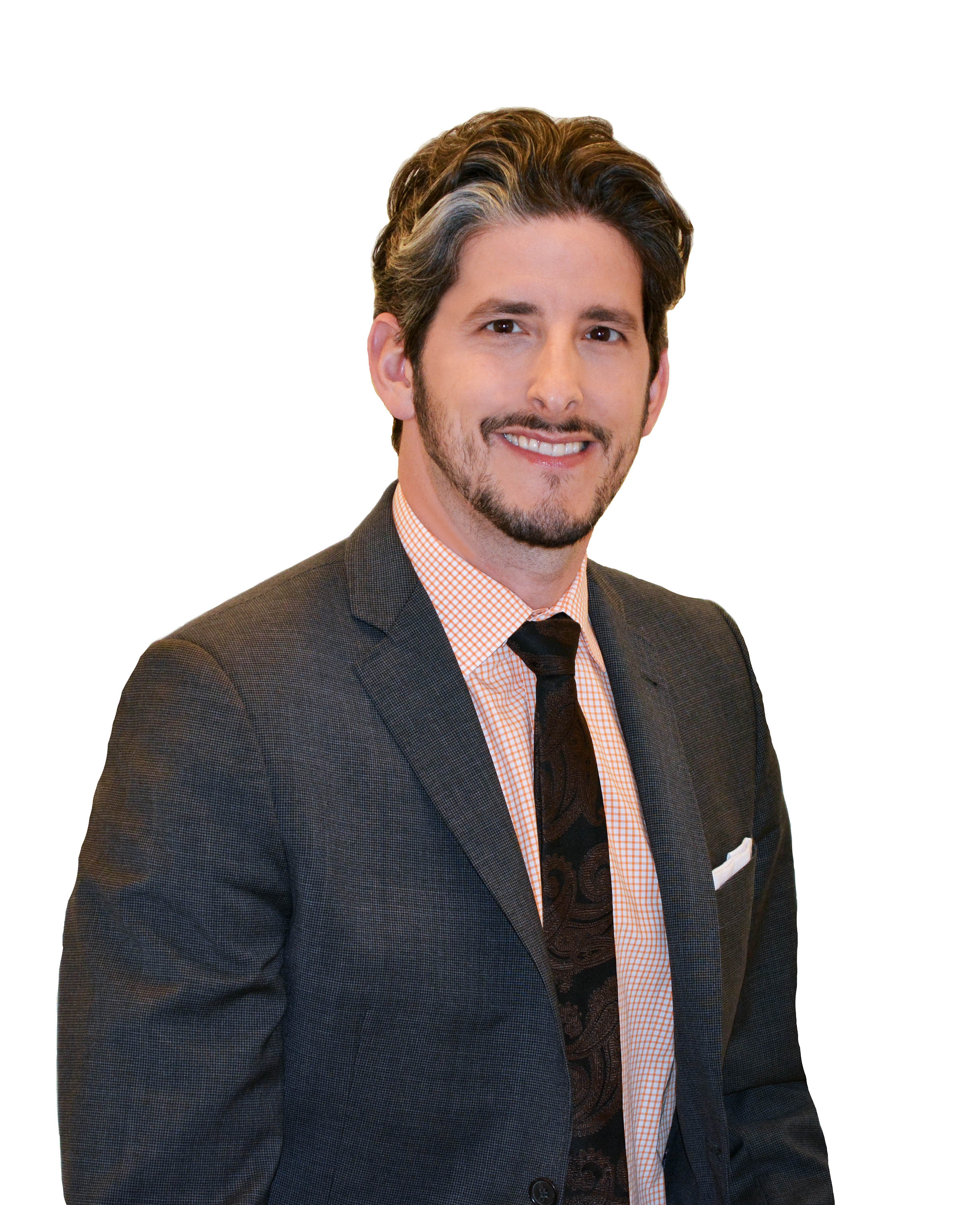 Creator: Chris Plance
Bio: Chris is an engineer, entrepreneur, and management consultant with over 20 years experience providing strategic guidance in the implementation of technology with a focus on healthcare. Chris was the co-founder of DATUS in 2002, a successful management consultancy spun off to employees in 2012. Chris has also served as the senior strategic advisor to one of the largest non-profit providers of senior living in the United States.
Title: Founder
About Team Members
Eric Lawlor
Advisor, MBA
Biography: Eric has over 24 years of experience in numerous business lines in the healthcare industry. This experience includes over 20 years in some facet of the revenue cycle for a wide variety of provider types. These provider types range from hospitals and physician practices to post acute providers. Eric has personally performed all the major components of the provider side of revenue cycle in his career including eligibility verification, charge entry, claim submission, claim followup, claim appeals and post payment reviews. Eric has also been instrumental in the implementation of several new billing systems.
Title: Advisor
Advanced Degree(s): MBA
LinkedIn: https://www.linkedin.com/in/eric-lawlor-mba-cma-6505a214/

Matthew LeGrice
Lead Designer,
Biography: Matthew LeGrice is an independent designer and illustrator based in Jersey City, New Jersey. He has nearly 10 years of design experience working with brands small and big, helping to elevate the way they communicate visually with their audiences. Some recent clients include SeatGeek, New York Rangers, and Biolite Energy.
Title: Lead Designer

How We Help Patients
The Veris blockchain will reduce the expense of billing for healthcare services. Which is an opportunity for payers to pass those savings on to patients. Cheaper healthcare = more access to healthcare (provided payers pass this on).
How We Help Physicians
Billing for services is approximately 5-10% of the total expense for a physician practice. Use of the Veris blockchain reduces this expense. As the network grows so will the expense reduction
How We Help Hospitals
Hospitals are often caught between payers and providers. Participating in this system will not only reduce their billing expense, it will provide a level of transparency which supports hospitals as a partner in the process of providing healthcare.
How We Help Partners
Long term with a large volume of claims being processed on one platorm, this gives partners the ability to model and understand how the provisioning of care is changing over time.
Challenge Mission
Market Size
The total market size is constituted by the volume of claims processed in the United States yearly. In 2013 CAHQ estimated (https://www.caqh.org/sites/default/files/explorations/index/report/2013Index.pdf) this to be 8 billion claims a year. The expense related to procesing these claims is esitmated to be $60 billion USD a year (see prior study).
Projected 3 Year Growth
We intend to process one claim fully on the blockchain in 2018. In 2019 we intend to process 100,000 claims on our blockchain. In 2020 we intend to process 100,000,000 claims on the blockchain. Margins are undetermined. Our business model is to distribute the value of our growing network back into the VRS held by users of the network. The Veris Foundtion will hold a reserve of 26% of all the VRS. Thus we will theoretically absorb 26% of the value created by the network.
How We Will Make Money
Short term revenue streams are trading fees generated by the trading of our software VRS as a digital asset. Medium term revenue is the consulting around deploying more sophsiticated insurance contracts to the chain. Long term the data on chain can be monetized with that revenue shared with patients.
About our Competition
There are currently no true competitors. There are approximately 40 firms experimenting with blockchain in healthcare. Of this group only Universal Health Coin and Solve.Care touch on payment systems, though their scope is much broader than ours. Veris will solve one very specific problem in healthcare, and use that to prove the value of blockchain. This will lead to greater adoption.
All competitors are attempting to create new payment systems. We are the only entity attempting to utilize the exiting system in a significantly more efficient manner.
Progress with Customers to date
We are currently in discussion with a third party administrator of benefits and a stop loss insurer on deployment of the technology.
New Orleans and Our Company
The blockchain space is desperate for talented developers. The colleges and universities in the New Orleans area can provide this and would be a place we would consider working with these institutions to develop this talent.
Supporters
There are not supporters yet.
Comments
suman rajput

posted on 28th August, 2019

It is the best information I ever read because it is very useful and informative. Keep doing the great work up.

coupons webdeal

posted on 18th September, 2019

Great teamwork. few days before the search for a platform. I saw a website HostGator Coupons you can get hosting here at the lowest price. so I think I create a community and start it for poor people. there I will create a community of these people who need help.

Paul Bethea

posted on 14th May, 2020

this is not going down the way I anticipated
Login to post your comment!
Click here to Login