About our project

The problem we solve: Most telemedicine solutions currently are archaic and require too much hand holding, typing and in general are cumbersome. Also the middlemen solutions of connecting providers to patients end up taking most of the margins. We want to change this and bring the doctor directly to the patient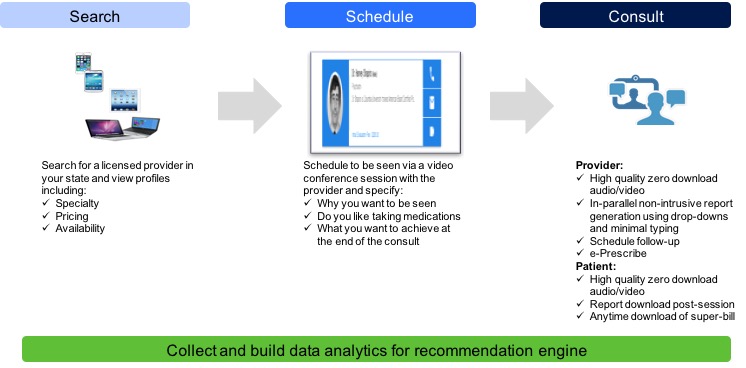 About our solution: We have a best-in-class easy to use solution that meets provider expectation whilst simplifying patient experience. We want to be a platform vs. being the one consuming the margins between patient and provider. At the same time, we want to become an ecosystem where clinics, consumers and providers can all co-exist and be mutually beneficial to each. Overall we believe we simplifying the current workflow while bringing control back to the provider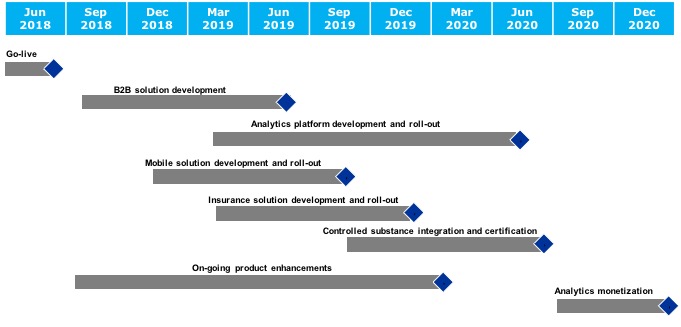 Progress to date:
We have launch our first release and already conducted care in TX and LA on the platform with good reviews to-date. The goal is to expand and improve as we move along our journey
About Our Team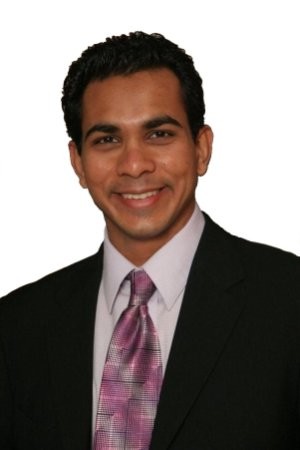 Creator: Nirav Dalal
Location: New Jersey
Education: Massachusetts Institute of Technology
Bio: Nirav has over 12 years' experience both as an executive and leader. His experience has been primarily in strategy, operations, new product introductions, business development and project management across a number of industries. He has experience as a management consultant and a leader in both healthcare services and technology. Specialties: Operational Strategy, Growth Strategy, Market Entry, Entrepreneurship, Process Optimization, Growth and Innovation, Management Consulting, Healthcare, Technology, Product Management, Business Development
Title: Healthcare and Technology Executive
Advanced Degree(s): MBA
About Team Members
Alpita Shah
Founder, COO, MBA
Biography: Ms. Shah is a serial healthcare services entrepreneur. Before founding PsychOnline LLC with Mr. Dalal she co-founded a radiology services firm with Mr. Dalal. In addition to her entrepreneurial experience, Ms. Shah has worked for KCI, a biomedical devices company, and Frost and Sullivan as a healthcare analyst. Ms. Shah holds an MBA from University of West Florida and a Bachelor of Life Sciences from India.
Title: Founder, COO
Advanced Degree(s): MBA
LinkedIn: https://www.linkedin.com/in/alpita-shah-888560/

Dr. Mark Hinton
CMO, MD
Biography: Dr Hinton is a board certified adult psychiatrist and a fellowship-trained Child/Adolescent Psychiatrist with 20+ years of practice experience. Dr. Hinton has 10+ years of clinical experience developing and recommending easy to use and clinician friendly workflows in a variety of mental health practice settings. Additionally, Dr. Hinton also has 4+ years of clinical telepsychiatry experience and is a former adjunct faculty member and armed services veteran.
Title: CMO
Advanced Degree(s): MD

Dr. Caroline Cribari
Clinical Adviser and Board Member, MD, Ph.D
Biography: Dr Cribari is a Stanford trained board-certified psychiatrist specialized in reproductive psychiatry. She has been an associate medical director, vice chief and chief of the Department of Behavioral Health Services, El Camino Hospital, Mountain View, CA. She provides Transcranial Magnetic Stimulation (TMS), medication management, cognitive behavioral therapy, consultations, and professional trainings. She is a speaker for Postpartum Support International (PSI) on Perinatal Mood and Anxiety Disorders and for AssureX on Pharmacogenomics Testing to deliver caring, effective, personalized medical treatment. Her TMS practice is now part of Mindful Health Solutions.
Title: Clinical Adviser and Board Member
Advanced Degree(s): MD, Ph.D
LinkedIn: https://www.linkedin.com/in/caroline-cribari-m-d-ph-d-8652b514/

Scott Larsen
Marketing Lead, MBA
Biography: Mr. Larsen has over 12 years' experience in the telemedicine industry. Prior to joining the PsychOnline LLC team, Mr. Larsen was the VP of Sales and Marketing for Professional Radiology Solutions (PRS). At PRS he created the teleradiology services division and grew the business to include medical facilities across the United States. In addition to his telemedicine experience, Mr. Larsen has over 8 years of experience as a technology executive. Mr. Larsen holds a B.S. degree from Brigham Young University in International Finance, with an additional major in Korean, and an MBA from Brigham Young University.
Title: Marketing Lead
Advanced Degree(s): MBA
LinkedIn: https://www.linkedin.com/in/scottlarsen2/

How We Help Patients
Patients will benefit via increase access to high quality care that is easy to find at a price and time they are comfortable with. Overall they will benefit from the comfot, increase in access and overall provider personalized relationship they can build with their care providers
How We Help Physicians
We believe this is a platform built for physicians. We have highly experienced physicians on our founding team who are using the platform for real patient care. You will see the difference in
- Specific platform for mental health
- Easy to use with typing only where necessary
- Free trial - try before you buy
- You control your schedule and pricing like a private practice.
- Not only can you treat your patients using the platform but others will find you for additional revenue source
How We Help Hospitals
Hospitals currently have a tough time findings providers and often rely on placement agencies that charge a lot. We will make providers absolutely transperent including what they charge, their availability, speciality. Also when we bring providers onboard we check they are licensed in a state, have malpractice insurance, where applicable have a DEA number to prescribe. This simplifies your process and increases trust in providers on the platform.