About our project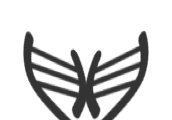 The problem we solve: Current direct to consumer (DTC) genomic sequencing kits are available to patients, but in large part, the companies force patients to automatically sign a release stating that the patient's genetic information belongs fully to the company for their own use, including research and sales of this data. If it's your genomic data, then why are the companies getting full rights to do what they want with your data? Why are patients left uncompensated?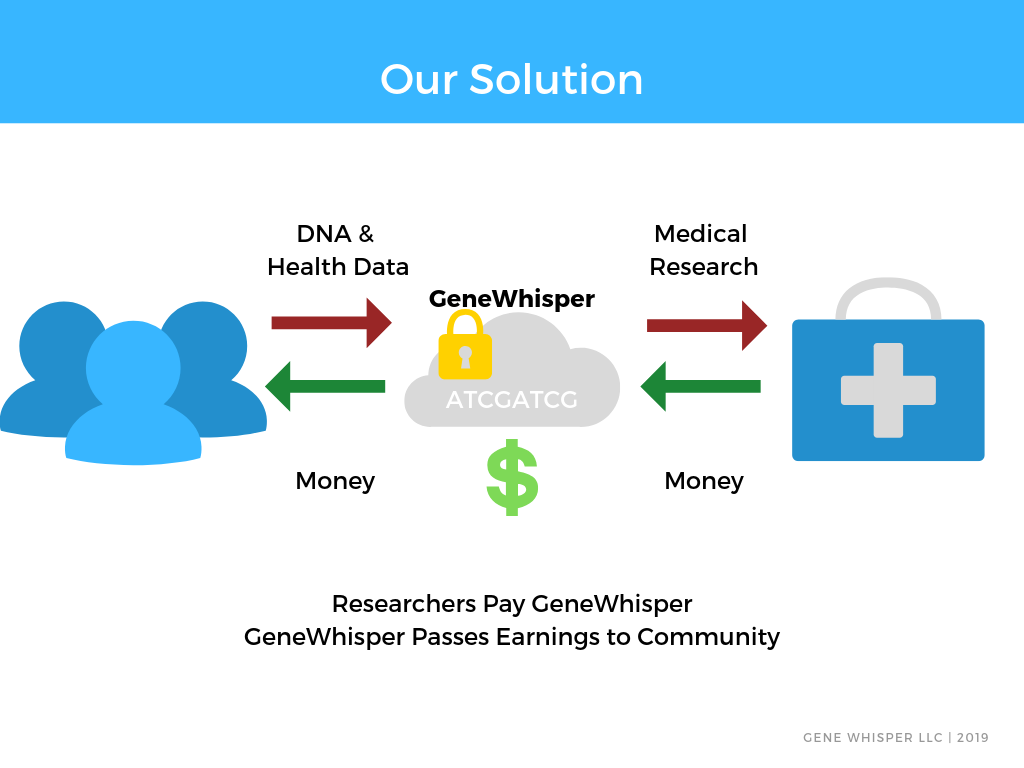 About our solution: GeneWhisper will democratize genomic data so that the patient has full control of their information which will allow institutions easy access to use the data for drug development. Our AI platform, (which utilizes our proprietary biomarker detection methods), helps to interpret patients' genomic data. From there, we securely store patients' data and facilitate partnerships with third-party companies who are interested in purchasing a vast amount of genomic data. Our blockchain platform will allow for smart contracts to be executed between patients and large companies so that the patient is the person who is profiting from the sale of their own genomic data. It will be the patient's choice as to how to utilize the data, as the data will belong to the patient.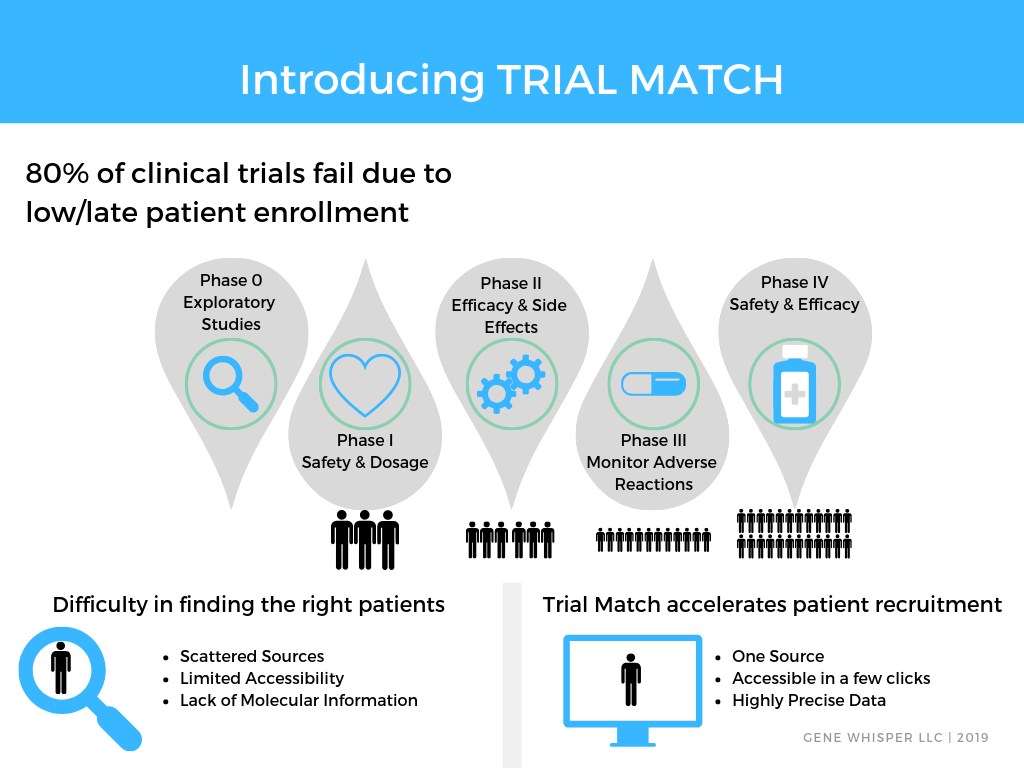 Progress to date:
Introductory Video: https://vimeo.com/316342315
We are in the initial stage of solving the genomic data privacy challenge. We have recently completed a fully functional front-end prototype marketplace to enhance user experience (genewhispers.com). Further funding and investments are required for more back-end development and deployment and we are in the seed funding round.
We have two clinical molecular diagnostic labs using our genetic variant interpretation service and plans to acquire more customers after running more beta-test on its back-end components. our customer base is expected to grow exponentially after being announced winners of the Freedom from Cancer Startup Challenge, in two categories (https://www.freedomfromcancerchallenge.org/winners.html). After winning the Innovation Excellence and Innovation Spotlight, future consumers will see GeneWhisper as the most trusted and best option in the genomic data trading marketplace.
About Our Team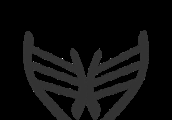 Creator: Kenneth To
Location: Maryland
Bio: Kenneth To is a strategic business leader with business development and commercial expertise in genomics, oncology, IVD, CDx and NGS at small and large biotech companies. He is passionate about opportunities to blend dual science and business background, in order to translate innovative technology into breakthrough diagnosis and therapies. Kenneth has experience leading large complex projects and analyzing market trends to capitalize on business opportunities. Additionally, he is an experienced problem solver with the business acumen and leadership skills to develop effective strategic relationships that enhance value. He has provided strategic guidance to teams and managers in ways that promote the company's culture and oversee the progress of operations. 10+ years of leadership and management experiences. 15+ years of life science research experience; published original works in peer-reviewed journals.
Title: Founder
Advanced Degree(s): PhD
How We Help Patients
GeneWhisper aims to help consumers and their healthcare providers stay updated in a meaningful manner while providing actionable insights in relation to these new discoveries through AI backed diagnostic solutions. The platform will also enable individuals who may be in similar circumstances as for them to form communities for social support. Cost-effective sequencing and interpretation will also pave the path for personalized medicine by enabling physicians to order these genetic tests as a standard panel such as a blood test to give better insights behind the health of their patients. In addition, when consumers sign up for current sequencing services, they are asked to sign away the rights to their genetic information, including the right to sell it. GeneWhisper's aim is to increase consumer autonomy when it comes to their genetic information so that they can choose to opt out of sharing their information to ensure privacy but rewarding them financially if they choose to share their data with third parties. These third parties would then be able to access our community-owned database to identify not only potential new targets for treatment but will also ensure that institutions are able to find the appropriate patients they need to ensure their clinical trials are completed in a timely matter.
Supporters
There are not supporters yet.
Comments
Login to post your comment!
Click here to Login