About our project
The problem we solve: Since the digital age, the velocity of medical research output has tremendous. With 600 000 papers being published yearly, it is impossible for a clinician to keep up with the literature in their field by reading dense text-heavy papers and abstracts. It is equally as challenging for researchers to make their work visible and communicate their findings. For so long, medical publishing has heavily relied on text-heavy and bland forms of research communication. Ultimately, this slows down knowledge translation to the clinical environment, with estimates saying it takes about 17 years for research to effectively reach clinical practice.
About our solution: Tidbit aims to facilitate infographic creation amongst journals and researchers. We have built a web-based canvas-like tool that streamlines and begins to automate the process of infographic generation process so that any researcher without graphic design experience can easily make a visual abstract. We are iteratively improving the automation of the tool to make it even easier for any academic to create a visual abstract. Finalized Tidbits are then instantly linked to the full-text and published on our feed for readers to interact with. With Tidbit, researchers can increase their visibility and citation count, journals can improve their impact factors, institutions can effectively display their findings and success, and clinicians will have access to primary research in a appealing and digestible format.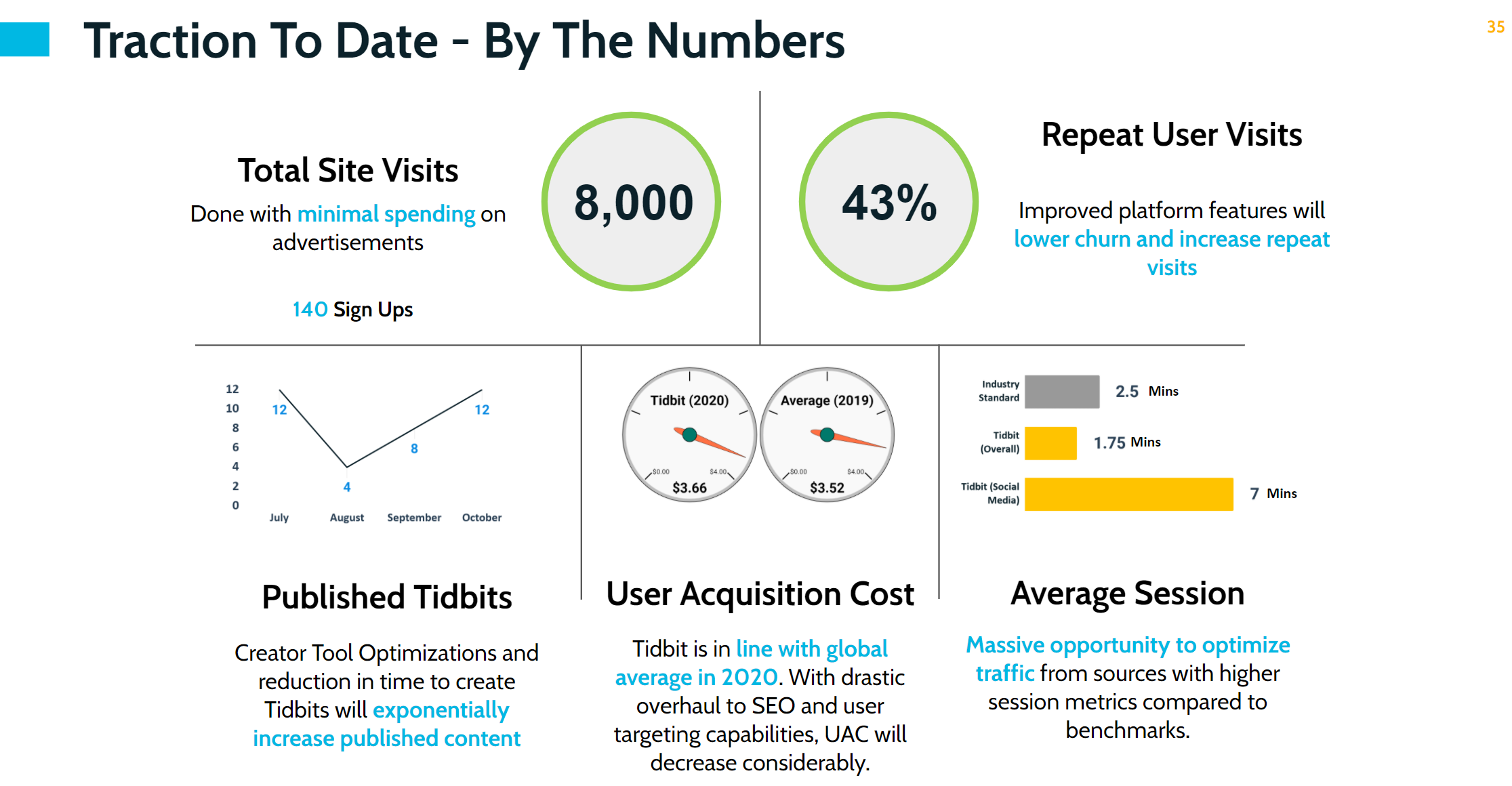 Progress to date:
To date, we have launched our MVP version of the product, with 200 beta-testers on our platform. Our users have told us that we are solving a critical problem, and that our final solution certainly improves knowledge translation. Studies also exist that demonstrate how visual abstracts are superior in capturing attention and knolwedge retention. We have partnered with multiple Universities, Research Institutions, Journals, and Government Organizations including the University of Toronto, Canadian Pediatric Society, and The Government of Ontario's COVID-19 Science Table.
We were approached by a group at Harvard who will be conducting a joint study with Tidbit in 2021 to further characterize and assess the impact of visual abstracts on knowledge retention. We have had close to 10 000 visits on our website with minimal marketing spend.
About Our Team

Creator: Sparsh Shah
Location: Ontario
Education: University of Toronto
Bio: Sparsh graduated from the University of Toronto MD/MSc program and is a Resident Physician in Emergency Medicine. Sparsh also holds an Honors Business Administration (HBA) degree from Ivey. He successfully co-founded two non-profits, served as a medical infographic editor, and published four articles. Sparsh brings a comprehensive understanding of the academic publishing industry, business strategy, and entrepreneurial experience needed to steer Tidbit's success.
Title: Dr.
Advanced Degree(s): MD, MSc
About Team Members
Shubham Pandya
Co-Founder, BBA
Biography: Shubham is a BBA graduate from the University of Toronto and currently leads the Analytics team at Flexiti Financial, one of the fastest growing start-ups in North America. With years of experience in telecommunications and financial services, he brings a wealth of skills that will greatly assist in Tidbit's long term strategy and profitable growth.
Title: Co-Founder
Advanced Degree(s): BBA
Twitter: @shubham71393551
LinkedIn: https://www.linkedin.com/in/shubham-pandya-85a75260/

Nilay Shah
Co-Founder, HBSc
Biography: Nilay has an Honors Bachelor of Science in Computer Science from University of Toronto. Nilay has helped co-found startups which solve problems with various aspects of student life. With previous experience at Wattpad, Nilay is currently employed at Shopify as a senior backend developer. Nilay brings a mixture of technical expertise and a startup mindset to bring our platform to life.
Title: Co-Founder
Advanced Degree(s): HBSc
LinkedIn: https://www.linkedin.com/in/nilay-shah/

Dhruven Mehta
Co-Founder, MSc, BSc, MD (Candidate)
Biography: Dhruven Mehta is completing his Doctor of Medicine (MD) at Chicago Medical School. He has a Master of Science in Biomedical Sciences from Rosalind Franklin University and Honors Bachelor of Science from the University of Toronto. With experience in biomedical and clinical research coupled with graphic design capabilities, Dhruven spearheads infographic creation operations.
Title: Co-Founder
Advanced Degree(s): MSc, BSc, MD (Candidate)

How We Help Patients
Ultimately, Tidbit aims to improve knowledge translation so that the latest medical information is available and accesible to doctors and clinicians. For patients, this means that their care provider will have the most up-to-date medical knowledge on the drugs and therapeutic interventions that is best suited for their clinical condition. By helping healthcare providers navigate an overwhelming sea of research information, patients can ensure that they are getting the best possible care based on the latest research.
How We Help Physicians
Healthcare providers - we know that you are extremely busy. On top of that, it is so difficult to stay current on research information. Browsing through text-abstracts or journal subscriptions, or emails lists reguarly is time consuming and tedious. With Tidbit, you can not only access accurate medical visual abstracts instantly and for free, you can also improve the visibility of your own research for your fellow colleagues to interact with. We hope that with Tidbit, you can spend less time trying to browse and filter through information, and more time understanding medical research in a beautifully delivered format, and applying your new knowledge towards patient care.
How We Help Hospitals
Journals, Hospitals, and Research Institutions - we know that you invest a lot of time and money in outputting research that pushes the boundaries of medical knowledge. However, sometimes, it is hard to make sure that your output is read. With Tidbit, you can increase your research's visibiilty, traction, and impact factor, which can lead to further funding and grants for your organization. Also, by promoting Tidbit to your staff, you will be providing them a free resource that can help them both in their academic and clinical career.
How We Help Partners
Partners within the medical community - we know that you have tons of information that you would like doctors and clinicians to see. With Tidbit, you can get a visual abstract on your research output to help your target audience better understand what you do. This form of communication will increase engagement with products and services that you offer.