---
---
About our project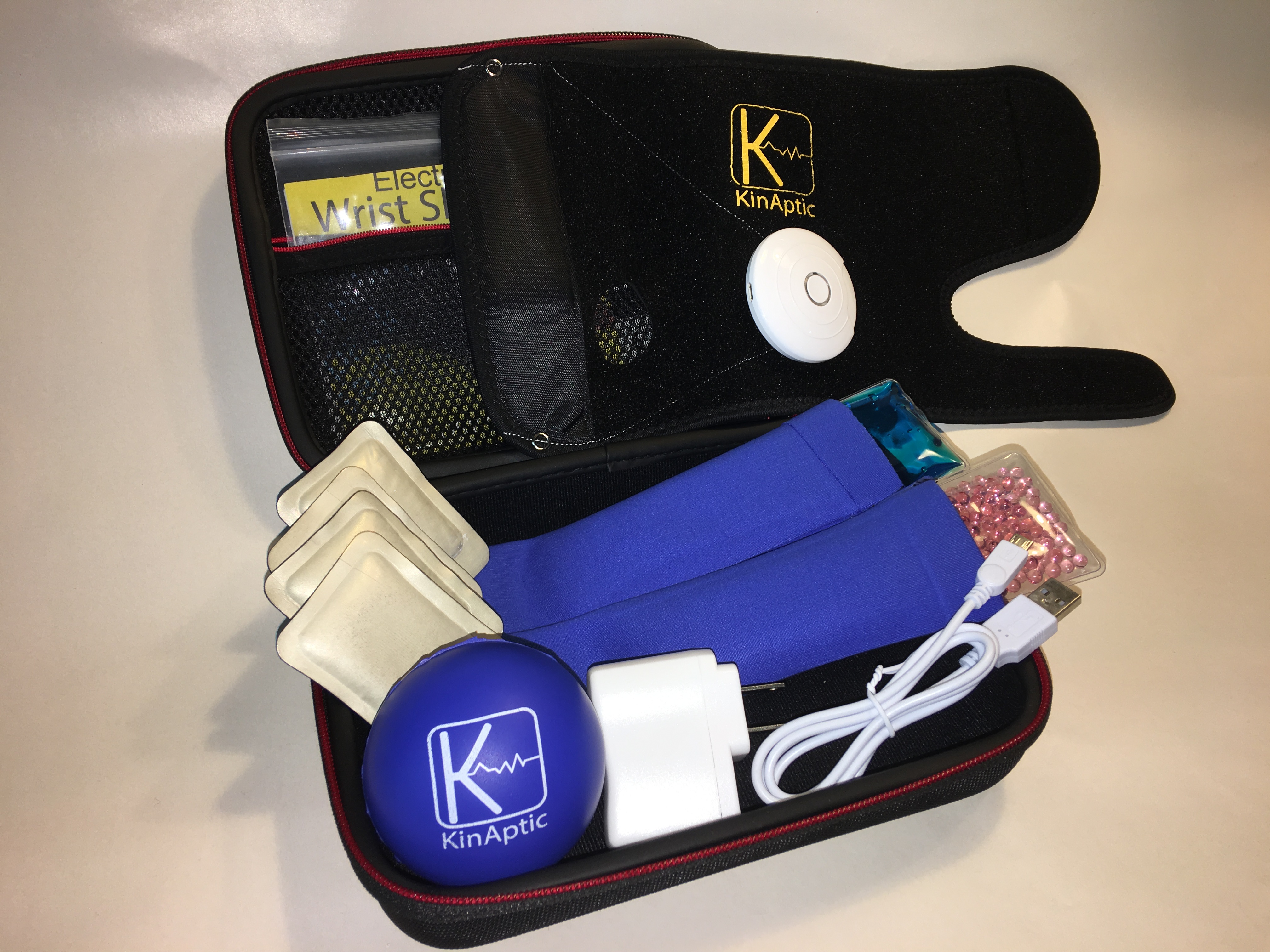 The problem we solve: The United States is in the midst of a prescription drug overdose epidemic. Since 1999, the amount of prescription drugs prescribed and sold in the United States has nearly quadrupled, yet there has not been an overall change in the amount of pain that Americans report. Over prescription of opioid based pain relief products has created an opioid addiction problem in the US. According to the US Dept. of Health and Human Services, drug overdose deaths are now the leading cause of injury death in the US. Every day in the United States, 44 people die as a result of prescription opioid overdose. Among people 25-65 years old, drug overdose caused more deaths than motor vehicle traffic crashes.
About our solution: Kinaptic has developed a revolutionary wearable system with applications across multiple markets. Relevant to the opioid epidemic, Kinaptic is releasing a unique, non-opioid based pain mitigation device based on TENS (Transcutaneous Electrical Nerve Stimulation) technology. TENS is an FDA cleared, drug-free alternative for pain relief, available for over forty years in various forms. The majority of TENS units use disposable, sticky gel electrodes attached to the electronic unit by wires. Kinpatic has developed a unique, highly portable, affordable TENS Therapy System that employs a novel, patent pending dry electrode system operated through a mobile wireless APP. This unique configuration allows patients to continue with their daily activities while enjoying the soothing benefits of TENS.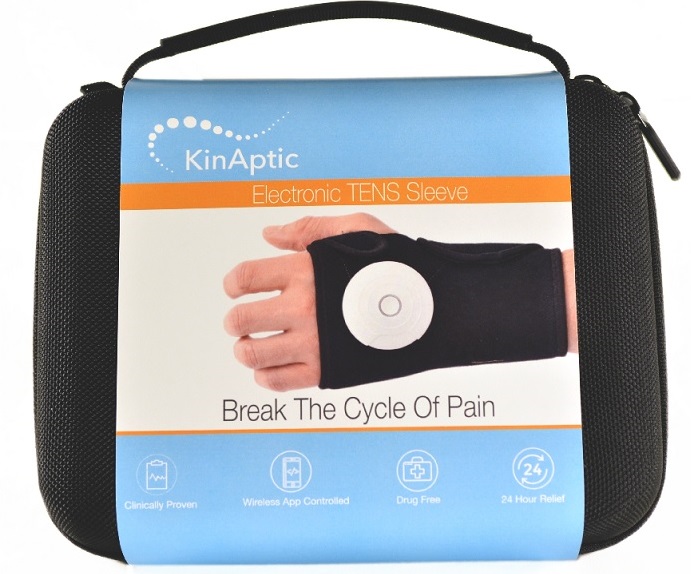 Progress to date:
The Kinaptic wearable TENS technology consists of our patented Haptic / Human Machine Interface (HHMI) and Accelerated Learning technologies. These fundamental technologies are at the core of the Kinaptic wearable pain mitigation products. The core HHMI technology provides a lightweight high resolution bi-directional capability to detect the naturally occurring electrical signals of the human body, analyze these signals and apply signals back into the body. This capability has broad and extensive potential in the nascent wearable market.
Kinaptic has successfully raised seed capital from "friends and family" with matching funding through a State Agency. Using these funds, we have proven the efficacy of the core technology and applied for several patents (with our first patents issued). We have also attracted the attention of the DoD for military and medical applications of the core HHMI technology.
The first pain mitigation products will include a carpal tunnel wrist sleeve and a knee sleeve. Kinaptic will be introducing these initial products at an American Physical Therapy Association annual convention in Boston in June 2017. Initial clinical testing is currently underway at UMedGym in South Portland Maine with additional clinical testing planned at additional Physical Therapy facilities. Early testing on volunteer subjects provided positive feedback with extreme user satisfaction. These initial products are sold as a "Mobile Therapy System" which consists of the pain sleeve with wireless TENS electronic device, patent pending reusable (machine washable) dry electrodes, mobile app, hot and cold gel packs, wall charger, instructions, foam exercise ball and user manual all packed in a sturdy reusable case convenient for travel. Kinaptic is offering a full lifetime warranty on this high-quality USA made product.
In addition to the pain mitigation products currently under development, other specific uses under consideration include; medical rehabilitation, Parkinson's tremor mitigation, stroke recovery, human/robot immersive interaction, neurological training and more. Preliminary testing has been performed on a Parkinson's patient with fundamental tremors. Kinaptic engineers wanted to determine if an inverse signal could effectively produce a cancellation effect on an oscillating muscle (think of this like BOSE noise cancellation on muscles). Using the Kinaptic TENS system, a rudimentary demonstration was performed with indication that an inverse tremor signal could be imposed on the disturbing muscles, thereby stabilizing the tremors. Details of this experiment (and others) are available online at kinaptic.com.
Kinaptic has developed partnerships with Draper Laboratories and MIT in Cambridge MA, University of Toronto, University of Florida, several corporations and specific military agencies interested in collaboration and exploitation of the core technology. One of Kinaptic's founders was recently invited to the Pentagon to brief a General on the capability of this technology. This meeting has begun to open additional doors within the DoD for future discussions. Kinaptic has also established less formal, but equally valuable working relationships with key component suppliers, research laboratories, trade associations and corporations currently engaged in the wearable product market. We are presently in NDA protected discussions with several large defense contractors and we anticipate future opportunities to participate in product development in that space. This activity will complement the commercial and consumer medical applications already under development at Kinaptic.
Kinaptic was down-selected as a semi-finalist in this year's Association for Unmanned Vehicles Systems International (AUVSI) annual Startup Showdown competition. We were awarded with complimentary booth space and an opportunity to present our wearable technology to a broad and diverse audience. The Kinaptic technology was well received with a number of potential new opportunities for diversification made available.
Kinaptic is currently seeking seed capital in order to transition the completed MVP pain sleeve products into marketable products. The initial production run of pain sleeve products will consist of roughly 500 units that will be available for immediate sale to Physical Therapy clinics for extended clinical trials and product refinement. Kinaptic is presently prepared to transition to full production of wrist and knee sleeves, with lower back, elbow and neck sleeves on the drawing board. Kinaptic possesses in-house experience and tooling to produce low to medium rate initial production runs with profit margins sufficient to establish company stability.
About Our Team

Creator: Joseph Curcio
Location: Maine
Education: University of Vermont and MIT
Bio: Joseph Curcio has over twenty years of engineering and consulting experience working in the electro-mechanical engineering and robotics field. He received two Master's degrees in Engineering and Systems Management from MIT while working on the design and development of unmanned marine vehicles used by the US Navy. Presently, as CEO of Kinaptic, Joseph is involved in the development of a novel wearable technology that is poised to revolutionize how humans and intelligent machines interact. This new Haptic/Human Machine Interface (HHMI) technology leverages the naturally occurring electrical signals of the human body to allow bi-directional, high resolution detection and activation of neuromuscular actuation. This technology has been tested and demonstrated in an array of applications including medical/rehabilitation, neural learning, pain mitigation, VR/AR gaming, immersive training, sports performance, drone control and more. Prior to joining Kinaptic, Mr. Curcio launched a startup company focused on marine autonomy. He also led a team in the development of a novel SWATH (Small Water-plane Area Twin Hull) vessel and patented a revolutionary and economical method for reducing drag on ship hulls. Additional experience includes the design and development of process automation tools at IBM, development of mobile patient monitoring and telemetry systems, creation of test and measurement components for orthopedic rehabilitation and the development of other specialized electro-mechanical systems. Mr. Curcio spent several years pursuing his passion working aboard world class sailing vessels, including Endeavour (JK4), Shamrock V (JK3), Hyperion, Rebecca and others. Mr. Curcio is an active member of AUVSI, ASNE and SNAME with particular interest in shaping the implementation of COLREGS compliant marine autonomy for Unmanned Systems. Mr. Curcio presently lives in Maine with his wife and two sons where they enjoy time skiing, sailing, biking and adventuring together
Hospital Affiliation: UMed Gym
Title: CEO
Advanced Degree(s): M.S. and M.Eng.
How We Help Patients
The Kinaptic core technology has the potential to provide substantial health benefits across a range of medical applications including pain mitigagtion, stroke recovery, Parkinson's tremor mitigation, diabetes insulin dependency reduction and more.
The initial product development is focused on employing the convenient form factor of the Kinaptic wearable home therapy products for treating pain. These affordable, rugged, app controlled, wireless/wearable TENS therapy products will provide direct benefit to patients in need of easy to use, home therapy for pain mitigation. TENS has also been employed by Physical Therapists, Chiropractors and other health professionals to treat a range of ailments including muscle, joint or bone problems that occur with illnesses such as osteaoarthritis or fibromyalgia, or for conditions such as low back pain, neck pain, tendinitis or bursitis and more. Discussions with DoD representatives has indicated that there are several areas in PTSD treatment, prosthetic limb recovery/training and pain abatement where the Kinaptic technology could be beneficial.
The Kinaptic team has performed preliminary tests that have demonsrtated the potential for using the Kinaptic wearable TENS technology for mitigating tremors associated with Parkinson's disease. These preliminary tests using a modified TENS device demonstrated the potential for creating a system that effectively provides neuro-muscular "noise cancellation" within the muscles experiencing tremors. The Kinaptic core technology is perfectly suited for this type of application, given the bi-directional, high resolution (pixelated) nature of the wearable infrastructure.
Stroke victims have been shown to achieve more rapid recovery when exposed to neuro-muscular re-training shortly after the onset of a stroke. One way to achieve this is to employ a system that detects muscle firing along the unaffected side of the body and involuntarily trigger muscles to fire along the affected side of the body. The proposed Kinaptic wearable torso shirt will have all of the necessary hardware and software to accomplish this task. It is envisioned that a Kinaptic torso shirt (and eventually a full body suit) will be placed onto a stroke victim as soon as possible after the onset of a stroke event. The patient will then be instructed to move body parts on the unaffected side of their body. In concert with their willful movements on the unaffected side of their body, the limbs on the stroke affected side of their body will be moved involuntarily. In this manner, the neuromuscular re-training between the patient's brain and muscles will begin to take place. There is evidence that employing this type of recovery technique early on after the onset of a stroke event produces more rapid recovery.
Type 2 diabetes is one of the fastest growing preventable diseases in the world. Diabetes is a condition in which the blood glucose levels remain elevated for long periods of time. This issue when untreated causes heart and vessel disease, nerve damage, kidney damage, eye damage and numerous other health conditions. Homeostasis in the body is necessary in order to maintain health; glucose intake, production and removal are all vital in this process. Removal is accomplished by the liver, skeletal muscle and adipocytes. Skeletal muscle plays a major role postprandial; nearly 90% of glucose disposal is through skeletal muscle uptake. [i] Exercise and nutrition has proven to be a very effective way of controlling diabetes.
With the ability to create muscle contractions in individuals who may not have the time to exercise or the ability to do so due to pain, the KinapticTENS system can provide patients the benefit of exercise while performing their daily activities which may include sitting at a desk for prolonged periods of time by utilizing Neuromuscular Electrical Stimulation (NMES). This induced muscle contraction gives the user the blood sugar improvements that would be seen in exercisers.
These examples are a few of the proposed future applications for the Kinaptic wearable therapy system. It is our intention that funding from the sales of our initial pain mitigation products will be used to develop these more advanced capabilities.
---
[i] DeFronzo.R.A., Funnarsson, R.,Bjorkman, O., Olsson, M., and Wahre, J. (1985)Effects of insulin on peripheral and spalanchnic glucose metabolism in moimsulin-dependent (type2) diabetes mellitus. J. Clinic. Invest. 76: 149-155
How We Help Physicians
As a Physical Therapist and / or a Physician engaged in employing EMS or TENS in your treatment plans, the Kinaptic TENS Therapy System will allow you greater mobility in your treatment plans and provide your patients with greater comfort. You will benefit from all of the same opportunities offered to patients while also finding several unique opportunities to increase your profitability.
Kinaptic would like to engage in dedicated collaboration with a select set of Physical Therapy providers that are interested in the future of wearable technology as it applies to physical fitness and well-being. In our strategic product development plan, we have identified and outlined several exciting future applications for the core Kinaptic technology. In order to move these plans from R&D to reality, we will need to work closely with expert practitioners that have a real interest in exploring the power of data analytics, IoT as applied to wearables, "Accelerated Learning" techniques and more. If this appeals to you, please get in touch with us.
How We Help Hospitals
The Kinaptic wearable system is suitable for use in a variety of clinical applications. Through numerous conversations to date, the Kinaptic team has recognized several viable opportunities for collaboration with health care providers across a relatively broad range of expertise. To name a few of the more common themes that have been discussed for employing the Kinaptic technology in a clinical setting, please consider the following; Gait Disturbance, PTSD recovery, Pain Mitigation, Diabetes related insulin reduction, Muscle Mapping (think of this as similar to a "heat map showing muslce activity"), Parkinson's Tremor Mitigation, Stroke Recovery, Prosthetic retraining and pain reduction, Remote monitoriing (heart rate, temperature, blood oxygen) and more.
Kinaptic is presently in discussion with several research and academic institutions engaged in advanced wearable technology. If you would be interested in discussing the potential for collaboration and Grant solicitation, we are eager to speak with you. Of course, if you are simply feeling very generous and believe that together we can make a difference in people's lives, we would also like to speak with you.
How We Help Partners
Kinaptic has engaged in a self-funded R&D effort to develop the wearable electronic garment necessary for implementing our haptic human/machine interface (HHMI). An effective HHMI wearable electronic garment consists of a high number array of individually addressable electrodes that make face-to-face contact with the skin of the user.
Kinaptic was one of the first companies to use DuPont's new elastic conductive polymer ink. DuPont formulated this ink in conjunction with another Company called Bemis that produces a print media. The combination of the DuPont ink and the Bemis print media enable stretch fabrics such a Lycra to support printed electronics on a wearable electronic garment.
Kinaptic discovered a structure and manufacturing technique that uses the DuPont/Bemis system to effectively provide a secure electrical connection between a printed dry electrode pad and the skin of the user. Kinaptic has applied for a patent on this technology and has a significant and growing US and International patent portfolio.
Prior to external funding, Kinaptic's bootstrapped R&D effort has already created a viable "low hanging fruit" early commercialization opportunity. This commercialization opportunity is a low risk effort directly in-line with the Company's technology roadmap. The early commercialization of a patent-pending product supports future equity and non-dilutive funding, and supports the Company's licensing revenue model.
Early commercialization anchors the R&D and focuses the Company
Failure to achieve early commercialization does not break the Company
The MVP effort supports follow up funding for the HHMI higher uses
The MVP effort anchors non-dilutive grant funding
The MVP effort maximizes negotiation position with potential strategic partners
Our business plan opportunistically turns the positive results of our ongoing R&D effort into a minimally viable product (MVP). Our early commercialization effort furthers the long term R&D of the HHMI technology while supporting a strategic partner and licensing revenue opportunities. The Company gains entry into the wearable electronic market through a carefully crafted strategy built upon a commercialization/licensing model, whereby we develop working prototypes of products, assemble a full set of schematics and manufacturing documentation, and wrap everything up with solid IP protection.
Among the goals of our early commercialization effort is the creation of a showcase pilot production line that demonstrates Kinaptic's high yield, roll-to-roll manufacturing process for producing low cost, high quality, machine washable, wearable electronics that can be easily configured for any part of the body, for any sized body, and for any wearable electronic use that benefits from the ability to detect and/or apply electrical signals to the human body.
The Company will be applying for a fast track Phase I and Phase II grant from the National Institutes of Health, likely in collaboration with at least one technology development partner. Kinaptic is also in discussions with DARPA, SOCOM and other government funding agencies. The Company is currently working with Draper Laboratory in Cambridge, MA towards an agreement with a particular strategic partner on at least one near term collaboration project. The Company was encouraged by a director at the NIH to submit a Fast Track SBIR grant proposal for the HHMI technology applied for movement disorders caused by stroke, essential tremor and Parkinson's disease. The grant application is now being completed and will be submitted within the open window for grant submission in the next two months.
In addition to a growing and relevant intellectual property portfolio, prior to soliciting outside funds, Kinaptic has already achieved meaningful prototyping of the HHMI, creating the foundation for a beneficial cycle for protection of product concept/commercialization proof of value of product concept/stronger patent protection/better licensing deals.
In support of our Licensing Revenue strategy, the capital equipment purchased for R&D becomes a showcase pilot line, also usable for pilot production of the commercialized MVP. This pilot line will be used as part of the Company's Technology Transfer Package to provide significant added value beyond just a traditional IP license.
The focus on the early commercialization of the MVP requires us to acquire and install the in-house capacity to build the core components of the HHMI. This in-house capability has also created the necessary capacity to manufacture the mTENS units for the June trade show introduction.
Our value-add to the manufacturing of a Kinaptic-Enabled product coincides with progress on the patentable aspects of the HHMI and is very likely to be seen favorably by a licensee, with the added benefit of demonstrating some test market potential and revenue generation through early marketing success. A goal of our business plan is in the identification and exploitation of the earliest-to-revenue markets, while building the foundation for penetrating more diverse and likely ever larger markets in future years.
We are actively pursuing potential strategic partnership relationships. We have identified several distinct vertical markets that could readily adopt the Kinaptic core technology, bringing value added benefits to some traditional and some future product lines. If partnering with a dynamic, ambitious "out of the box" team is appealing to you, please reach out at your earliest convenience. Pain sleeves are just the beginning of the road ahead for the Kinaptic wearable technology. Come join us as we grow together.
Supporters
12/01/2017

-

Liked the project.

12/01/2017

-

Interested in piloting the project.

12/01/2017

-

Followed the project.

12/01/2017

-

Interested in helping your project as a mentor or team member.

, JD

11/30/2017

-

Liked the project.

11/30/2017

-

Liked the project.

11/30/2017

-

Liked the project.

11/19/2017

-

Liked the project.

, Master's Degree in Business Administration from Seton Hall University

10/06/2017

-

Followed the project.

, Master's Degree in Business Administration from Seton Hall University

10/06/2017

-

Liked the project.

07/12/2017

-

Backed the project for $100

07/12/2017

-

Liked the project.

07/12/2017

-

Followed the project.

06/22/2017

-

Followed the project.

06/22/2017

-

Liked the project.

06/21/2017

-

for the T-Shirt

06/21/2017

-

Liked the project.

06/21/2017

-

Liked the project.

06/21/2017

-

Liked the project.

06/19/2017

-

Liked the project.

06/19/2017

-

Liked the project.

06/19/2017

-

Liked the project.

06/18/2017

-

Liked the project.

06/18/2017

-

Liked the project.

06/18/2017

-

Followed the project.

06/17/2017

-

for the T-Shirt

06/17/2017

-

Backed the project for $43

06/17/2017

-

Backed the project for $10

06/17/2017

-

Followed the project.

06/17/2017

-

Liked the project.

06/17/2017

-

Liked the project.

06/17/2017

-

Followed the project.

06/17/2017

-

Liked the project.

06/17/2017

-

Liked the project.

06/16/2017

-

for the Collaboration Silver

06/13/2017

-

Followed the project.

06/13/2017

-

Liked the project.

, ATC

06/13/2017

-

Liked the project.

06/09/2017

-

Backed the project for $25

, MS

06/09/2017

-

Backed the project for $7

, MS

06/09/2017

-

for the Stress Ball

, MS

06/09/2017

-

Backed the project for $5

, MS

06/08/2017

-

for the Stress Ball

06/08/2017

-

Liked the project.

06/08/2017

-

Liked the project.

Comments

Login to post your comment!

Click here to Login

This campaign has ended but you can still get involved.

See options below.

$ 760

pledged of $ 20,000 goal

Instant Feedback

Help us find best new ideas to fund by telling us what you think. Your feedback goes straight to the team behind this project in private, so tell them what you really think.