About our project
The problem we solve: Most of the patients cannot not just pick up the phone and talk to a specialist medical doctor. Scheduling a doctor's visit would give them a 10-minute consultation window within a 2 - 3 weeks period. Thus, access to physicians are highly restricted. Every health condition has its own unique sequence of processes (chief complaint–examination–tests–diagnosis–treatment–post treatment). Patients searching the Web cannot find information that would assess the entire history of the process, thus the information they find can be unreliable. Similarly, physicians often need to consult a specialist to follow the best practice (medical standards) for a given case. Specialists are not always available when needed, or the level of advice can vary depending on the available specialist's experience. Sometimes, physicians ignore calling a specialist if they think their question is embarrassingly simple. As a result, there is a gap of communication within the healthcare providers.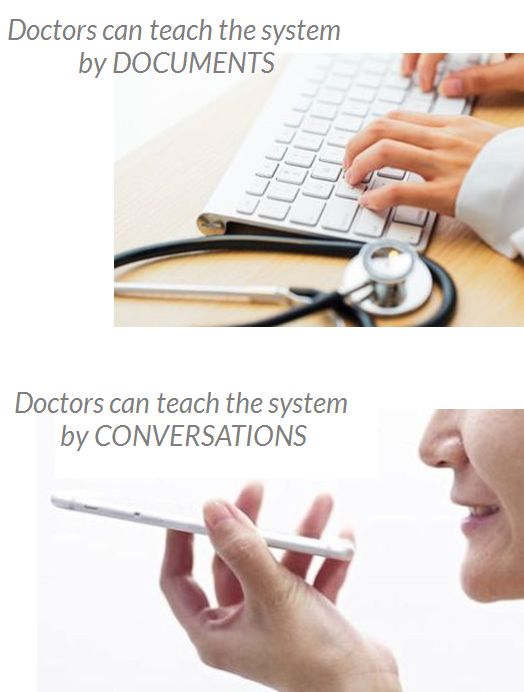 About our solution: DrCHAT is a virtual doctor that provides on the spot medical advice as recommended by medical standards. Patients looking for a 2nd opinion, and healthcare professionals looking for a specialist advice (as a reference point) can use the system. DrCHAT is a collaborative environment where highly qualified doctors can transfer their expertise into the DrCHAT system by two simple mechanisms. The first mechanism is "teaching by reading" documents curated by the expert specialists. Our proprietary AI technology allows DrCHAT to rapidly learn from curated knowledge without any coding effort. This step establishes a base-line coverage of medical topics and clinical processes. The second mechanism is "teaching by conversations" where DrCHAT learns on the fly by talking to qualified specialist doctors. As a result, questions and answers can be added to the system continuously without any disruption to the ongoing operation. This step organically grows the depth of knowledge in the system.
Progress to date:
DrCHAT is currently developed and serving in women's health, covering subjects like emergency contraception, sexually transmitted infections, pregnancy, obstetrics, infertility, menopause, and many other topics, totalling 32 distinct clinical flows. It operates from http://drchat.ai website. With its responsive design, DrCHAT is accessible via cell phones, iPads, tablets, and regular desktop browsers. Since its trial rounds started early this year, there were thousands of visitors both from patients and healthcare professionals. We are currently running a campaign for physicians to contribute (teach) the system with overwhelming interest. DrCHAT will cover other medical topics such as emergency medicine, pediatrics, cardiology, and diabetics.
About Our Team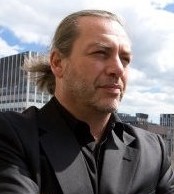 Creator: Riza C. Berkan, Ph.D
Location: New York
Bio: My latest passion is conversational AI, commonly known as chatbots or virtual assistants. My specific interest is the next step up, Virtual Experts, where computers can learn by reading and talking to absorb human expertise, then to perform cognitive functions such as conversing, reasoning and giving expert advice. My latest company, exClone.com, specializes on this process (cloning expertise), and we are recently working on DrCHAT.ai, which is a virtual doctor. I have been involved in AI research for many years as a nuclear physicist and later as an entrepreneur, and I consider myself lucky to work on this cutting edge technology. These are exciting times! #chatbots #bots #chatbot #bot #AI #Machinelearning #ML #DL #artificialintelligence #virtualdoctors
Title: Founder
Advanced Degree(s): Ph.D
About Team Members
Emre Kayaalp
Chief Medical Officer, M.D., Ph.D
Biography: Dr. Emre Kayaalp is a Board-certified Obstetrics and Gynecology specialist. He has held multiple leadership positions at universities and hospitals in the USA and abroad. Currently, he is affiliated with Rutgers - New Jersey Medical School, Dept. of Obstetrics & Gynecology, holding the titles of Assistant Professor, Associate Program Director, and Resident Research Director. Dr. Kayaalp has developed powerful models of medical decision-making with a background in sciences, laboratory research, clinical research, patient care, training residents, and teaching.
Title: Chief Medical Officer
Advanced Degree(s): M.D., Ph.D
LinkedIn: https://www.linkedin.com/in/emrekayaalpmdphd/

Jean-Ju Sheen
Advisor, M.D.
Biography: Dr. Sheen is the Medical Director of Labor and Delivery at NewYork-Presbyterian/Columbia University Medical Center. She entered the field of maternal-fetal medicine after an established career in general obstetrics and gynecology and education, having received her medical degree from the New York University School of Medicine and followed with residency training in obstetrics and gynecology at NewYork-Presbyterian Hospital/Weill Cornell Medical College.
Title: Advisor
Advanced Degree(s): M.D.

Angie Lii
Advisor, M.D.
Biography: Dr. Angie Li is a board certified obstetrician-gynecologist in New York, New York and is affiliated with NYU Langone Hospital - Brooklyn and Mount Sinai Beth Israel Hospital. She received her medical degree from University of Texas Medical School in San Antonio and has been in practice between 5-10 years.
Title: Advisor
Advanced Degree(s): M.D.
LinkedIn: https://www.linkedin.com/in/angie-li-3a6445129/

Alan Young
CEO, MBA
Biography: Alan is software executive with extensive experience in enterprise software and services industry. He has a track record of multi-site, multi-country operations, business strategies, and offshore and international ventures. Former CTO at PwC, CPO at ANCILE Solutions and executive at Progress Software, BEA Systems (Oracle), and CA Technologies.
Title: CEO
Advanced Degree(s): MBA
LinkedIn: https://www.linkedin.com/in/alanbyoung/

Oguz Akgungor
CTO, M.S.
Biography: Oguz is the application software architect of exClone. He has previously built software systems for credit card automation, and natural gas field operations automations. Oguz was system developer at hakia for 6 years between 2006 and 2012 and senior developer in AIG since 2015. He is the system architect of DrCHAT.
Title: CTO
Advanced Degree(s): M.S.
LinkedIn: https://www.linkedin.com/in/oguzakgungor/

David Kuhn
Counsel, ESQ
Biography: David graduated from Harvard in 1989 after achieving academic and athletic awards, as well as playing quarterback for the Ivy League Championship football team in 1987. His career spans being a litigation attorney in NYC, business executive, professional photographer, film producer, and war journalist.
Title: Counsel
Advanced Degree(s): ESQ

How We Help Patients
There are a number of benefits DrCHAT offers to patients starting from the specialty of women's health. It covers more than 30 topics such as emergency contraception, sexual health, pregnancy, fertility, and other OB/GYN issues.
Interact with DrCHAT as if you would have a conversation with your doctor.
Educate yourself by getting answers before visiting the doctor's office.
Have a 2nd opinion by discussing your problem with DrCHAT.
Access to medical advice 24/7, anytime, anywhere.
Anonymous talk assures complete privacy.
Free of charge without any hidden fees or downloads.
How We Help Physicians
Physicians and healthcare professionals often need to consult a specialist to follow the best practice (medical standards) for a given case. Specialists are not always available when needed, or the level of advice can vary depending on the available specialist's experience. Sometimes, physicians ignore calling a specialist if they think their question is embarrassingly simple. As a result, there is a gap of communication within the healthcare providers. DrCHAT fills this gap by being available 24/7, providing consistent reference point based on medical standards.
Insurance companies can benefit from DrCHAT because patients become better informed and more self-caring. Using DrCHAT-Pro, healthcare professionals become less prone to mistakes. Furthermore, DrCHAT technology can help the process of pre-approving certain operations and treatments.

Pharmaceuticals can benefit from DrCHAT-Pro by presenting doctors their newly emerging drugs, clinical trials, and research materials.

Hospitals & Clinics can promote the use of DrCHAT-Pro to improve efficiency and reduce malpractice incidents.

Enterprises can offer DrCHAT to their employees as part of their HR services. This would help improve employee morale, reduce healthcare costs and insurance premiums.
Challenge Mission
Affiliation(s)
Our Chief Medical Officer, Dr. Emre Kayaalp, serves as Assistant Professor at Rutgers—New Jersey Medical School. Other members of our Medical Advisory team include: Dr. Jean-Ju Sheen, Assistant Professor at Columbia University Medical Center; and Dr. James A. McGregor, Professor (Retired) and Researcher at University of Colorado.
Key Milestones Achieved and Planned
We have just completed our beta readiness and testing phase and are starting full testing stage. We achieved more than 5,000 patient and provider consults in the initial trial stage with solid results in system performance and user satisfaction. Our next milestone is to create a wider digital marketing campaign to achieve regular provider and patient consults at greater scales (300 and 600,000, with 20% churn, in Q1 2019, respectively). Our major inflection point will be the release of additional support for women's health conditions by Q2 2019.
Our Competitive Advantages
Other systems designed to provide automated medical advice start with a set of possible diagnoses and attempt to link a given query to whatever diagnosis is determined to be the closest match. This approach is good at providing general information about specific disease states, but does a poor job in progressing efficiently from query to diagnosis. We start with complaints and combine medical expertise and AI technology to progress systematically through the decision-making process utilized by clinical experts. DrCHAT is a system that distills true medical expertise into a series of interactive decision-making algorithms, which can then be offered to other practitioners or utilized directly by patients. As such, DrCHAT models an actual clinical encounter. No other healthcare information system is able to do so.
Barriers to Entry
True medical expertise is a scarce and costly resource. In many regions in the USA and around the world, there is limited access even to medical providers that are merely safe and competent, let alone expert. We have addressed this problem by developing DrCHAT, which translates medical expertise into a responsive decision-making algorithm powered by the latest AI technology. As no similar system exists, we do not have any direct competitors. We have filed two Patents covering both arms of the the technology behind our product: (1) the conversational AI system itself; and (2) the medical decision algorithms that have been developed by our medical team. In the best case scenario for them, competitors will need to implement an exhaustive diagnostic conversational path for every possible problem complaint which is highly expensive in terms of time or resources. We believe we are far ahead of the curve.
Funding, Partners and Alliances To Date
We are self-funded. Over the last year we have developed several commercial and strategic alliances including co-development and resale in the healthcare space in the US, Asia, and European markets.