About our project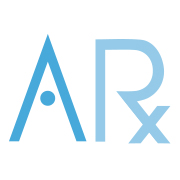 The problem we solve: In the United States, 36% of adults lack the required health literacy to read or act on prescription labels, patient handouts, understand pharmacist counseling, or to convey their needs to the pharmacist. Low health literacy is associated with poorer health outcomes and higher hospitalization rates, as well as an increased risk of adverse medication events. Whether at the tele-health visit, hospital bedside, or pharmacy counter, patients are regularly counseled about multiple prescriptions in less than two minutes. The patient is then sent home with stacks of medication leaflets that may be difficult to read and understand.
About our solution: AudibleRx is not meant to replace pharmacist counseling. It is an accessible and useful enhancement to the current Consumer Medication Information (CMI) options. Content designed to meet specific health literacy guidelines. The purpose is to create Consumer Medication Information that is more useable to the reader/listener, while also meeting all of the requirements listed in the FDA Useful Consumer Medication Information guidance document. We want this CMI to be accessible as well as useful to a much larger percent of the population than current CMI options. The format designed to allow consumers to read-along with the audible presentation of the CMI. When accessed on their mobile device or computer, the consumer will LISTEN to a voice narrate the CMI of the specific medication. The consumer will then have the option to scroll the screen and read along with the narration. Below is a screenshot of our platform and what the consumer will see.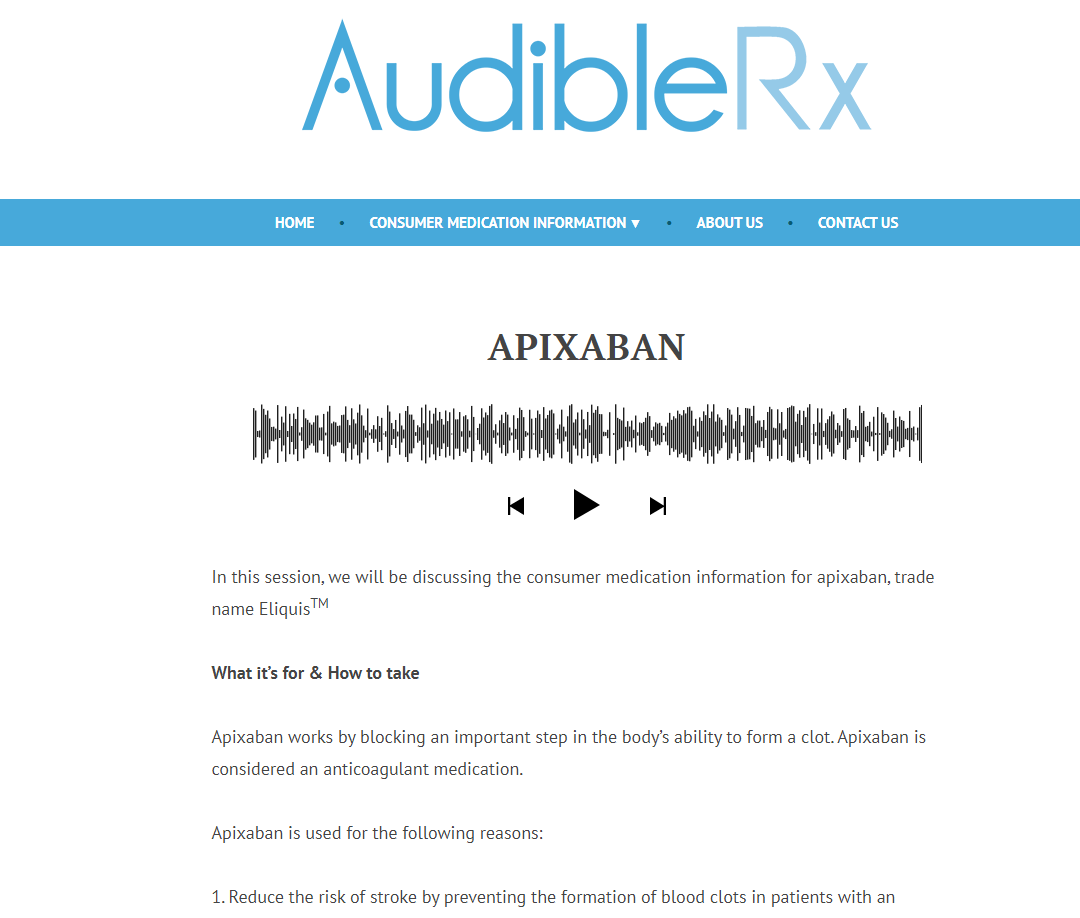 Progress to date:
We have recently launched an updated web platform that is simple, accessible and consistent.
We currently have 18+ mid-level practitioners who have signed up to use our product with their patients; however, our product is not limited to those who sign up. AudibleRx is available to everyone.
Over the last 6 months, we have increased our month over month original user average by 1,500+.
We have evolved our business strategy in the past 6 months to provide AudibleRx, at no cost, to both health care providers and consumers.
About Our Team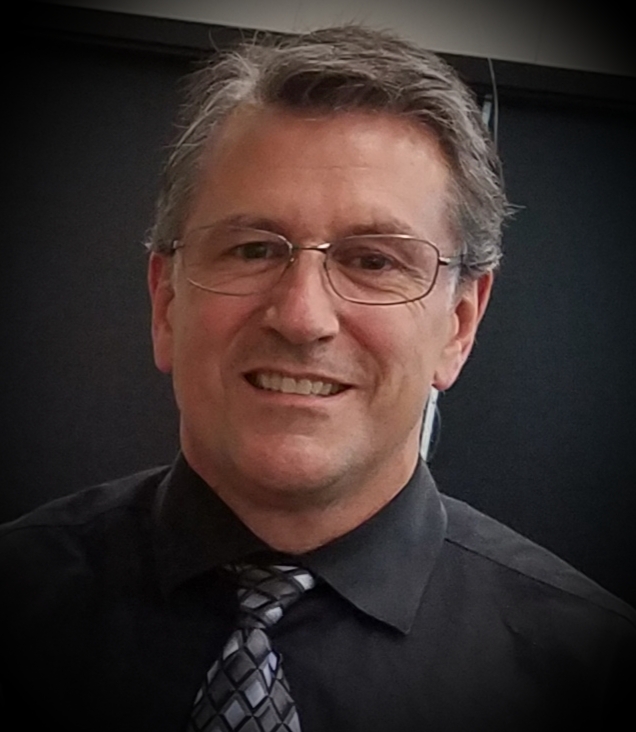 Creator: Steve Leuck
Location: California
Bio: Empathetic educator, dedicated to integrity, honest communicator, willing learner and project finisher. I have over 33 years' experience in pharmacy; including institutional, community, medical clinic, MTM, project implementation, regulatory compliance and management. In 2011 I began studying our nation's current state of Consumer Medication Information and Health literacy. I chose to make a difference. I founded AudibleRx with the intent of finding a more accessible and useful way of educating individuals at home about their medications. As a health care provider I like to talk with my patients I will continue to talk with my patients. My concern is what resources our patients use for follow-up medication education after their tele-health, pharmacy, clinic or hospital visit. AudibleRx.com provides consistent, accessible and useful education in an easy-to-listen format designed so everyone can understand.
Title: CEO/Founder
Advanced Degree(s): Pharm.D.
About Team Members
Luka Tehovnik
Project Manager, Pharm.M.
Biography: I received my Masters degree in Pharmacy from the Faculty of Pharmacy, University of Ljubljana, Slovenia. In 2012, I connected with Steve through one of my blogs and immediately identified with his idea. I was fortunate to complete a clinical pharmacy rotation in the US as part of my studies; this gave me an insight in the US healthcare system. By observing the discharge process and understanding the situation in depth, I've made it my mission to help improve the process to ensure patients are equipped with medication information. Patients should be able to achieve the best treatment outcome, any time, anywhere. Apart from being involved with AudibleRx, I also work in a pharmaceutical industry as a Safety & Medical Information Manager, gaining relevant experience in pharmacovigilance, medical information, and medical field in general.
Title: Project Manager
Advanced Degree(s): Pharm.M.
LinkedIn: https://www.linkedin.com/in/lukatehovnik

Jill Adachi
COO, MS.Pharm.
Biography: I have 35+ years in health care management in institutional and industry settings with a proven track record in successful start-ups, turnaround operations, and IPOs. In 1996, I also successfully started Strategic Healthcare Staffing, Inc. providing temporary staffing for pharmacists and pharmacy management consultation. The company employed up to 50 employees until the dissolution of the corporation in 2016.
Title: COO
Advanced Degree(s): MS.Pharm.
LinkedIn: https://www.linkedin.com/in/jilladachi

How We Help Patients
We know that consumers who understand their medications are more likely to take them and as a result, have better health outcomes, greater patient satisfaction, and fewer re-hospitalizations. We also know that many consumers are challenged with literacy or visual difficulties and cannot read or understand their prescription bottles let alone the attached FDA required consumer medication information. Regularly, patients are counseled about multiple medications at the pharmacy counter or at the hospital bedside in a short duration of time. Physicians, pharmacists, and nurses are incredibly busy and are commonly monitored for job productivity through some sort of productivity metric. Patients are then sent home with stacks of paper to read for follow up medication education. AudibleRx was started to solve this problem. We want every consumer to understand their medication, take it as prescribed, and lead healthier lives. As a result, health care costs are saved, people are healthier and communities are stronger.
How We Help Physicians
How do physicians and other health care providers educate their patients about the new medications they are prescribing for them? Quite often they will speak with the patient before they leave, or have their staff educate the patient on the new medications. Alternatively, they may assume the pharmacy will educate the patient when they pick up their new prescription. When a health care provider offers AudibleRx to their patients, they can ensure that the patient will receive access to consistent, simple-to-use, and useful information about their medication every time. Patients will listen to a session and then have a clear idea of what they do and don't know about their medications and be in a much better position to take educated questions back to their health care provider. Our platform is a wellness benefit designed to enhance the knowledge and awareness a patient has about their medications.
How We Help Hospitals
Providing AudibleRx as an inpatient and take home medication education tool is an incredibly cost effective way of addressing hospital performance. This includes decreasing readmission rates and bettering overall performance scores. 
Hospital performance is measured by CMS through the assessment of data provided on:
Thirty Day Readmissions: Every year there are 35 million hospital admissions, costing $350 billion. Approximately 7 million are readmitted within 30 days.  Studies show 26% of all readmissions are due to patients not taking their medications correctly, costing a total of $20 billion/year. The best way to minimize as many of these losses as possible is to have a strategy in place to educate patients on the importance of taking their medications appropriately. Decreasing readmissions even 1% can mean a savings of millions of dollars for a large hospital system.
Hospital Consumer Assessment of Hospital Provider and Systems (HCAHPS) survey as measured by the Centers for Medicare and Medicaid (CMS) rewards and reimburses hospitals based on their performance scores. The financial incentive around the survey intends to improve the overall standard of care in the nation. The reimbursement for 2017 puts 2% of a facility's compensation at risk depending on the survey scores.  AudibleRx specifically addresses questions on the survey regarding the education of patients about their medications. Taking the time to educate a patient on the purpose and potential problems from each medication can mean higher patient satisfaction at discharge time, as well as improved medication outcomes.
How We Help Partners
Partners with AudibleRx may include the following:
Any health care provider looking to provide awesome consumer medication information to their patients.

Any employer who would like to provide a useful wellness benefit for their employees.

Any curator of medical information who would like to add a useful and accessible consumer medication information platform to their library.

Promote and support health-care non-profit organizations that promote patient, consumer information on disease state and related medications.
AudibleRx helps our partners by helping the clients they serve.  Increased medication awareness leads to improved medication adherence, positive patient outcomes, and a stronger community.