About our project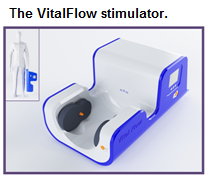 The problem we solve: Stroke affects 16.9 million people each year worldwide, of whom 5.7 million will die. Stroke is the leading cause of severe disability and second most-common cause of death globally. The existing treatments for ischemic stroke (tissue plasminogen activator and endovascular clot retrieval catheters) are administered to an estimated 200,000 stroke patients worldwide - a tiny fraction of those afflicted by the disease. Most stroke patients in the U.S. and Europe cannot get to a hospital quickly enough to receive these time-dependent treatments, and those who do receive the treatments risk significant adverse events such as intracranial hemorrhage. Outside of the so-called developed world, emergency stroke treatment of any sort is essentially non-existent.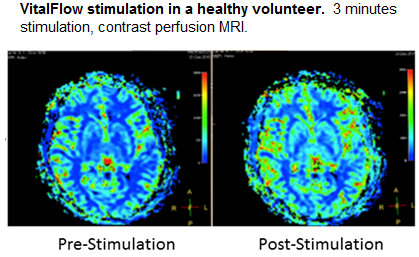 About our solution: The VitalFlow overcomes the limitations of the existing stroke treatments because it is non-invasive, easy-to-use, and safer to use than the existing stroke treatments. Nervive is prepared to test a clinical prototype VitalFlow in the hospital setting as a treatment for ischemic stroke. We need your support to build clinical prototype devices for use in select hospitals. One of the new clinical prototype devices will be used in the hospitals of the Cleveland Clinic system near Nervive's Akron headquarters, and the other clinical prototype device will be placed at a hospital determined by our MedStartr investors.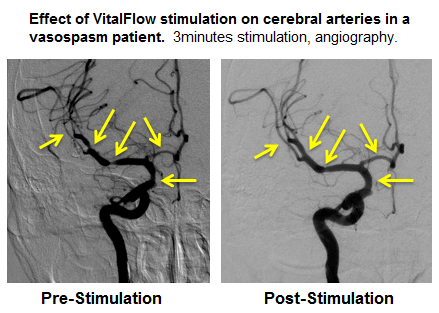 Progress to date:
The VitalFlow is in clinical prototype form and has successfully completed initial clinical studies. Specifically, the clinical prototype VitalFlow has proven safe, tolerable, and effective at increasing blood flow to the brain in normal subjects, and it has proven capable of reversing cerebral artery constriction in patients with vasospasm, a condition similar to ischemic stroke that occurs in the intensive care unit. The design and methods-of-use of the VitalFlow are covered by 7 patent applications in various stages of review, with the first two patents being granted in the U.S. and China.
About Our Team
Creator: Mark Borsody
Location: Ohio
Education: The Ohio State University College of Medicine
Bio: Dr. Borsody is a vascular neurologist and the inventor of the VitalFlow stimulator. He has 25 years of research experience including 7 years in the pharmaceutical industry. In 2012, he began full-time work on the VitalFlow program, founding Nervive Inc for which he now serves as CMO. Under his leadership as start-up CEO, Nervive obtained $5.0M in non-dilutive funding, completed key preclinical studies, and built a clinical prototype VitalFlow device that is currently being tested on patients.
Title: Chief Medical Officer
Advanced Degree(s): MD., Ph.D.
How We Help Patients
The VitalFlow restores lost blood flow to the brain. Doing so rapidly after the loss in blood flow prevents brain injury and neurological impairment from developing. Because the VitalFlow is simple, straightforward to use, and non-invasive, we believe it can ultimately be used to treat ischemic stroke even in places that do not have the physician expertise or equipment necessary to administer other treatments. Other conditions involving brain ischemia such as traumatic brain injury and cardiac arrest might also benefit from VitalFlow treatment.
How We Help Physicians
The VitalFlow rapidly restores lost blood flow to the brain. By doing so, permanent brain injury and neurological impairment is prevented. Because it is simple-to-use and non-invasive, the VitalFlow can be used to treat conditions of brain ishemia in the emergency setting. An initial regulatory approval for the clinical prototype VitalFlow as a treatment for cerebral artery vasospasm in subarachnoid hemorrhage patients is expected in Q1 2017 under a Humanitarian Device Exemption. Thereafter, we intend to pursue an indication as an emergency treatment for ischemic stroke under an Expedited Access PMA. Other indications involving brain ischemic (traumatic brain injury, cardiac arrest) can also be considered in the future.
How We Help Hospitals
The VitalFlow is a platform technology that will improve the clinical condition of patients suffering from brain ischemia, which occur in settings spanning the intensive care unit to the emergency department and into ambulance. Various versions of the VitalFlow will be useful in different settings, beginning with our current clinical prototype device that can be used as a treatment for cerebral artery vasospasm in the intensive care unit. Future versions of the VitalFlow will be useable in the emergency department and ambulance for treatment of ischemic stroke, with subsequent indications in traumatic brain injury and cardiac arrest envisioned by the company. By treating brain ischemia rapidly, the VitalFlow will shorten patient stays and reduce hospital costs, thereby improving hospital reimbursement for these conditions.
How We Help Partners
The VitalFlow platform technology has the potential of increasing the effectiveness of standard-of-care therapies for stroke and cerebral artery vasospasm. As part of a significant investment from a partner company, Nervive would be willing to consider exclusive partnerships and co-development opportunities for these indications.
Long-term partnerships and co-development opportunities spanning the VitalFlow lifecycle are also envisioned by Nervive for substantial levels of investment.