About our project
The problem we solve: Timely diagnosis of heart disease, susceptibility to them, as well as the diagnosis of psychological stress level.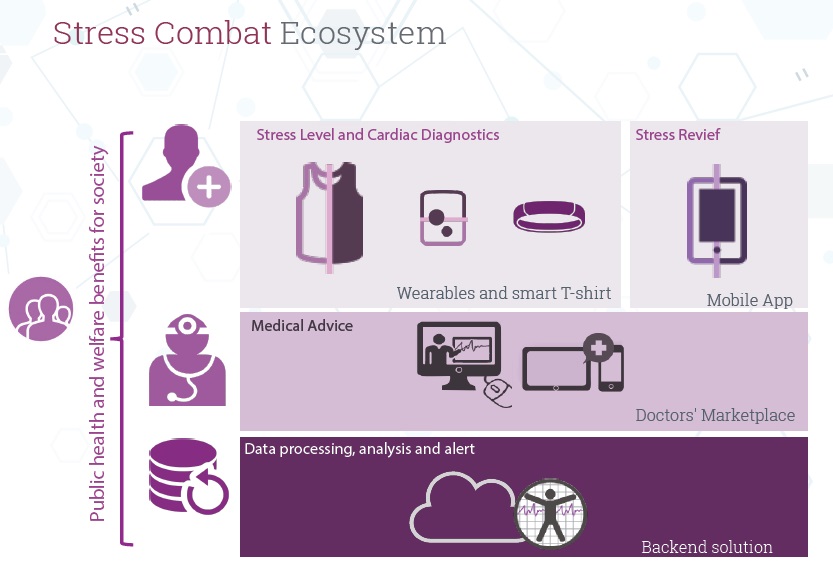 About our solution: Heartln Smartphone application uses unique augmented reality technology with the following key features: a) Self-assessment of stress level by a user; b) Dashboards indicating level of stress basing at ECG and HR data taken by the Bracelet and ECG T-Shirts ; c) Customized recommendations to reduce stress load right away; d) Simple and effective exercises to decrease stress level . Exercises are developed with dedicated team of mental health doctors ; e) System of alerts and notifications if signs of dangerous conditions are detected f) Possibility to order and receive a teleconsultation from a certified mental health professional or cardiologist. Value added services like telemedicine mental health remote consultations, measure heart health with own AI prevention algorithms . g) The mechanics based on customer engaging and competition-based standards with scores, sharing, boards e.t.c.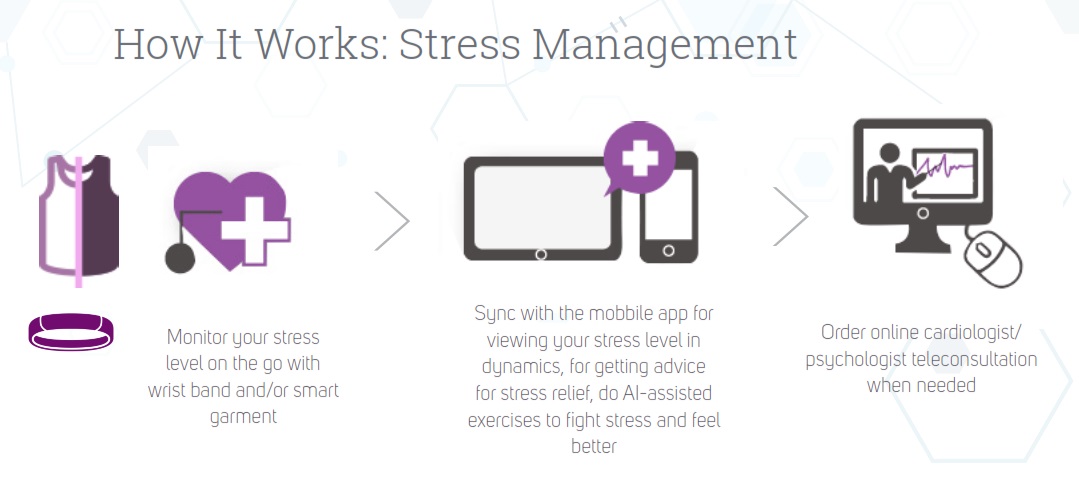 Progress to date:
We build the line between portable and professional diagnostic online, this is our lifestyle. Our aim is not just to give a device to you. We provide the health care professional service as well. HeartIn is the innovation product that the first offers you to conduct a professional diagnostic with comfort at your home, office, gyms, etc.
How We Help Patients
Heartln will help patient live longer and healthier lives when testing our innovation devices - cardio service with our own line of devices, applications, web part and team of cardiologists. With HeartIn consumers can check their ECG and stress level from anywhere in the world at any time .
Heart beat-detecting bracelet containing electrode attached to a person's wrist and ECG data processing and transmitting
body.
Designed for everyday use, the bracelet takes electrocardiogram (ECG) and heart rate (HR) in a single touch and transforms the data into indicators of stress level, which are transmitted to the server for processing and analysis. If the stress load is high, mental health doctor's teleconsultation is offered
The results come to the person's smartphone. Owing to clinic level of signal our system can detect life threatening heart rhythm abnormalities. Instant alerts are sent to the patient and his doctor if the following episodes are detected:
• Arrhythmia
• Atrial fibrillation
• Atrial flutter
• Ventricular tachycardia
• Supraventricular ectopy or tachycardia
How We Help Physicians
Gathering good data and helping patients between visits is a challenge. HeartIn enables between care and better data collection.
We are sharing with Doctor online portal, where healthcare provides can receive diagnostic results, share with the care team, and provide recommendations.
From your provider account you can communicate with patients and analyze their health records in a quick and automated way, improving care and communications.
How We Help Hospitals
FOR HOSPITALS AND CLINICS
If there is no cardiologist in your hospital or clinic, HeartIn portable device allows you to have a 24-hour, 7 day a week full-service ECG on call and on-line with a qualified cardiologist directing the procedure and reading the results, then providing recommendations to help treat the patient.
The HeartIn device can be moved throughout the hospital, so it can be moved from one exam room to the next or one patient room to the next. The HeartIn device is easily handled by one person, usually with one hand.Its signal is digital and of highest quality available.
The HeartIn innovative Bracelet and T-Shirt in your facility will prove a valuable asset; it is designed for durable use (name its warranty to prove it durability, but call it for the United States a limited warranty to conform to United States law).
How We Help Partners
Together we can building BUSINESS MODEL:
1.Devices are sold for minimal profit, it depends on the average regional price for cardiology consultations by local internet shops (B2C)
2. Site receives a 30% B2C transaction fee from all diagnoses with Heartln
3. Agreement with insurance companies, distributors to buy a lot of devices for customers who will decrease insurance payments in the future (B2B)
4. Full ECG service and increase of patients returning for clinics (B2B)