About our project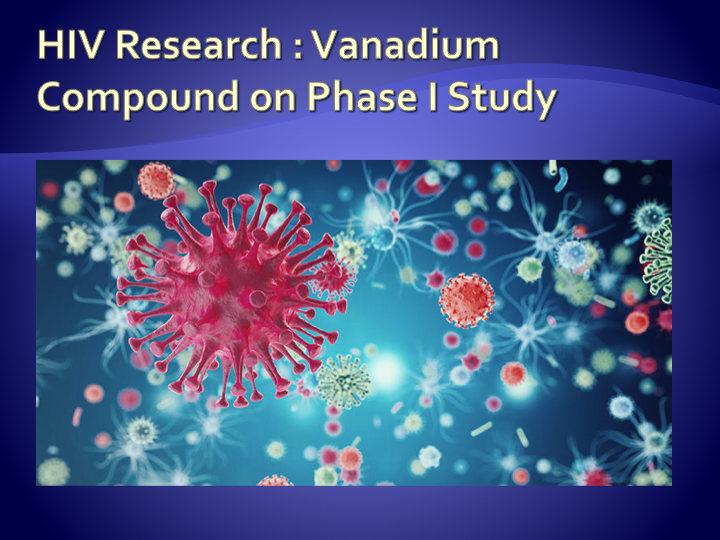 The problem we solve: Current HAART therapy reduces the viral load to undetectable level. But virus persists as provirion in CD4+ and other infected T lymphocytes. Currently there is no drug that targets this provirion. Also low CD4 cells and CD4/CD8 cell ratios persists in spite of treatment causing increased infection, malignancy and non-aids morbidity and mortality.
About our solution: This treatment raises CD4 T cells and normalizes CD4/CD8 T cell ratios. We want to start feasibility study to show if these drugs are effective in small group of patients. We need to come up with a chemical entity and we have already spoken with a team of scientist who have agreed to work on your project. In our small observation in few patients we have found vanadium compounds are highly active against HIV and we would like to develop and start a new clinical trial to test our product.
Progress to date:
We did observational studies in small pool of 13 subjects and they have shown increase in CD4+ cells count more quickly in subjects who are taking vanadium complexes than patients who are not taking. Not only cells have improved but also the CD4/CD8 T cell ratio is improved more quickly than historic cohorts. These effects resulted in reduced frequency of other bacterial,fungal and viral infections. Patients are able to lead normal life with less visits to emergency hospital visits. Please see our video for discussion on this topic.
About Our Team
Creator: Enrique Gutierrez
Location: Florida
Education: Tulane University, USA & Universidad Centr
Bio: Board Certified Physician practicing in Kissimmee for over 20 years. Specialize in treating patient with HIV. He completed a specialty fellowship in allergy and immunology and Endocrinology at the prestigious Tulane University. Tulane University is one of the top endocrinology programs in the nation attending Tulane gave him the opportunity to train under Nobel Prize winning academicians. During his time there he conducted and published ground breaking research in the area of neuro endocrinology and neuro immunology. He has led many pharmaceutical clinical trials and collaborated in developing new drugs with different pharmaceutical companies . His research is primarily focused on vanadium compound and micronized glyburide for the treatment of HIV.
Hospital Affiliation: Epigene Channel
Title: Founder & President
Advanced Degree(s): MD
About Team Members
Dawood Subhani
Dr., M.B.B.S., C.T.D.M
Biography: Dr.Dawood is a Physician and Clinical researcher. He has experience in managing several investigator-initiated studies and held research job positions at USC, UCSC, VA SFO, collaborated on many research/clinical trials with reputed universities like Stanford, Harvard etc., expert in managing day- to-day clinical trial activities, and providing support for regulatory filings.
Title: Dr.
Advanced Degree(s): M.B.B.S., C.T.D.M
LinkedIn: www.linkedin.com/in/dawood-subhani-03aa337