About our project
The problem we solve: Compliance to pharmaceutical, cannabis and certain classifications of medical waste disposal requires an incineration type process to comply with state and federal laws. The regulated medical waste industry continues to use a "haul and burn" approach where the waste is picked up from healthcare facilities by truck and hauled it to an incinerator. These trucks produce carbon emissions and when the medical waste is burned it produces toxic emissions and toxic ash residue. The existing solution requires consolidation and transportation of hazardous waste throughout the US to large facilities for processing. This creates significant risk and cost to the generator. The MWzero system replaces this process with an on-site solution that meets state and federal waste destruction regulations with no air discharge thus complying with all EPA air emission requirements.
About our solution: This technology is based on thermochemical decomposition of organic material at elevated temperatures in the absence of oxygen (or any halogen). It involves the simultaneous change of chemical composition and physical phase, and is irreversible. The MWzero Technology will process waste within 3 hours. During the process the system will use an average of 6kw/hr in electricity. By using a proprietary Pyrolysis-Plasma ARC process the system produces a sterile ash with a reduction in waste size by up to 98%. The system does not produce dioxins, hazardous gases or odors. It is a simple system to operate, and no additional treatment of the waste is required. Infectious waste streams can be treated immediately, rather than stored in the customer's facility while awaiting pickup by the waste hauler.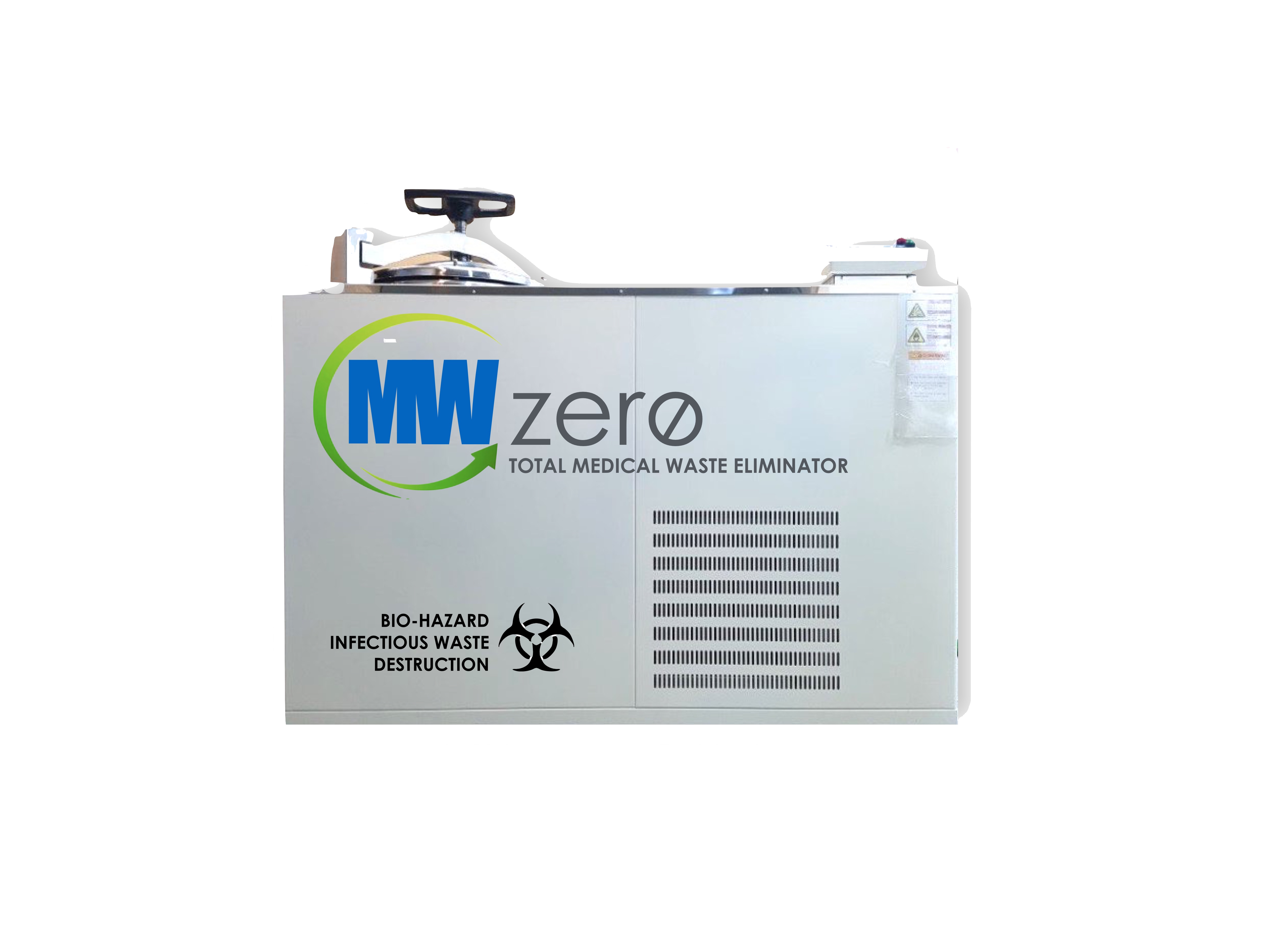 Progress to date:
Presently MWzero has two working prototypes and are engaged in discussions with multiple hospitals and medical unniversities regarding installation of the technology. In addition MWzero sees an opportunity to help states/countries with isolating and treating medical waste generated avoiding any possible future pandemic outbreaks such as Ebola. Waste can be safely treated in a quarantined area providing a much lower opportunity for the disease to spread. MWzero has engaged with federal, state and local law officials regarding the destruction of illegal drugs that have been confiscated by various agencies. In FY 2017, officers and agents of the US Custom & Border seized more than 2.14 million pounds of narcotics, including nearly 1,500 pounds of fentanyl and other synthetic opioids. Our plan is to penetrate the new cannabis marketplace with a solution for destruction of expired product, pharmaceutical return programs, small medical waste service companies, and hospital/medical sites that want to have their own on-site process. We will sell these machines as an equal to the incineration process without the environmental side effects.
About Our Team
Creator: Bob Thompson
Location: Florida
Bio: Bob Thompson (CEO) over 35 years of experience in the sales, marketing and business development areas. He is an expert in the medical waste market and started working on this solution over three years ago. Prior to Bob working on the MWzero technology he was Senior VP of IVS, VP of Sales for Three Fires Corp and a consultant to Ideal Life. Bob is a US Army Veteran
Title: President/CEO
About Team Members
Linda Basinger
VP Sales, BA
Biography: Linda Basinger (VP Sales) sales and marketing executive with 25 years' experience in both corporate and entrepreneurial environments. Linda's last venture was co-founder of a company that designed and manufactured organic waste digestive treatment equipment.
Title: VP Sales
Advanced Degree(s): BA

How We Help Patients
The amount of hospital waste being generated is increasing geometrically day by day due to increasing health consciousness. Improper management of the waste also leads infections. It contains pathogens in mass, in their invisible forms. Therefore, its proper management is essential to maintain hygienic, aesthetics, cleanliness, and control of environmental pollution. If this substantial amount of waste is not properly managed it can pollute soil, air and water. Further, it can cause deadly diseases, either in endemic, sporadic or epidemic forms. Proper management means proper collection, segregation, storage, transportation and treatment of waste in safer manner to prevent nosocomial or hospital acquired infection.
How We Help Physicians
All individuals exposed to hazardous health-care waste are potentially at risk, including those within health-care establishments that generate hazardous waste, and those outside these sources who either handle such waste or are exposed to it as a consequence of careless management. The main groups at risk are the following: • medical doctors, nurses, health-care auxiliaries, and hospital maintenance personnel; • patients in health-care establishments or receiving home care; • visitors to health-care establishments; • workers in support services allied to health-care establishments, such as laundries, waste handling, and transportation; • workers in waste disposal facilities (such as landfills or incinerators), including scavengers. The hazards associated with scattered, small sources of health-care waste should not be overlooked; waste from these sources includes that generated by home-based health care, such as dialysis, and that generated by illicit drug use (usually intravenous). MWzero technology helps contain and destroy these waste risk while providing a economical solution.
How We Help Hospitals
This technology elminates the expense of third party waste removal companies and elminates the generators liablity while the waste service is driving the waste to the appriote treatment site. This technology will treat all clasifications of BioHazardous waste. No need to worry about seperating what needs inceneration and what can be treated with sterilization. This technology elminates the staffs decision making and liability.
Investor Info
Market Size
A hospital generates an average of 33lbs of medical waste per staffed bed. Florida alone has almost 38,000 facilities that generate biomedical waste. The market for cannabis waste will increase exponentially as new state regulations allow medical marijuana type products to be distributed. No one has yet defined that market's potential but we do know that the cannabis waste disposal will be regulated. Pharmaceutical recall and destruction programs will also contribute market opportunities of the MWzero technology. Compliance to pharmaceutical, cannabis and certain classifications of medical waste disposal requires an incineration type process to comply with state and federal laws. Today a little over 50 medical waste incinerators are in operation across the United States.
This technology has attracted several governmental agencies interest in regards to addressing Bill HR5687 that recently passed in the House of Representatives full committee vote.
H.R. 5687, Securing Opioids and Unused Narcotics with Deliberate Disposal and Packaging Act of 2018, authored by Reps. Richard Hudson (R-NC), Rep. G.K. Butterfield (D-NC), and Ted Budd (R-NC) will direct the FDA to work with manufacturers to establish programs for efficient return or destruction of unused Schedule II drugs, with an emphasis on opioids. These methods could include mail-back pouches to secure facilities for incineration, or methods to immediately inactivate/render unattractive unused drugs. In addition, this bill will facilitate utilization of packaging that may reduce overprescribing of opioids. Finally, this bill will require the Government Accountability Office (GAO) to study new and innovative technologies that claim to be able to safely dispose of opioids and other unused medications. GAO would review and detail the effectiveness of these disposal methods.
Projected 3 Year Growth
| | | | | | |
| --- | --- | --- | --- | --- | --- |
| 000's | 2018 | 2019 | 2020 | 2021 | 2022 |
| Systems Placed | 5 | 142 | 197 | 270 | 350 |
| Average Sale Price | $160 | $160 | $160 | $160 | $160 |
| Sales Revenue (Machine) | $800 | $22,720 | $31,520 | $43,200 | $56,000 |
| Sales Revenue (PM, Parts) | $12 | $355 | $492 | $675 | $875 |
| Total Revenue | $812 | $23,075 | $32,012 | $43,875 | $56,875 |
| COGS | $380 | $9,067 | $12,504 | $17,550 | $22,750 |
| Gross Profit | $432 | $14,008 | $19,508 | $26,325 | $34,125 |
| Operating Expenses | $496 | $3,214 | $3,835 | $4,631 | $5,431 |
| EBITA | -$64 | $10,794 | $15,673 | $21,694 | $28,694 |
Revenue Model
MWzero operates a business model generating revenues and profits from the sale/lease of the systems to be placed on-site. The small system footprint of approximately 40" square makes it advantageous for a facility with limited space. Preventive maintenance and service packages for the Maxus 33 tracking system (a third part software tracking system) will be offered to the purchasers of the MWzero systems. Systems sell for $140,000 to $200,000 depending on whether it's a direct sale or sold through a distributor. Presently the cost of removing biohazardous/pharmaceutical waste and disposing of it properly from a generator's location is averaging from $1.00 to $2.50 per pound depending upon volume. Customers with the MWzero machine can easily process over 600lbs per day. The average return on investment is less than one year using a $1.25 per pound removal cost and a machine purchase price of $160,000. MWzero feels this is a very attractive return for any potential customer. Leasing and rental options will also be available through a third party financial company.
Competitors
While there are many third party service type companies that offer waste removal for this type of waste it remains expensive and puts the liability on the generator until the third party confirms it has been destroyed "from craddle to grave". This on-site technology destroys infectious, biohazardous, pathological, trace chemotherapy, and pharmaceutical waste. This technology meets state and federal regulations, provides a indoor operation, uses no water or drain, no shredding or flame, no chemicals, and no ventilation with a small footprint.
Traction
We are in the exploratory phase of a strategic partnership with Maxus 33 (www.maxus33.com) to combine our individual ground breaking technologies into a product that will solve the complex issue of tracking any controlled or sensitive product during its entire life cycle...from "Inception to Destruction". The combined technologies will specifically solve the current problems of tracking the life-cycle, quantity & location of the targeted material, secure the control of the chain of custody process, verify active locations and final destruction of highly sensitive, controlled and/or regulated material. We are in the process of preselling and presenting the technology to environmental compliance professionals, universities, governmental officials, and pharmaceutical companies.
Due Diligence Docs
Please note that access to the company's confidential materials is limited. Click this button to request access from the Company and its representatives.
---