About our project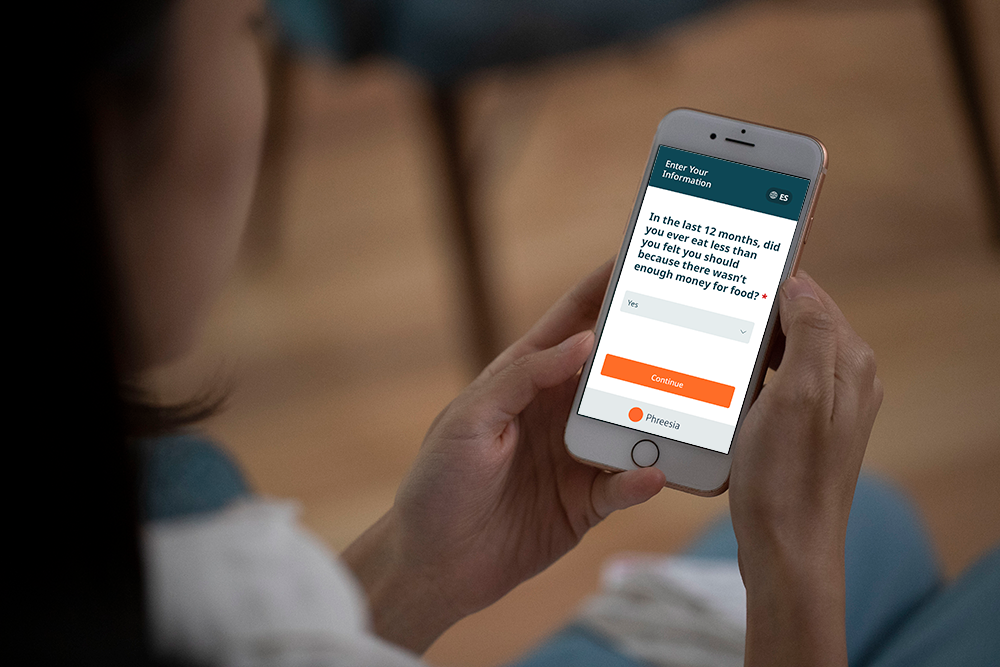 The problem we solve: As risk-based contracts expand and incentive structures change, providers are under increasing pressure to manage the social and medical care of vulnerable populations. Providers need a scalable solution that enables them to both proactively identify and address individual patients' social determinants and simultaneously will give them valuable insight into their community's top needs. While there are some health IT solutions in the market today that help match patients with community resources, they lack an ability to effectively identify the right patients in the first place.
About our solution: This year, Phreesia will check in 85 million patients to ambulatory clinics across the country. Phreesia's SDOH product leverages our digital intake platform, using dynamic logic to screen patients and automatically identify those with urgent, self-reported SDOH risks. We engage patients at a critical time when they are already seeking care and primed to speak with a provider about their health needs. As part of this process, we alert providers of patients' needs and facilitate outreach performed by care coordinators, allowing them to track follow up and outcomes for individual patients. Finally, we offer in-depth analytics on the screening results to help practices meet reporting requirements and simultaneously derive insights about how to better support their community.
Progress to date:
Founded in 2005, Phreesia is the nation's leader in patient intake. We work in all 50 states, across over 30 specialties, and will see approximately 85 million unique patients in 2019. Additionally, we integrate with the leading PM/EMR systems including: Allscripts, athenahealth, Cerner, e-MDs, Epic, Greenway Health, NextGen, and Virence Health. As part of our standard intake process, we already collect millions of SDOH patient records each day. Given our proven success helping practices collect and report on this sensitive health information in a secure manner, we have begun developing a formal SDOH product offering that enables practices to support patients' SDOH needs in real time. We are fortunate to be partnering with two leading health systems in the US that are participating in our SDOH beta program. We have also received significant interest in our SDOH offering from the rest of our client base, including 160 clients who participated in our recent SDOH webinar.
About Our Team
Creator: Hilary Hatch
Location: New York
Bio: Hilary Hatch, Ph.D is a clinical psychologist and VP of Clinical Engagement at Phreesia. Dr. Hatch was formerly founder and CEO of Vital Score (recently acquired by Phreesia), a digital health company focused on motivating patients to self-identify and self-refer for unmet social and behavioral needs through technology in primary care. Dr. Hatch is an Instructor at the Johns Hopkins School of Medicine where she is a member of the Center for Innovative Medicine. Dr. Hatch is a frequent contributor to The Health Care Blog and invited speaker on patient engagement including AVIA Innovation, Health Management Academy, University Health Systems Consortium, Deloitte Healthcare Innovation, Junto Health and HIMSS. Dr. Hatch participated with 30 nationally recognized leaders to propose recommendations for the advancement of Patient-Reported Outcomes (PROs), published in the Journal for Managed Care and Specialty Pharmacy.
Title: VP of Clinical Engagement
Advanced Degree(s): Ph.D
About Team Members
Elizabeth Fox
Director of Analytics, MPH
Biography: Liz Fox is a Director of Analytics and Insights at Phreesia, where she has worked for the last 3 years. She focuses on Phreesia's research and evaluation which includes leading the Social Determinants of Health initiative. Liz holds a BBA from The George Washington University in Finance and Economic Policy as well as a Masters in Public Health from the University of Pennsylvania.
Title: Director of Analytics
Advanced Degree(s): MPH

Carrie Wolf
Product Marketing Specialist, BA
Biography: Carrie Wolf is a member of the Product Marketing team and oversees the go-to-market strategy for Phreesia's patient activation products. Prior to joining Phreesia, she worked at Advisory Board (Optum) doing research and consulting for hospitals and health systems across the country. Her focus was in service line growth and technology investment strategy. She also spent time working in health policy at the National Academy of Medicine and The Dartmouth Institute for Health Policy and Clinical Practice. Carrie holds a BA in Environmental Studies from Dartmouth College.
Title: Product Marketing Specialist
Advanced Degree(s): BA

Challenge Mission
How We Address the Mission of The Challenge(s)
Our product helps healthcare organizations collect standardized patient-reported SDOH data at scale as part of an effort to better understand unmet needs and gaps in care and address them at both the individual and community level.
New Orleans and Our Company
In December 2018, over one million patients checked in with Phreesia in the Gulf States, 55,000 of which took place in Louisiana. By participating in this challenge, we hope to partner with providers in New Orleans who are passionate about addressing social determinants of health in their community and want to use Phreesia's product to support them.