About our project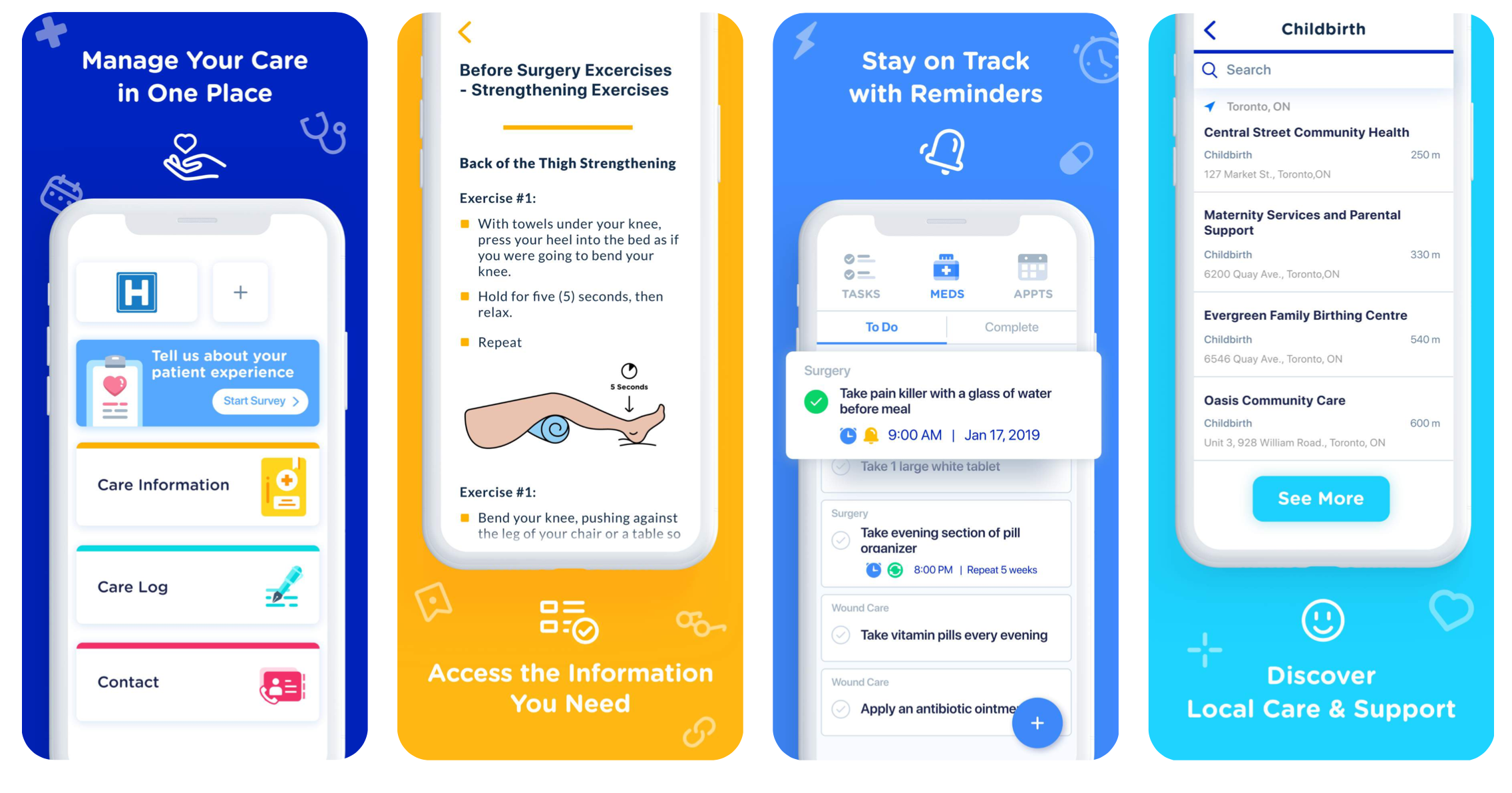 The problem we solve: Zack, the CEO of CoHealth, was a patient a number of years ago after undergoing surgery. He was provided with 13 different resources to manage between his patient portals, his primary care provider, his allied healthcare professional, the medical device he was implanted with, his medications.. the list goes on. He was overwhelmed with the amount of time he had to spend on recovery.. being a patient was a full-time job.  The resources provided to patients and healthcare consumers often overlap and are fragmented across sources. By providing healthcare consumers with a single point of access for all of their healthcare needs, we can cut through the clutter, improve the patient experience and streamline the resources for healthcare consumers to ensure they access what's most important.
About our solution: CoHealth is a mobile platform that provides healthcare consumers a single point of access to the resources they need to manage their care. CoHealth is distributed to consumers by healthcare facilities and community partners. By leveraging these distribution channels, consumers are now accessible from the point of care onwards. CoHealth captivates healthcare consumers; by helping them manage and coordinate care more effectively, we help organizations like yours drive business objectives by sharing your content and tools, extending your brand, and generate more meaningful insights into healthcare consumer populations. CoHealth allows for the capture of PREMs (Patient Reported Experience Measures) and PROMs (Patient Reported Outcomes Measures). This data capture is customized from site to site and unit to unit, so if a new quality initiative is being tested in emergency, and at the same time you want to understand how effective discharge is from maternity, CoHealth can help.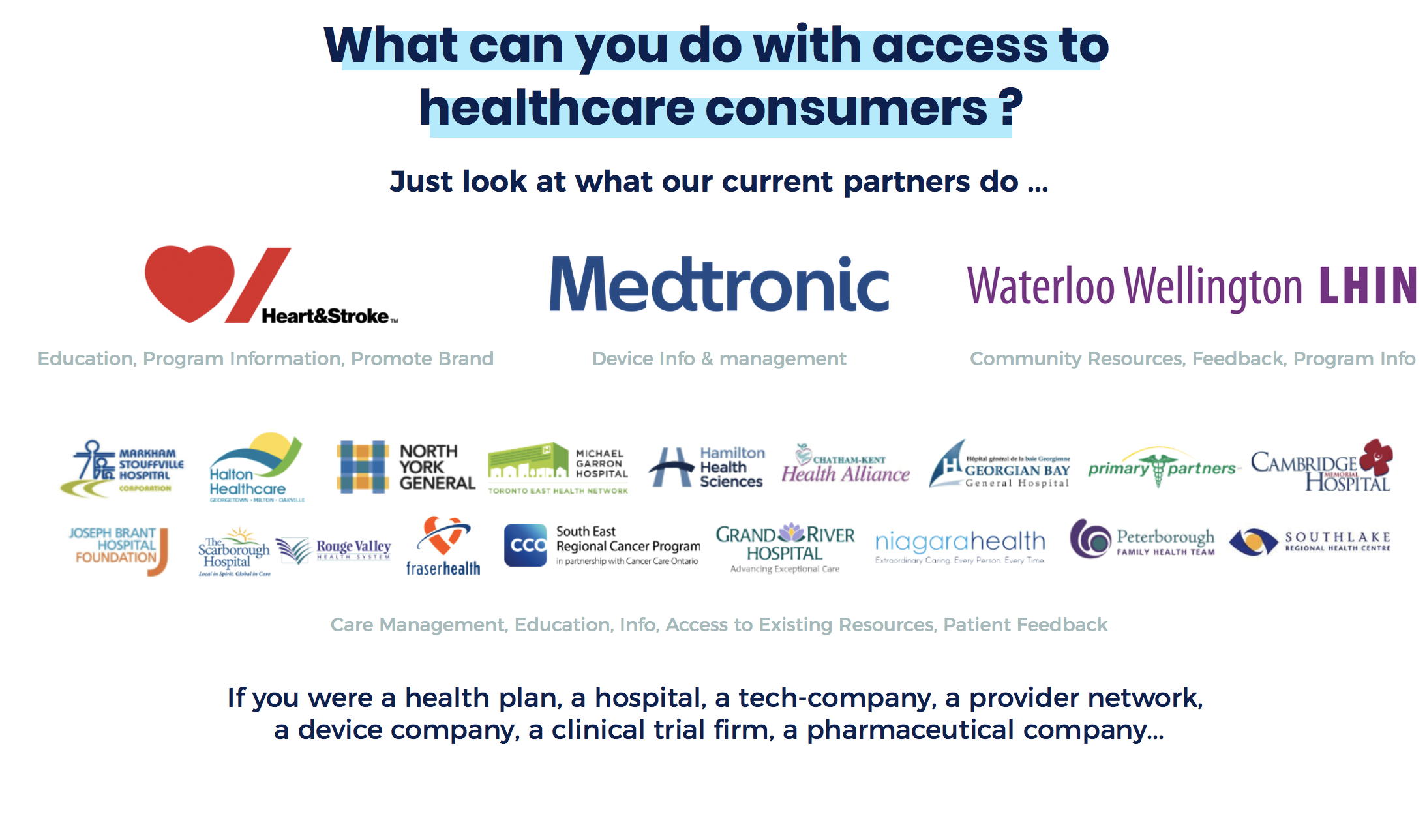 Progress to date:
CoHealth is rapidly scaling. In January of 2018, CoHealth was live with 3 health systems. Today, we're now live and being distributed to healthcare consumers in 21 health systems in over 50 departments. We're partnering with a variety of community partners and distribution channels, including healthcare advocacy groups, government-funded plans, and medical device companies (like Medtronic). We're also now expanding our platform to primary care environments as well. CoHealth is ecosystem agnostic and can support healthcare consumers in any environment.

For clarity, our product is live, in-market, and is actively being distributed to healthcare consumers today.
About Our Team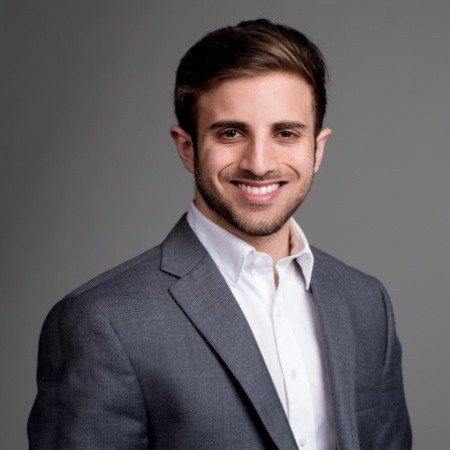 Creator: Zack Rothbart
Location: Ontario
Education: University of Waterloo, Osgoode Hall Law Scho
Bio: Zack Fisch Rothbart is the CEO & Co-Founder of CoHealth. CoHealth is a mobile platform that provides healthcare consumers with a single point of access for their healthcare experience. The platform is currently distributed in over 20 provider networks across North America and has helped tens of thousands of healthcare consumers manage and coordinate care. As a patient, Zack himself fell through the cracks in the healthcare system after developing a complication that nearly cost him his leg. This experience motivated him to found CoHealth. Zack studied in the joint JD/MBA program at Osgoode Hall Law School & the Schulich School of Business. He holds a Bachelor's degree in History from the Univeristy of Waterloo, is a 2x start-up founder, and graduated from the Next 36, 2016 cohort in which he was selected as one of the top 36 entrepreneurs in Canada of the year.
Title: CEO, Co-Founder
Advanced Degree(s): JD, MBA
Challenge Mission
How We Address the Mission of The Challenge(s)
Through CoHealth, patients can access care providers in their community to receive the support and services they need to help themselves. The challenge for reaching patients in communities has always been establishing a channel through which care providers can ensure patients find the right care at the right time in the right network. Patients spend 99% of their time outside of hospital and health networks, and engaging patients and healthcare consumers in communities is critical to care navigation and access. Through CoHealth's care finder - networks can control the flow of patient populations to ensure they find the support they need nearby. CoHealth can connect patients to relevant sources of care and help patients get in touch with community-basses care to book appointments and learn more.
New Orleans and Our Company
CoHealth is a Toronto based company. We currently work with clients across North America and help them better engage and support their healthcare consumer populations. The dedication we bring to working with each of our community partners is unwavering; our end objective is to connect the dots in healthcare and help providers better serve their patients, regardless of where they are located. If we are fortunate enough to earn the opportunity to win this challenge, then we will certainly come to New Orleans to work on this project together.