About our project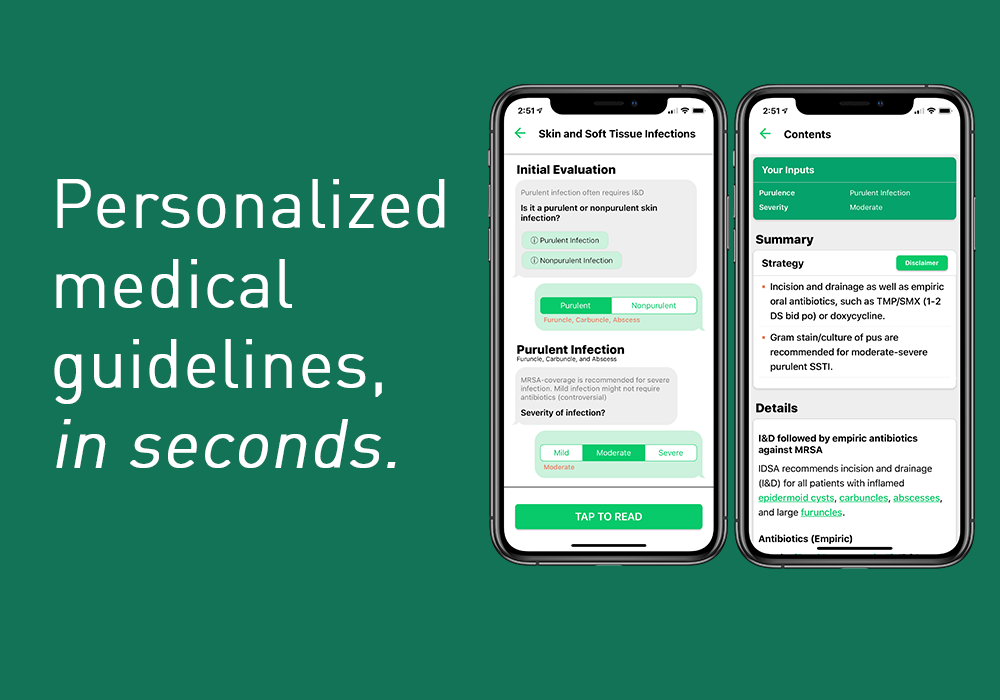 The problem we solve: Historically, medical knowledge has been inaccessible at the point of care; the latest protocols have typically been delivered in 100+ page PDF documents that are too unwieldy for physicians to quickly use. Lack of accessibility has been compounded by exponential growth in medical knowledge. By next year, medical knowledge is supposed to double every 73 days – across specialties, our doctors are simply overwhelmed by the quantity of research emerging in their fields. This "knowledge challenge" has contributed to substandard patient care – according to the NEJM, almost 50% of patients in the US do not receive the standard of care. This, in turn, exacerbates wasted healthcare spend and medical errors (now the third leading cause of death in the US). Existing solutions have failed because they have not made knowledge digestible enough at the point of care or suffer from extremely poor UX/MD dissatisfaction (i.e., EHR solutions either try to automate MDs or were built for admin purposes).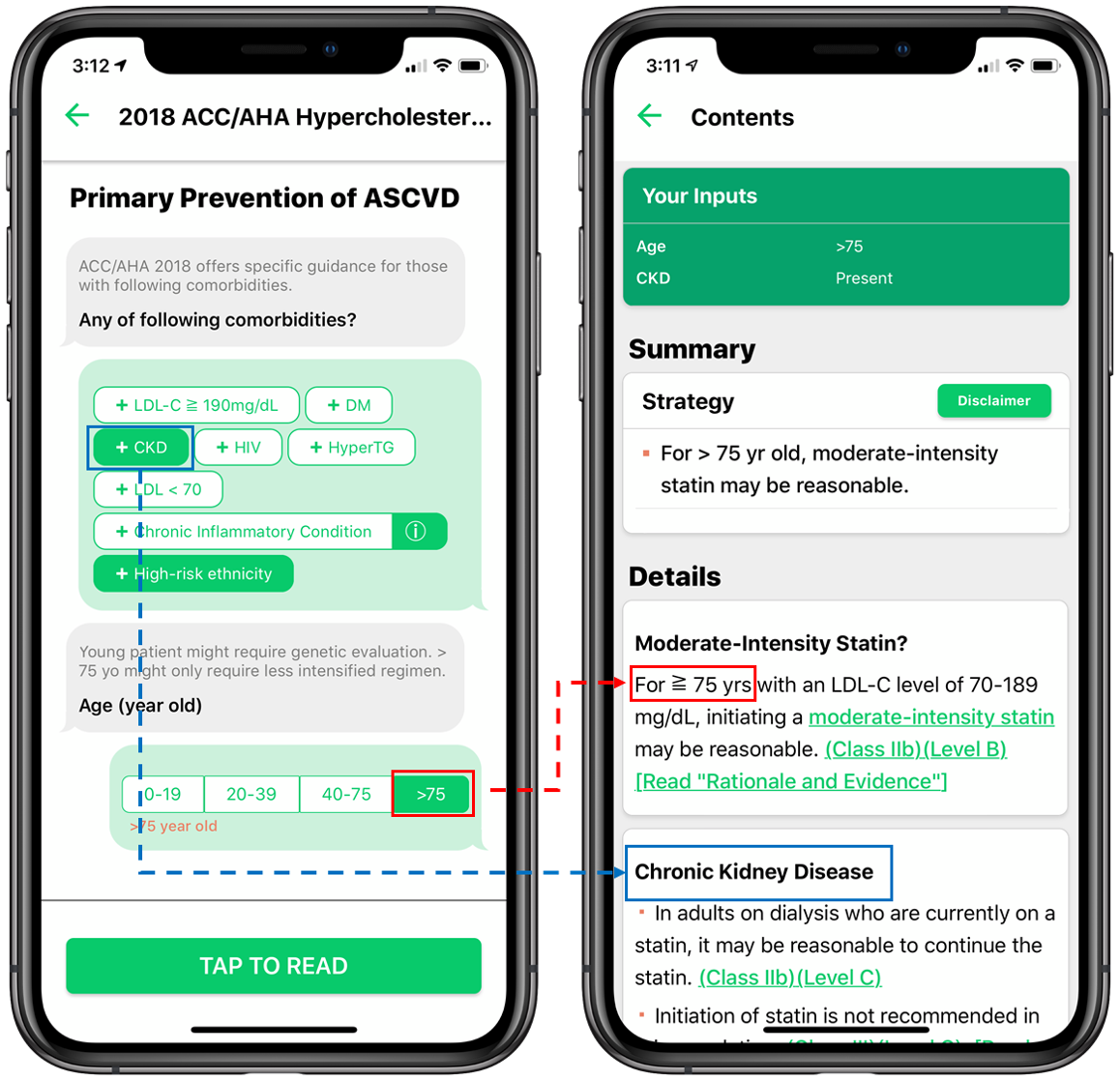 About our solution: Our software breaks complicated guidelines and knowledge into their most basic components. It then delivers digestible, bite-size knowledge to the physician, along with artificial intelligence tools and medical calculators, specific to the patient at hand. We thus enable physicians to treat/diagnose patients with more accuracy and efficiency. Our solution attempts to answer each of the limitations inherent in the existing solutions described in the previous section. It is accessible at the point of care from a clinician's own smartphone. It employs a conversational user interface that asks questions to physician users to guide them into a subset of the guidelines personalized to the clinical characteristics at the point-of-care. Additionally, we built an author-facing tool, the "Playground," for clinicians to design their own clinical modules. The Playground also allows for the integration and dissemination (if desired) of institution specific protocols.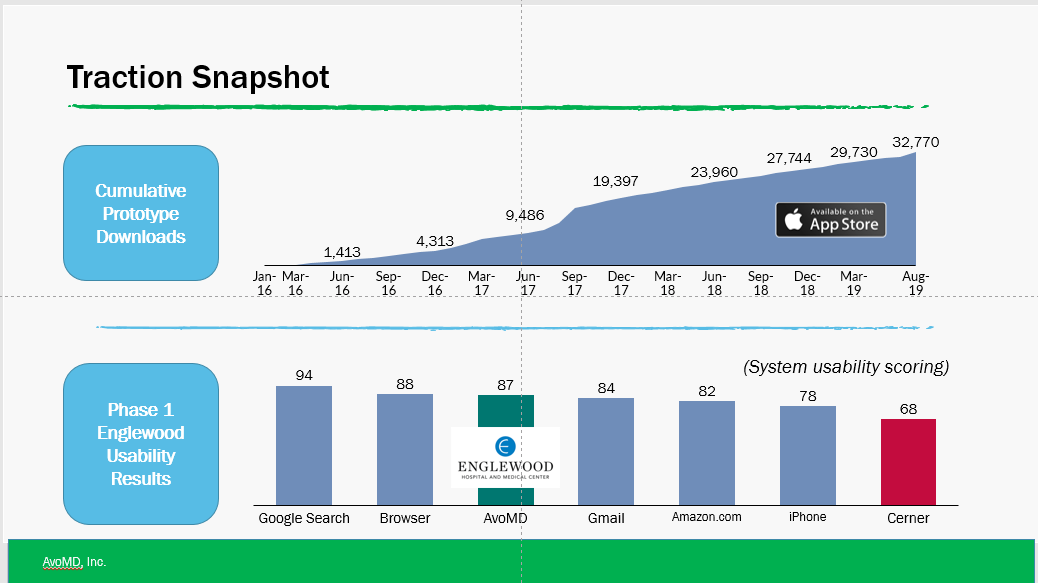 Progress to date:
We've made significant progress across the various aspects of our business.
First - we've launched our initial app on the App Store! Download it here.
Second, over the last 3 years, we've uploaded 3 prototypes (each addressing a singular but separate clinical circumstance). Without spending a cent on marketing, these have been downloaded by ~33K users across the globe, with about 725 monthly active users ("MAUs").
Third, we have initiated an extensive clinical trial of our software at Englewood Hospital to test AvoMD's usability as well as its impact on outcomes for preoperative cardiac risk assessment. The first phase of our testing focused on usability, where our app was graded as "more usable than Gmail and Amazon.com" with 11 of 12 subjects agreeing that the app would replace status quo tools. The next phase, a randomized control trial, was approved by an IRB in August and will measure impact on outcomes.
Last, we have a received interest from ~20 independent physicians and three hospital departments in authoring content and protocols to be used in the app.
About Our Team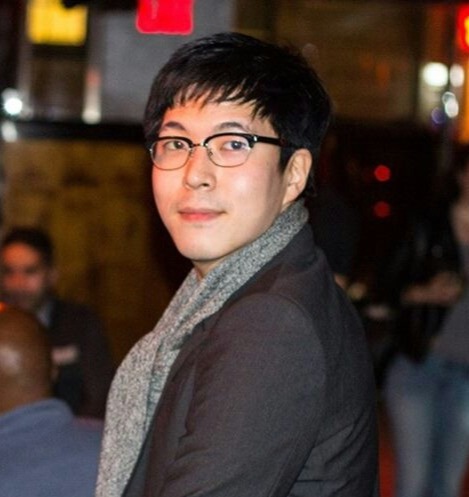 Creator: Joongheum Park
Location: New York
Education: Columbia University, Harvard University
Bio: Dr. Park is a practicing board-certified internal medicine physician at Beth Israel Deaconess Medical Center. He was a clinical informatics fellow at New York Presbyterian-Columbia University Medical Center ("CUMC") and was on the executive board of the National Association of Clinical Informatics Fellows. He is also a professional developer and has been mentoring computer science classes in healthcare software at Georgia Tech. Additionally, Dr. Park leads multiple clinical AI projects in collaboration with Columbia University, Albert Einstein College of Medicine, Rutgers University, and the University of Pittsburgh. He has presented his AI and mobile health projects at national conferences held by the AMIA, the American College of Rheumatology, the Society of Hospital Medicine, and the American Psychiatric Association.
Hospital Affiliation: Columbia University Medical Center, Harvard University
Title: Founder and Head of Product/Development
Advanced Degree(s): MD
About Team Members
Laurence Coman
CFO, MBA
Biography: Laurence is currently a student at Columbia Business School where he is studying entrepreneurship and healthcare. Prior to Columbia, Laurence worked on the investment team at Vector Capital, a private equity firm focused on software investments. At Vector, Laurence helped evaluate and acquire enterprise software companies, in addition to serving as a Board Observer for two of the firm's portfolio companies. Prior to Vector, Laurence worked at Greenhill, an investment bank focused on M&A and restructuring. Laurence received a BS in Economics from The Wharton School and a BA in International Studies and Hispanic Studies from the University of Pennsylvania. Laurence's family is embedded in healthcare - both parents are practicing physicians, Laurence's brother is in medical school, two of his grandparents were physicians, and several aunts/uncles are also in medicine.
Title: CFO
Advanced Degree(s): MBA
Twitter: @ComanLaurence
LinkedIn: https://www.linkedin.com/in/laurence-coman/

Yair Saperstein
CEO, MD
Biography: Dr. Saperstein is the inpatient Medicine Chief Resident at Kings County Hospital Center. He is a member of Alpha Omega Alpha (AOA), and graduated from Albert Einstein College of Medicine with distinction in research in global health and from Yeshiva College as Valedictorian. Previously, Dr. Saperstein co-founded two non-profit organizations, StartScience.org and Teach4Kids.org. He is an acclaimed classical concert pianist and has won numerous awards including semifinalist in the Dell Social Innovation Challenge, iGEM Award for Best Human Practices Advance in the Americas, and winner of UIST ACM's Symposium on User Interface Software and Technology in 2010.
Title: CEO
Advanced Degree(s): MD
LinkedIn: https://www.linkedin.com/in/yair-saperstein-md-mph-2ba22335/

Yiela Saperstein
Chief of Growth and Operations, MS
Biography: Yiela is currently pursuing a master's degree in biomedical engineering at Columbia University. She previously completed a bachelor's degree in biochemistry at Barnard college. Yiela has experience creating medical devices, and recently became a finalist in the African Biomedical Engineering Consortium (ABEC) Design Competition for her global health work creating an oxygen delivery device. She also has experience in entrepreneurship and recently took part in an accelerator as part of the Taglit Excel internship program. Yiela has done research in both computational chemistry and biomedical imaging analysis. She is committed to using technological innovations to improve the healthcare system.
Title: Chief of Growth and Operations
Advanced Degree(s): MS
LinkedIn: https://www.linkedin.com/in/yiela-saperstein

How We Help Patients
While we may like to believe otherwise, doctors are only human; even doctors can get overwhelmed by the ever-growing medical knowledge. Advancements in medicine are great, but with medical knowledge expected to double every 73 days by 2020, it's no wonder that only 45% of patients are getting the medical standard of care. That's why AvoMD presents readable, relevent, short, and interactive guidelines to physicians so they can easily keep up with the latest guidelines and personalize their treatments for you.
As physicians, we ask you: Help us so we can help you.
How We Help Physicians
Lack of accessible knowledge and knowledge explosion have created significant issues for physicians that technology has yet to solve. In fact, solutions like EHRs have made matters worse for physicians and are widely credited with contributing to the highest physician burnout rates we have ever seen.
AvoMD was created by physician founders to address physician needs.
First, our app delivers just bite-size protocols/guidelines specific to the patient at hand, so the physician can review only what he/she needs at the point of care. Now, doctors can have the latest evidence-based medicine at their fingertips and can be confident that they are providing the highest level of care.
Next, we also provide supporting educational tools and resources that the physician can choose to access, as we know firsthand that doctors do not like to be automated.
Last, our content is crowdsourced and written by our community of physician authors. We believe physicians should have a say in their own treatment protocols and workflows, and have developed technology to enable this democratization.
How We Help Hospitals
AvoMD will help hospitals improve top-line and bottom-line metrics, in addition to improving overall quality.
Besides for offering distilled medical knowledge, AvoMD can personalize modules to match protocols specific to each hospital.
Top-line. Enhanced adherence to protocols/guidelines can lead to lower readmissions (higher reimbursement) and higher patient volumes (improved reputation and more efficient physcians).
Bottom-line. Our app, which we estimate can save physicians over 30% of their time compared to checking guidelines (i.e., vs. UpToDate), will improve physician efficiency/satisfaction and help reduce the associated costs with physian burnout. Additionally, increased adherence to guidelines/protcols will help reduce uncessary expenditures due to misdiagnosis, sub-optimal treatment, adverse drug reactions, and ordering of unneeded tests.
Quality. Ultimately, workflow-based access to the latest standard of care has the potential to improve overall outcomes for hospitals.
How We Help Partners
We think our solution can have a significant impact across the healthcare landscape. For example, we can help reduce costs for payors if we enable physicians to more closely follow the standard of care. Additionally, our application can be tailored to and adopted by other segments in the provider ecosystem, such as urgent care and outpatient setttings as well as in nursing home and rehab facilities.
Challenge Mission
Affiliation(s)
Dr. Park is currently a board-certified attending physician at Beth Israel-Harvard. Previously, he completed a clinical informatics fellowship at New York Presbyterian-Columbia University Medical Center where we was also an internal medicine attending physician. During this time, Dr. Park sat on the executive board of the National Association of Clinical Informatics Fellows. He attended medical school at the Pochon CHA University College of Medicine and completed his residency at Hackensack Meridian School of Medicine.
Dr. Saperstein attended medical school at Einstein College of Medicine and is currently an internal medicine Chief Resident at Kings County, associated with SUNY Downstate.
Additionally, Dr. Adler Perotte, who sits on our Advisory Board, is an Assistant Professor in the Department of Biomedical Informatics at Columbia University.
Key Milestones Achieved and Planned
Since 2016, the 3 prototypes we've released have been downloaded by nearly 33,000 users, with a current base of 725 monthly active users. All of this was accomplished without a cent being spent on marketing. Additionally, we have initiated a clinical trial with Englewood Hospital, where results from usability testing have shown that our app is more usable than Gmail.com and Amazon.com.
Going forward, we plan to release our next generation, comprehensive app on the App Store/Google Play in September whereby we hope to double our user base over the next 6 months. In November/December of 2019, we expect to receive an initial readout on outcomes/efficiency data from our trial at Englewood. By the end of the year, we also plan to have an additional IRB-approved trial in-place at SUNY Downstate Medical Center.
Given our upcoming inflection points (app release, data readout from Englewood), we anticipate procuring our first hospital pilot in the next six months.
Our Competitive Advantages
There are several segments within the clinical decision market ("CDS") where other vendors are trying to provide access to evidence-based recommendations. The basic source is primary literature (i.e., articles from PubMed) and the society medical guidelines which are both vast and inaccessible at the point of care Next, there are vendors that curate and summarize guidelines, such as UpToDate, which collect evidence-based protocols and make them searchable and more easily accessible; however, this content ultimately needs further distillation and the use of other content tools to be truly accessible and comprehensive at the point of care.
Another category of competition includes medical calculators, like MDCalc, but these are often limited to a specific breadth of clinical circumstances.
Next, there are CDS tools embedded within or offered by EHR vendors such as Epic, Cerner, and Allscripts. These are usually implemented as computerized alerts and reminders, documentation templates, and condition-specific order sets. While these solutions are typically present in many hospitals' IT infrastructures, they are often despised by clinician users who feel like they are becoming automatons, rather than learning and growing.
Barriers to Entry
First, our physician-facing authorship software tool (the "Playground") will provide us a cost advantage. Our peers pay their authors thousands of dollars to write and consolidate medical knowledge for physician users. The Playground automates this process, allowing us to author content more efficiently and for less time/expense. Additionally, we are leveraging a community/social network of physicians to help generate content. These physicians are interested in promoting knowledge and their own names (like being published in a journal) and will require minimal to no compensation. Over thirty physicians have signed up to author content without compensation. Ultimately, our Playground and social network model that will reduce the expenses necessary to generate content.
Second, the network effects generated by our platform will offer a significant competitive advantage. Our single-sided network effect promotes growth in our author base - for every additional content author on our platform, the value of our authorship increases for the next physician (he/she will receive more awareness/recognition for authorship). Additionally, our platform provides "cross-side" network effects. For every additional content author that joins our platform, the value of our product increases to the physician user (i.e., more content increases the value to the physician user) and vice versa (more physician users increases the value to the author).
Funding, Partners and Alliances To Date
To-date, we have funded our company mostly by bootstrapping and earnings from pitch competitions along with an investment from an angel investor. We are currently raising a pre-seed round of $250,000 using convertible notes.
With are in discussions with two major hospitals in the Greater New York Metropolitan Area and a large medical center in Korea regarding paid and unpaid pilots.
Revenue
We are currently in a pre-revenue stage as we are focused on accumulating content, users, and clinical data.
Once we have made solid progress on these fronts, we will be selling subscription licenses to academic teaching hospitals in the Northeast at a starting price point of ~$450 per physician, per year. Assuming we can acquire a hospital customers from B2B sales starting in 2020, we forecast revenue of $1M in 2020, $4.1Min 2021, and $10.4M in 2022. We anticipate gross margins to hover around ~80% given our software model, and we anticipate breaking even between 2021 and 2022.