About our project
The problem we solve: Globally, there are more than 500 million people with cardiac, respiratory, neural and other circulatory health disorders. Continuous monitoring and regular health check-ups are necessary to reduce the risk of hospitalization and improve the health management experience of the patients with circulatory health issues. Conventional technologies for circulatory health assessments cannot cater to this need of the patients, since they are complex, prone to human errors, time consuming and requires constant professional supervision. Current wearable players are trying to develop a solution for this need, but again their technology is not of appropriate medical quality and only yield HR data prone to human errors. Owing to the current pandemic situation, medical centers are the last place for the patients with circulatory issues to spend time.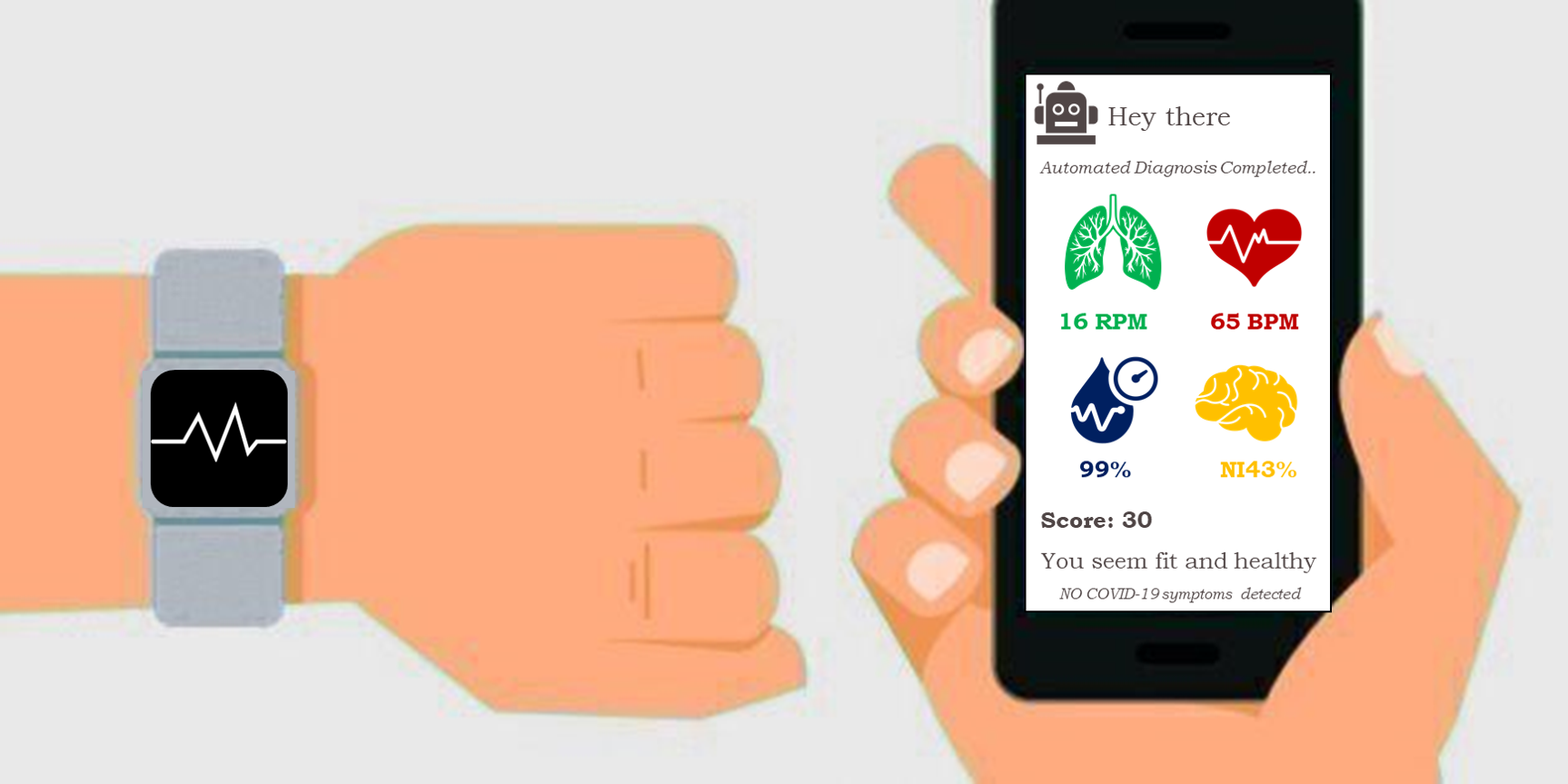 About our solution: We invented a compact multi-functional circulatory health monitoring wearable medical device to address this problem. BioAssistant Vitals provides error-free information and advanced clinical insights on the respiratory pattern, autonomous neural balance, blood oxygen data, cardiac rhythm and other medical condition. It is easy to use and human error-free medical technology hardly requiring any professional supervision. BioAssistant Vitals also comes handy for COVID-19 disease management.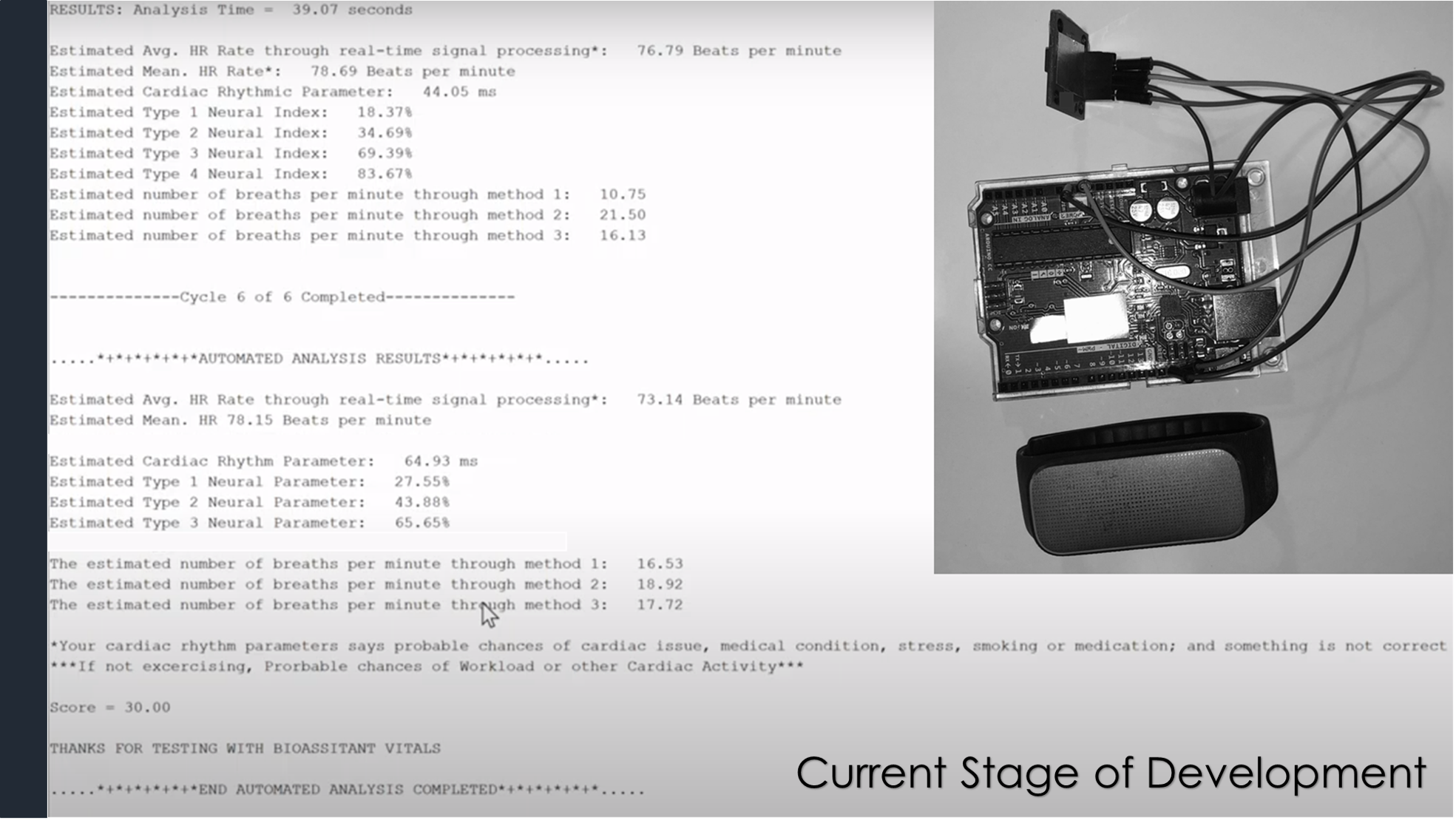 Progress to date:
We invented the technology for accurately monitoring the respiratory pattern, autonomous neural balance, blood oxygen data, cardiac rhythm and stress signals. We built a real-time AI system to further diagnose the medical condition and to furnish advanced clinical insights. We also developed methods to overcome the movement and human errors, and now it can also even automically recognize a human sensing spot.
We previously conducted a full-fledged sensor research to evaluate the accuracy and technology fit. Prior to the development, we filed the patents and secured other IP protection.
We conducted live validation sessions with doctors from different medical background to evaluate our technology accuracy and use case. Every interviewed medical expert found the solution accurate and fit for their use.
About Our Team

Creator: Muralidharan Gopalakrishnan
Location: Colorado
Bio: Muralidharan is a techie with skills in Artificial Intelligence, Automation Technology, Medical Diagnosis Computational System Development, Hardware Design, Software Development, Embedded System, Intellectual Property and Lean & Agile. He has previous experience working on complicated medical research, AI and automation projects. He was a Management and Technical Advisory Consultant of Protiviti Middle East Member Firm, where he was working with top level management to help them re-design the management structure, process and IT security systems. He founded BioAssistant with vision to reshape the traditional medical diagnosis and healthcare practices.
Title: Founder
Advanced Degree(s): MS
About Team Members
Laurence Freeman
IP commercialization Partner and Business Mentor, SMC (Disp.) and FBDO.
Biography: Laurence runs a patent licensing company that has strategic relations with leading healthcare institutions across the globe. He has been advising BioAssistant on the business development aspects from the year 2017. He will be primarily be focusing on IP monetization and patent licensing.
Title: IP commercialization Partner and Business Mentor
Advanced Degree(s): SMC (Disp.) and FBDO.
Twitter: @LAFreeman88
LinkedIn: https://www.linkedin.com/in/laurence-freeman/

Surendiran G
Research Advisor, MD in Pediatrics
Biography: Dr. Surendiran is a paediatrician with knowledge in medical science and skills in some of the world's toughest medical treatment methods. He advises BioAssistant on the clinical research directions.
Title: Research Advisor
Advanced Degree(s): MD in Pediatrics
LinkedIn: https://www.linkedin.com/in/surendiran-g-052b88105/

Pranav Kumar
Product Mentor, MBA in Marketing
Biography: He is Joint Secretary of the Infection Control Academy of India and runs a healthcare marketing consultancy. He has a vast experience working as chief experience officer for leading pharmaceutical companies.
Title: Product Mentor
Advanced Degree(s): MBA in Marketing
LinkedIn: https://www.linkedin.com/in/pranavkr/

Thomas Shilling
FDA Mentor, MBA in F&A
Biography: Thomas is Director of Regulatory Affairs in the Advanced Engineering Management Company, a Denver based medical regulatory company. He has expertise in US medical regulations. He advises BioAssistant on the medical regulatory aspects.
Title: FDA Mentor
Advanced Degree(s): MBA in F&A
LinkedIn: https://www.linkedin.com/in/thomas-shilling-14508a12b/

Gopalakrishnan Palani
Risk Mentor and F&F Investor, ICWA, MBA and B.Com
Biography: Gopalakrishnan was Ex Head of Internal Audit of Oil & Gas division of Reliance Industries Limited. He is an expert in risk management and Internal Audit. He infused the first round of capital for startup operations. He advises the company on the risk management aspects.
Title: Risk Mentor and F&F Investor
Advanced Degree(s): ICWA, MBA and B.Com
LinkedIn: https://www.linkedin.com/in/gopalakrishnan-p-641b57b/

How We Help Patients
We understand that you currently do have an efficient solution for monitoring your respiratory and circulatory health. We also understand most of the time you undergo false diagnosis is neither flaw in the doctors and current technology. This is why we invented a compact multi-functional medical device for accurately monitor your respiratory and circulatory health. Our solution is going to improve your diagnosis and clinical experience, since our technology has real-time AI system for providing advanced clinical insights on your respiratory pattern, autonomous neural balance, cardiac rhythm, blood oxygen and stress signals. You do not even have to worry about physically visiting the clinical center, since our medical device is free from human errors and it hardly requires any medical supervision. Now you can monitor your complete health at the comfort of your home.
How We Help Physicians
Most of the time your preliminary diagnosis becomes lengthy and inefficient is because you do not have the right kind of technology and data. This is where we come in to provide you a better preliminary diagnostic technology that can help you better assess your patients with any kind of circulatory health disorder. You do not even have to worry about physically monitoring your patients, since our technology enables remote diagnosis with more accuracy. You can comfortably spend your time where its creates a value for you. We will also provide automated clinical insights that you can analyze medical condition of the patient and to even detect the COVID-19 condition.
How We Help Hospitals
We understand that there is a heavy congestion in your centers and you are loosing your patients. With our technology, you do not have use the old methods that consumes the time and energy of both your doctors and patients. You can also use our technology for remote monitoring and it will literally increase your diagnosis capacity by 12X. This is the prefect time for you to adapt our technology, since we are in a pandemic crisis where your patients are afraid to visit the medical centers. Now you get increased patient capacity with lesser overhead costs.
Challenge Mission
COVID Problem We Address
A COVID-19 patient generally experiences fast unsteady breathing, irregular cardiac activity, elevated stress levels, decreased oxygen capacity and disrupted neural activity. It is important to track these pathophysiological data to understand the criticality of the COVID-19 patient. If we can accurately track the health condition of a COVID-19 patient, then timely medical decisions can be taken. We have identified this problem and we are currently leveraging our invention to solve this problem.
Our COVID Solution
Our invention provides real-time information and advanced clinical insights on respiratory pattern, autonomous neural balance, cardiac rhythm, blood oxygen data and stress signals. A COVID-19 patient can wear our medical device to continuously track their pathophysiological condition. Doctors can use the data from our medical device to remotely track the clinical condition and the recovery progress of their COVID-19 patient. Our solution is also free from human errors and it hardly requires any professional supervision, hence it enables remote monitoring with more efficiency. Not only that non-COVID people with circulatory health disorders can also use our device as a preventive technology to get early COVID-19 warnings.
Investor Info
Market Size
The prevalence rate of circulatory health disorders is approximately more than 10%, thus there are more than 700 Million people across the globe with circulatory health disorders. 70 to 150 Million have the economic privilege and health insurance plans to buy one such medical device. Even if each device is sold at USD 200, then the total obtainable market is ~ US$ 20 - 30 Billion.
Projected 3 Year Growth
Assumptions
Year 0: Completion of product development, clinical trials, medical approval and pilot launch
Year 1: Series B Fundraise and 5% market penetration.
Year 2: Series C Fundraise and 15% market penetration.
Year 3: Series D/E Fundraise and 25% market penetration.


Revenue Projection
Year 0: USD 0
Year 1: USD 700 Million - 1.5 Billion
Year 2: USD 2.1 - 4.5 Billion
Year 3: USD 3.5 - 7.5 Billion

Parallel Revenue Streams:
We also intend to licensing our technology, and it will separately generate yearly licensing revenue and royality revenue. This revenue could be in the range of few hundreds of millions of dollars.
Revenue Model
Revenue Streams
1. IP Licensing to wearables health tracker companies
2. IP Licensing to medical device players
3. Direct Sales in the places where people are economically less previleged
Competitors
The competitive advantages that we have that other players in this market do not understand
1. Accuracy is first and foremost priority of any medical professional that many competitors do not understand. Many doctors told me that they do not want to use current solutions since they are not reliable and test results often change.
2. Multitude of vital clinical information is essential to correctly diagnoise and treat a patient with circulatory health issues.
3. Speediness of the diagnosis solution is very important to boost the businesses of the medical diagnostic chains and medical centers, since it increase their diagnosis capacity.
4. Home based remote monitoring solution should be human error free, since you cannot translate a complicated error-prone solution for such a use case.
5. Functionality is very crucial to understand the solution and raw data does not do any good, since most of the users get confused with just raw data.

Competitors
1. Medtronics
2. Masimo
3. Philips
4. Siemens
5. Cardiogram
6. Oxitone
7. Isansys Lifecare
8. Current Health
9. iBeat
10. AliveCor
11. Apple
12. Fitbt
13. Samsung Gears
14. Withings
15. Xiaomi
16. Huawei Technologies
Traction
Three leading medical chains in India and several medical doctors were impressed with the solution and expressed their interest in procuring our medical devices. One of them is Medall, which is second largest medical diagnostic chain of India. Another one is Meddo, who runs around 500 medical centers across India. We also had talks with various health insurance companies who said that they might be interested in working with us.
Due Diligence Docs
Please note that access to the company's confidential materials is limited. Click this button to request access from the Company and its representatives.
---