About our project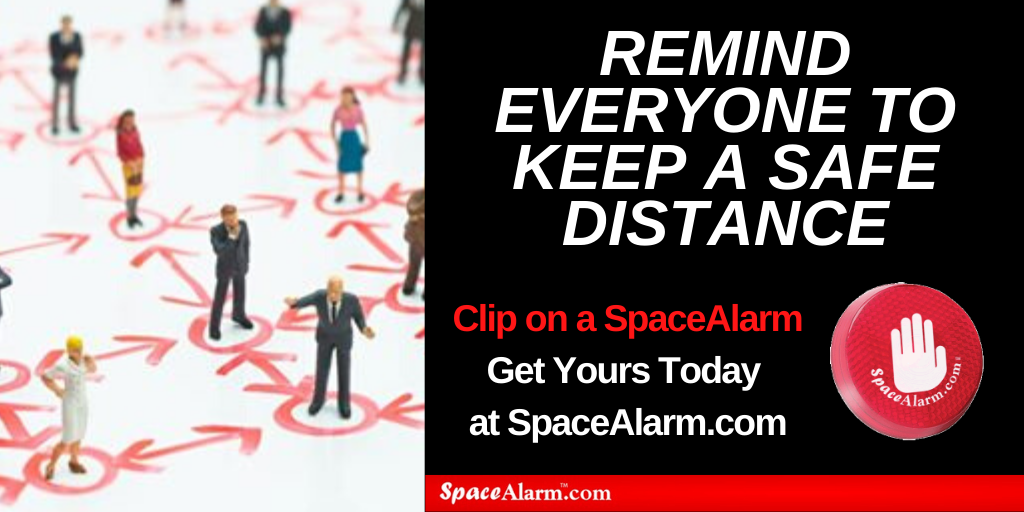 The problem we solve: Community members do not automatically maintain safe social distancing. There is a need for additional tools to remind and reinforce protective measures. In addition to increased testing, hand washing, and wearing facemasks, social distancing is one of the best ways to reduce the spread of COVID-19. Americans need a reliable, easy-to-use product that allows them to integrate back into the community. SpaceAlarm is protecting the safety and health of all Americans through social distancing to prevent the spread of COVID-19. SpaceAlarm is a repurposed technology that immediately reminds individuals they are within 6-feet from others by displaying a flashing red light.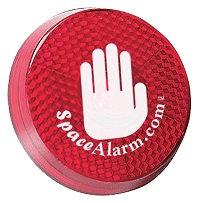 About our solution: SpaceAlarm is designed to assist with reducing the anxiety about the spread of Covid-19. It is also an aid in facilitating the learning and reinforcement of proper social distancing. It is a passive device worn to remind others of your presence and for them to keep a safe distance. It protects them from you as much as you from them. The incidence of verbal and physical violence in-regard to social distancing is a frightening prospect. It is critical we develop and implement every available tool to protect ourselves and our communities. We are also committed to social capitalism and are proudly contributing $1.00 of every sale to the American Nurses Foundation.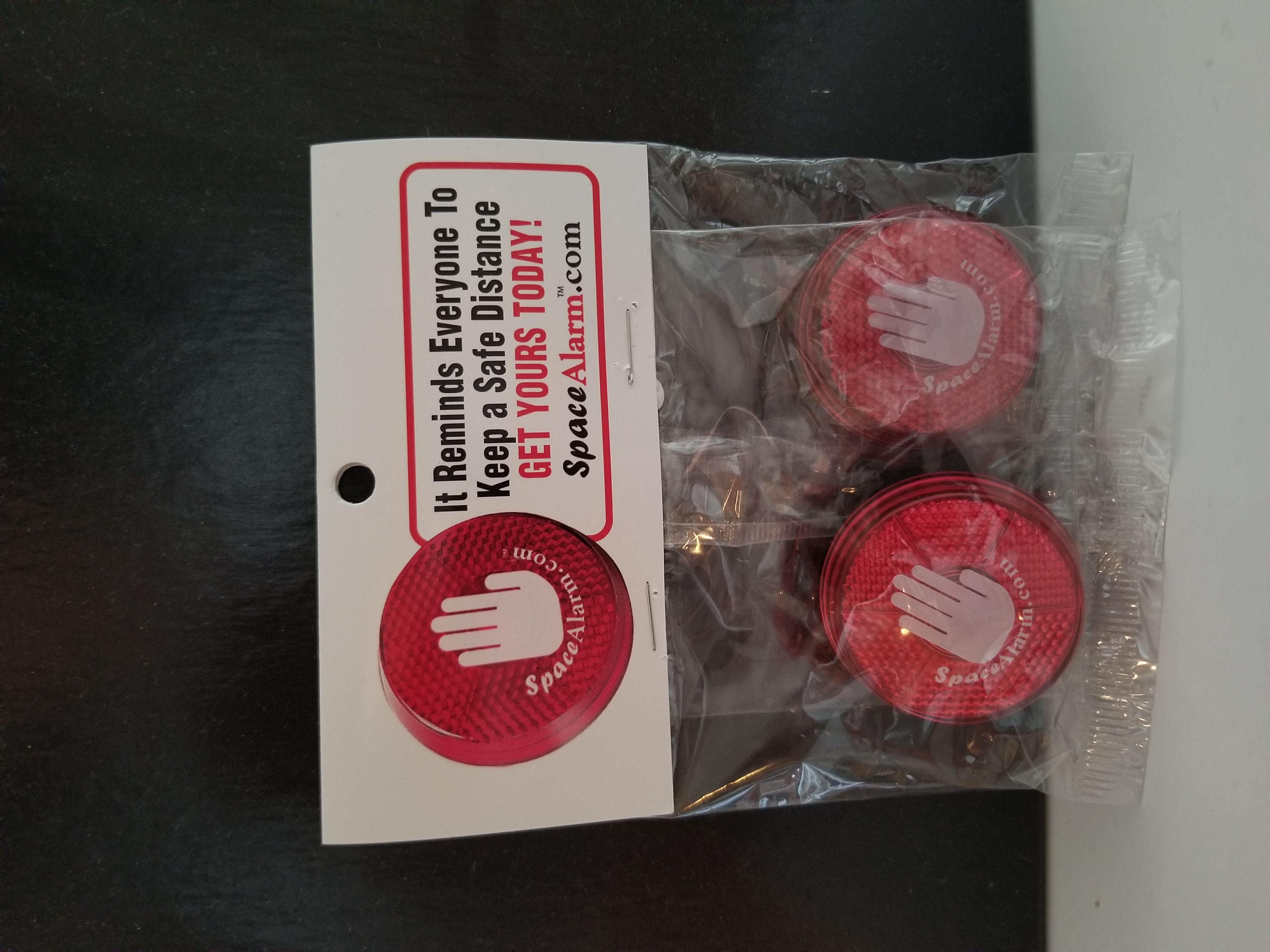 Progress to date:
This project has been self-funded. The initial product prototype has been successfully developed and is being distributed locally. We are gaining traction. Social media, Google and Facebook ads have generated traffic and some sales. The request for investment is to design a study and use SpaceAlarm as the device to assist with the goal of reducing anxiety and reinforce social learning. The Coronavirus Anxiety Scale (CAS) has been selected as the instrument for measuring participant's anxiety. We are also seeking a pathway to engineer a software chip with custom programming to link via Bluetooth to mobile app. This will provide users a pathway to complete surveys, earn rewards for utilization and contribute to contact tracing. The possibility of adding a low sounding alert is also under consideration. Funding will be used to initiate the research study, market our solution, gain traction, and increase sales revenue for the next iteration.
About Our Team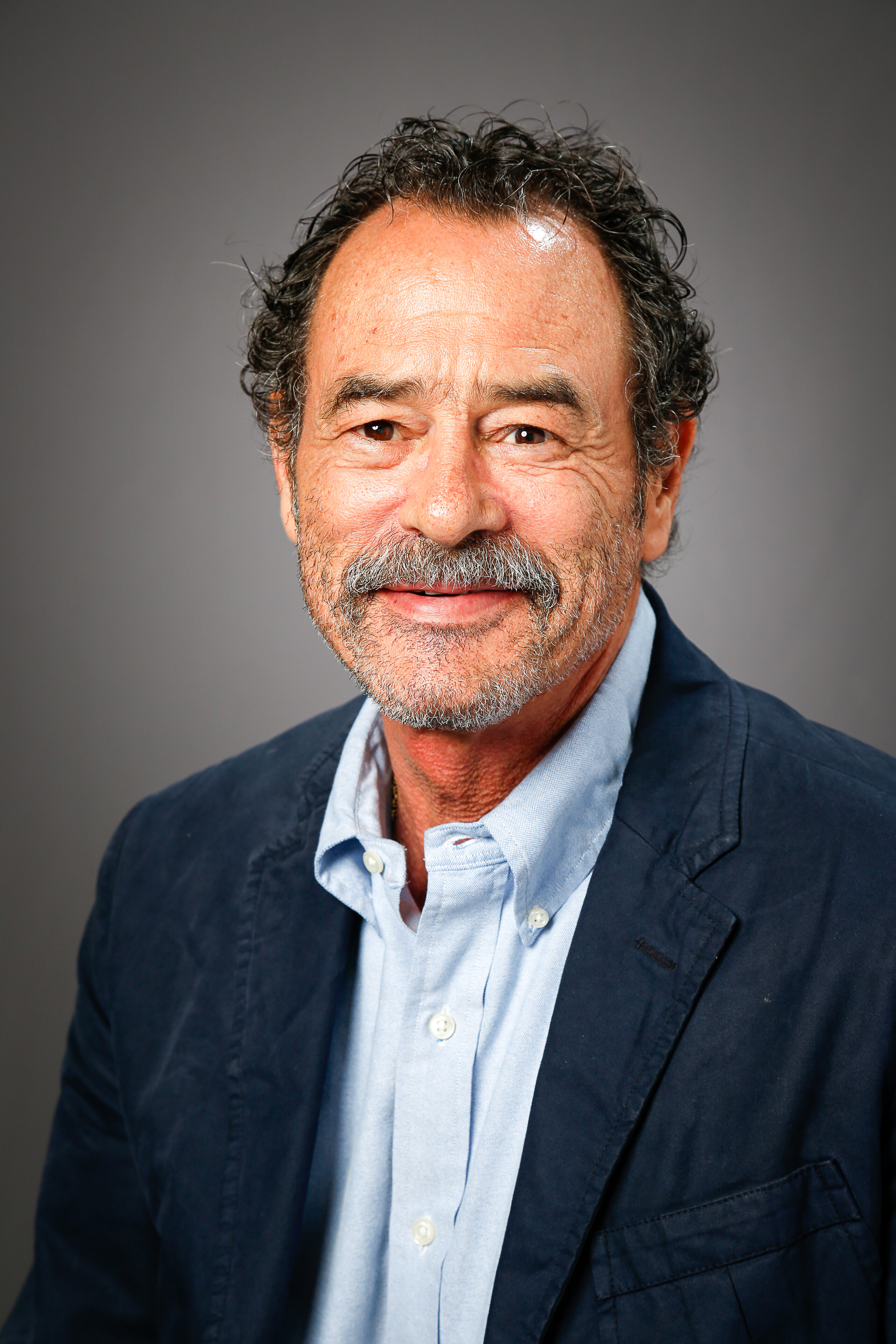 Creator: Harold Jonas
Location: Florida
Bio: Harold Jonas, PhD, LMHC, CAP, ICADC brings over 30 years of extensive experience in counseling psychology, treatment psychology, healthcare, case management, mobile phone apps healthcare information technology, start-ups, product development, software development life cycle (SDLC), web development, mobile technology, and technology integration. Dr. Jonas trained as a Licensed Mental Health Counselor and Certified Addictions Professional in the State of Florida, as well as a Florida State Supreme Court Certified Family Mediator. He holds a PhD from International University with a focus on Addictive Disorders and an MA in Counseling Psychology from Antioch University. Dr. Jonas specializes in addictions, intervention services, crisis, and trauma counseling. He has worked in variety of professional settings including drug treatment centers, psychiatric hospitals and outpatient counseling programs. In addition to his clinical background, Dr. Jonas is a serial entrepreneur. Dr. Jonas is the Founder and President of Intervention Strategies that responded to treatment option changes and the impact of managed care on the healthcare industry. Here, Dr. Jonas has since conducted numerous "carefrontations" and guided the healing process for numerous individuals and families on to the road of recovery. In 1995, Dr. Jonas launched a drug-free living environment called the Recovery Zone. This shared, supportive housing concept was designed for people in early recovery who benefit from a community type living situation. He's also responsible for the concept, design and launch of multiple Internet directories serving the addiction and recovery industry, including Soberhouses.com, Sober.com, Detox.com, Halfwayhouses.com, Rehabs.com, Sobernetwork.com, Recoveryroommates.com, and Interventionstrategies.net. Two of his most recent apps for the Addiction & Recovery space received national recognition and prestigious awards.
Title: President
Advanced Degree(s): PhD, MA, CAP
How We Help Patients
SpaceAlarm is designed as a preventive tool. Ideally, it will assist with others measures implemented to keep us, our loved ones and other community members from becoming patients. The idea of prevention has consistently been underfunded and thought of as unnecessary. We all know preparedness cannot be measured and quantified since it does not generate revenue stream. SpaceAlarm can contribute in multiple ways. It acts as a preventative agent and generates revenue through sales as well as contributes creating jobs.


How We Help Physicians
SpaceAlarm will adhere to the harm reduction strategy adopted by other national health problems, for example Substance Abuse Disorders. By working to keep people from becoming patients it reduces the need for physicians to treat. This will alleviate a tremendous stress on the front line workers, emergency room personnel and ancillary staff that supports every admit to a facility.


How We Help Hospitals
SpaceAlarm will alleviate hospital overloads by encouraging social distancing. In return, this will reduced the number of COVID-19 patients admitted to the emergency room. SpaceAlarm will be a straightforward solution that can be used by all Americans. It can be quickly deployed anywhere, especially in highly dense populated environments such as workplaces, hospitals, school, care facilities, nursing homes, gyms, and restaurants. With this assurance, SpaceAlarm would help ease the transition for employees, schools, businesses, and other organizations, including hospitals and healthcare facilities, to return to work in a timely and safe manner. We also have the ability to integrate automated contact tracing features into SpaceAlarm as well.
How We Help Partners
COVID-19 presents a unique challenge for us all. We can partner with business' for a back to work solution. Assisting your employees to maintain safe social distancing is creating is going to be an ongoing dilemma. Implementing SpaceAlarm as an option will help solve that problem. We have researched multiple solutions that are cost prohibitive for most companies. Vibrating bracelets, sounds, verbal ques have a place for some but not all. Encouraging or even mandating use of SpaceAlarm has the potential to achieve measurable success.


Challenge Mission
COVID Problem We Address
SpaceAlarm is a straightforward, easy-to-use solution that can be quickly implemented across America at scale to accommodate large mass amounts of people. This product is important to bring to market during these critical times as Americans are adapting to the new norm of social distancing. Thus, bringing SpaceAlarm to market as quickly as possible would be critical to combat the COVID-19 health and economic crisis across America. It would benefit a variety of different stakeholders across the US impacted by the COVID-19 crisis. This includes employers and businesses in healthcare, businesses, retail, gyms, restaurants, etc. Through social distancing, SpaceAlarm would give Americans the confidence that they will be safe and healthy by preventing COVID-19 transmission; reducing the burden of overwhelming hospitals; as well as, enabling them to return to work, normal daily routines, and travel.
Our COVID Solution
Community prevention on the mass scale is a challenge that requires an economically feasible intervention and one that will be adopted by many. As discussed, SpaceAlarm will be designed to reduce anxiety for all Americans by encouraging social distancing while alleviating fear and anxiety, especially in places with high densities of people (e.g., schools, workplaces, hospitals, restaurants, etc.). SpaceAlarm is an intervention that is easily scalable and affordable. Measuring its effect will only be accomplished with access to testing and hospital admission data. Since it is an adjunctive tool, surveys will be instituted through a mobile app we own and intend to replicate specifically for this purpose. Once funded, we plan on app implementation for data accumulation, reminder accountability and a rewards mechanism for repeated app use (HayverShield). In 2021 we plan to launch a second- generation SpaceAlarm product which will include chips for geo location, Bluetooth capabilities, contact tracing, and data generation (www.safedi.com).