About our project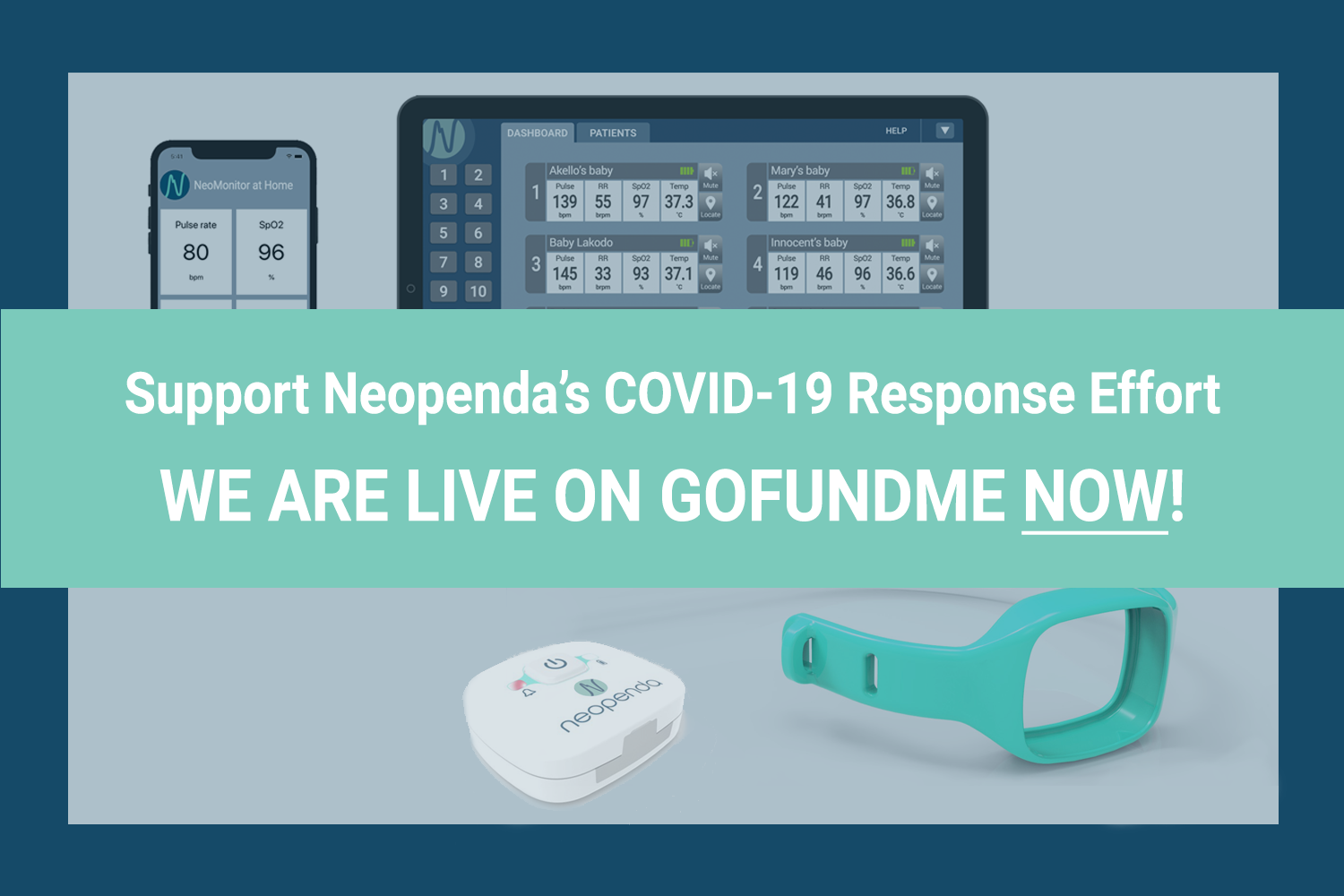 The problem we solve: Continuous VSM has long been a core tenet of specialized care among critically ill patients. In clinical practice, it contributes to increased survival-to-discharge rates, lower complication rates and shorter length of stay in hospital. In the context of COVID-19, it can save lives by enabling faster responses from medical staff and can help curb the spread of infection by quickly identifying suspected cases. VSM equipment is recognized by the World Health Organization as an essential tool in the fight against COVID-19. Health workers and public health officials need reliable vital sign measurement data to: 1. Identify suspected COVID-19 cases for further testing 2. Map out potential hot spots 3. Monitor COVID-19+ patients for early signs of clinical deterioration 4. Effectively triage high-risk individuals 5. Assess effectiveness of treatment and disease severity 6. Manage and allocate scarce resources like ventilators and oxygen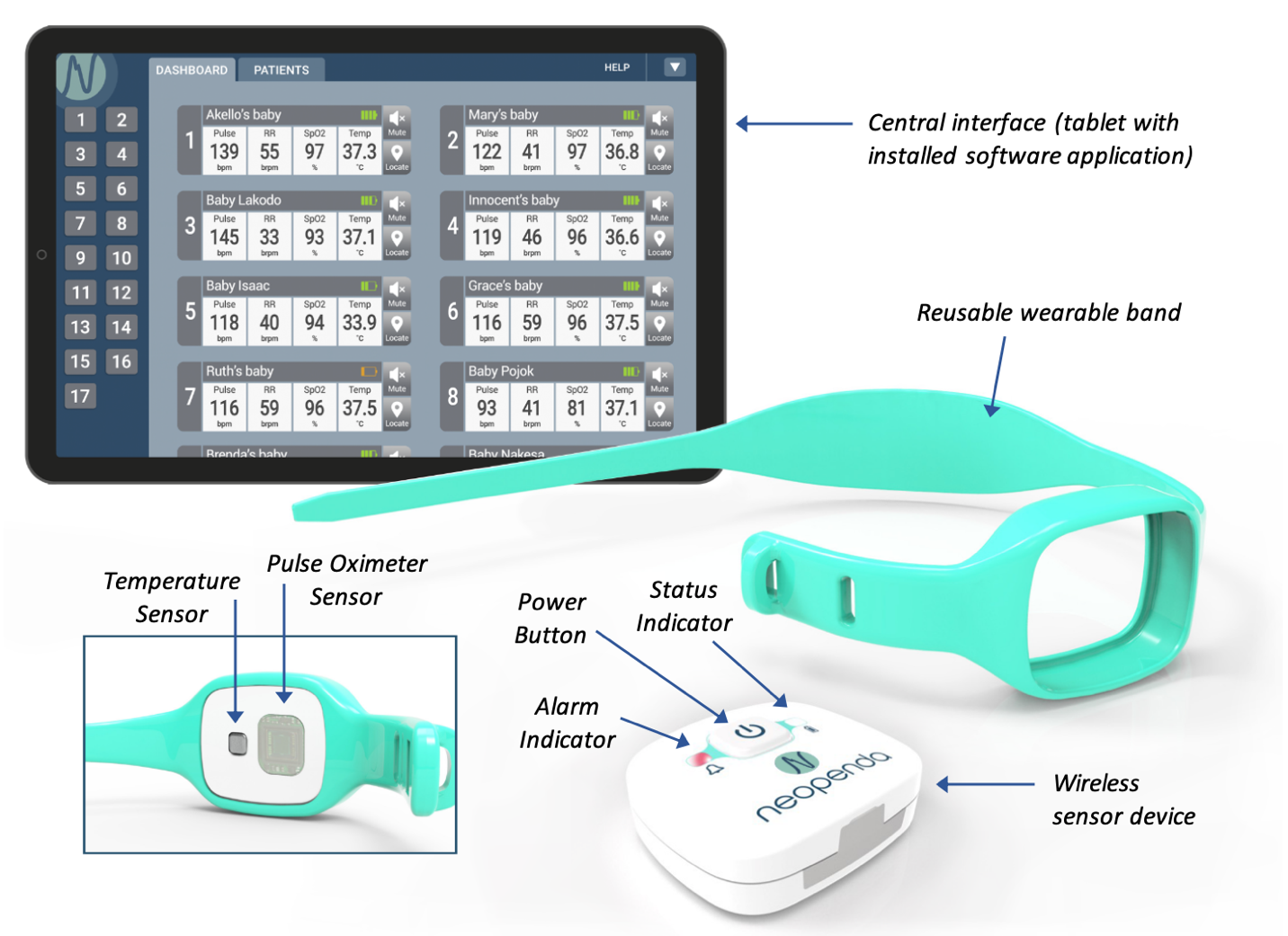 About our solution: Our neoGuard technology is a VSM system that has been carefully designed and tested in accordance with international standards for safety and efficacy, and with feedback from more than 400 health workers. The wearable neoGuard device continuously measures 4 key vital signs: pulse rate, oxygen saturation, respiration rate and temperature. Data is wirelessly transmitted to our application on a phone or a tablet where a patient can be monitored remotely or within a clinical setting. While neoGuard was initially designed to serve critically ill newborns, the Neopenda team sensed an urgent need to modify our solution for pediatric and adult patients as COVID-19 spread rapidly among communities where health systems are not prepared to deal with a pandemic of this scale. Neopenda has already partnered with one American hospital to deploy neoGuard for the monitoring of COVID-19 positive patients, and this campaign will help us to reach many more, faster. We aim to scale neoGuard globally.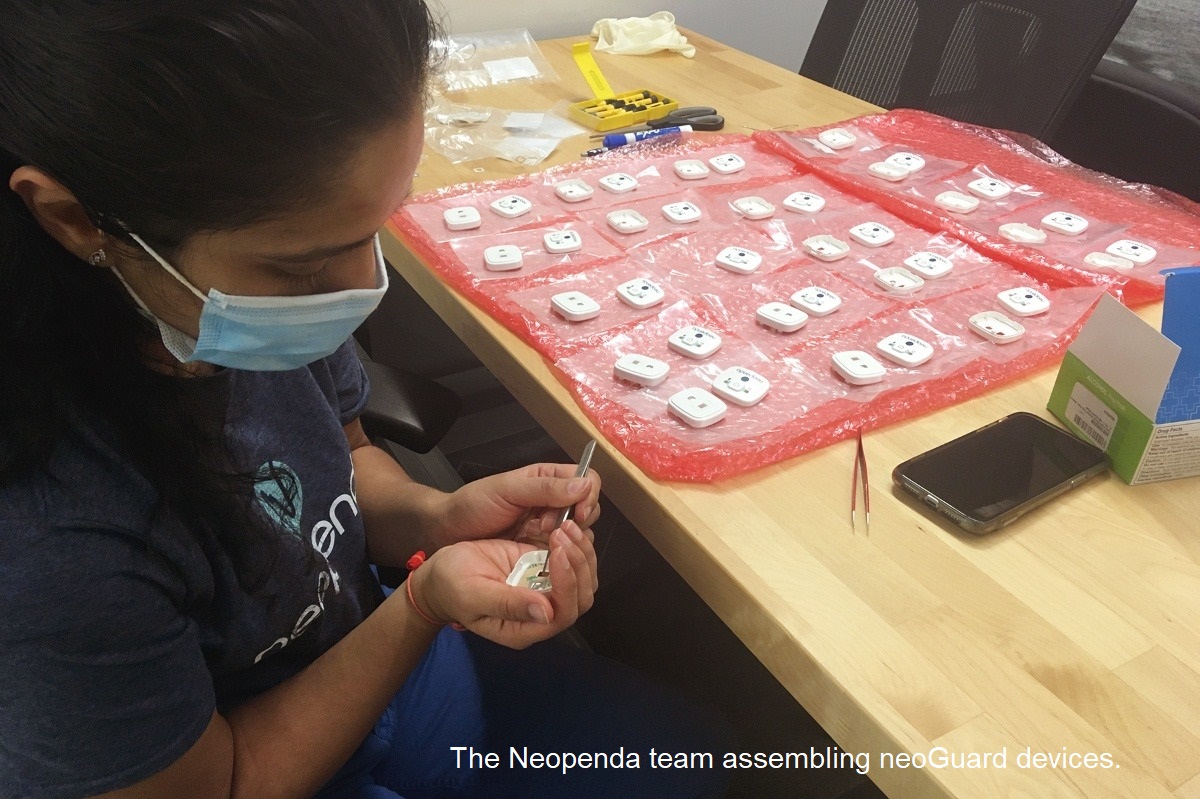 Progress to date:
In May 2020, we piloted the use of neoGuard with our first customer -Queens Hospital in Hawaii. The product will be used for remote monitoring of at risk patients who are not in immediate need of hospitalization.
Pilot studies for the use of neoGuard in in-hospital settings are scheduled to begin in Uganda and Kenya in July 2020, where the technology will be tested in a total of 4 health facilities. We have received overwhelming support for our project and are working with amazing partners including the Ministry of Healh in Uganda and the Center for Public Health and Development in Kenya to assess the impact of our product and scale this solution expeditiously.
Prior to COVID-19, neoGuard had undergone extensive verification and validation in accordance with international medical device standards. We completed a series of phase I clinical trials to assess accuracy and safety, and received a lot of traction for the use of our product on critically ill newborns. We had several planned phase II studies for 2020, but these have s;owed down due to the pandemic. Some of the non-profit partners we are working with to pilot this soltion in sub-Saharan Africa are PATH, Doctors Without Boarders and Americares. We also have academic partners like the Makerere University School of Public Health.
We are currently preparing our submissions for regulatory approval and domestic product registration. We anticipate CE mark certification by late 2020 or early 2021.
About Our Team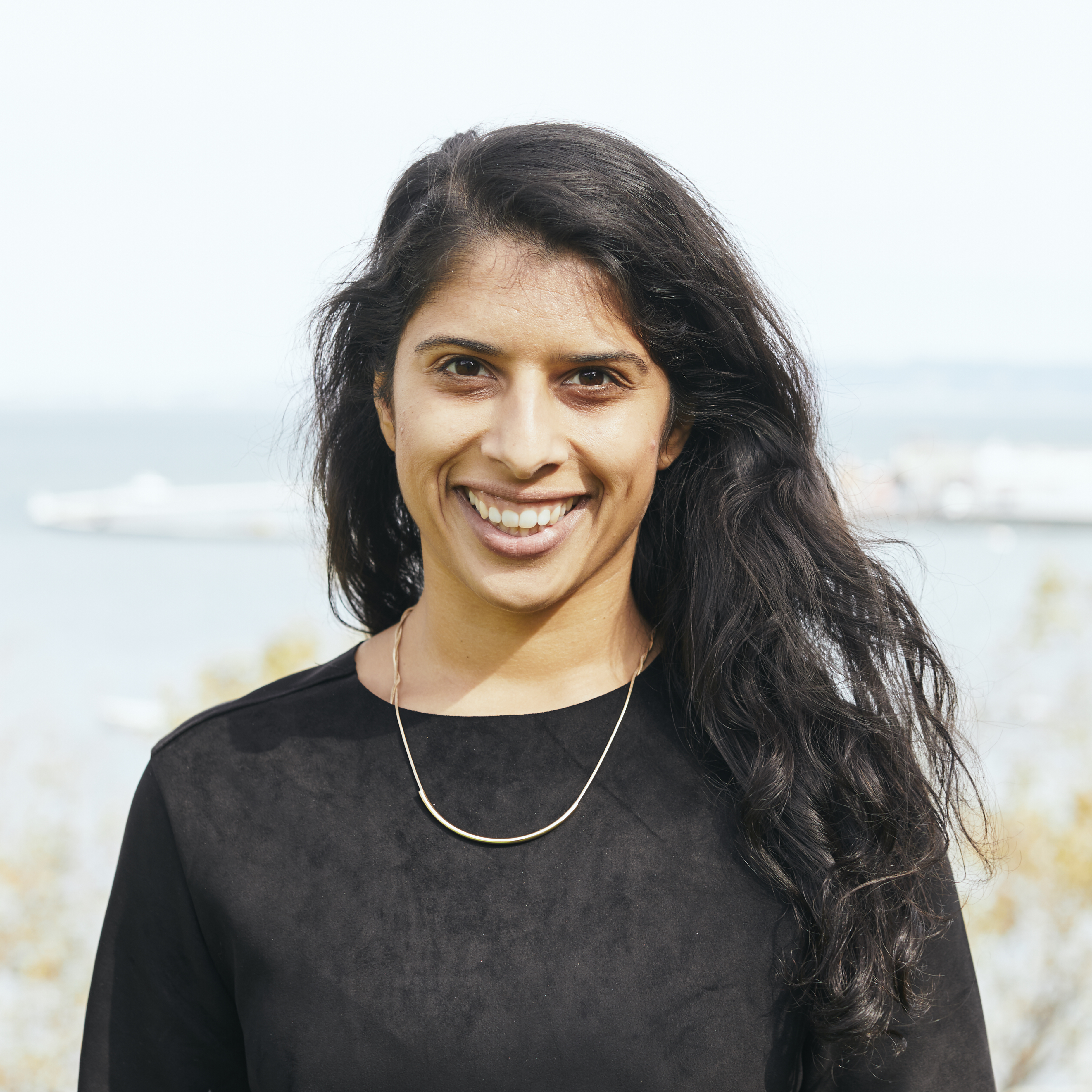 Creator: Sona Shah
Location: Illinois
Education: Georgia Tech, Columbia University
Bio: Sona's path to global health entrepreneurship began when she earned a BS in Chemical Engineering from Georgia Tech (2011), and subsequently worked as an engineer in Bioprocess Research and Development at Eli Lilly and Company. She followed her passion for service to Kenya, spending time as a teacher and a Engineering Without Borders volunteer. Sona's interest in aiding under-resourced communities continued during her research involvement with mChip, a point-of-care diagnostic device for HIV and syphilis developed at Columbia University. She also worked at the TB Alliance, both in community engagement and drug discovery for medications that treat tuberculosis. Sona completed a Masters in Biomedical Engineering at Columbia University (2016) before launching Neopenda, where she develops works to develop impactful health care solutions, and sustainably deliver them to the world's most vulnerable populations.
Title: CEO & Co-founder
Advanced Degree(s): MSc - Biomedical Engineering
Challenge Mission
COVID Problem We Address
In light of the COVID-19 pandemic, there is a growing need for vital sign monitoring equipment both domestically (in the United States) and globally. At Neopenda, we are harnessing our wealth of experience in vital sign equipment to scale up a novel, affordable solution to meet this demand.
Continuous vital sign monitoring is a core tenet of specialized care in critically ill patients. In clinical practice, it contributes to increased survival-to-discharge rates, lower complication rates and shorter length of stay in hospital. In the context of COVID-19, it can save lives by enabling faster responses from medical staff and can help curb the spread of infection by quickly identifying suspected cases for isolation.

Vital sign monitoring equipment is recognized by the World Health Organization as an essential tool in the fight against COVID-19. Health workers and public health officials need reliable vital sign measurement data to:

1. Identify suspected COVID-19 cases for further testing
2. Map out potential hot spots
3. Monitor COVID-19+ patients for early signs of clinical deterioration
4. Effectively triage high-risk individuals
5. Assess effectiveness of treatment and disease severity
6. Manage supply and allocation of scarce resources like ventilators and oxygen

Our COVID Solution
To meet the growing demand for vital sign monitors during the COVID-19 pandemic, Neopenda has adapted an affordable, wearable, wireless vital sign monitoring solution (neoGuard), that measures temperature, respiration rate, blood oxygen saturation and pulse rate.
NeoGuard was originally designed to fill the unmet need for vital sign monitoring in newborns in low-resource settings, but has been modified for use on neonatal, pediatric and adult patients alike. Prior to COVID-19, the neoGuard product had completed extensive verification and validation in accordance with international standards for medical equipment and successfully been tested in two IRB-approved phase 1 clinical trials.
NeoGuard is a patient monitoring system consisting of the following components: wireless sensor devices, reusable wearable bands, and a software application that receives, displays, and stores data from the sensor devices. The sensor devices use reflectance pulse oximeter and temperature sensors to measure pulse rate, blood oxygen saturation (SpO2), respiration rate, and temperature from the patient. The devices transmit data using Bluetooth Low Energy (BLE) in a localized communication architecture. Data is received by a software application installed on a tablet. The software application is a central interface. The application displays digital values of pulse rate, SpO2, respiration rate, and temperature in real time. It includes a centralized patient dashboard view, patient information, patient vital sign trends, and backend data storage.
Using archived data: patient vital signs trends can be examined to guide clinical decision making, and the reporting functionality generates valuable data insights for hospital administrators, ministries of health and non-profit/multilateral partners.
NeoGuard is indicated for adult, pediatric, and neonatal patients during non-motion conditions in hospitals and hospital-type facilities. The device is indicated to be worn on the forehead and is indicated to be used by trained health staff, including: physicians, nurses and community health workers. The product can be used in non-sterile clinical environments including: hospitals and lower-level health facilities. The technology can also be used in non-clinical environments such as quarantine centers or during house calls made by community healthworkers and public health officials.