About our project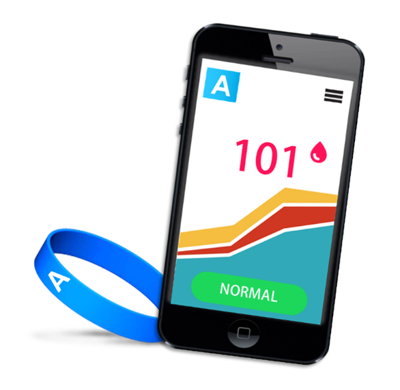 The problem we solve: Over 20 million people in the United States have Diabetes, determined by CDC as of 2012. The number is growing. Most rely on intrusive blood sugar measurement methods requiring self measurement of blood from blood pricks multiple times every day. If they are suffering from a low blood sugar attack they may not be able to be cognitive enough to do anything and could lapse into a coma. If they are living alone this could be deadly.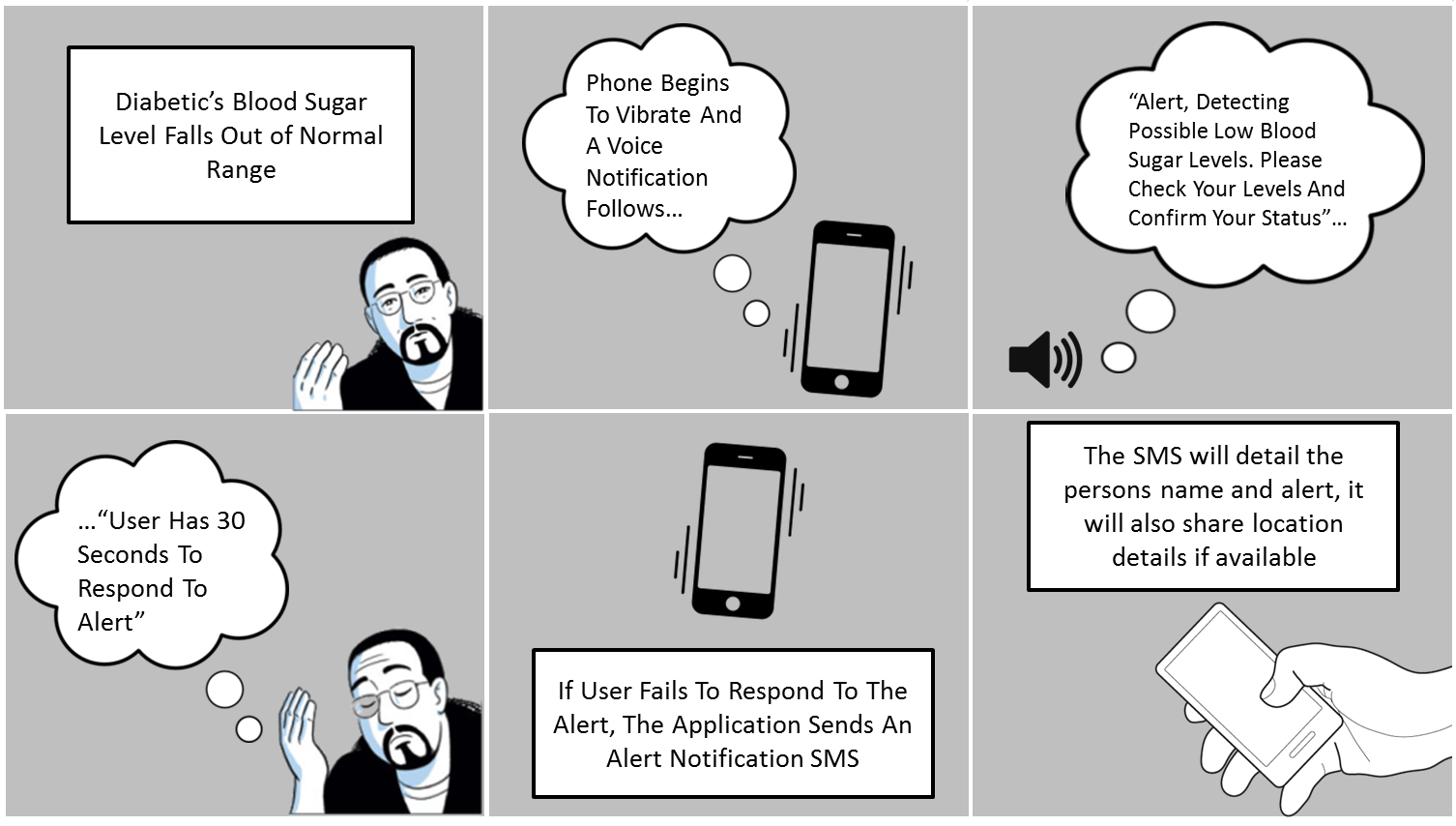 About our solution: Our device continually measures blood sugar levels using a suite of non intrusive sensors embedded in a wrist band worn by the diabetic. If blood sugars start to go too high or too low the smartphone which is monitoring the wrist band using wireless technology notifies the user of the situation. If the user ignores or is unable to respond to their smart phone alert it will call the alert contacts that the user programs into his phone app. The phone will then text or call those contacts with an alert and a location where the phone is located so they can follow up to insure the user is OK. This allows the USER the freedom of not having to prick themselves, and insures that all measurements are being done so that the users physician can get an accurate assessment of that individuals blood sugar levels over time.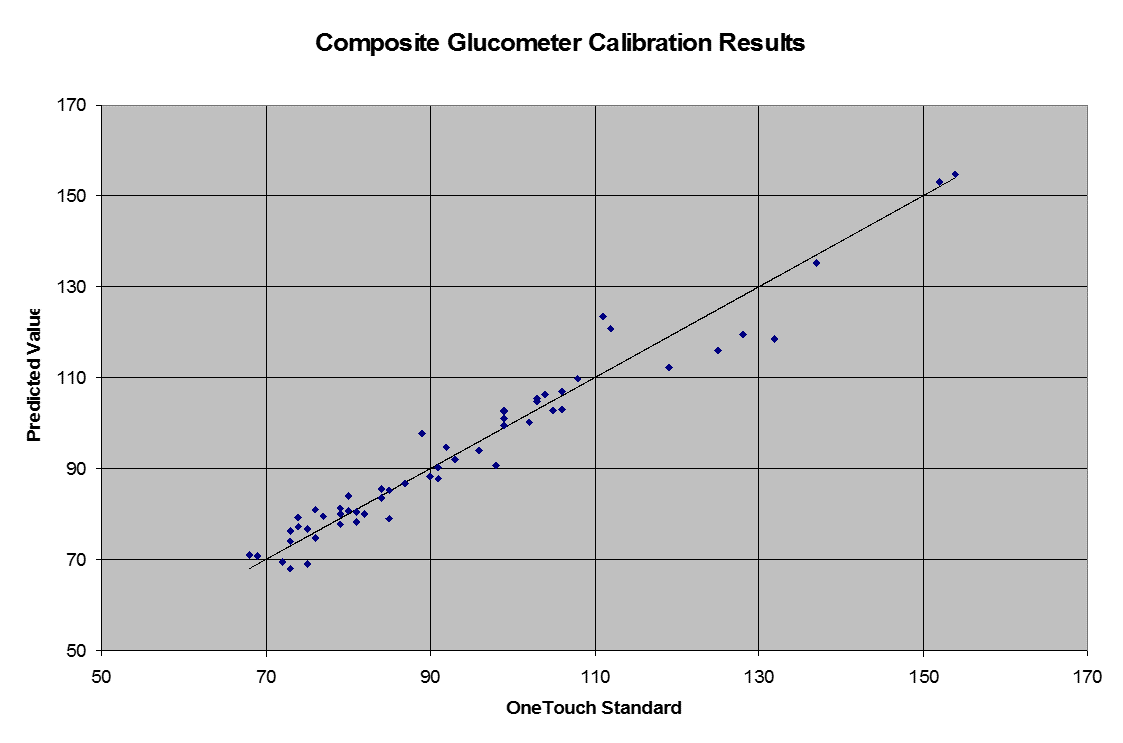 Progress to date:
We have a fully equipped systems development facility, A prototype system that has demonstrated equivalent performance to the hand held glucometers used to measure the blood from a users finger prick with a thumb based sensor. We also have 5 employees including a Chief Medical Officer MD (UF), PhD (in Biomedical Engineering Duke) and MPH (John Hopkins) with medical device public health experience. Check out our video on the technology page of our website www.alertgy.com.
About Our Team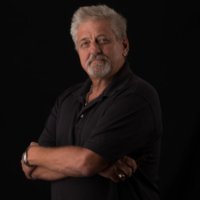 Creator: Marc Rippen
Location: Florida
Education: Degrees in Analytical Chemistry, Microbiology
Bio: Entrepreneur, Scientist, Engineer and Leader. Established Alertgy to provide diabetics a real time non intrusive wrist band based blood sugar monitor enabled with a smart phone app to give people freedom from having to prick themselves to measure their blood sugar, to alert them and their loved ones if levels are too high or low and give them real time trend analysis.
Hospital Affiliation: Former Director of Engineering SRI International
Title: CEO
Advanced Degree(s): MS
Twitter: @Alertgy
How We Help Patients
Alertgy will provide a means for diabetics not to have to prick themselves to know what their blood sugar level is. It will allow for a means to continuously moniter their blood sugar levels improving the ability for their doctors to monitor their continous history. It will allow for them to be alerted real time if their blood sugars are getting too high too low and if they are incapacitated by their blood sugar levels notify their loved ones doctors automatically. All this for less than what the blood strip finger prick glucomter system cost to use today.
How We Help Physicians
The Alertgy non invasive blood glucose monitering system will provide them with continous blood sugar data on their patients that can be sent / downloaded by cell phone at what ever frequency is required for proper diabetic patent monitering. Most people hate to prick themselves so by nonivassive real time monitoring doctorswill be able to get all the data they need, with no dependancy on the patient to do what they should do.
How We Help Hospitals
The Alertgy device allows for non invasive blood glucose monitering during ICU stays to improve recovery time from traumatic injuries oroperations. The data it generates can also be used to better monitor diabetics to better manage their disease and reduce the costs associated with poor management of diabetics. Reducing costs for amputation, vision and other long term health issues.
How We Help Partners
Alertgys non obtrusive blood glucose monitering will help employers and insurance providers with a means to empower their employees and their doctors with critical continous blood sugar data that can be used to improve the treatment of the employee and give the employee a means to optimize their behaviors based on instant feed back ability of the device. This will reduce sick time, health care costs as well as minimze incidents were employees pass out from low blood sugar at work and have to have emergency services rendered.
Challenge Mission
Market Size
Our Global Market is the 422 million people that suffer from diabetics worldwide1 (8.5% of the world population). 21.1 million are Americans that are diagnosed with diabetes. An additional 8.1 million Americans have diabetes but are not aware of it. So a total of 29 million Americans are affected2 (9.3%). Of the three types of diabetes (Type 1, Type 2, and gestational), type 2 accounts for over 90% of the cases of diabetes.
The increased prevalence of diabetes and obesity (a risk factor for type 2 diabetes) has increased dramatically from 1994 to 2014 and is expected to grow. There are 86 million Americans with pre-diabetes (1/3rd of the population) of which 15% to 30% will develop type 2 diabetes in five years. Diabetes is the seventh leading cause of death in the US and accounts for significant morbidity. People with diabetes are at risk for health complications including blindness, kidney failure, increased risk of heart attacks (1.8 times higher, death 1.7 times higher), strokes (hospitalization 1.5 times higher), and non-traumatic lower limb amputations5. In addition to the human costs, there are economic ones as well. The total medical costs and lost work and wages for people diagnosed with diabetes is $245 billion6. It has been estimated that the lifetime additional healthcare cost of one patient with diabetes is between $55,000 and $130,000.7 It is clear that diabetes has a significant impact on an individual's health and our healthcare costs.
This data was obtained from 2 sources:
1) World Health Organization Website. "Diabetes Fact Sheet". Updated November 2016. Obtained online 12/10/2016 at: http://www.who.int/mediacentre/factsheets/fs312/en/
2) CDC Website. "2014 National Diabetes Statistics Report" https://www.cdc.gov/diabetes/pubs/statsreport14/national-diabetes-report-web.pdf
Projected 3 Year Growth
We are looking to do preclinical trials in early 2019, followed by clinical trials 3 months later, fda certification by end of 2019, market launch 2020.We expect to generate over 1 billion dollars in recurring revenue by end of the first year to market, with just 10% of US Market.
How We Will Make Money
We are the only truly non-invasive wearable technology that we know of. We bring to market a disruptive technology that addresses a major unmeet need in the mature diabetes industry: a totally non invasive manner. We will make money by providing our wristbands undera subscription agreement. Our cost per wristband is under $33.75 this include BOM, assembly, packaging and delivery. We will charge $100.00 a month which is less than supplies cost for glucometers. We will use a fully scalable 3 prong approach to market. Direct to consumer through the Internet, Business to business through retailers, and Business to Health Care providers through outreach and pilot projects.
About our Competition
Alertgy currently has no direct competitor in the market. 90% of the completion consists of the current manufacturers of prick and test strip glucometer systems. There are no truly non-invasive systems available to provide real time blood sugar levels and trends. Competitors such as Dexcom use sensors embedded under the patient's skin or on the eye to achieve continuous monitoring which is extremely invasive. Optical and other skin chemistry methods are not practical for continuous monitoring and lack adequate selectivity and or sensitivity to meet FDA requirements. The skin chemistry based systems cause rashes on many patients since they require abrasion or fluid exchange through the skin to work. In addition all of these technologies are significantly more expensive and are not as easy to use.
Progress with Customers to date
We have major interest from a major manufacturer of smart phones and watches that wish to license out technology. We are teaming with a major medical clinic to do pretrials and medical trials for FDA approval. Both partners can not be divulged due to comfidentiality issues.
We have raised over 300 K from qualified Angel Investors. Working on finishing seed round with another 200K at $5 million dollar valuation. Looking to raise 25 million in series A in 2018. We have partnerships with EDC, NASA, Mayo Clinic, Groundswell, and others. Alertgy has a working wearable prototype that can be demonstrated and is in the process of optimizing its performance.
New Orleans and Our Company
If funded we plan to do pre clinical and clinical trials and/or pilot studies in new orleans with the help of blue cross blue shield, As a part of that we would open an office there to support that effort. We also would support research at local universitieds to look at other medical applications for out technology in preventative medicine applications.
Investor Info
Market Size
The total market opportunity is 20 million type one diabetics in the US and the other 400 million around the world. With 10% of the US Market Alertgy will be generating over 3 billion dollars of revenue on an annual basis.
Projected 3 Year Growth
In Three years Alertgy will be generating over 3 billion dollars in revenue with 10% of the US Market share, our earnings will allow us to rapidly address the 400 other diabetics world wide and be penetrating those markets as we move forward.
Revenue Model
We are negotiating with a major smartwatch manufacturer to launch a non medical Glucotracker device to generate licensing and royalty revenues in 2018. The revenues generated could give us the money to conduct the FDA preclinical and clinical trials by early 2019 to launch before 2020. We are also looking at a series A for 25 million as another option to go to market in the medical device market.
Competitors
We know of no other company that has the same technology as we do. They all are more invasive and expensive. It will be difficult for them to follow our lead as we will be filing patents, using exisitng patents, managing trade secrets to minimize copy-cats competition. Alertgy is using technologies developed under classified pograms, while the technologies themselves are not classified some of their applications are so it will be very difficult for others to follow. The technology space we are working in is in the overlapping of physics, analytical chemistry, bio-chemistry, meta materials engineering and electrical engineering. Most of all the competition is not equiped to understand how all of those need to be used to develop a functional product for our application..
Traction
We are a groundswell incubator company. We have raised 245K. We are negotiating with the largest manufacturer of smart phones for licensing rights for applications for their phone and watch band products. We are working with the Mayo Clinic for pre-clinical and clinical trial support. We have been awarded a NASA support grant by NASA's Regional Economic Development Program, which started in early October 2017. We are working with members of the Indian Nations whose number one health concern is the high prevalence of diabetes in their population to see how we can help them better manage that problem. We have been working wuith dozens of VC's to prepare for the setries A round of fundraising in early 2018.
Due Diligence Docs
Please note that access to the company's confidential materials is limited. Click this button to request access from the Company and its representatives.
---