About our project
The problem we solve: Current therapies for treating HIV do prevent the infection of new cells, but do not reduce the HIV reservoir. The result is that HIV is never eliminated from the body exposing AIDS patients to high risk to develop HIV-associated malignancies. In addition, there is no clear pathway for any HIV "Cure" product currently under development to obtain regulatory approval if the product is HIV specific.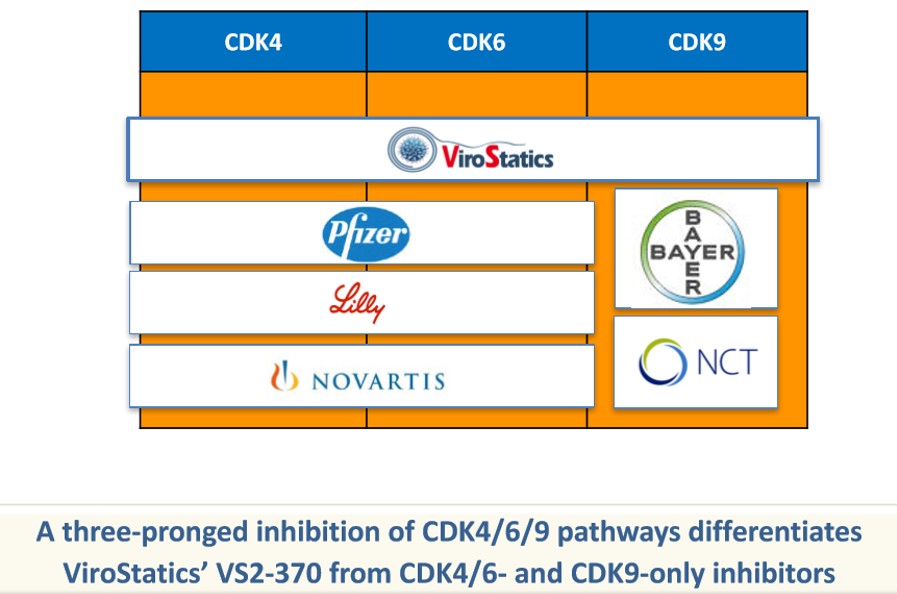 About our solution: VS2-370 is the only CDK 4/6/9 inhibitor currently in development and the preclinical studies conducted thus far have shown that VS2-370 not only is efficacious against certain cancers, many of which afflict those suffering with AIDS, but also appears to purge HIV "reservoir" cells. Consequently VS2-370 would provide a functional HIV cure. In addition, because of the dual indication of VS2-370, there is a clear pathway to obtain regulatory approval, initially as a cancer treatment and then subsequently as a functional HIV cure.
Progress to date:
We have shown in the laboratory and in animal experiments that VS2-370 is unique, selective, active and safe.
Consistent with its target and mechanism of action, VS2-370 is not only active against several aggressive tumors, including lymphomas and pancreatic cancer, but also against chronic viruses and affects all HIV reservoir-sustaining pathways with the potential for HIV Cure. For these reasons we propose that the initial indication be an HIV associated malignancy, such as primary effusion lymphoma (PEL), a rare and aggressive B-cell non-Hodgkin's lymphoma that usually presents with malignant effusions without tumor masses. PEL is resistant to chemotherapy (no standard of care has been established) with a short median survival of less than 6 months, representing a high unmet medical need. PEL is very sensitive to VS2-370 in vitro and in vivo/animal model. A key advantage of VS2-370 over other HIV Cure compounds that are under development is a clear pathway to obtain regulatory approval for cancer treatment, to be subsequently extended to the HIV Cure.
Aim of the present project is to complete the preclinical development of VS2-370 by:
o Concluding in vitro stability and bioavailability studies (already collected promising initial stability exposure profile data in vivo)
o Performing Good Laboratory Practice (GLP) toxicology studies in rodents and non-rodents (we have already collected Maximal Tolerated Dose –MTD– and Dose Range Finding –DRF– non-GLP data in the same species)
o Writing an Investigational Medicinal Product Dossier –IMPD– that is essential to obtain green light to move to clinical trial by the regulatory authorities (we have already obtained EMA scientific advices)
o Synthesizing a VS2-370 clinical batch (we presently have 1 Kg material for preclinical GLP studies)
We have already obtained an encouraging initial feedback on our program from potential Pharma partners. Our platform pipeline bears the potential to expand to other indications backed up by solid available data (e.g. pancreatic cancer, non-small cell lung cancer, leukemias)
About Our Team
Creator: Michael Richards
Location: Colorado
Bio: Fundraising Strategist/Coordinator for the Research Institute for Genetic and Human Therapy (RIGHT)
Hospital Affiliation: Research Institute for Genetic and Human Therapy (RIGHT)
Title: Fundraising Strategist/Coordinator
About Team Members
Rebecca Hautman
Executive Director,
Biography: Executive Director for the Research Institute for Genetic and Human Therapy (RIGHT)
Title: Executive Director

John Hautman
President,
Biography: President for the Research Institute for Genetic and Human Therapy (RIGHT)
Title: President