About our project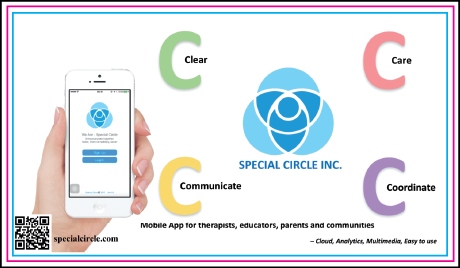 The problem we solve: Problem: 12 million special needs kids in USA experience "information asymmetry"/ segmentation; lack of visibility; paper-based; inefficiency; misalignment of therapy goals; and general lack of engagement, contribute to poor student outcomes. Currently, there are lots of paper (homework, claims, therapy records, government audits) and non-engaging apps from competitors. Our solution is unique. we offer - IEP goals centralized data tracking, speed-to-market, proven business model from mainstream health industry. ==> We do so with alerts, dashboards, reports, for each of the key users groups - Insurance, school, agencies, and parents.
About our solution: It is an applications to connect all stakeholders in treatment of children with special needs / autism. These include- - Dashboards/ reports/ alerts, - Social media interaction. - Modules for parents, insurance, government, therapist agencies, hospitals and other key groups Our solution elevates efficiency, achieves "patient / caretaker engagement", unify everyone through individual care plan (IEP) integration, claims processing, Imagine - 0 paperwork, 100% signed forms "in the cloud". HIPAA compliant, Meaningful Use Incentives ready. ==> Patients and parents are entitled to receive their own progress information - Special Circle collects and shares it with them plus whoever else they "bring into the circles".
Progress to date:
We have completed our initial beta tests with parents, agencies and therapists.
Our application is currently available on AppStore at https://itunes.apple.com/us/app/special-circle-parents/id1276162196?mt=8
You can also see product walkthrough at https://youtu.be/Guh_lkQUncE .
Our users LOVE our application. Special Circle key outcomes include: helping therapy session to maximize time spent with child (from 35 min per hour to 50+ minutes), accelerate signed claims collection (from 3 days down to 5 min.), % forms collected (100% vs 35%), ability to move through IEP objectives with consensus, and docs shared/viewed by all (up to 86%).
About Our Team
Creator: Lawrence S. Lin
Location: New York
Bio: Healthcare IT management consultant with 30 years of experience, with key success areas of: PMP-certified project management, PMO project management office design/operation, cost reduction through process reengineering, healthcare (insurer, hospital, HIT vendors, pharmaceutical) and government (e.g. state healthcare, Medicaid, SCHIP) industry focus, technology skills (e.g. SDLC, SQL Oracle operations, php scripting, IV&V), proposal generation, supervisory experience, and big-four methodology. Winner of Deloitte Consulting "Project of the Year" award for Strategy/Operations (S&O) - 2008, Liaison Ascend "best sales proposal" award - 2012. Specialties: HIE, ACO, analytics, benchmark, sales deal closure, Program Management, PMO, contract administration; HIPAA: 4010A migration to 5010; Transactions, Privacy (policies, procedures, final regulation); Security (e.g. authentication, email encryption disaster recovery/emergency mode operation, audit trail, access log, physical security, access privileges); payer-side operational issues (e.g. claims, call center, EDI, clearinghouse operation, facilities, compliance, audits, documentation, training), MMIS, MITA version 2.0 SS-A, CMMI, SDLC.
Title: Founder - CEO
Advanced Degree(s): MSHS (health systems), MBA (global eCommerce)
About Team Members
Darren Yang
CTO & Co-Founder, 1) M.S., Computer & IS Security/Info Assurance; 2). M.S. CS Networking & TelCom
Biography: Experienced Chief Technology Officer with a demonstrated history of working in the consumer electronics industry. Skilled in System Stability Test, Functional Test, Project Manager, C/C++, Android system, and Global Positioning System (GPS). Lead oversea development team to build the project (worked with this team closely on prior projects; Agile methodology for nightly new releases/ rapid buildout). Innovation product team member in HTC. Work with Facebook to build new hero project in 2011. Member of two global NGO's. Led g0v Hackathon@NYC in 2016.
Title: CTO & Co-Founder
Advanced Degree(s): 1) M.S., Computer & IS Security/Info Assurance; 2). M.S. CS Networking & TelCom
LinkedIn: https://www.linkedin.com/in/darrencyang/

Challenge Mission
Key Milestones Achieved and Planned
First version published 2/1/2017, within 3 weeks of programming team formation
First patient-care outcomes proven through beta test agency - 8/30/2017
Approved for publication on Apple AppStore - 11/8/2017
Able to achieve "0% paperwork, 100% claims via PDF" 9/15/2017
Our Competitive Advantages
Unifed goal - integration among school, agencies, department of Education, through school's "IEP" (individual education plan) system, with ability to amend goals real-time and propogate across
ABA therapy type built into our application, especially the data gathering and visualization tools (trials, success and failure plotting, % calculation)
Protected social engagement tool with multimedia files exchange and archiving - alleviates reliance on public tools (e.g. Facebook, Google drive, WhatsApp), or tools not optimized for structure engagement / sharing (e.g. text messages, emails, printed paper binders)
Directly incorporate NY state's required forms (e.g. Progress Notes, Attendance Sheet) and agency-requested forms (e.g. ABA data sheet); with ability to rapidly ramp up other agency-specific or school-district-specific forms (digitized)
Some of our competitors' founders do not have special needs direct experience. Most of them have not been through complete, multi-faceted exposure to advanced HIT revolutions like Special Circle's founder has (e.g. HIPAA Privacy / Security / EDI, ICD-10, Mental Health Parity rule, HITECH / Meaningful Use / attestation process, full EMR buildout and deployments at multi-facility hospitals / clinics, patient portal creation for world-class insurance / devices / service companies, clearinghouse buildout, big-data / HIE projects, ACO, case management program, P
Barriers to Entry
Special Circle (just like other industry-leading companies like Facebook, Linkedin) rapidly deploys new features through Agile methodology, and pushes out new versions effortlessly to large number of users
We have large number of industry-changing functions that we can uniquely and rapidly deploy, from our Agile Product Function Backlog. Some of these include: shared economy, live video feeds, wearable integration, geo-positioning-enhanced scheduling optimization, workflow engine, enhanced trust & authorization engine, integration to external social media platforms, buildout of clearinghouse functions (open data transformations and submission to insurances / government agencies), and much more.
Top leaders and advisory board - from NY's elite (NY Health 2.0, San Francisco's Blue Umbrella autism incubator, world-leading mental health transformer).
A list of CVs and institutional investors waiting to invest in us, once we reach milestones that they already laid out for us
Existing and growing alliances with dominant special needs organizations (e.g. Autism Speaks Long Island & national HQ, HIMSS)
Traction, Funding and Partners
Currently funded by angel investors ($30K), founder's investments ($30K) for a combined $60K
Other crowd-funding platform has tentatively shown williingness to list Special Circle with target of $5M (but that is not a healthcare-focused site)
Investor Info
Market Size
US special needs market $64B annually, about $2.4B spent on children's education/therapies.
NYC alone spends about $300M annually on special education in K-12.
This is still a market without dominant automation vendor, ripe for Special Circle to revolutionize. High payout, fast exit.
Autism prevalence is increasing fast in wealthy countries (http://econ.st/2A9u1UI ); Other peers have received sizable investment (http://bit.ly/2zlX6PC $22M, http://bit.ly/2zgolJg $6M).
Projected 3 Year Growth
Target revenue by 2011 = At least $3M.
Company client count:
12,000 users (parents, therapists, teachers and other types);
500 agencies of various sizes and geographic locations;
3 anchor accounts comprised of either state Medicaid plans, self-insured employer groups, insurance plans' autism case management programs, or third-party benefits administrators
Geographic coverages - most of the northeast states, 1-2 states in west coast, 2 international collaborations / NGOs
Revenue Model
We plan to rapidly scale up by selling to larger contracts - cloud managed Case Management program for special needs, at $20k - $500K+ a site and their whole populate (e.g. Blue Cross Blue Shield, employer groups).
Meanwhile, our short-term immediate growth will also come from helping small, medium and large therapy agencies to manage documents, process claims, prepare for audits and connect to the patients' parents at $500 - $5000 a year,
What will eventually take us to $3M revenue within 3 years - we plan to jointly sell to large state and federal government clients with our current partner (an international health conglomerate from Europe)~ $2M each
Competitors
TheraNest, Rethink Autism, Birdhouse are some of our competitors / peers. They are all well-funded; some are showing good growth. Others have folded and gone out of business when they don't know the market well, or focus just on "claims processing".
We also compete with people who write their own in-house apps, or use older rigid tools like Excel, Word; or insecure / inconvenient tools like Facebook groups, WeChat/ WhatsApp groups, Google Docs, or even text messaging.
We are agile, and grasp a key concept that they don't - "improvement through engagement". Our leaders have built solutions that involve HiTech / Meaningful Use funds, patient/ subscriber portals, wellness coaching, clinical data tied to outcomes data, etc.
Traction
Product is still free to users now. We have list of 80+ names and email addresses collected from our conference exhibits and speaking sessions to invite once we move current apps (Parent and Therapist versions) to versions 2.x.
Also, through our Facebook footprint we can immediately reach 20K+ people on related and/or affiliated Facebook groups for Autism and Special Needs.
We have also been invited to speak and exhibit at numerous conferences that will easily get our monthly active users up to tens of thousands. e.g. NAMI, Autism Speaks, Autism Society, state Medicaid conferences, and other regional Autism and other conditions' trade shows.
Due Diligence Docs
Please note that access to the company's confidential materials is limited. Click this button to request access from the Company and its representatives.
---
This campaign has ended but you can still get involved.

See options below.
Instant Feedback
Help us find best new ideas to fund by telling us what you think. Your feedback goes straight to the team behind this project in private, so tell them what you really think.