About our project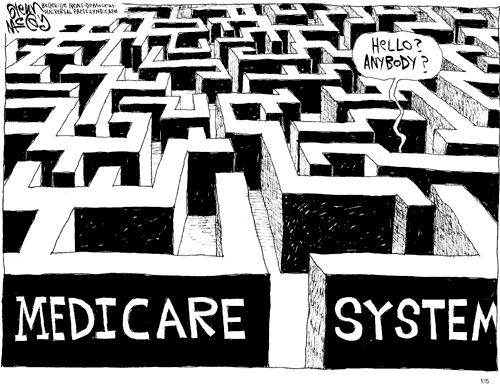 The problem we solve: There are 58m people on Medicare and 75% are either on a plan not optimized for their health needs, or are leaving benefits they are eligible for on the table. The consequences of these uneducated and unsupported choices have cascading financial implications for the entire healthcare ecosystem. Seniors go through bankruptcy primarily because of healthcare costs and in almost every instance it was preventable. Providers spend a significant amount of time on bill appeals and claim denials with Medicare. In fact, 31% of providers are still using manual claims denial management processes. They are also unable to prescribe the best treatments for their patients if the person does not have the right coverage. Pharmaceutical manufacturers lose market share if a senior gets on a plan that does not cover the medication they were on before transitioning to Medicare.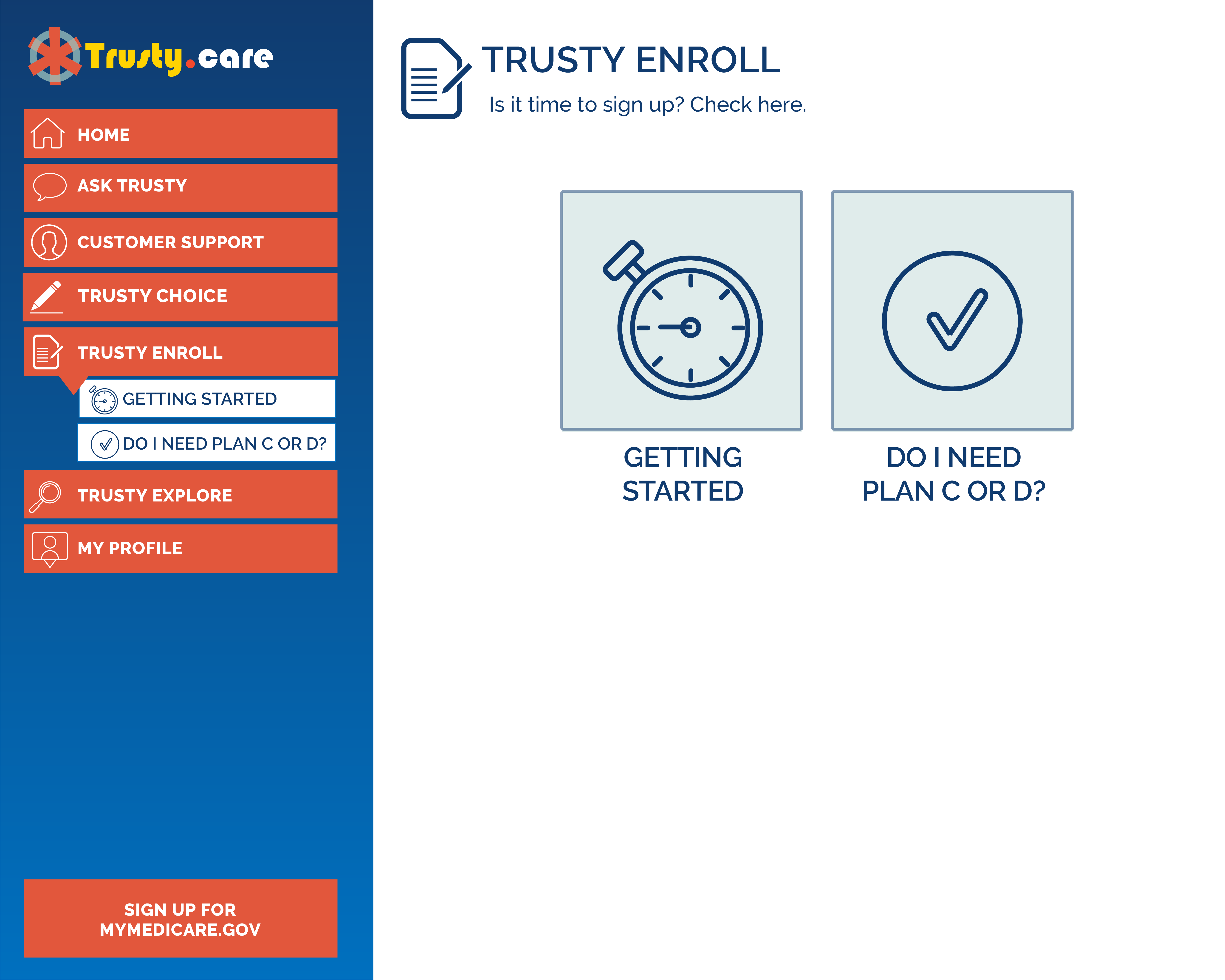 About our solution: Trusty.care solves the inefficiency of Medicare through an AI platform that accurately diagnoses which plan a senior should be on based on key data points, and maximizes their benefits at the lowest cost. The system then acts as a health advocate for the user, preventing gaps in coverage, automating bill appeals, and ensuring that a senior is able get the medications and services they need. The result of this is: Improved access to medications, which directly benefits pharmaceutical companies, Reduction in the amount of time providers spend on bill appeals, and Improved financial outlook and health outcomes for the senior.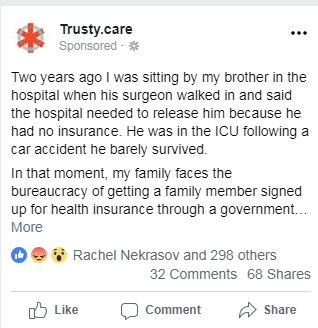 Progress to date:
We are launching our product in 10 days. We have launched MVPs and had 15k users in 2 months. We get very, very active engagement with our users.
About Our Team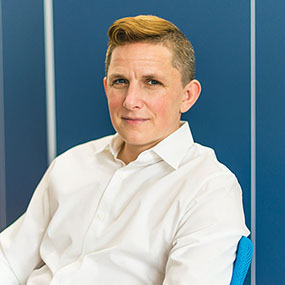 Creator: Joseph Schneier
Location: New York
Bio: CEO Trusty.care |Healthcare Entrepreneur | Techstars | TEDMed | StartupHealth | Mentor Cornell, NYU, Wharton, Columbia; 2 exits in ed tech, work in drug adherence
Title: CEO
About Team Members
Gerry Carey
CTO, BA
Biography: AI & Branching Logic Former CTO of Cognotion, Inc., William & Mary
Title: CTO
Advanced Degree(s): BA
LinkedIn: https://www.linkedin.com/in/gerard-carey-77707a43/

Julie Kennedy
COO, MPA
Biography: Founder of America SCORES, raised over $150m for various companies and organizations. Harvard and Georgetown.
Title: COO
Advanced Degree(s): MPA
LinkedIn: https://www.linkedin.com/in/julie-b-kennedy-b86118/

Bruce Lai
Biz Dev, MPP
Biography: I am a multi-skilled operations executive, specializing in launching and growing early stage startups & launching innovation in large enterprises. Raised, sold and lobbied for over $40 million. Williams College and Harvard's Kennedy School of Government.
Title: Biz Dev
Advanced Degree(s): MPP
LinkedIn: https://www.linkedin.com/in/brucelai/

Ari Sternberg
Chief Marketing Officer, BA Biomed
Biography: Analytics, SEO, Integrated Marketing Experienced leader specializing in the development, launch, operation and marketing of scalable, high-performance digital products and platforms. Has developed search and display advertising products that continue to generate millions of dollars in annual revenue.
Title: Chief Marketing Officer
Advanced Degree(s): BA Biomed
LinkedIn: https://www.linkedin.com/in/aristernberg/

How We Help Patients
Our product directly helps patients to find ways to save money on healthcare, get access to the right insurance that will cover their medical needs and to get unbiased information on the best doctors in their area. Our organizational tool connects families by distributing information that caregivers needs.
How We Help Physicians
Providers face several challenges that we are targeting:
Pay-for-performance: If a doctor prescribes a drug that is not covered by the patient's prescription benefit plan, and the patient goes to have it filled, they will be met with a frustrating situation. Seniors are more likely to complain about this and the result is that the doctor gets a lower rating and their revenue decreases.

Doctors spend a significant amount of time processing claims and appeals for Medicare beneficiaries. Many of these could be avoided if paperwork was filed correctly the first time.

When a patient checks in, they use their insurance card and the provider then sees if their drug is covered through their insurance plan. However, for Medicare patients, drugs are covered through their drug benefit plan, which means the doctor needs access to information around which Medicare D plan their patient uses.

Prior authorizations takes a lot of time.
Solution Provider facing
Digital automated system: System that allows doctors to prescribe the right drug for their patient.

Digital automated system: Efficient bill appeal process.
How We Help Partners
PHARMA MANUFACTURING PROBLEM: Access to the market to sell their drugs.
The market is regulated in a way that makes it very difficult for them to have customer outreach of any kind.

Pharma is heavily regulated in their interactions with customers in a currently (and constantly) changing environment.

Pharma has the knowledge to help patients get medications, but patients need to self-direct to gain access to that information, and it is unusual for patients or providers to reach out to Pharma directly.

When a patient does not get signed up for the right Medicare plan (transition from private to public insurance) they often lose coverage for the drugs they were taking, which reduces Pharma's market and patient access to drugs.

Pharma is impacted financially when people aren't covered properly because doctors stop prescribing medications to their Medicare patients if they have frequent problems with billing.

There is a lag time between when a drug gets removed from a formulary and when the patient actually switches to the drug that is now in their plan formulary. If we are able to get people switched quickly this would increase Pharma's revenue.
Example: Patient A is taking Wellbutrin. Their plan notifies them that they are no longer covering Wellbutrin and will only cover Bupropin. If we go to the Pharma manufacturer that sells Bupropin and say that we will make sure that all of their patients that have to be switched to that drug will be switched automatically, then Pharma majorly benefits and they are willing to pay for this.
Example: If we have a population that has a higher-than-average chance of getting metastatic cancer (white men over age 55) then we can go to the pharma manufacturers addressing this condition and they will have an interest in paying for those people to get on Medicare D.
Their core pain: The net result across the board is reduction in access to their drugs, especially the more costly ones.
Why now?
Pain has become acute because of the upcoming changes in regulations around rebates, generics, and biosimilars.

There is a lot of focus on Pharma reducing costs and less focus on ballooning profits within the insurance market.

In addition, we have a rapidly aging market that has increasing health needs.
How they currently solve this:
Pharma sets up call centers (by drug) that passively accept calls. Calls by patients mostly happen during open enrollment periods. There is no strong customer draw to these centers and they are not well known.

Advertising both direct to consumer and to providers.
Why is Pharma willing to pay?
What we are offering is an efficient way for Pharma to get their medications covered and into the hands of consumers beyond traditional channels. It is in pharma's best interest to have seniors, and the population in general, access better coverage.
Challenge Mission
Affiliation(s)
Our chief medical officer, Dr. Murdoch has been running a clinical practice for 30 years. Our advisory team teaches at Columbia, Harvard, and New School.
Key Milestones Achieved and Planned
In our first 4 weeks of testing the product we had 15k users. Our next inflection point will be during the open enrollment and we expect to get 5000 conversions.
Our Competitive Advantages
Current Alternatives Medicare beneficiary competition - To solve their problem, Medicare beneficiaries use a host of fragmented options: The primary competition are AARP, Medicare.gov, Medicare insurance brokers, non-profits, a small number of startups (EnrollHero and MedicarePathfinder), books (Medicare for Dummies) and word of mouth knowledge. Pharmaceutical companies: Pharma companies contract with "Hubs" that manage calls from consumers and providers to get them information on drug coverage. Some of the largest are Triplefin, TrialCard, Occam Health Services, OptumRx, Asembia, AssistRx. Providers: A full 30% of providers manage claims manually. Those that don't use systems like: CoverMyMeds.com, PrimeRx, NRx, Winpharm, Kareo Patient Assistance Programs - Simplefill Our competitive advantages are: 1. We are one of the only companies in the country that have figured out how to get formulary data for all Medicare beneficiaries. 2. Our predictive analytics toolkit.
Barriers to Entry
We are filing a patent on our predictive analytics toolkit and how we obtain the data to make our assessments.
Funding, Partners and Alliances To Date
We have raised $450k from Esther Dyson, Walt Winshall, The Fund and Nathaniel Rothschild.