About our project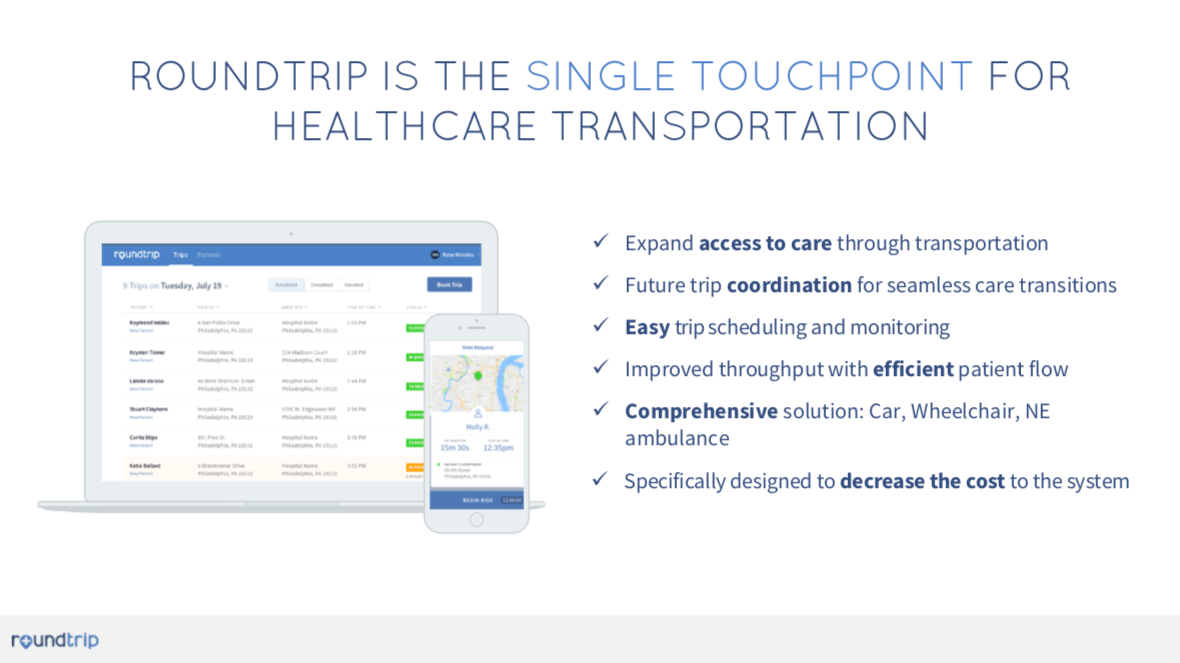 The problem we solve: 3.6 million people either miss or have delayed appointments every year because of a transportation barrier. RoundTrip is expanding access to care by making it easier and cheaper to order rides for medical reasons.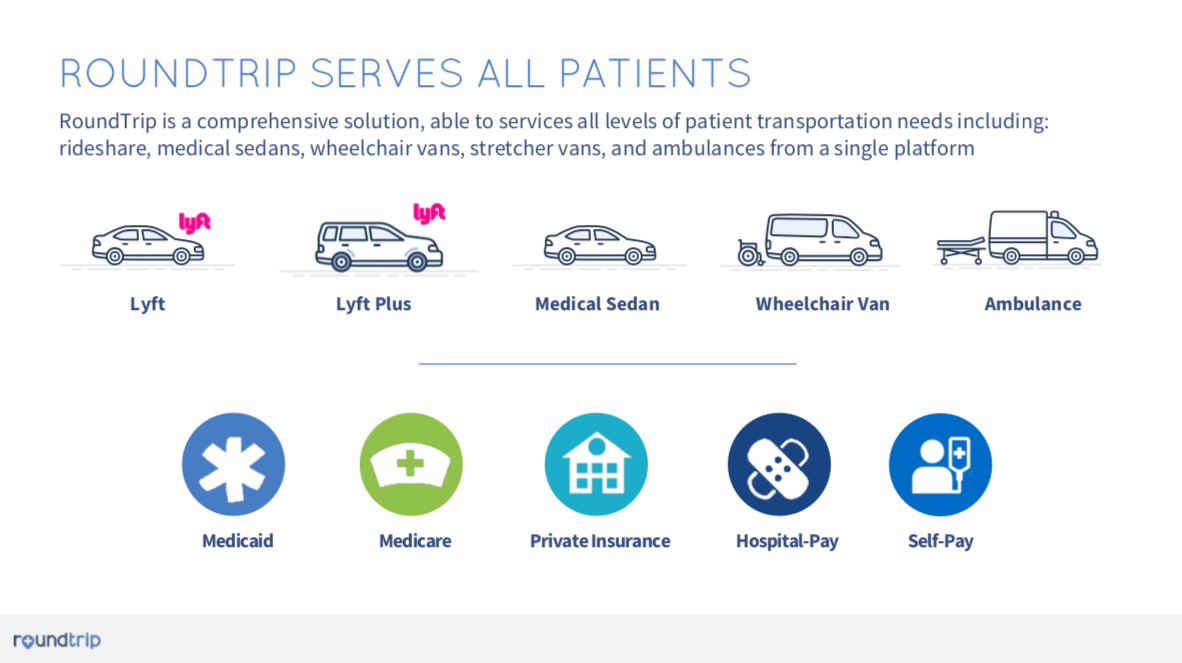 About our solution: RoundTrip's mission is to simplify, modernize, and deliver world-class non-emergency transportation services for those who require safe and specialized transportation services. We are a secure software solution that provides on-demand trip scheduling and monitoring services that increases network efficiency through empowered transportation partners and improves rider experience through an online trip booking portal.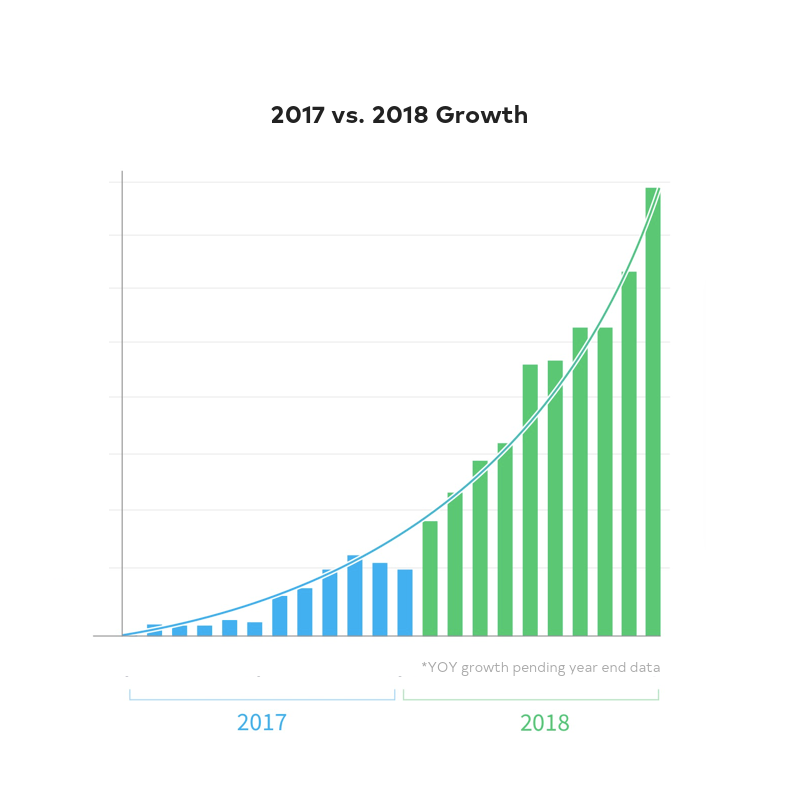 Progress to date:
2018 Year In Review
287k miles transported
4x client growth. Select clients: NIH, VCU Health, Bon Secours, Aurora Behavioral Health, Holy Name, several others across 17 states
6x growth in trips
Industry leadership: Less than 4% patient no-show rate (5x better than the national average)
219 transportation providers added to our network
About Our Team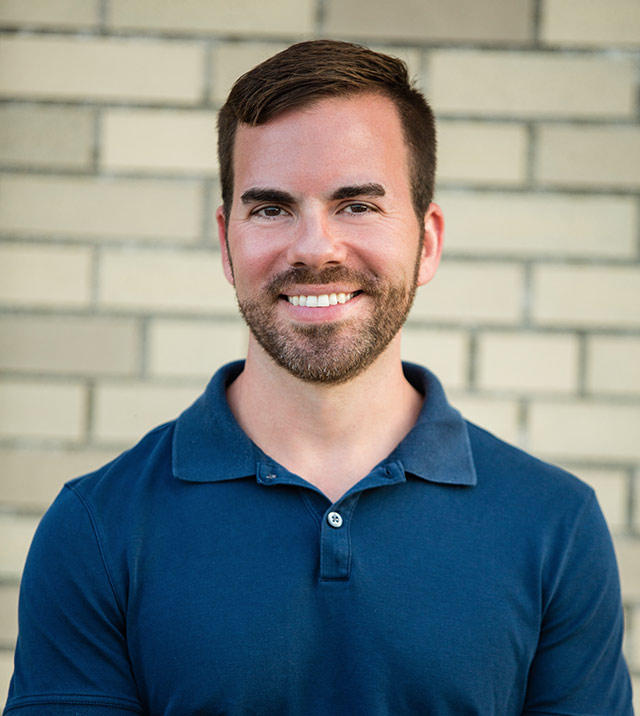 Creator: Mark Switaj
Location: Pennsylvania
Education: Georgetown University MBA, Boston College BA
Bio: Mark is the CEO and Founder of RoundTrip. Before founding RoundTrip in 2016, Mark was the Chief Operating Officer of EmCare North Division, a clinician practice management group serving more than 1,000 affiliated clinicians and 150 facilities. Mark began his career as an EMT with American Medical Response (AMR), the nation's largest ambulance company, before eventually leading AMR's North Region Business Development department. Mark holds an MBA from Georgetown University and a BS in Management from Boston College's Carroll School of Management. He also is a Fellow of the American College of Healthcare Executives, and an avid skier and runner.
Title: CEO
Advanced Degree(s): MBA, BS
Challenge Mission
How We Address the Mission of The Challenge(s)
Access to quality of healthcare is not possible if patients can't even get to healthcare facilities. RoundTrip's digital solution stands out BECAUSE of our desire and willingness to work with underinsured populations. We allow rides to be paid for by Medicaid, and we also allow rides to be paid for by specific grants or cost centers that many hospitals/FQHCs have set aside for low-income residents. Our rides are also often 30-40% cheaper than incumbent options. Additionally, we provide large volumes of new data to hospitals that use our service. Our solution is user-friendly and dedicated to eliminating transportation as a barrier to care.
New Orleans and Our Company
RoundTrip does not currently operate in Louisiana but would welcome the opportunity to enter the state with a new client (like with the University Medical Center, for example). Once a large healthcare facility agrees to a partnership, our transportation team will work rapidly (2-3 weeks, depending on the scope of the agreement) to build a robust transportation network that ensures all patients have ample ride options to use. We are currently in 17 states (including Mississippi and Tennessee), and hope our participation in this challenge will accelerate our ability to help patients in Orleans Parish.