About our project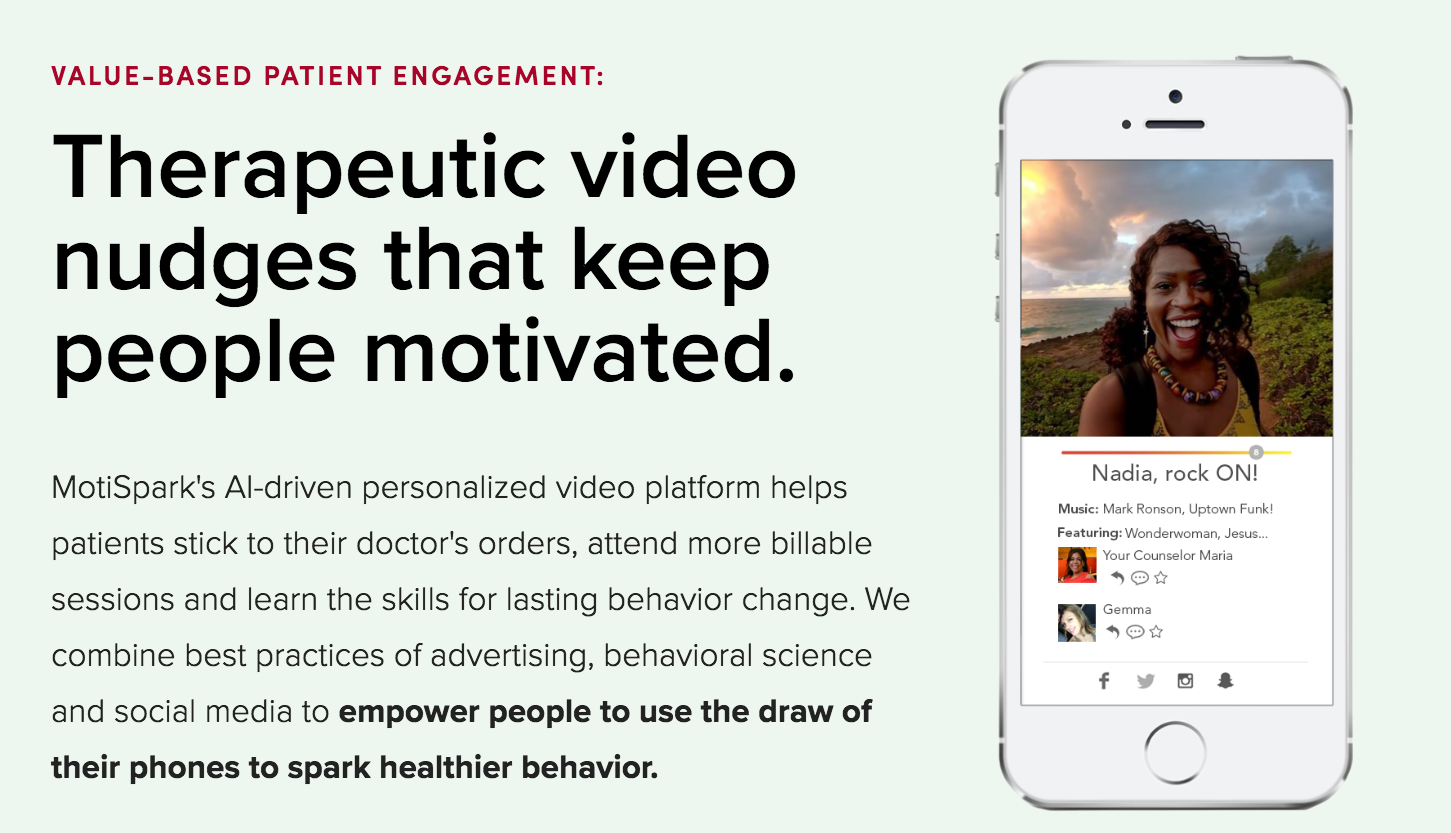 The problem we solve: Medical groups & insurers pay an enormous price because of unhealthy patient lifestyles and noncompliance - obesity, addiction, smoking, stress, etc. Counselors & nurses lose time & money trying to extend care outside of appointments. Existing apps are not working; they're text-based and trigger worse outcomes when tracking triggers shame. Unused apps means providers miss out on patient data that would help build better protocols. Meanwhile, caring nurses and counselors are spending non-billable time trying to help patients when they leave facilities, causing burn-out.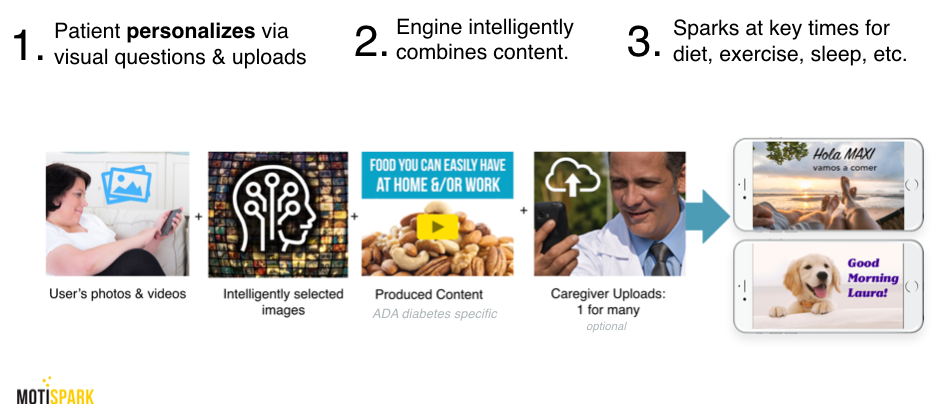 About our solution: Medical groups license our platform to increase patient and provider satisfaction as well as improve appointment attendance and clinical outcomes. Our SMS & app platform delivers patients personalized videos that trigger healthier behaviors when and where they need them most. The videos are custom branded, may include supportive messages from counselors, are demographically relevant and condition specific. Patients follow behavioral plans and attend more billable events. We provide end-users and counselors an experience as easy & fun as using social media, with always new personalized videos that trigger sense of purpose and planned action. Our platform harnesses people's love of novelty, peer support and personally relevant content to deliver short, personalized videos that remind patients of their purpose and action plan. Our patent-pending platform builds on the power of human's processing visuals 60,000 times faster than text along.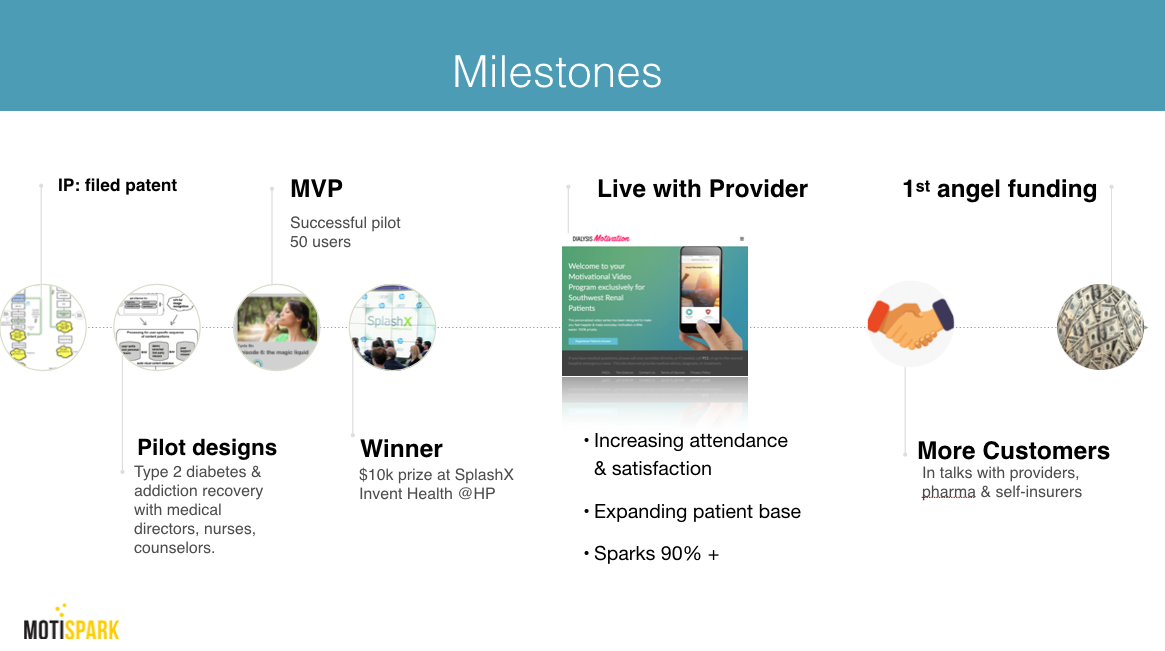 Progress to date:
MotiSpark launched www.dialysismotivation.com in the summer of 2018 and showed a 4x increase in telemedicine appointments for enrolled patients. Enrolled patients watched all of their video nudges over a 30 day period and self-reported feeling happier and more supported. We began rollouts for chronic diseases patient management with PreciseTelehealth in December of 2018 and show again increased patient attendence and satisfaction. We are in discussions with other providers, pharma companies and HMOs to find our next, larger deployment.
About Our Team
Creator: Ariel McNichol
Location: California
Bio: Currently leading MotiSpark.com, a personalized video platform that is transforming outpatient behavioral health. Behavioral science + machine learning + entertainment + social video. My background in using evidence-based behavioral science to dictate design choices began at one of my first jobs as a creative at Scientific Learning under Dr. Michael Merzenich (designing games for children with learning disabilities) and then at Forensic Technologies International. Then, I moved to the consumer market as a hands-on Creative Director, UI/UX'er creating innovative, award-winning experiences for companies like Apple, Lucas Arts, Disney and The Annenberg Institute. As an entrepreneur, I've co-founded multiple companies including mEgo.com, an internationally popular avatar-based portable profile that we grew to millions of users and successful partnerships with adidas and the NBA.
Title: Co-founder and CEO
About Team Members
Kyle Brinkman
Co-Founder & CTO, MA
Biography: Co-founded & scaled multiple startups like MySpace & Beachmint. Seasoned technologist & product team builder.
Title: Co-Founder & CTO
Advanced Degree(s): MA
LinkedIn: https://www.linkedin.com/in/kylebrinkman/

Amanda Wang Valentine
Healthcare Sales & Business Development, BA
Biography: Former banker and product market-fit specialist with expertise in healthcare sales and product integration.
Title: Healthcare Sales & Business Development
Advanced Degree(s): BA
LinkedIn: https://www.linkedin.com/in/amandawangvalentine/

Sean Young
Chief Science Officer, PhD
Biography: Executive Director at Institute for Prediction Technology (UCIPT); UCLA School of Medicine. Author best-selling book on lasting behavior change.
Title: Chief Science Officer
Advanced Degree(s): PhD
LinkedIn: https://www.linkedin.com/in/seanyoungphd/

Challenge Mission
How We Address the Mission of The Challenge(s)
MotiSpark maybe a fantastic innovation for the Tulane Affordable Choices Challenge. Our product is designed so that consumers get the information and motivation delivered to them right in their smartphones in short personalized videos that they want to see. MotiSpark is built to dynamically address the needs of diverse patients, scaffolding visual nudges appropriately while not shaming people. We would love to show the power of intrinsic motivation through MotiSpark to deliver better outcomes for existing patient populations at Tulane. Thank you for your consideration.
New Orleans and Our Company
We would LOVE to come to New Orleans...but we would be newbees to the area!