About our project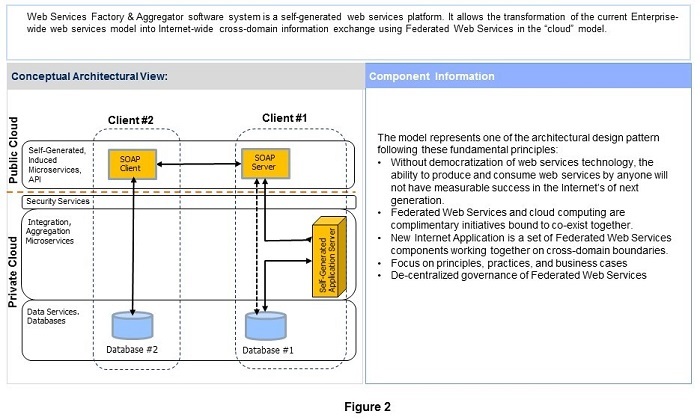 The problem we solve: The unique value proposition of our WSFA is to provide the means for any small to medium enterprise, an individual or collective of users to effectively, and economically develop and deploy their custom Web Services, APIs, and Web clients. Our solution is to extend the basic "cloud" with the ability to provide services across separate and independent domains. It was made possible by our Web Services Factory and Aggregator (WSFA) Platform. The WSFA Platform has universal applicability but is particularly suitable for blockchain-based applications.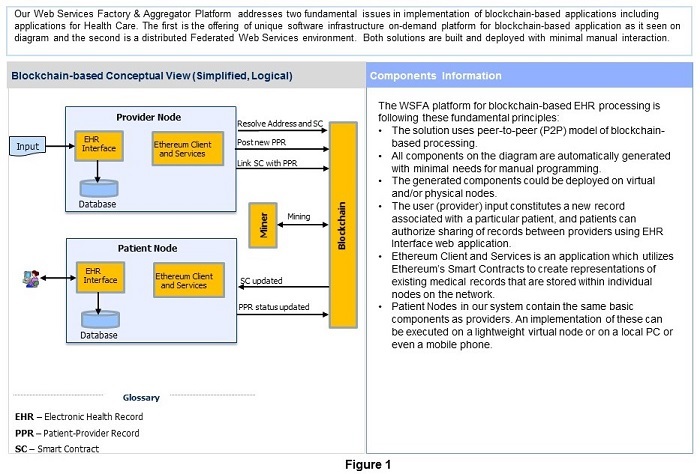 About our solution: The most important fact about our WSFA platform is a true elimination of all programming requirements for the end-user. It includes automatic code generation and deployment as a SaaS applications in the "cloud." The WSFA applies source-code generation technique of semantic web processing to build a complete application with Web Services on distributed worker nodes using data models and ontological models according to relatively simple rules. The abovementioned unique capability of WSAF Platform is particularly suitable for implementation of blockchain-based applications. Block chain technology rests on three founding principles. First, data is stored in a public, immutable transaction ledger with complete and ir refutable record of all transactions. Second, blockchains are implemented in a decentralized network of computing nodes. Third, the metad ata describing each transaction is available to everyone on the system, but in encrypted form.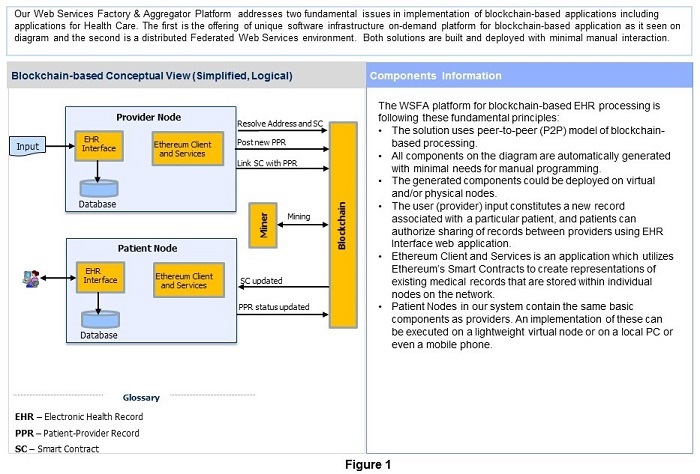 Progress to date:
The system was demonstrated at a few technical venues. The demonstrations received very positive responses. The functionality of the WSFA Platform adds a flexible solution for integration and concurrent operation of new and existing databases - an environment for creation and operation of cloud applications and services.
About Our Team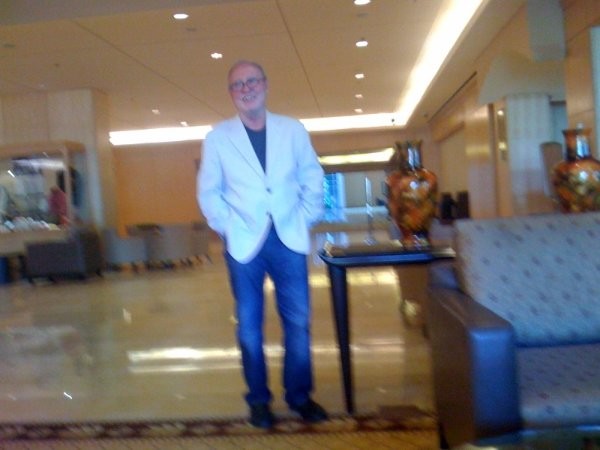 Creator: Peter Kinev
Location: Texas
Bio: Highly accomplished Enterprise Architect with formal knowledge of architectural frameworks and methods for developing enterprise architecture, such as Zachman Framework and TOGAF, with knowledge of Semantic Web technologies and ontologies. All together he brings about 20 years of practical experience in Intranet/Extranet Enterprise Architecture with more than 25 years of experience in Systems Engineering and Architecture. He has an experience with many programming languages and environments, formal SDLC and contemporary development methodologies. He is also a Certified J2EE Architect. The list of the most recent projects contains the work done during last few years.
Title: Enterprise SOA Architect
Challenge Mission
How We Address the Mission of The Challenge(s)
Open Solution's WSFA Platform contributes to the part of Web 3.0 associated with intelligent web - semantic web, reduction of humans' tasks and decision tasks. The new computing environment allows human-machine and machine-to-machine co-operations and organizing a large number of web communities. Our solution is engineered to provide the infrastructure foundation for implementation of distributed ledger technology (DLT) applications including Blockchain and non-Blockchain based. Currently we evaluate two separate approaches – blockchain-based and hashgraph-based. Our in house developed Web Services and Aggregation Platform (WSFA) facilitates a creation and deployment of computing nodes and interfaces in peer-to-peer communication to increase efficiencies, and to enable Electronic Health Records (EHR) processing that involve security (specifically data integrity) and privacy provisioning, immutably assuring expressed identities, creating highly robust audit trails and improving healthc
New Orleans and Our Company
The Louisiana Department of Health and Hospitals (DHH) published today (01/28/2018) a Request for Information with the intent to explore and determine interested and qualified vendors who offer an electronic health records solution that could be utilized in the parish health units. (http://ldh.la.gov/index.cfm/newsroom/detail/5033 ) We are absolutely positioned to take this challenge! That's OUR MISSION.