About our project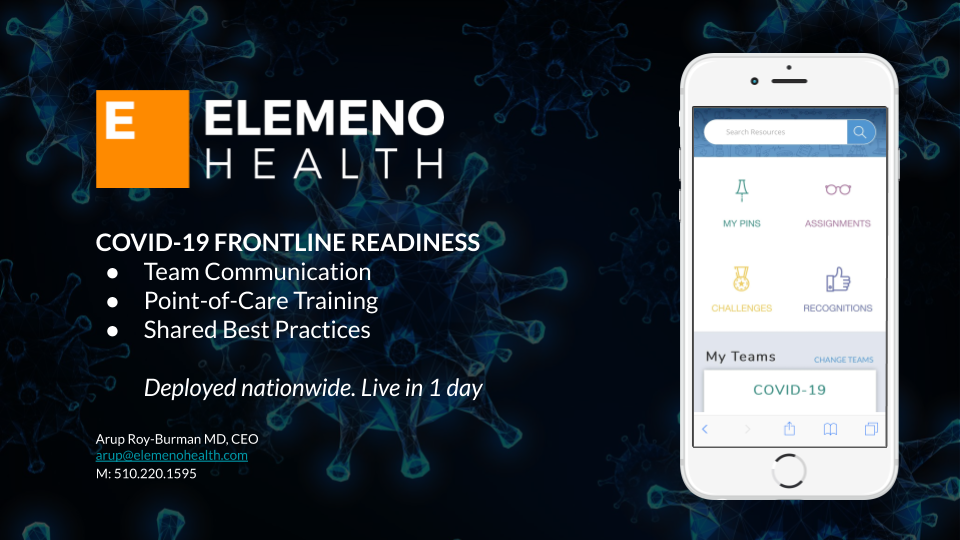 The problem we solve: Practice variation. The gap between institutional knowledge and frontline practice creates errors and increases costs. Frontline nurses, ancillaries, and physicians are overwhelmed. Current systems to support staff inadequately meet care demands and perpetuate the gap. COVID, with the rapid flux of information and practice changes, stretches this gap even further.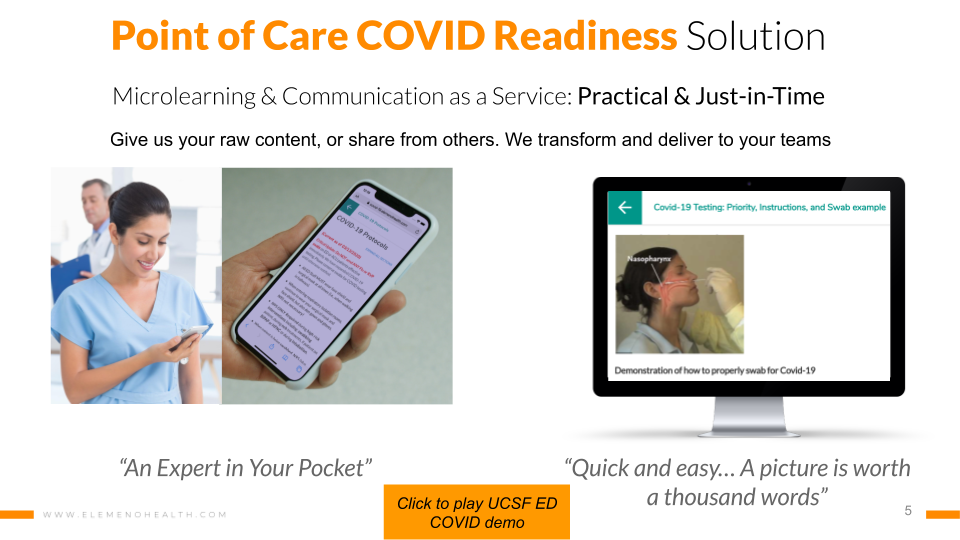 About our solution: The Solution: A cloud-based application that drives frontline adoption of the customer's priority practices through point-of-care microlearning, improving consistency and outcomes. Empower unit/program educators and managers to deliver actionable and trackable microlearning. Accessible 24/7, desktop or mobile with little to no IT burden. No PHI. Elemeno is a "coach in your pocket," delivering the guidance of your institutional experts at the point of care, wherever and whenever it is needed most. Our clients are using this for COVID frontline readiness, and sharing content with one another, to accelerate iteration and spread of best practices. For new clients, top shared COVID content is pre-loaded, creating a turn-key customizable solution, ready to deploy within 1 day.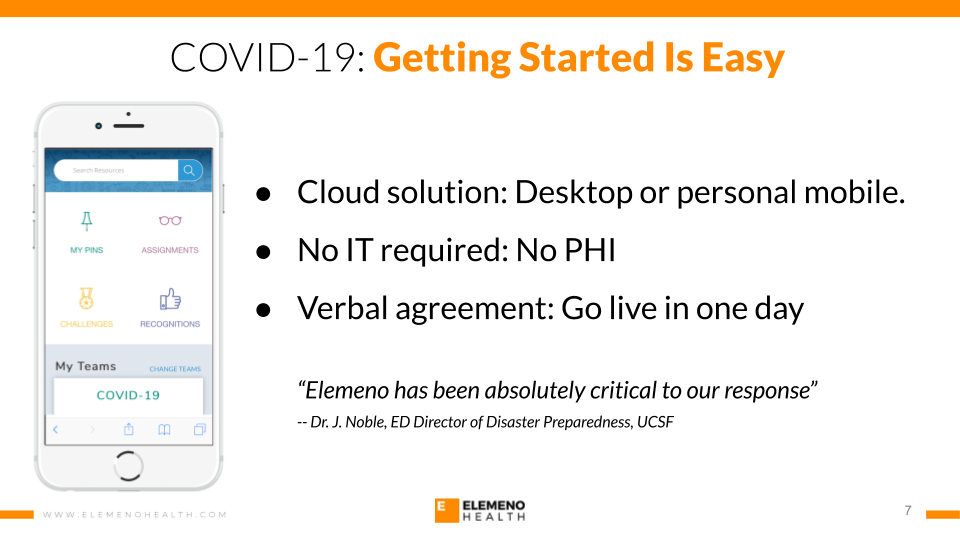 Progress to date:
Commercial sales to ED's, hospitals, and public health departments.
$150k of new ARR since COVID pandemic, growing overall SaaS ARR from $650k to current $810k.
COVID solution now live in four states, including ambulatory, ED, post-acute care, and homeless shelters.
Elemeno has just partnered with the American College of Emergency Physicians to deploy a freemium version of Elemeno for COVID frontline readiness nationally. Alpha version has been deployed; beta testing by May, followed by general availability. Funding required to accelerate development.
About Our Team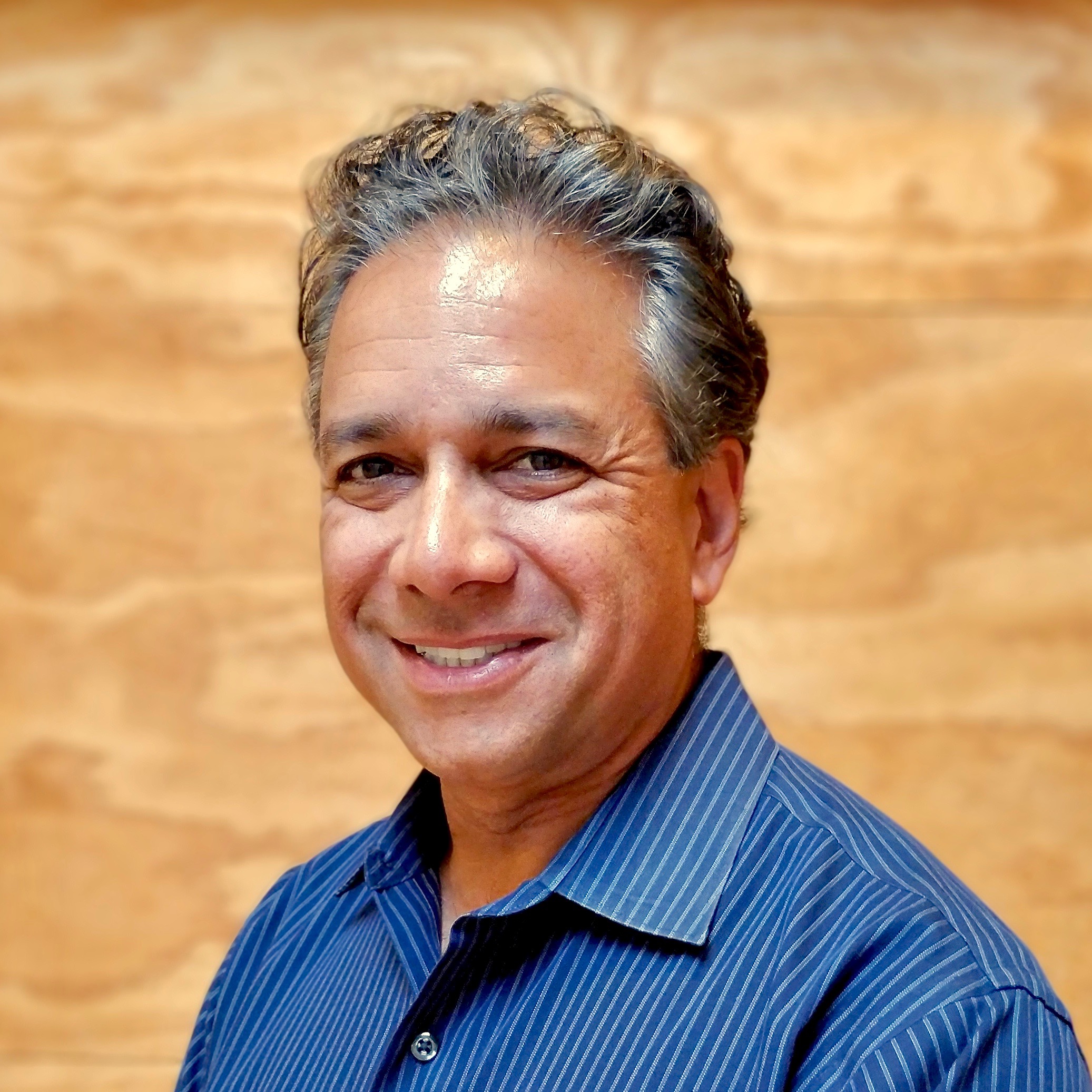 Creator: Arup Roy-Burman
Location: California
Education: UCSF
Bio: Arup is former Medical Director of the Pediatric Intensive Care Unit and Director of Transport & Access at UCSF Benioff Children's Hospital, where he developed the prototype for Elemeno. With demonstrated results cutting hospital-acquired infection in half and saving over $1M, this was a solution too important not to scale. Partnering with UCSF and Y Combinator, Elemeno Health was born.
Hospital Affiliation: UCSF Medical Center
Title: CEO
Advanced Degree(s): MD
Challenge Mission
COVID Problem We Address
Background: The Challenge for ED Leadership & Frontline Staff
Real-time, seamless access to current guidelines, protocols, and information is vital to effective containment and mitigation strategies.

Rapid communication with frontline staff fosters confidence at a time of stress and uncertainty.

The COVID outbreak brings together national agencies/guidelines, state & county-specific reporting, and local site-specific practices-- all constantly evolving. As patient volume and acuity surge, healthcare facilities need their staff ready and healthy (both physically and emotionally).
Our COVID Solution
The Solution:

Elemeno gives leadership an official and authoritative source of content, available in the moment, in the hands of every staff member. Deliver communication directly to each unit, clinic, or group. Measure engagement by each staff member. Collect real-time feedback. Identify their needs.

Cloud-based solution. Mobile friendly. Agile. Deploy immediately. No IT needed.
Case Study: UCSF Emergency Dept
UCSF ED leadership streamlined COVID readiness training and ongoing communication to their staff.
--- Dr. Jeanne Noble, ED Director of Disaster Readiness, UCSF
Elemeno COVID use-case in 1 min: Client COVID experience video
--- Dr. Maria Raven, ED Chief and Vice-Chair, UCSF
Practices can be shared via Elemeno with other EDs in the UCSF system. Other institutions are similarly responding.
"With a large team working different shifts around the clock, leadership can now readily document staff review, audit staff learning, and collect staff feedback."
--- Dr. Bruce Auerbach, Committee on Quality & Patient Safety, ACEP