About our project
The problem we solve: Aging in place for millions of people. We we need meaningful digital health care delivered at home for aging and chronic care populations to become a standard of care. 10,000 people a day turn 65. 70 million people will be over 65 by 2030, 70% with chronic care issues. Less than a 1/3 of these people will have the financial resources for in-person home care though the vast majority of them want to be at home. Current chronic care management has neither the reach nor depth to meet the entire population's health issues cost effectively. Remote Monitoring alone misses the nuance of each person's daily circumstance including social isolation or the ability to support both the person and their family. By building unique digital relationship with them they can get support and still be connected to live care when needed. We're obsessed providing the digital support for individual to be able to manage their health and stay as home and enjoy as much quality of life as possible.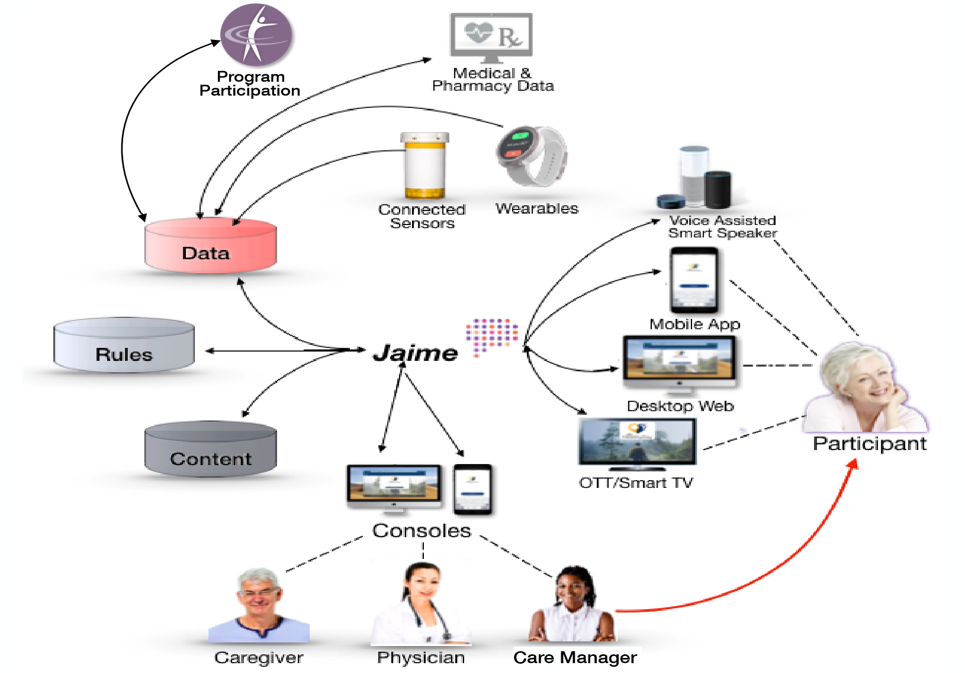 About our solution: Jaime is a revolutionary AI informed digital omni-channel tailoring/communication companion that grows daily personal relationships while providing ongoing monitoring and support. Jaime translates a deep understanding of 'you' into highly nuanced conversations, nudging users toward managing their care and keeping heart. Jaime builds trust, the bedrock of a relationship and through relationship we can keep people engaged in their life and their health. Jaime is built on AI principles for designing, developing, and delivering 'infinite' individually contextually tailored computer mediated content, conversations, and referrals integrating mobile, web, Smart TV, SMS, email, Alexa, and Google Home, bespoke to each person. We generate billions of iterations of 'conversations', based on behavioral theory, 'remembering' previous conversations, grounded in a longitudinal personal profile and provider data. Like the movie "Her" Jaime can maintain millions of relationships at a time.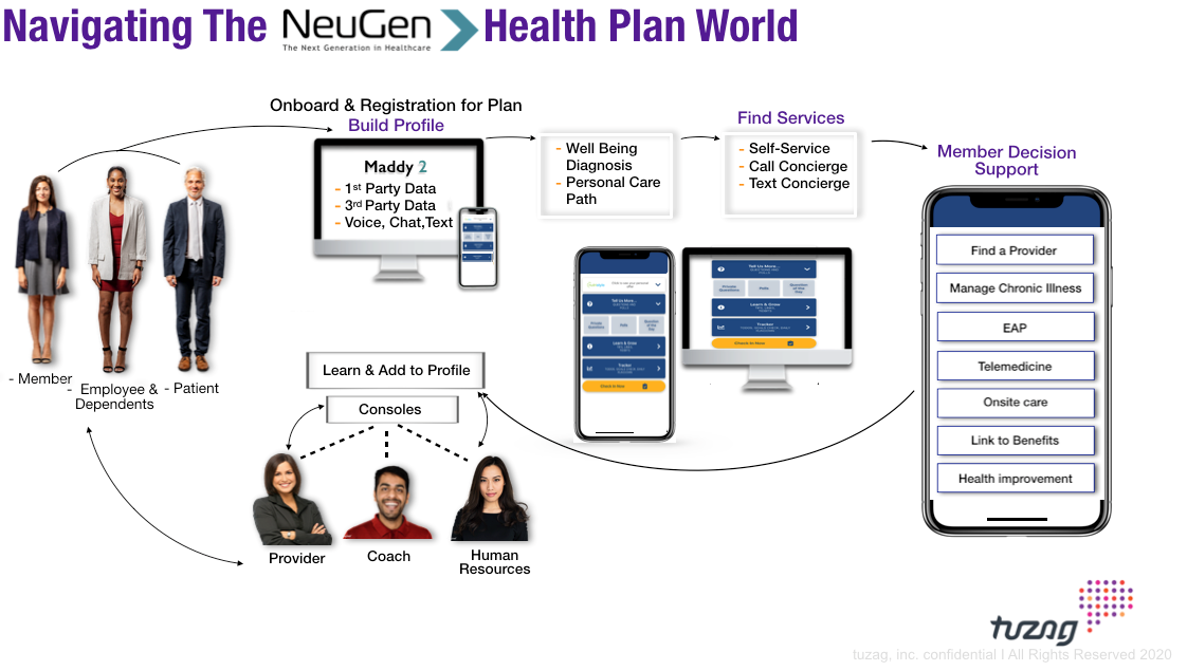 Progress to date:
We have built V3 of the tailoring CMS platform and inference engine, tuzagTCS (Jaime), based on 30 years of research and experience of the founder of the company, Dave Bulger. There is a long history of research on the positive impact of tailoring. While the current CEO, Neal Sofian, was at Premera Blue Cross, a prototype of the approach was tested on the 3,700 employees of Premera with results demonstrating a 950% increase in engagement measured by the persistent response and participation in programs offered by the prototype.
We have deployed Jaime with a variety of groups including Vanderbilt Health, Life 365, and Sensable Health. We currently have demos for the Life365 and Sensable services. We have partnered with a health plan to develop the architecture for the integration of the platform into the onboarding and ongoing communication with members. We have LOIs with 3 Remote Patient Monitoring and Home Healthcare providers to integrate Jaime when our home service is complete.
About Our Team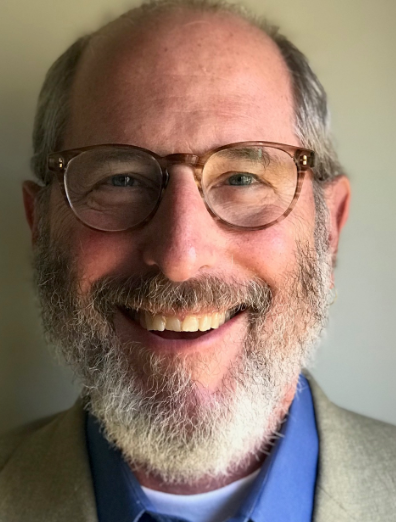 Creator: Neal Bulger
Location: New York
Bio: Neal is recognized nationally for almost 40 years of innovation in population-based and corporate and payor health management and engagement. Neal is currently the CEO of tuzag, Inc., a conversational AI omni-channel health concierge company. Their platform delivers one-to-one ongoing computer mediated conversations, content and service offerings across any communication channel, driving exponentially greater consumer behavior change. Neal commercialized the first and largest telephonic smoking cessation coaching program in the United States, Free & Clear. As the CEO of the NewSof Group he was responsible for many of the early health related social networking platforms including the American Cancer Society's Cancer Survivors Network. Neal holds a master's degree in public health from the University of Missouri School of Medicine. He has been a working potter/sculpture for the past 38 years at Pottery Northwest and has done stand-up comedy in a vaudeville show.
Title: CEO
Advanced Degree(s): MPH
How We Help Patients
Bottom line, we start with people, not their risks, diseases, or claims. Our goal with Jaime is to truly get to know each individual, their values, interests, vulnerabilities, and life circumstances so that we can build a trusted relationship with them over time. Once we have their trust, we can provide them not only a meaningful companion and monitor but also a concierge connecting them to their provider(s) and the other services they might need. As part of this we can help nudge them to their next proximate goal of maintaining their health and independence, but also connect them to their family, caregivers and providers via dashboards and messaging to create a full ecology of care.
How We Help Physicians
Providers have neither the bandwidth nore expertise to effectively manage large populations of people in need of chronic care support and monitoring. Remote patient monitoring though scalable, does not provide the nuance and personal support needed to be effective. Jaime can deliver both a meaningful experience to the consumer, but also provide a cost effective means to manage large populations of patients. In a fee-for-service world this presents a mechanism to generate reimbursement revenue for Remote Paitent Monitoring at low cost. For providers within Accountable Care Orgnizations, Jaime is a highly cost effective means to improve the health outcomes of their patient population.
Jaime also provides dashboard to all providers and care managers so that they know exactly how their patients are doing on a real time basis This information can be integrated into their existing EHRs or case manager consoles. Jaime becomes the 24/7 virtual care manager on your team.
How We Help Partners
Jaime is designed to integrate the data from all of our service partners as well as serve as a concierge to guide patients to the wide variety of services, care, and support they may need. Like Amazon, Jaime is designed to provide the form of concierge using choice architecture, offering multiple options to each patient based on their current circumstance, needs, and how others like them used services in comparable situations.
Jaime is also a perfect partner for traditional Remote Paitent Monitoring providers. We translate the data that comes from the RPM provider to create meaningful conversations with the patient so we can assess how they are doing and provide support for making good health decisions.
Investor Info
Market Size
The Total Market Opportunity is represented by the number of people in need of home care and individuals with polychronic conditions requiring ongoing monitoring and management. By 2030, 75 million will be over 65 of which 13 million is estimated to need home care services. Annual average home care services are $59,000/year for 8 hours of care 5 days a week. Most people can't afford this level of support and so it is left to family and friends. According to the National Alliance for Caregiving and AARP 34 million people provide care for someone over 50. 81 million Americans have multiple chronic diseases that require ongoing management. Average cost for Remote Patient Monitoring is $2,340/year. There is a need to be able support these overlapping populations and their care givers while reducing the cost of managing, monitoring, and supporting them. Based on providing our platform services for $240/year the total market opportunity is $19.4 billion/year.
Projected 3 Year Growth
We will have achieved .25% market share over next three years at an average rate of $20 pmpm in the Digital Health, Population Health, and Remote Chronic Care Management and 1% of the home care market generating a combined $80M in revenue. In the payor market (employer, consultant, health plan) we will have achieved 2% of active market plus .5% of inactive market at an average rate of $2 pmpm generating $27M in revenue. This totals $107M in revenue which will allow us to extend our services into deeper market penetration of healthcare and the development of the tuzag TCS platform into a DIY/SaaS solution for both the healthcare market and additional verticals.
Revenue Model
The ability to engage consumers to manage their own care and stay connected to their providers, caregivers, and family has value across the entire health care landscape. 70 million people have chronic conditions and there is a clear need for a greater amount of care and support be delivered virtually, understanding that it is not scalable to do this all with live providers. This offers tuzag multiple pathways to monetize our work. In chronic care our ability to manage large populations allows us to work with group practices to help them generate revenue from reimbursement tied to CPT codes in partnership with Remote Patient Monitoring (RPM) providers. In Accountable Care Organizations we provide services on a capitated basis to help them deliver cost effective populations management. We are currently developing partnerships with retail and membership organizations to be able to package RPM with tuzag focused on the caregiver/aging in place market on a fee-for-service basis. In the payor space (employers, health plans, consultants, brokers) the service can be delivered to the entire population on a Per Member Per Month basis across their populations.
Competitors
tuzag does not have direct competitors because of capability to deliver infinite tailoring across any channel of communication. Evive and Patient Bond deal with elements of engagement but are primarily focused on either understanding employee benefits or managing the patient experience. Most interventions and applications are potential partners because we drive adoption of their programs and/or serve as middle ware inside their application. Programs like MPulse are focused on SMS push messaging, but don't tailor in the same way has tuzag. Orbita is focused on DIY smart speaker development but with no expertise in behavior change
Traction
Tuzag is currently a revenue generating company. We are currently building an engagement platform for Avidon Health and have entered a strategic partnership with them to revenue share all income tied to the new Avidon Platform. We currently have LOIs as partners and resellers with Zipari, i360Healthcare, Thereby Inc. and Avidon Health. We are currently negotiating similar reseller relationships with Lockton Benefits, and Alliant Employee Benefits. We have an agreement with Full Circle Health and negotiation a similar agreement with PreMedex to purchase our home care solution as it comes to market in 2021.
We have previously completed work for Vanderbilt Health, NeuGen, Inc (a health plan in WI), Moterum, Life 365, Alliant Health & Benefits, and Sensable Health. We have outstanding proposals for Lockton, the Canadian Association of Retired People, one of the national retail pharmacies, as well as additional work for NeuGen and Sensable Health. We have a deep pipeline in the care management and payor space which we can share with potential investors.
Due Diligence Docs
Please note that access to the company's confidential materials is limited. Click this button to request access from the Company and its representatives.
---