About our project
The problem we solve: Metastatic Medullary Thyroid Carcinoma (MTC) is an incurable disease with poor prognosis and frequent de novo resistance to current treatment options. MTC effects nearly 2,000 new patients each year in the US and almost 9,000 globally. Current treatment options produce only partial and often temporary responses. Further, these treatments are plagued with adverse side-effects that frequently evolve into dose-limiting toxicities and treatment rejection. Synactix's goal for treating this rare cancer is to provide patients with a safer, more effective cancer treatment to extend overall survival and improve quality of life.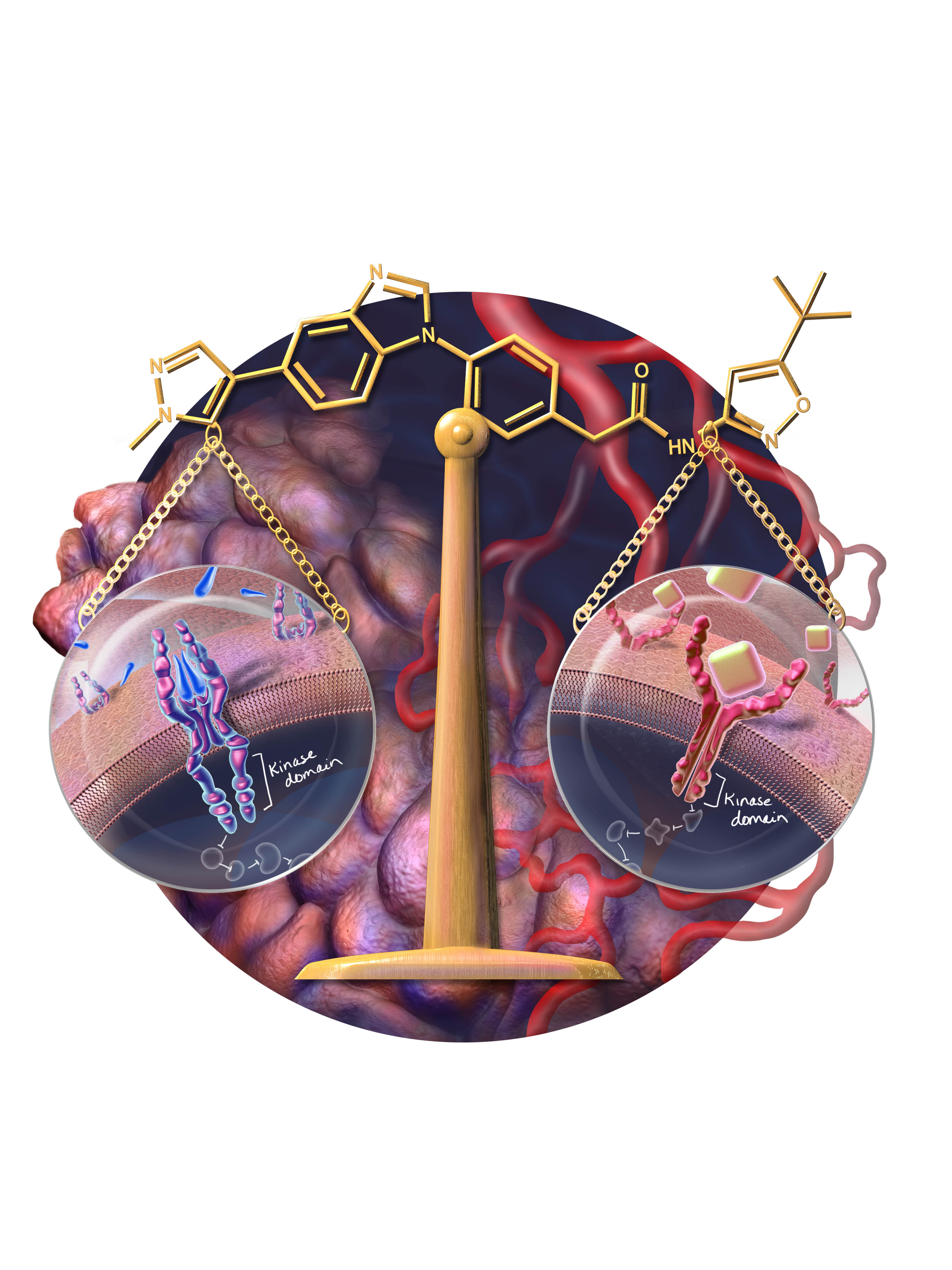 About our solution: Synactix is derived from synergy and action. Synactix is founded on the principle that the 'one-drug, one-target' approach is inadequate to treat many types of human disease. We have established a robust targeted strategy focused on single-agent polypharmacology, or 'one-drug, many targets'. Single-agent targeting of multiple pathways in human disease is the future of modern medicine. MTC is frequently (>50%) driven by a specific oncogene (cancer gene) known as RET. Tumors also grow and spread by recruiting new blood vessels through a pathway controlled by another gene, VEGFR2. We have designed a single small molecule that inhibits both RET and VEGFR2 at the same therapeutic dose, effectively blocking the cancer driving oncogene while simultaneously suppressing the tumor's blood supply.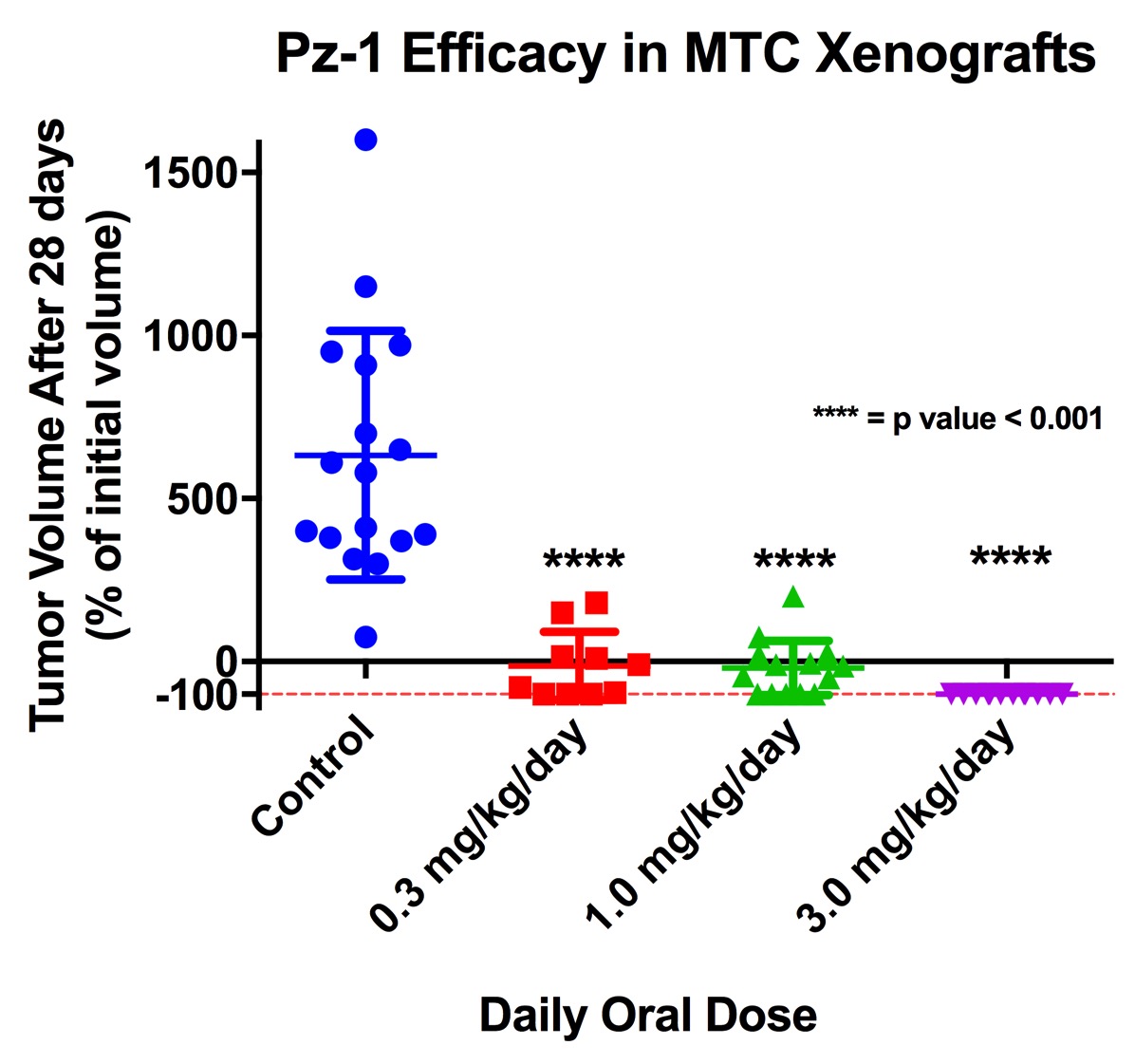 Progress to date:
Synactix is in preclinical stages of development of our lead compound for metastatic medullary thyroid carcinoma. We have generated robust efficacy and safety data in animal models (mouse, rat, and dog) that support further clinical development of our lead candidate, Pz-1. The figure below shows how even small doses of Pz-1 are effective at reducing tumor volumes in mice. Synactix has been awarded a Phase 1 STTR small business grant from the National Caner Institute (NCI) to pursue commercial development of Pz-1.
About Our Team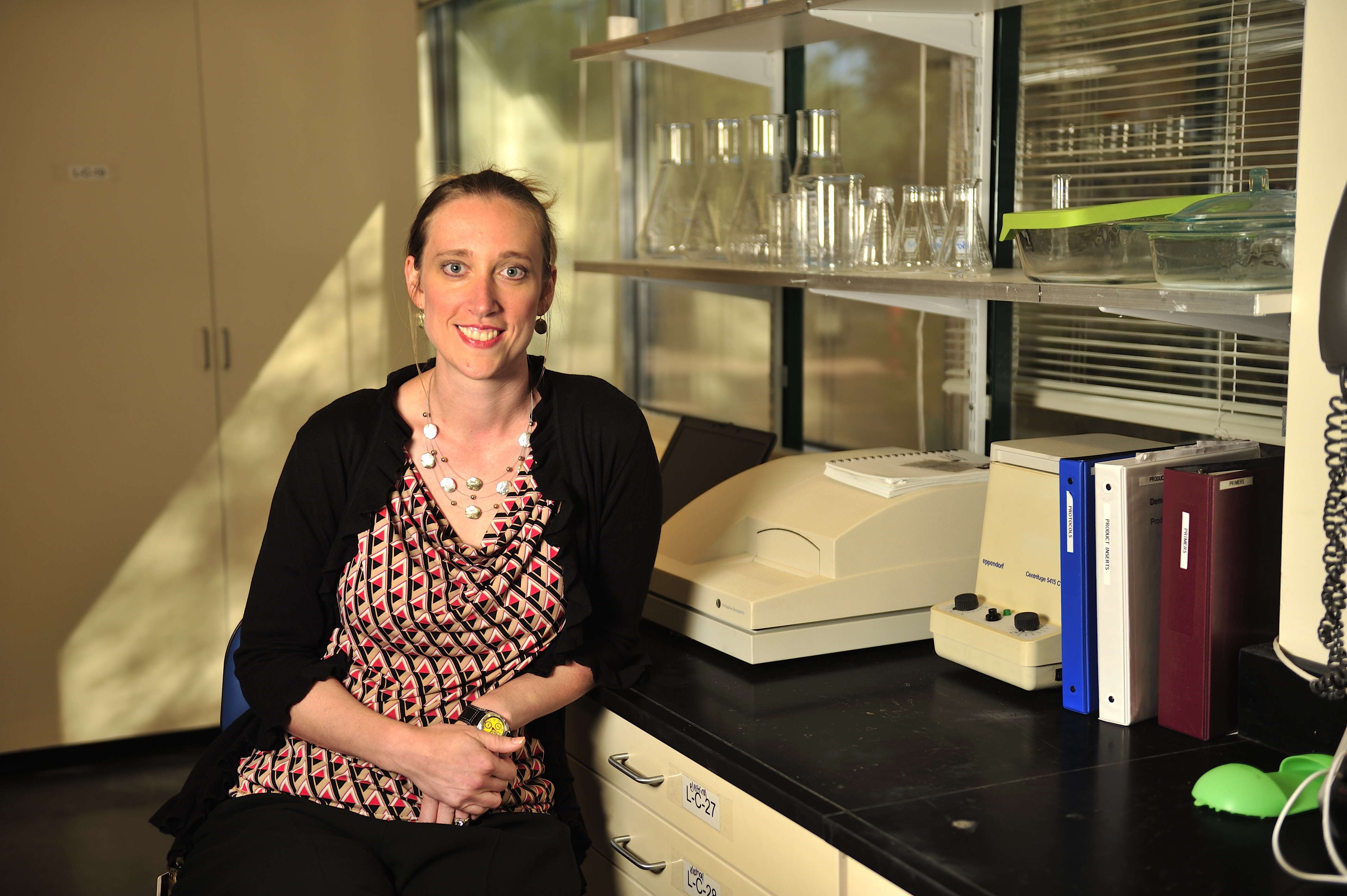 Creator: Samantha Whitman
Location: Arizona
Bio: Samantha got her PhD in 2011 in Cell & Molecular biology and has been working on entrepreneurial endeavors in cancer drugs and diagnostics ever since! With start-up experience in companies from 2 to 70 people, she happily wears many hats dedicated to acceleration of cancer technology innovations to improve patient care.
Title: VP R&D
Advanced Degree(s): Ph.D.
LinkedIn: https://www.linkedin.com/in/samantha-whitman-9527402
About Team Members
Brendan Frett
Co-Founder, CEO, PhD
Biography: Brendan has strong expertise in drug synthesis and therapeutic development. He is highly skilled at identifying new drug targets and producing next-generation agents that can modulate target activity. Previous work completed by Dr. Frett has led to the generation of two biotechnology companies and numerous authored and co-authored publications.
Title: Co-Founder, CEO
Advanced Degree(s): PhD
LinkedIn: https://www.linkedin.com/in/brendan-frett-ph-d-7868bb99

Hongyu Li
Co-Founder, PhD
Biography: Dr. Hong-yu Li has extensive experience in drug discovery and development, with a particular focus on oncology. Dr. Li has 10+ years of experience at Eli Lilly & Co. as a senior organic chemist, research scientist and senior research scientist. Before leaving Lilly, he was a principle research scientist and team leader.
Title: Co-Founder
Advanced Degree(s): PhD
LinkedIn: https://www.linkedin.com/in/hong-yu-li-24a6372b

Thomas Goodman
Business Development manager, PhD
Biography: Tom is a program administrator with background in university technology transfer, licensing, and new venture creation. He has worked for over 20 years at the interface of technology and business as a former Director for Research Corporation Technologies, Inc. and VP of Business Development at Arizona Science and Technology Enterprises, LLC.
Title: Business Development manager
Advanced Degree(s): PhD
LinkedIn: https://www.linkedin.com/in/thomascgoodman

How We Help Patients
Today, metastatic medullary thyroid carcinoma (MTC) is an incurable disease with poor prognosis and frequent genetic resistance to current treatment options. As a patient or patient's loved one, you already know that MTC can be difficult to treat. Tumors do not respond to radio-iodine and a more personalized treatment option is necessary to extend overall survival and improve quality of life. Synactix wants to help patients by designing smarter, safer drugs. Our strategy is to target two cancer pathways with one drug to disrupt both the "driving" and "supporting" tumor biology at one therapeutic dose. Today's drugs for MTC have major activity on the "supporting" pathway and attempting to target the driving pathway in MTC causes dose limiting toxicity and limits the patients' tolerance for the drug. The Synactix strategy of 'one-drug, multiple targets' may eliminate potential for drug-drug interactions and improves the safety and tolerability of the cancer medication.
How We Help Physicians
As a healthcare provider, you know that MTC is an incurable disease with poor prognosis and frequent de novo resistance to current treatment options. You may have seen some of your own patients develop resistance to current therapies or patients that have to stop treatment due to significant side-effects and adverse events. Single agent polypharmacology (targeting multiple pathways with one molecule) is an innovative approach in oncology, with the potential for lasting and robust efficacy. Synactix Pharmaceuticals has designed a single small molecule (called Pz-1) that simultaneously inhibits the pro-survival activity of all known RET (rearranged during transfection) mutations and the angiogenic activity of VEGFR2 (vascular endothelial growth factor receptor) at very low doses (IC50s ? 1.0 nM). Our preclinical data show that Pz-1 can attenuate tumor growth in TT cell xenograft models at a dose of only 0.3 mg/kg (unpublished data). To achieve similar efficacy in this same model, Cabozantinib required 30 mg/kg (http://www.ncbi.nlm.nih.gov/pmc/articles/PMC3868259/) and Vandetanib required 50 mg/kg (see supplement:http://erc.endocrinology-journals.org/content/18/1/1.full.pdf). Further, non-GLP animal studies show high oral availability and large potential therapeutic window, as adverse effects are not evident below doses of 100 mg/kg (single dose), 30 mg/kg (repeat dosing) and 150 mg/kg (single dose) in each model, respectively. As Physicians and health care providers, we are seeking your help to further the development of this promising therapeutic. There are many ways to contribute, share your professional experience, a research collaboration, helping with Clinical trial design and execution, or financially. Please reach out to us if you are interested in Synactix, Pz-1 and the potential for a new therapy for your patients.
How We Help Hospitals
Synactix is dedicated to improving patient care and building safer medications. This will hopefully equate to fewer side effects and adverse events, which means hospital costs and unnecessary visits go down. In addition, we are focused on creating orally-available medications, reducing the need for patient hospital visits for daily treatments. This will help to free up your valuable resources to expand care options in other critical areas. We are all working to improve patient and health care, join us in building next-generation cancer therapeutics to advance this goal.
How We Help Partners
Synactix is building an innovative solution to rare RET driven cancers. While MTC is the most effected by RET as a tumor driver, several others including Lung, Leukemia and papillary thyroid cancers also have RET as the driving biological pathway of cancer. The Synactix strategy will provide robust clinical candidates that may be eligible for Orphan and Breakthrough status. Further, due to the specificity of our lead candidate, Pz-1, against RET driven cancers, biomarkers and companion diagnostics are part of the Synactix clinical development strategy moving forward. Synactix delivers to potential partners a robust, safe, targeted therapy with several developmental and regulatory advantages to streamline progress into the clinic and eventual market approval.