About our project

The problem we solve: In patients with chronic conditions, especially cancer, symptoms and side effects are common problems which may lead to treatment disruptions, appointment cancellations and non-adherence to treatment. These patients also face navigation issues such as delays in referrals, lack of financial resources, lack of understanding about the treatment and symptoms and access to community resources.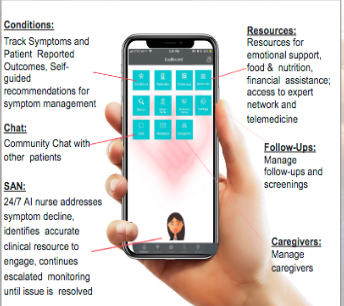 About our solution: Helpsy is the only platform that offers automated symptom management, resource navigation, and auto-triage and crisis management, in addition to treatment and symptom education, symptom tracking, and communication with patients. It is a complete, one-stop supportive care solution and has the world's first and only AI-based Symptom and Navigation (SAN) nurse. Our initial focus is on cancer but our product is applicable for other chronic conditions.
Progress to date:
Live product for 2 years, in use by 23,000 patients and some large healthcare organizations. Large pipeline of partnerships in progress. Excellent team and top key influencers as advisors.
About Our Team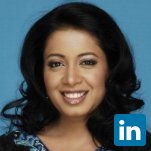 Creator: Sangeeta Agarawal
Location: California
Bio: Ms. Agarawal is passionate about empowering people to live life to the fullest by making integrative medicine accessible to people where they are. She started her career as a software engineer in Silicon Valley, working for companies including IBM, Motorola/Google. She then developed the world's first mobile video technology at a startup later acquired by Skype, this invention continues to change the world even today. She then changed her career into integrative medicine by studying, practicing and conducting research in both eastern and western medicine. She spent the next decade as a researcher, oncology nurse and integrative medicine practitioner at institutions including the Mayo Clinic, Stanford Cancer Center, and UCSF Cancer Center. Her groundbreaking research work on the development of algorithms for clinical impact of integrative medicine was recognized by UCSF and NSF, and she received support from them to start Helpsy, the world's first Artificial intelligence nurse for wholistic symptom management and navigation (San). San can automatically create a personalized care plans and provide dynamic support to patients through integrative technologies, empowering patients and clinicians alike. Helpsy has served tens of thousands of patients from all over the world and the data generated provides insights that have never been captured or understood before. She is passionate about empowering people in health care to understand and be at the forefront of the technology revolution. She is a nationally recognized speaker and author. She leads innovation initiatives at both SIO and ONS, and serves on the board of NCI PDQ for integrative medicine. She serves on the board of innovation centers and health care startups. She believes women deserve an equal place and is involved in several leadership initiatives to move the needle.
Title: Founder and CEO
Advanced Degree(s): RN
About Team Members
Gregory Chin
QA, Operations, Pilots, and Research Lead, MS
Biography: Greg holds advanced degrees in Mechanical Engineering from UC Berkeley. At Helpsy, he heads our Q/A effort as well as the coordination and execution of our operations, funding, and clinical pilots.
Title: QA, Operations, Pilots, and Research Lead
Advanced Degree(s): MS
LinkedIn: https://www.linkedin.com/in/gregory-chin-9834357/

Gurgen Gharibyan
Technical Architect, BS
Biography: Software developer for over 10 years at small to large companies.
Title: Technical Architect
Advanced Degree(s): BS
LinkedIn: https://www.linkedin.com/in/gurgen-gharibyan-49933174

Lekshmi Raveendranathapanicker
Mobile App Lead, M.Tech
Biography: Lekshmi has over 4 years of experience in software development and iOS app development for small to large-sized companies. She is responsible for development of the Helpsy mobile app.
Title: Mobile App Lead
Advanced Degree(s): M.Tech
LinkedIn: https://www.linkedin.com/in/lekshmiraveendranath/

Sasha Stepanyan
Database Lead, PhD
Biography: Web and Database development for over 10 years at small to large companies.
Title: Database Lead
Advanced Degree(s): PhD
LinkedIn: https://www.linkedin.com/in/sasha-stepanyan-88571a151/

Akanksha Nayak
Business Development , MS
Biography: 3+ yrs experience in medical research, medical and regulatory content writing
Title: Business Development
Advanced Degree(s): MS
LinkedIn: https://www.linkedin.com/in/akanksha-nayak/

Alex Salman
Business Development, MBA/MPH candidate
Biography: MBA/MPH candidate at Johns Hopkins University, 2 years of experience as a clinical researcher form the National Institutes of Health.
Title: Business Development
Advanced Degree(s): MBA/MPH candidate
LinkedIn: https://www.linkedin.com/in/alexsalman/

Challenge Mission
How We Address the Mission of The Challenge(s)
Social Determinants Data Challenge Helpsy provides a comprehensive symptom management and navigation platform for patients. Currently, the focus is on cancer patients. However, since many chronic conditions share similar symptom clusters, the platform can be used for patients suffering from other diseases. Helpsy's AI nurse SAN supports patients throughout their treatment journey. On top of the 24/7 support and auto-triage for symptom and mood decline, SAN helps patients with navigation issues for many of the social determinants of health by providing access to community programs in 25 areas including emotional support, transportation, and financial assistance. Additional features include 20,000+ self-guided recommendations for self-care, nutrition, and symptom management (based on NCCN, ASCO, and ONS guidelines), and sending reminders for medication adherence, screenings and appointments. Helpsy's platform can also help track and analyze patient reported outcome data, in turn facilitating patient centered care.
Access To Care Challenge The Helpsy platform aims to breakdown some of the many barriers of access to healthcare that patients face, bundled into a user friendly phone and web app. One main features that this platform provides users is access to various services such as education materials, transportation resources to help get patients to their appointments, and financial assistance resources to help them pay for their care. Additionally, built into the platform is an appointment scheduling and payment system, making it very easy for patients to conveniently manage their appointments, and pay them at the same time. Furthermore, connecting with a provider could not be any easier. The proprietary AI-SAN nurse monitors symptoms, and escalates care to a provider if needed, preventing unnecessary trips to the emergency room. Finally, the platform supports 75 different languages, making it accessible for patients around the world.
Real Time Results Challenge The Helpsy platform is designed with patients in mind. We offer a unique package of services that when combined, help empower cancer patients (and patients suffering from other conditions) and navigate their own treatment as well as the complex healthcare system. This platform aggregates all of the medical information of the patient by linking to their Electronic Health Record at their point of care, and the patient reported outcome data collected by Helpsy. Both patients and providers can quickly and easily access the prescribed care plan with recommended follow-up visits, drug information, symptom management resources, referrals, and community resources. EMR integration allows for patients to quickly make appointments, access their test results, and their prescribed treatment plan right at their fingertips.
Affordable Choices Challenge Undergoing cancer treatment is financially challenging, physiologically and psychologically stressful, and has a profound impact on all dimensions of life for the patient and their support network. Health care systems can differentiate themselves by focusing on delivering patient=centered care which is responsive to patient needs and providing evidence-based information to support and guide patients and caregivers throughout the treatment journey. Helpsy facilitates this, while simultaneously conserving resources and minimizing costs. By managing the patient's symptoms and escalating care only when necessary, Helpsy reduces preventable hospitalizations due to unmanaged adverse events, and treatment disruptions that would otherwise require costly medical attention.
New Orleans and Our Company
We are currently connected with Courtney Dini, an Oncology RN Navigator from Tulane Cancer Center who informed of us of this opportunity. She and others from the nursing and health care community in New Orleans such as Karen Rice and Lisa Schulmeister told us about interesting initiatives in the community that fit Helpsy's mission to help and support patients in their health journey. We believe that this would be a great way to initiate partnerships with other healthcare institutions in New Orleans and get this solutions in the hands of all the patients who need it.
Investor Info
Market Size
1. Pharma
a. Gobal Clinical Trial Market: $40B, $62.5B in 2025
b. Global Specialty Medicines Market: $318B
2. Payer (insurance/ACO)
a. Reduce cost of cancer care
- $88B/yr spent on cancer care (85% in medical visits)
- Increase in 6 month cost in cancer patients due to comorbidities - 1 condition: $8k, 2 conditions: $13k, 3 conditions: $25k
3. Cancer centers/clinics
a. Lose 10% (about $20M/year) in revenue on missed appointments
b. Need to provide value based care with new payment models
Projected 3 Year Growth
After 3 years, we intend to achieve 41% market penetration, with gross margins of 40%-45%. In 2020, we project 27M in revenue that will be used to towards continuous improvements of the platform, the creation of additional partnerships, and data science and analytics.
Revenue Model
Our platform is designed with patients in mind. It's primary aim is to improve patient outcomes by reducing adverse events and treatment interruptions. While geared towards patients, we believe that our solution will also benefit providers, pharma companies, hospitals, and payers in the form of reduced costs and increased treatment adherence. The Helpsy platform comes packaged with the ability for patients to self-report treatment specific health data, which will prove very valuable for our partners who want to learn more about the effectiveness and shortcomings of certain treatments. We will have a bundled pricing structure, with a per patient charge that ranges according to the individual technological needs of our partners. We believe that no patient should be without this solution, which is why we are initially offering this platform with very narrow margins to help as many patients as possible while making it affordable for our paying partners.
Competitors
Apart from providing treatment and symptom education to patients, our platform helps patients with symptom management and resource navigation through the world's first and only AI based symptom management and navigation (SAN) nurse. Our software can not only integrate with EMRs and allow easy communication between providers and patients, it also does auto-triage and crisis management unlike other platforms.
Traction
- completed clinical studies with significant results
- filed provisional patent
- Product in use by hundreds of experts and 23,000 patients
- rollout in process: payer (1 of top 4) proof-of-concept to contract
- other large payers, life/diasbility insurance, ACOs in the pipeline
- pilot discussion with oncology pharma companies for clinical trials and commercial
- device manufacturer partnership discussions in progress
- in final stages of signing contract with Australian Government partner for breast cancer patients
- paid contract with EMC and 2 hospitals in India
- pilot-to-contract discussions in process at several large cancer centers
Due Diligence Docs
Please note that access to the company's confidential materials is limited. Click this button to request access from the Company and its representatives.
---